This Gramercy Tavern Restaurant Review is one of our many NYC Restaurant Reviews. Visiting New York? See all of our posts tagged NYC.
Gramercy Tavern is an icon of the New York City fine dining scene, so it was no surprise that when we showed up around 6pm on a Friday night, there was a wait not only for The Tavern (which has a no reservations policy) but also for a seat at the handsome bar. You can make a reservation for the Dining Room, which offers a $92 prix fixe menu, but we were after the more casual and convivial Tavern atmosphere that night.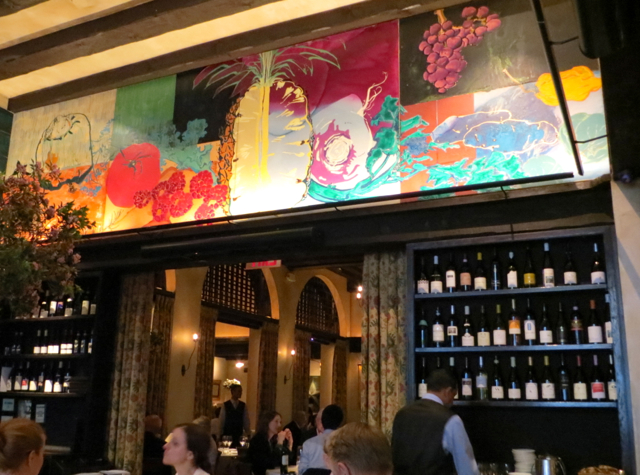 While sharing a glass of Riesling, we perused the menu: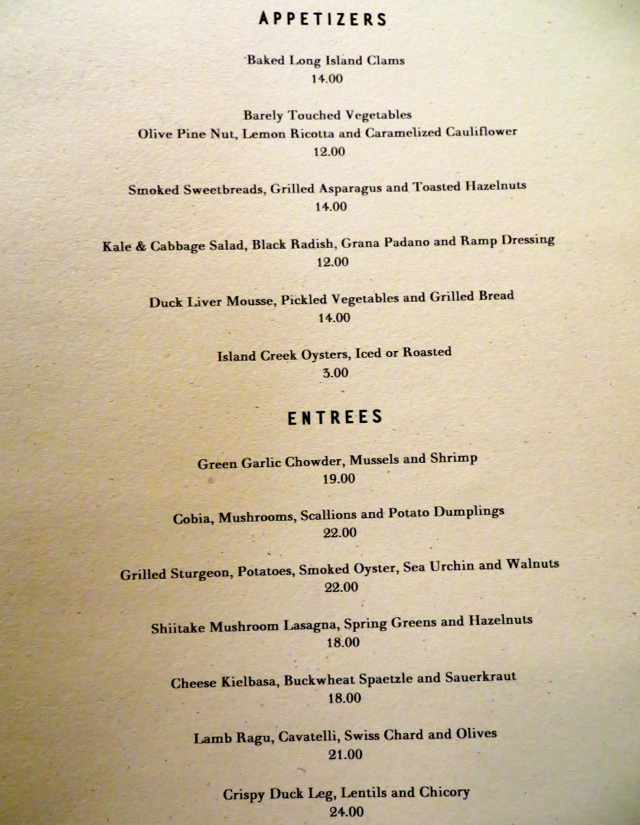 We were willing to eat at either the bar or a table in the Tavern, and while they had warned us it might be over an hour, we fortunately had to wait just about half an hour for a table to open up. One of the three hosts led us to our table, which was right across from a beautiful tangle of flowers and fresh market vegetables, with a candles adding an additional romantic touch: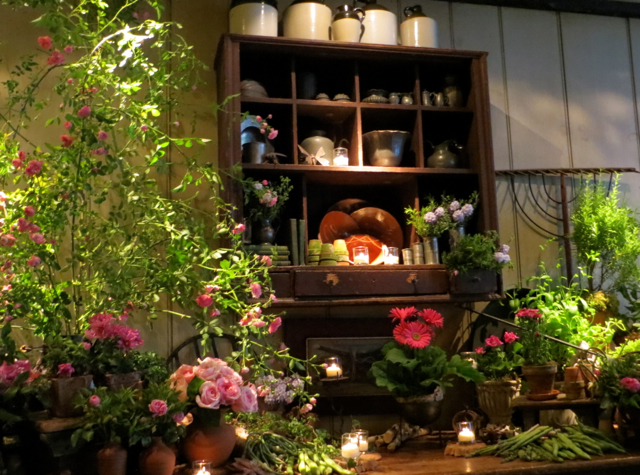 Our server welcomed us, and asked for our choice of water. We were both quite hungry, and glad to be able to order quickly, since we'd already looked at the menu. While the menu isn't extensive (keep in mind the same kitchen has to turn out all the dishes for the Dining Room, which are even more intricate, not to mention the amuses bouches), there are nightly specials, and personally, I prefer to see a more abbreviated menu if I have confidence that everything will be executed well. And it is. I've never had a bad meal at Gramercy Tavern, in either the Tavern or the Dining Room, even though of course there are certain dishes that were especially noteworthy.
But back to our review. Fresh bread and butter arrived. The wholegrain, slight tang of sourdough is similar to that served at another market-driven NYC restaurant, ABC Kitchen, and goes well with the Tavern setting, even if some of my favorite complimentary bread in the city is at Eleven Madison Park and its more casual sister, The Nomad. And of course the prize for the best choice in bread goes to Bouley, which bakes several varieties of artisanal bread, and offers them to you sliced to order from a bread cart.
My husband started off with Island Creek Oysters on the half shell, which came iced and with traditional accompaniments: lemon, Mignonette sauce, and spicy cocktail sauce. So fresh and delicious!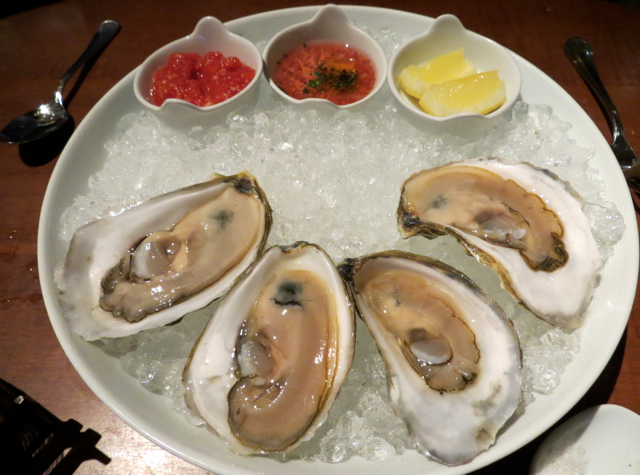 For an entree, after debating among the Lamb Ragu, Crispy Duck Leg and Shiitake Mushroom Lasagne (which our server said were all fantastic) I chose the Crispy Duck Leg. I probably have never had more expertly seared crispy duck skin in a restaurant (not counting Peking Duck) and this was a very satisfying dish, the richness of the duck nicely complemented by the nuttiness of the lentils and chicory, with some crisp tender baby vegetables lending additional color, texture and flavor.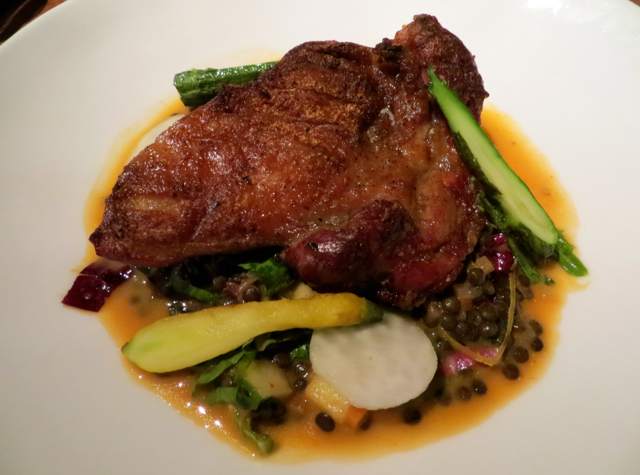 My husband chose the intriguing Grilled Sturgeon with Smoked Oyster and Sea Urchin, which he so quickly polished off that I was unable to try any of it. He does love sea urchin/uni, and there seemed to be a generous serving of it, so be sure you also enjoy that before ordering this.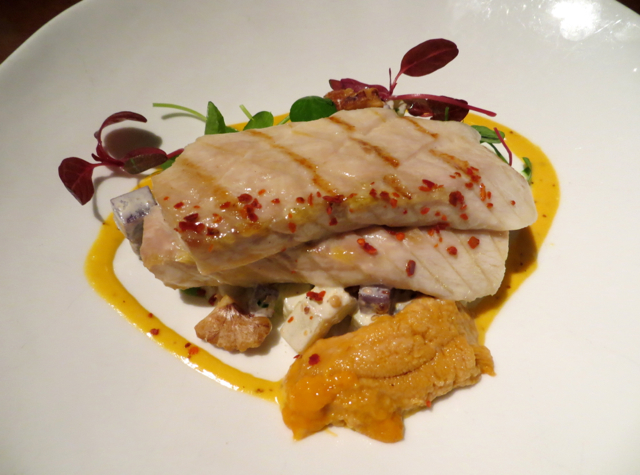 While we normally aim to try different desserts, so we have some variety and can try each others, we both decided on the Rhubarb Crisp with Candied Pistachios and Strawberry Ice Cream. Gramercy Tavern became legendary for its desserts under the helm of Pastry Chef Claudia Fleming, and current Pastry Chef Nancy Olson seems to do a good job upholding the tradition of American comfort desserts with some unique twists.
We both enjoyed the rhubarb crisp and housemade strawberry ice cream, although if I may be so bold, I think one I made at home with blueberries and a gingersnap pecan topping was actually a bit better. But the fruit flavors were exactly what I wanted after a fairly rich entree.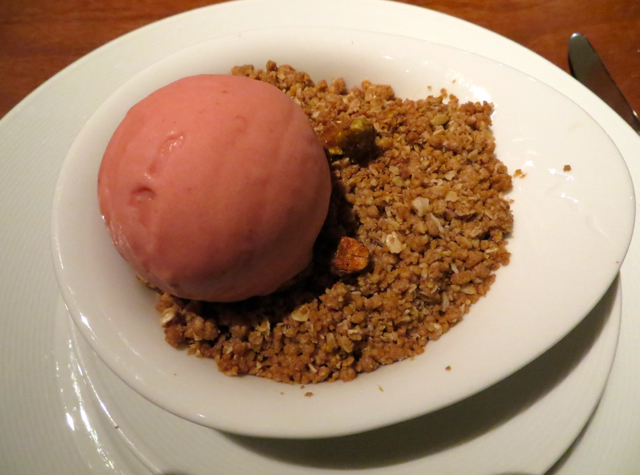 The Verdict: If you can come to terms with the no reservations policy of The Tavern, I can highly recommend it for either a couple or a small family (keep in mind larger parties will have to wait quite awhile for enough seats to open up). The Tavern Menu isn't long but offers wonderfully prepared market-driven updates of American and continental classics, with satisfying comfort food desserts. Service is friendly and attentive. The Tavern is usually full at dinner and so noise level is moderate, so if you want a quieter and more formal dinner, The Dining Room should be your choice.
If you've been to Gramercy Tavern, what was your experience?
Related Posts
ABC Kitchen Menu and NYC Restaurant Review
Daniel Humm's The Nomad: NYC Restaurant Review
Eleven Madison Park Restaurant Review
Where to Eat in NYC: The Best Places New York Restaurants Right Now
Need Award Booking Help? Our fee is as low as $75 per ticket if you book your hotel through us.
If you enjoyed this, join 200,000+ readers: please follow TravelSort on Twitter or like us on Facebook to be alerted to new posts.
Become a TravelSort Client and Book Your Hotel with Virtuoso or Four Seasons Preferred VIP Amenities!