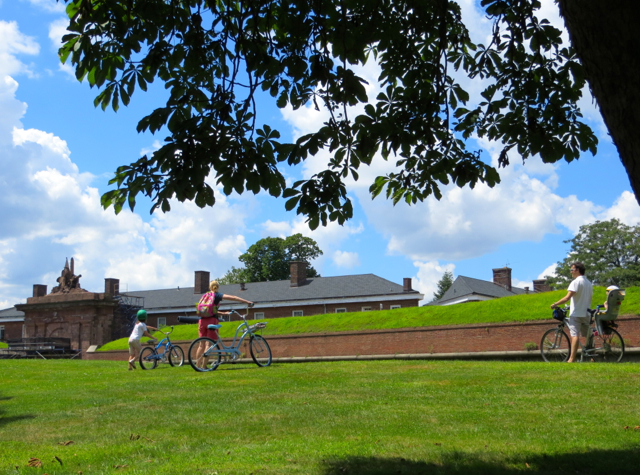 This Governors Island post on the Governors Island Ferry, Bicycling and Family Fun is one of our many reviewed things to do in NYC. Visiting New York? See all of our posts tagged NYC.
Governors Island is one of our favorite NYC summer weekend excursions. The Governors Island Ferry is free and just takes a few minutes to reach Governors Island, and it's a good place for kids to be able to ride bikes without any cars around. There are also regular events held there, and today we were lucky enough to experience a couple of them, Fete Paradiso and African drumming and dancing as part of the African Film Festival.
Governors Island Summer Dates 2013
Governors Island is open every Saturday, Sunday and holiday Monday (Memorial Day and Labor Day) through September 29, from 10am to 7pm.
Getting to Governors Island
There's a free Governors Island Ferry from Manhattan's Battery Maritime Building on the corner of South and Whitehall Streets.
| | |
| --- | --- |
| DEPARTS MANHATTAN | DEPARTS GOVERNORS ISLAND |
| 10:00 AM | 10:30 AM |
| 11:00 AM | 11:00 AM |
| Every 30 minutes | 11:30 PM |
| 5:30 PM last boat | Every 30 minutes |
| | 7:00 PM – last boat |
We're in Manhattan, so we've only taken the Manhattan ferry, but there's also a free Governors Island Ferry from Brooklyn:
From Brooklyn: Ferries leave from Brooklyn Bridge Park's Pier 6 at the foot of Atlantic Avenue.
| | |
| --- | --- |
| DEPARTS BROOKLYN | DEPARTS GOVERNORS ISLAND |
| 11:00 AM | 11:15 AM |
| 11:30 AM | 12:00 PM |
| Every 60 minutes | Every 60 minutes |
| 5:30 PM last boat | 6:00 PM |
| | 7:00 PM – last boat |
We took the 5 Express train down to the last stop, Bowling Green, then walked past the Staten Island Ferry Building to reach the Governors Island Ferry at the Battery Maritime Building: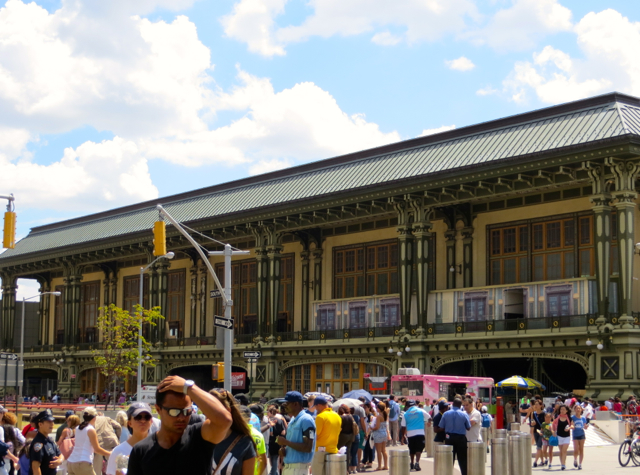 Your bags will be inspected, then you'll wait in line to board. Note that there is a separate line for those with bicycles or strollers, so that those passengers can get their bikes and strollers situated and out of the way before regular passengers board.
The munchkin was keen to get a bird's eye view of everything, so we ventured up to the Upper Deck: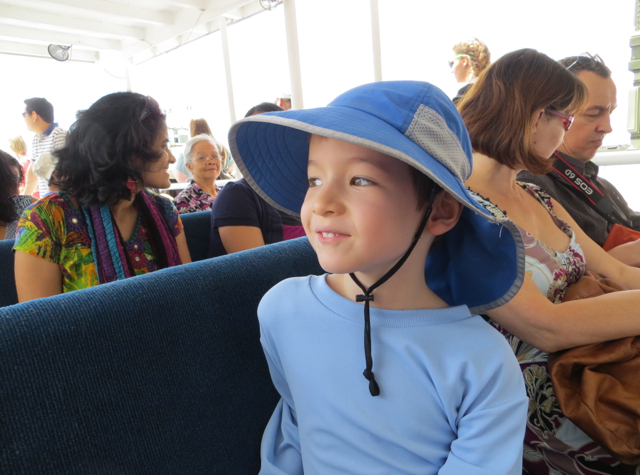 You can catch a view of the Statue of Liberty from the ferry, although it's quite some ways off (zoomed in to take this shot).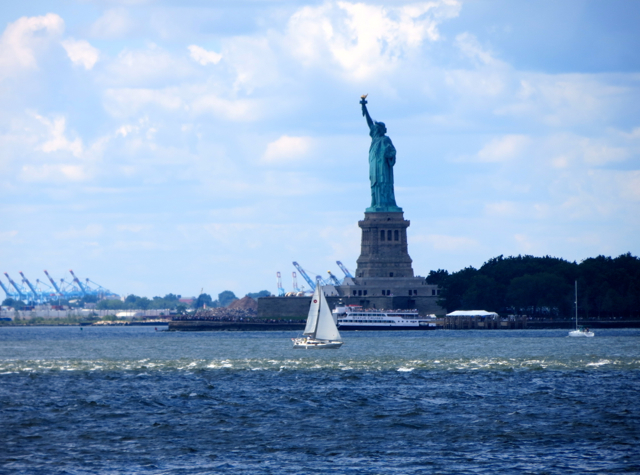 In just a few minutes, we were already docking at Governors Island: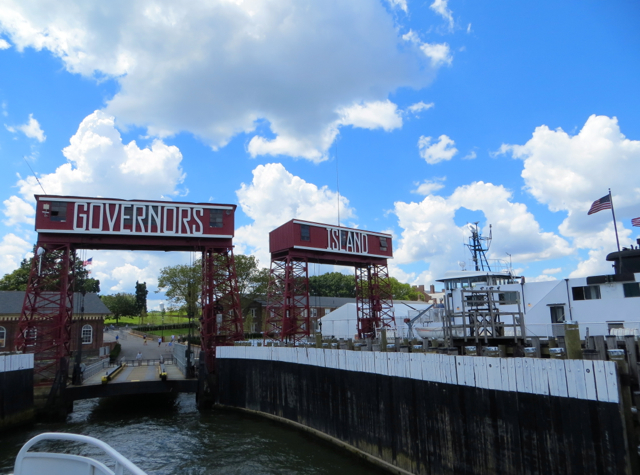 We'd heard that there was a special festival this summer, Fete Paradiso, featuring French vintage carousels and carnival rides for children, so we turned left and followed the unmissable painted signs on the path that led the way to Nolan Park: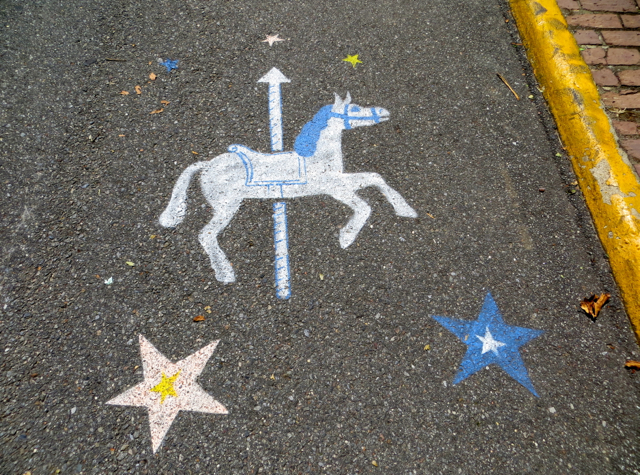 The munchkin was enchanted to see these beautifully restored carousels and soon had his favorites picked out. Rides are 1 ticket per person, with each ticket costing $3, and can be bought from a ticket booth (credit cards accepted).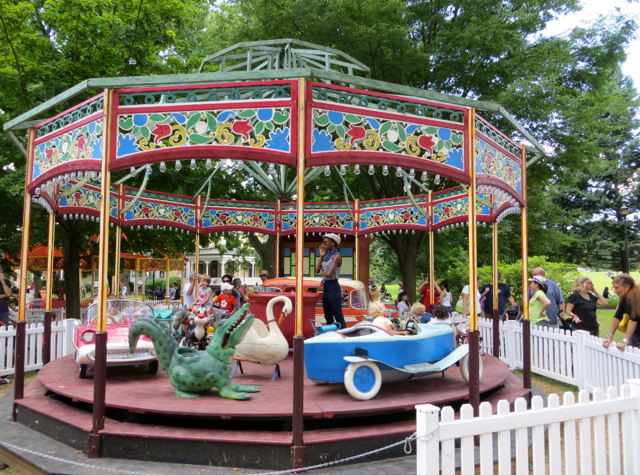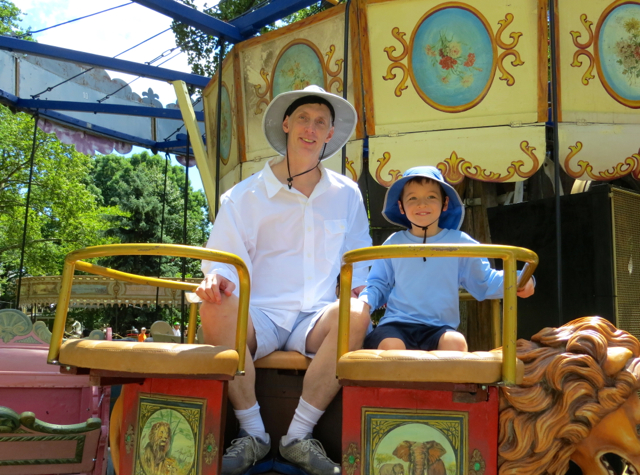 After a ride in the Lion, we wandered around the rest of Fete Paradiso, which included a faster amusement park ride for older kids and adults: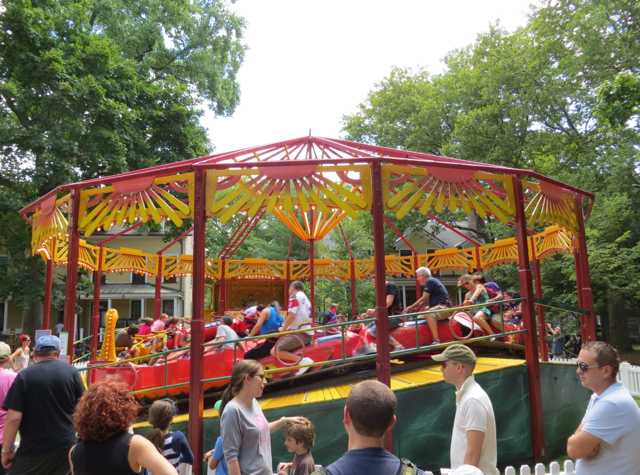 Live music featuring a French Chanteurse, accompanied by acoustic guitar: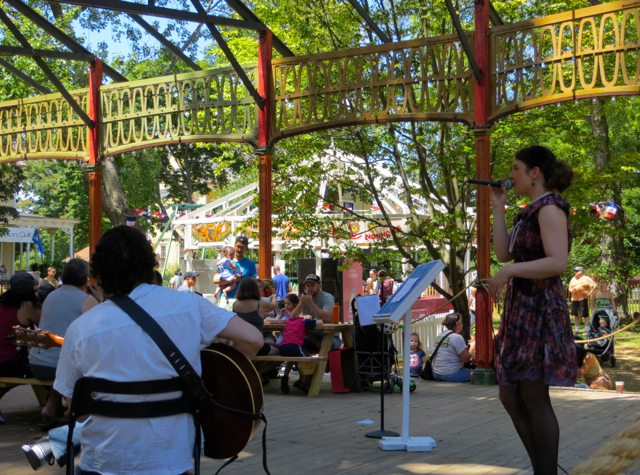 And simple grilled items and French favorites such as crepes and merguez sausage from French bistro Le Gamin. We had actually brought our own picnic, but decided to brave the line and try a galette, a savory buckwheat crepe stuffed with chicken, ham and swiss cheese. While of course not the best I've had, it was actually better than I expected.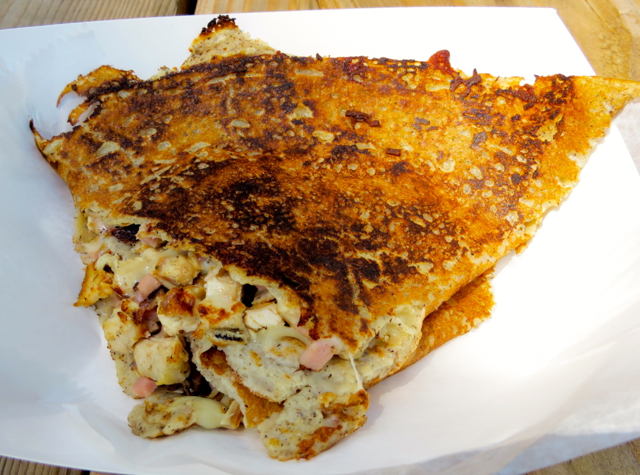 We couldn't help but notice a fireater's show, which made munchkin and several other kids wide eyed: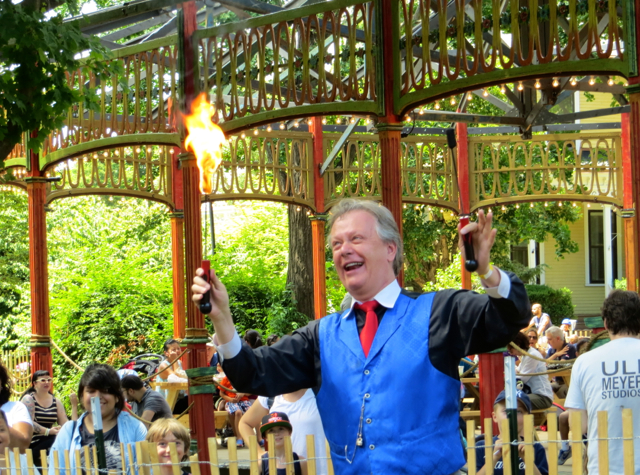 It wouldn't be a complete day at Governors Island without renting a bicycle, so we walked over to the bicycle rental to rent a kid's bike with training wheels for the munchkin. Although there were plenty of other kids and families biking, not to mention many pedestrians, he managed not to crash into anyone in spite of bicycling far ahead of us.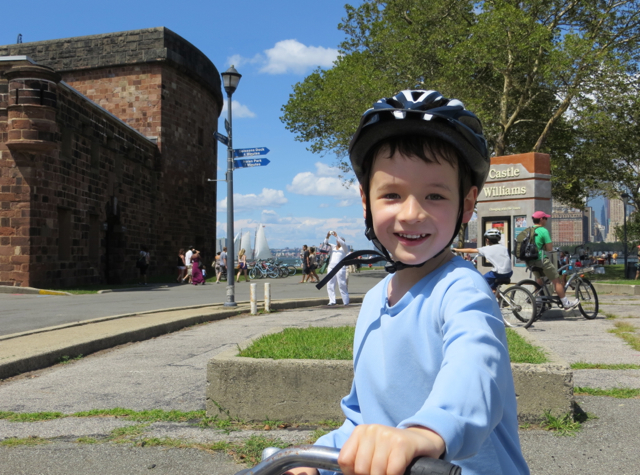 Our final stop was to check out the African Film Festival, which we could hear long before we could see it, thanks to the expert and tireless African drummers: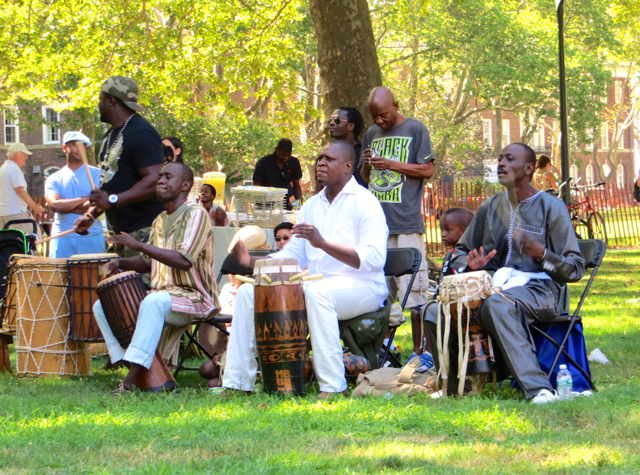 The dancing looked like great fun, but we were all too tired to join in: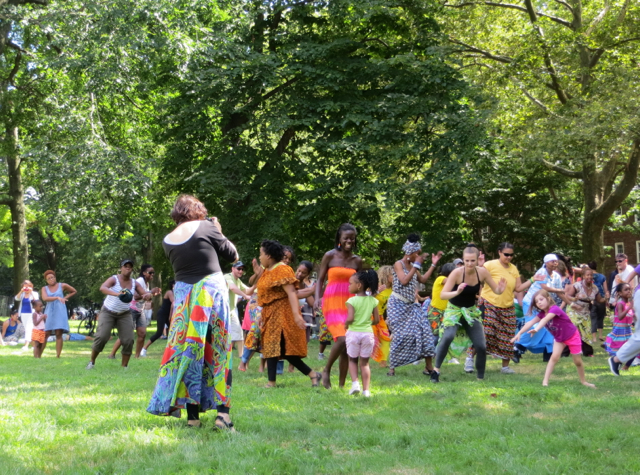 While plenty of folks ask me how I can stand raising a kid in NYC with no backyard and no trees to climb, the answer is that places such as Central Park and Governors Island are New Yorkers' backyards…and there are even trees to climb 🙂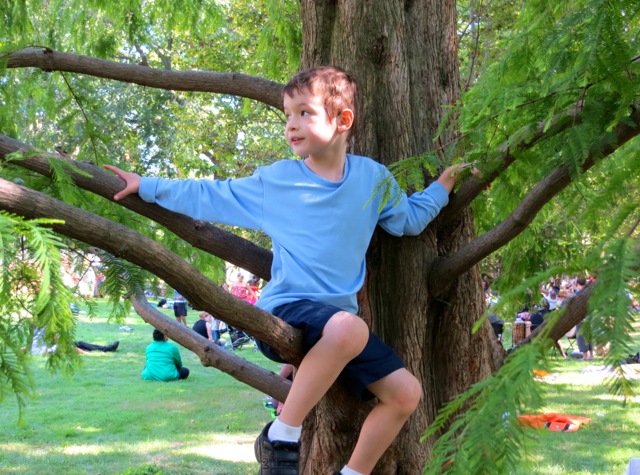 Have you taken the Governors Island Ferry to Governors Island?
Related Posts