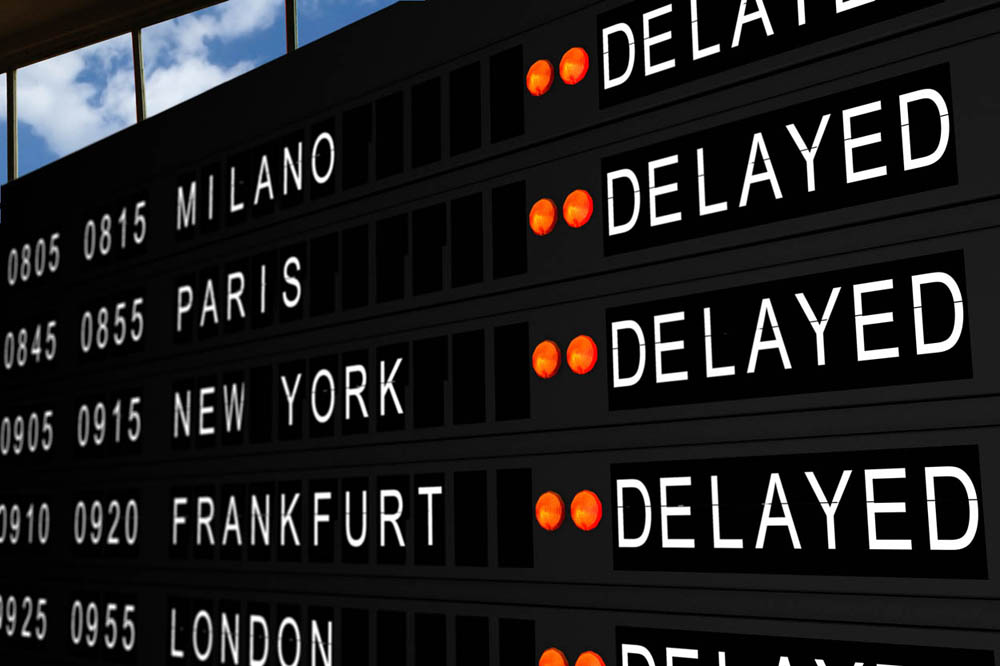 TravelSort Reader Betsy writes "While traveling on a United Airlines flight from Barcelona to Texas, our flight was delayed overnight due to mechanical issues. It was delayed the next day for 6 hours due to mechanical issues as well causing an overnight delay in Newark. Needless to say, I was over 50 hours delayed. United is saying that i do not qualify for cash compensation because i am not a EU citizen. is this true?"
United's response is wrong, but unfortunately not surprising, since United and most other airlines often won't pay the compensation that EU 261/2004 stipulates, without a fight. But first, a review of what the EU regulation is:
The European Union's Regulation 261/2004 applies if:
Your flight is departing from an airport located in an EU Member State; or
Traveling to an EU Member State on an airline based in an EU Member State
You have a confirmed reservation on the flight and arrived in time for check-in, UNLESS you're travelling on a free or discounted ticket (does not include a frequent flyer ticket; so you are still covered by EU 261/2004 on an award ticket).
There are three components of compensation: cash compensation, rerouting or refunding, and refreshments/communication/accommodation.
Cash compensation for cancellations or delays that result in arriving more than 3 hours later than scheduled depends on the length of your flight:
Flight of <1500 km: 250 EUR
Flight within the EU >1500 km; OR any flight >1500 km but <3500 km: 400 EUR
Flight not within the EU >3500 km: 600 EUR
Also note that even if your initial flight from the EU was not delayed and only your connecting flight in the U.S. was delayed resulting in a delay of over 3 hours, you would still be eligible. See Is EU Compensation Owed When the US Connecting Flight is Delayed?
Rerouting or refunding
The passenger may choose one of these three options:
Airline reimburses the cost of the unused flight tickets, and for used tickets where the flight taken no longer serves any purpose for the passenger's original travel plan. In the latter case, the airline must provide a flight back to the original point of departure at the earliest opportunity.
Airline reroutes passenger under similar conditions to the intended final destination at the earliest opportunity.
Airline reroutes passenger under similar conditions to the intended final destination at the passenger's leisure, subject to the availability of seats
Refreshments, Communication and Accommodation
The airline is required to provide to delayed passengers, free of charge:
Meals and refreshments in proportion to waiting time
Two phone calls or emails
Hotel accommodation and transport between the airport and hotel, if a stay of one or more nights becomes necessary
The airline may only reduce or withdraw these entitlements if offering them would delay the flight further.
According to EU 261/2004 Article 5, Paragraph 3 "The Airline is not obliged to provide cash compensation in the case of extraordinary circumstances which could not have been foreseen even if the airline took all reasonable precautions."
So in Betsy's case, United could try to claim this, although recent cases have indicated that mechanical problems do NOT constitute extraordinary circumstances. See the first two paragraphs, bolding mine:
"The European Court of Justice has upheld a decision made last year, that entitled passengers to financial compensation, unless the delay was caused by 'extraordinary circumstances'.
The ruling also confirmed that mechanical problems do not fall in to that category."
Also see this link describing European Court of Justice Judgments on Regulation No. 261/2004, in particular point 3:
"Article 5(3) of Regulation No 261/2004 must be interpreted as meaning that a technical problem in an aircraft which leads to the cancellation or delay of a flight is not covered by the concept of 'extraordinary circumstances' within the meaning of that provision, unless that problem stems from events which, by their nature or origin, are not inherent in the normal exercise of the activity of the air carrier concerned and are beyond its actual control."
And in the case of Friederike Wallentin-Hermann v. Alitalia,
"The fact that an air carrier has complied with the minimum rules on maintenance of an aircraft cannot in itself suffice to establish that that carrier has taken 'all reasonable measures' within the meaning of Article 5(3) of Regulation No 261/2004 establishing common rules on compensation and assistance to passengers in the event of denied boarding and of cancellation or long delay of flights, and, therefore, to relieve that carrier of its obligation to pay compensation provided for by Articles 5(1)(c) and 7(1) of that regulation."
So Betsy, based on her account of a United delay that meant an overnight in Barcelona and another 6 hour delay the next day, has a claim–the problem is getting United to pay it. While it can be time consuming and there's no guarantee of getting what you're owed, here's what I'd recommend based on this account from Flyertalk member jcs27, who actually did get cash compensation for a cancelled flight and having to leave earlier on a different flight:
1. Fill Out the United Customer Care Form with All Your Contact Info and the Flight Details
Make sure to include your United MileagePlus number, all of your contact information, Flight details including ticket number, flight number, origin, destination, date etc.
2. When Stating Your Case in the Customer Care Form, Stick to the Facts and the Compensation You Are Owed
While it may be tempting to cover all the excruciating ramifications of your delay or cancellation, it's best to keep your statement succinct and stick to the facts. In Betsy's case, each person in her party was delayed for X hours (total of the overnight delay + 6 hours) at Barcelona, on an international flight of over 3500 km departing from an EU member country,  and the arrival was over 3 hours, so each person is due 600 EUR in compensation.
Don't forget to make a copy of this Customer Care Form, both for your records and so that you can include it if you have to follow up with the regulatory authority in the EU country you flew from (or to).
3. United Should Email You a PDF Form to Fill Out and Mail to the EU Airport Where Your Flight Was Delayed or Cancelled
Keep in mind that even for the Flyertalk poster, this wasn't quick–it took about a month for United to send this form.
4. Fill Out the PDF Form, Requesting Compensation in the Form of a Check, and Mail to the Airport
Note that United's office in the airport in question will be responsible for processing your claim and cutting and sending your check, which will be denominated in Euros.
5. If You Don't Receive a Satisfactory Response from United, Send a Complaint to the Regulatory Authority of the EU Country
Here's the EU Complaint Form. It advises including a copy of what you already sent to United
And here is a pdf with the list of National Enforcement Bodies for EU 261/2004
It won't hurt to send a copy of this to United as well.
If you've claimed EU compensation for a flight delay or cancellation, what was your experience?
Related Posts
Is EU Compensation Owed When the US Connecting Flight is Delayed?
Airline Passenger Bill of Rights – What Are Flyers' Rights for Delays, Cancellations and Reroutings?
How to Complain to Airlines and Get Compensated
Which Travel Rewards Credit Card to Redeem on Any Airline?
Tips to Avoid and Deal with Lost Luggage
Need Award Booking Help? Our fee is as low as $75 per ticket if you book your hotel through us.
If you enjoyed this, join 180,000+ readers: please follow TravelSort on Twitter or  like us on Facebook to be alerted to new posts. 
Become a TravelSort Client and Book 5-Star Hotels with Virtuoso or Four Seasons Preferred Partner Amenities!