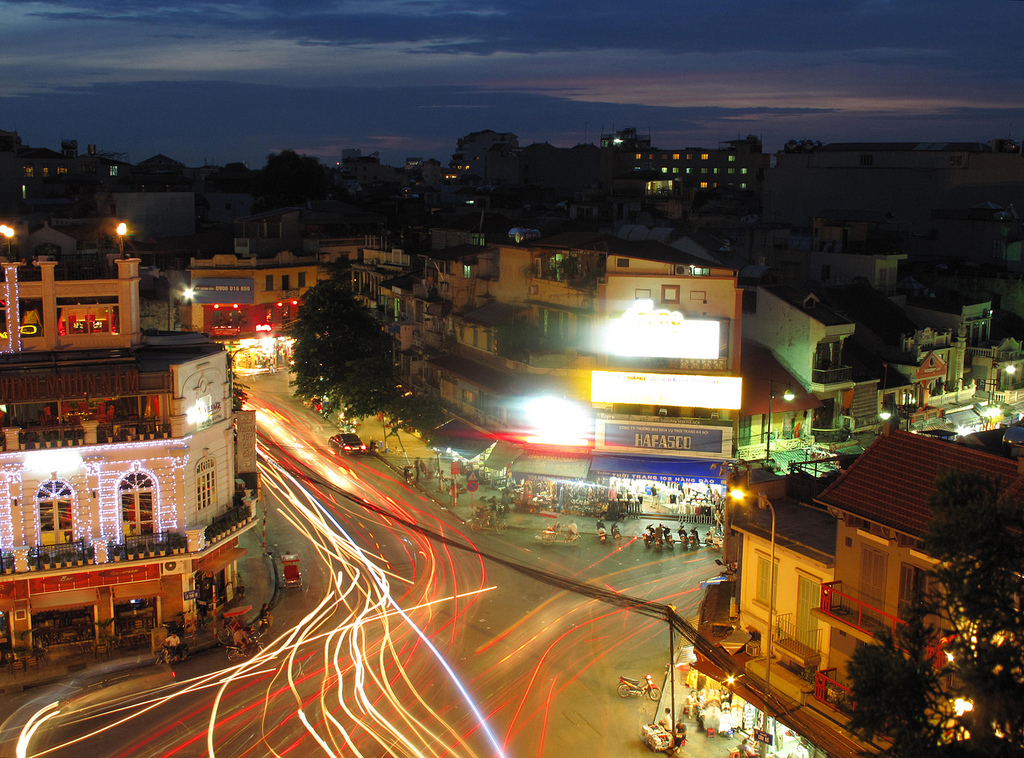 Why Go
A major Asian city since the early eleventh century, Hanoi has been fought over by numerous different countries. Accordingly, it's full of foreign influences, including beautiful French architecture, Japanese and Chinese temples, and plenty of relics from the lengthy war with the United States. Fortunately, Hanoi has emerged a proud and resilient city, and is now both bustling and prosperous. Budget travelers will quickly discover that the Vietnamese capital is full of ancient legends, lasting European influences, and incredible food and culture, along with scars from decades of war. Those with an interest in history will find endless sources of enjoyment, from the numerous landmark buildings to the plentiful museums detailing the city's past. Foodies will be thrilled at their chance to try truly unique cuisine, and just about everyone who visits loves the chance to stroll around Lake Hoan Kiem, in the heart of Hanoi. It's one of those rare finds for budget travelers, a shopping and culinary paradise that can be experienced for cheap.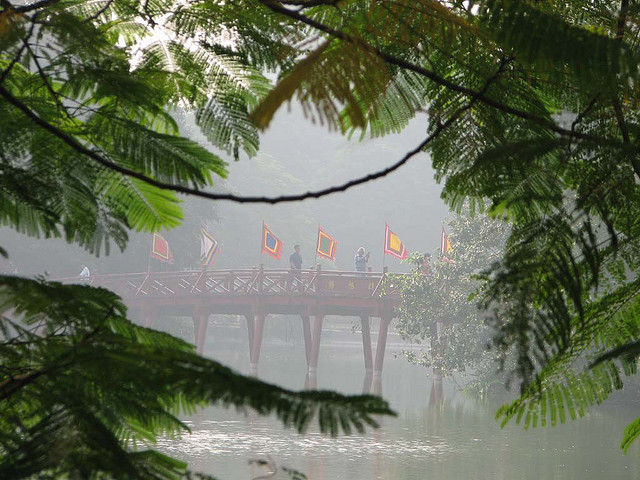 Insider Tips
The Noi Bai Airport is the only airport serving Hanoi and is located about 45 minutes from Lake Hoan Kiem. In heavy traffic, this same drive can easily take more than an hour. A taxi ride to or from the airport should cost around 150,000 Dong (about $8 USD). Most hotels will also arrange airport transportation for about $10-15 USD.
There are really only two seasons in Hanoi: wet and dry. The rainy season lasts from May until October, and the dry season stretches from November until April. It will likely rain almost every single day during the rainy season and it is not uncommon for it to pour all day long, so you'll probably want to avoid visiting then.
Since it is relatively warm in Hanoi all year, be sure to bring some light and breathable clothes. Even if you are visiting in the dry season, you should bring a jacket, because there can still be an occasional rainstorm during these months. However, a light raincoat is absolutely imperative if you are visiting Hanoi during the rainy season, but you can easily find a cheap umbrella anywhere in the city.
Do not be surprised to find your pants covered with grit and grime after a walk through the streets of the Old Quarter, so be sure to leave your irreplaceable pants and shoes at home. If you are planning on taking a trip to Sapa and other areas in the Northern Highlands, you will want to pack some hiking boots or athletic shoes.
If you do not want to walk or would like to visit some of the sites outside of the city center, the best way to get around Hanoi is on a motorbike. Nearly every street corner in Hanoi is full of men offering motorbike rides. You can get around town for about $2 USD. However, you should always negotiate a price in advance to avoid paying an inflated fee. You can also get a motorbike driver to take you to all the famous sites in a single day for about $10 USD. In addition to getting you from point A to point B, a motorbike ride in Hanoi is also a source of excitement as you zip in and out of traffic in one of the world's busiest cities.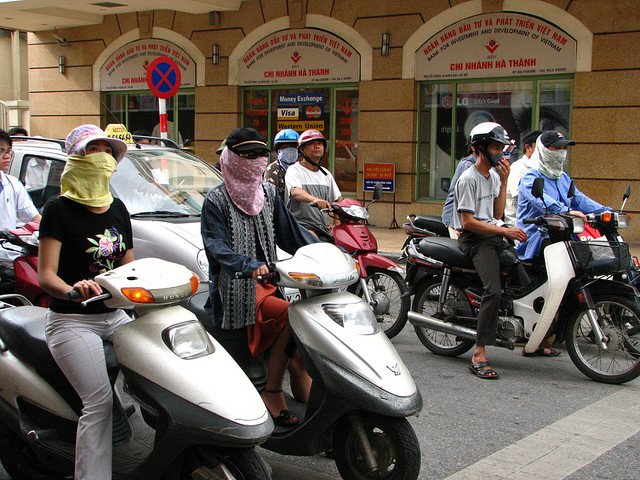 There are also cyclo drivers all around the Old Quarter and a ride in one of these classic Vietnamese modes of transportation will cost about 2-3x more than a motorbike ride. There are also a number of taxis cruising the streets and you can expect to pay around 50,000 Dong (about $3 USD) to get around town in this manner.
If you are short on time and sticking to the popular tourist areas in Vietnam, domestic air travel will likely be the best way to get around the country. You can usually find a Vietnam Airlines flight between popular destinations for less than $100 USD. For example, the cost of a one-hour flight from Hanoi to Hue is about 50 USD, but the much longer train ride is only about $10 cheaper.
The most dangerous part about a trip to Hanoi is crossing the city's busy streets. Try to stay on the sidewalks, if possible, but if they are too full of street "restaurants" or motorbikes, you'll need to walk on the street, but try to stay as close as possible to the curb. Use caution when crossing the street and remember, you'll probably be safest if you just follow the locals.
Vietnam is a very safe country to visit and crime is incredibly rare in Hanoi, even pick-pocketing and other types of petty theft. However, just as with visiting any other big city, you should try to travel in groups and stick to well-lit areas at night. The Old Quarter, full of hotels, great restaurants, and fashionable shops is always busy and a safe place to walk around, even at night. Males should be aware that they will likely encounter motorbike drivers offering drugs and prostitutes. However, they will leave you alone after a firm "no" and a wave of the hand.
The Hanoi Railway Station is in the Hoan Kiem District and about a 15-minute drive from the heart of the Old Quarter. Before taking a train in Vietnam, be warned that the rides are quite lengthy. The train ride from Hanoi to Ho Chi Minh City will take more than 300 hours and cost nearly $100 USD. However, if you want to visit the beautiful mountain town of Sapa, you should take an overnight train from Hanoi, which will arrive in Lao Cai (about an hour from Sapa) early in the morning. Round-trip tickets on one of the sleeper trains will cost about $50 USD.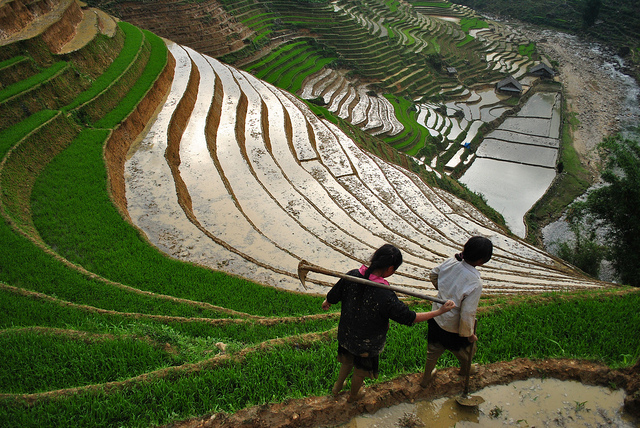 Where to Stay
There are also a number of good moderately-priced and budget options in Hanoi, most of which are located in the Old Quarter. A room at one of these mid-range hotels will cost about $50 USD a night, while budget options will be around $30 a night. A private room in a hostel will cost $10. Regardless of the expense of your accommodations, you should stay near Lake Hoan Kiem, which will put you only a short walk away from the heart of Hanoi. Most of the city's best restaurants, hotspots, and shops are located in the Old Quarter, so keep that in mind when looking for a place.
Just a minute from the lake and plenty of city bustle, Hanoi Old Centre Hotel feels as though it's in a world of its own. Tucked away on a shady tree-lined street, it's an ideal and affordable place for those who want contemporary comfort. Rooms are elegant but minimal, with hardwood floors and comfortable, unassuming furniture. Downstairs in the hotel lobby, it's possible to use one of two computers to check email or map travel plans, and the staff are friendly and helpful. And with the most expensive room, a honeymoon suite with a view of the lake, clocking in at under $60, it's budget prices but mid-range amenities.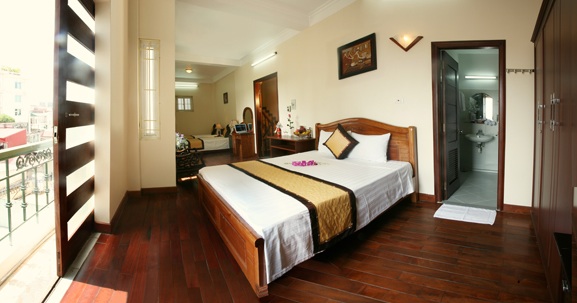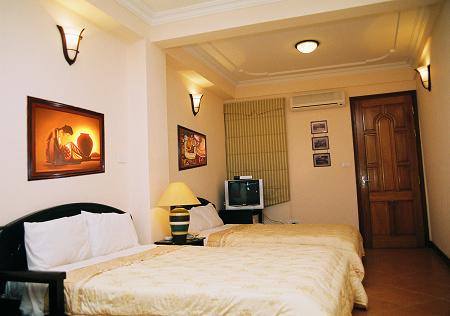 Located right in the Old Quarter, Hanoi Holiday Gold Hotel is also a great pick for budget travelers. Rooms are relatively spacious, clean, and contemporary, and some offer views to the city street below. Amenities are modern, beds are comfy, and the location is great for exploring.
What to Eat
Although Hanoi's cuisine is not as famous as Saigon's, it still has plenty of culinary delights to offer travelers. From fancy hotel restaurants to little chairs and tables set up on the street, you'll find some incredible food throughout the streets of Hanoi. The best news is that it is all incredibly cheap!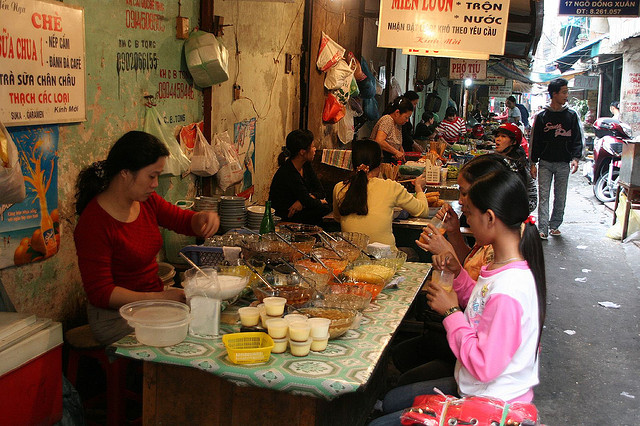 Hanoi is full of "portable restaurants" set up on the busy streets of this historic city, which are easily identified by dozens of plastic red and blue chairs scattered along the sidewalk. Although the amenities may be spartan, this is where the locals eat. It is at these places you'll find some of the best Vietnamese fare, and most will offer different types of noodle soup. Many will also be cooking various meat and vegetables on a small grill. If you are adventurous enough to dine at one of these local hotspots, be sure to stop at one that is busy, since this is a sign that the food is good and you'll know it hasn't been sitting out for hours. You can find a number of these places in the Old Quarter, especially along Ma May Street and you will pay the equivalent of less than $1 for a hearty meal.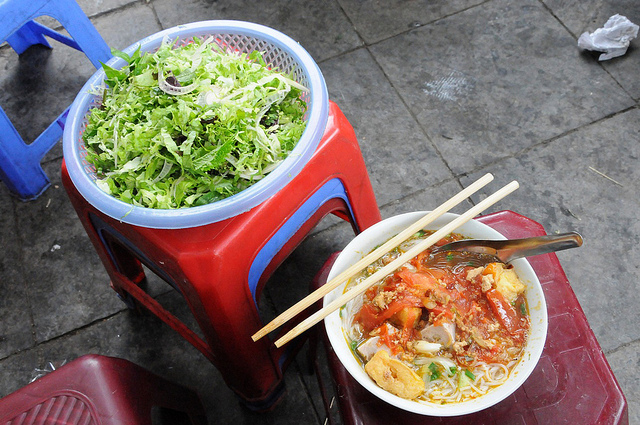 One step above these street "restaurants" are the hole-in-the-wall places that serve a single delectable dish. The best of these is Bun Bo Nam Bo, which is only a few blocks from Lake Hoan Kiem. Walk inside, take a seat by the locals and get ready to eat a glorious rice vermicelli and beef dish. Best of all, the entire savory and filling meal will only cost you $1-2.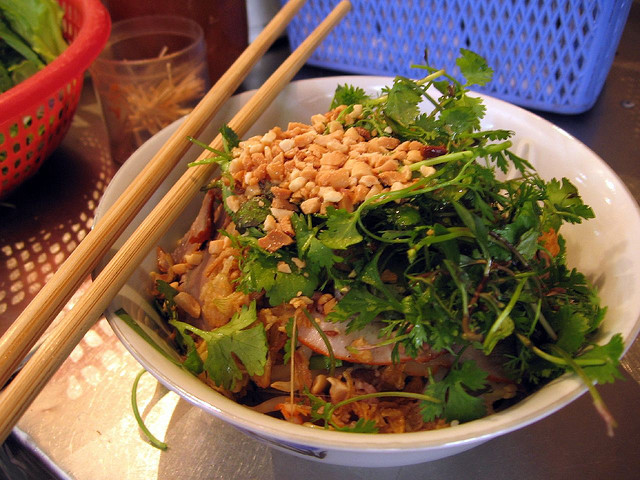 On the other extreme, Hanoi is home to a number of really nice restaurants. However, unlike similar places found in the United States or Europe, you can easily dine on a wonderful and lengthy meal in a stunningly beautiful setting, for less than $10. Two of the most popular of these restaurants are Emperor, located next to Lake Hoan Kiem, and Vine, which is located near the West Lake. You can find some incredible Vietnamese fare at Emperor and many great international options at Vine. There are also an endless number of cheaper restaurants in Hanoi, most of which are conveniently located in the Old Quarter. Most of these places are small, but they serve great Vietnamese food, have a happening atmosphere, cheap prices, and often, even free Wi-Fi. Some of the most popular of these options include Restaurant 69 and the Tamarind Café, both located on Ma Ma Street. A hearty meal and a few drinks will set you back about $5.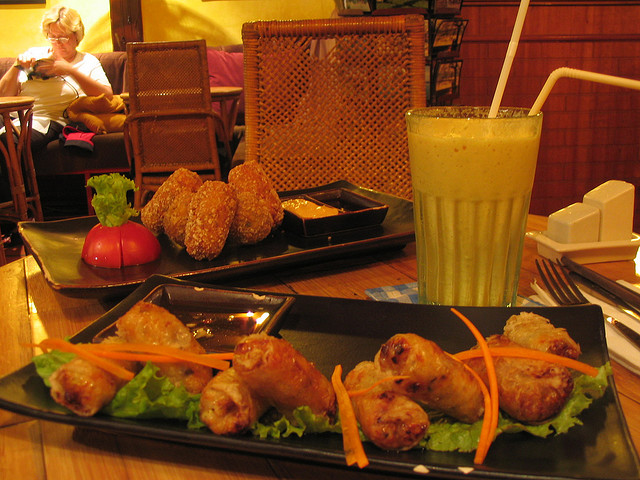 What to see
Any trip to Hanoi should start with a visit to Lake Hoan Kiem. Located in the Old Quarter, this lake is the heart of Hanoi. Endless shops, restaurants, and cafes surround this massive lake. You'll always find hundreds of locals hanging out at the lake, whether they are reading a paper, doing some kissing (very popular at night), or even participating in an exercise class. This is the most popular spot in the city and probably one of the greatest people-watching locations on earth. You'll also find the Tortoise Pagoda in the middle of the lake, as well as the Ngoc Son Pagoda and the beautiful Bridge of the Rising Sun along the northern banks.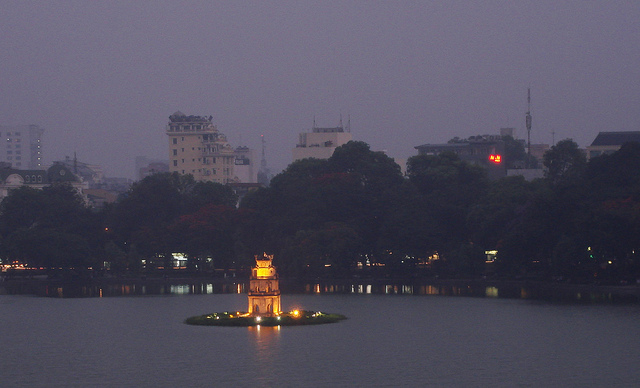 Across from the northeast corner of Lake Hoan Kiem, you'll find the Thang Long Water Puppet Theatre. This hour-long show is absolutely entertaining and will be enjoyed by visitors of all ages. However, please note that tickets usually sell out a day or two in advance and you should get your tickets as early as possible.
A visit to the Vietnamese capital is incomplete without visiting the number of sites in the Ba Dinh District, which is in the northwest part of the city. Some of these stops include the massive Ho Chi Minh Museum, the grandiose Ho Chi Minh Mausoleum, and the former residences of "Uncle Ho," which are located on the beautiful grounds of the Presidential Palace. A visit to these three sites will probably take about three hours. Although each major city in Vietnam has a Ho Chi Minh Museum, Hanoi's is probably the best to visit and it is hard to miss this massive and unique structure. This museum will give you a good lesson, albeit politicized, about the growth of Vietnamese nationalism and Ho Chi Minh's prominent role in the birth of an independent Vietnam.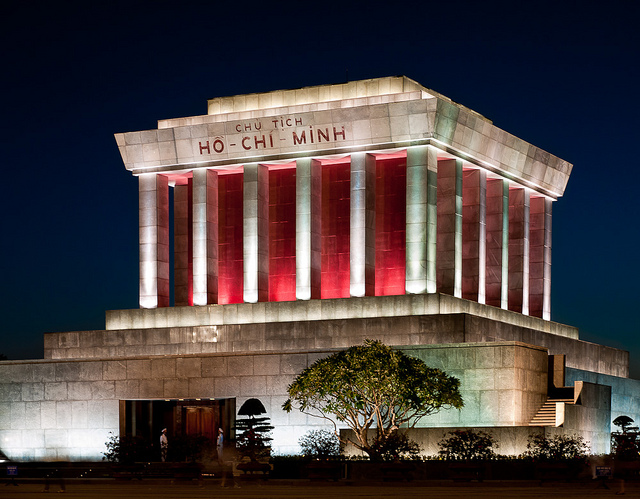 Additionally, the quaint One-Pillar Pagoda is located between the Ho Chi Minh Museum and Mausoleum and certainly warrants a visit. Although there isn't much to see, the remnants of the downed American B-52 plane along Hun Tiep Lake is interesting and a powerful testament about how much things have changed in Vietnam since the 1970s. This small site is about a ten-minute walk from the Ho Chi Minh Museum. The beautifully red Tran Quoc Pagoda, located on the West Lake, is about a fifteen minute walk from the Ho Chi Minh Mausoleum and is a stunning reminder of Vietnam's interesting cultural past.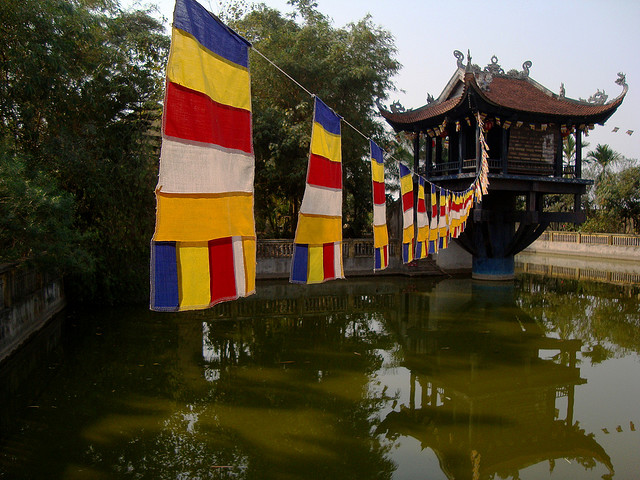 Anyone interested in history should also visit Hoa Lo Prison and the nearby Temple of Literature. Hoa Lo Prison, which American POWs sarcastically called the "Hanoi Hilton," is a grim political prison that was once used by the French and Vietnamese. Built in 1896, the French housed Vietnamese prisoners, and even executed many, in this small prison for more than fifty years. The Vietnamese took over the prison in 1954 and would eventually house many American POWs during the Vietnam War, including Senator John McCain. A few blocks away from Hoa Lo Prison, you can find the sprawling Temple of Literature and National University. There are many beautiful buildings on these grounds, including a temple built in 1070 to worship Confucius, but unfortunately, there are not a lot of posted signs and helpful information. Thus, consider hiring a guide while touring this beautiful Vietnamese landmark.
The Army Museum and the Revolutionary Museum are both interesting to see, but if you are short on time, the Army Museum is definitely the better of the two. Hanoi is also home to the Vietnam National Museum of Fine Arts, the Women's Museum, and the National Museum of Vietnamese History. Again, all certainly warrant a visit if you are visiting Vietnam for an extended period of time, but the Fine Arts Museum is significantly better than the other two and provides a nice break from the barrage of revolutionary and military history.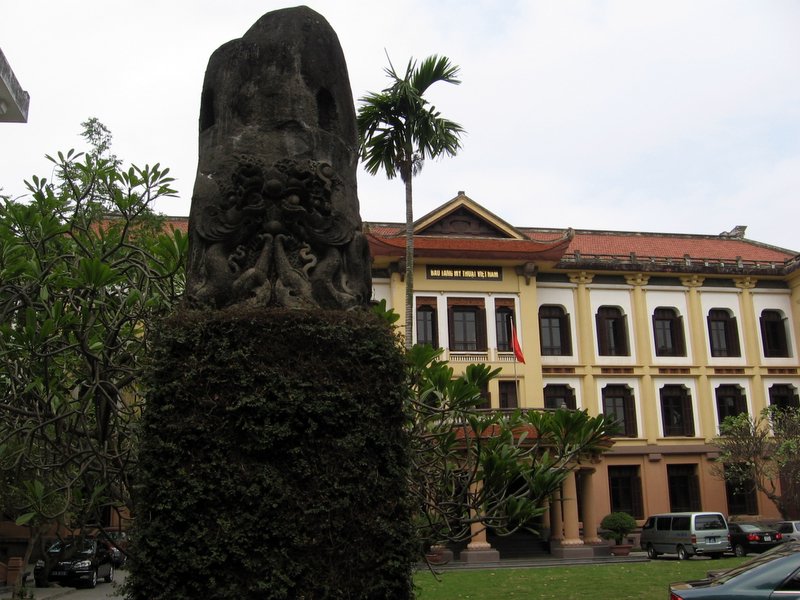 Related Posts
Sofitel Legend Metropole Hanoi Review
Vietnamese Feasts and Cooking Lessons in Hoi An
20 Best Cities in the World for Foodies
Need Award Booking Help? Our fee is as low as $75 per ticket if you book your hotel through us.
If you enjoyed this, join 200,000+ readers: please follow TravelSort on Twitter or like us on Facebook to be alerted to new posts.
Become a TravelSort Client and Book Sofitel Legend Metropole Hanoi with Virtuoso Perks!
Photo Credit: El Edo! Photos Sin Photoshop, Photographer Philosopher, Greg Hayter, Mimi K, anjči, Hanoi Mark, Jorge Lascar, julesg, gavinkwhite, JaxinCPT, mullenkedheim