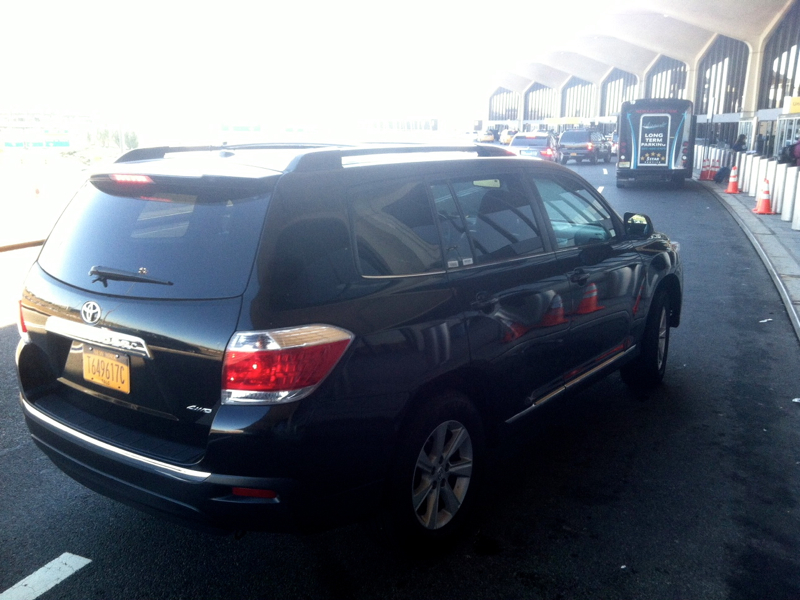 GetTaxi NYC is offering $10 Rides Anywhere in Manhattan, as I posted earlier this month. At the time, I hadn't yet tried the service, so I mentioned I'd reserve full judgment until I had and could write a GetTaxi review.
Well, we recently had occasion to take GetTaxi to Newark Airport, so here's my review.
Ordering a Car via the GetTaxi App
We had already downloaded the GetTaxi App prior to writing my prior post, so when it came time to order a car, we simply did the following:
Opened the GetTaxi App and dragged the icon to our current address
Set our destination as Newark Airport (you can just type in the 3 letter airport code for any of the NYC airports: EWR for Newark, LGA for Laguardia, or JFK for New York JFK)
By typing in your destination, you get a fare quote, which for Newark is $74.83, excluding tolls, tip, and any additional waiting if you're not there when the driver arrives.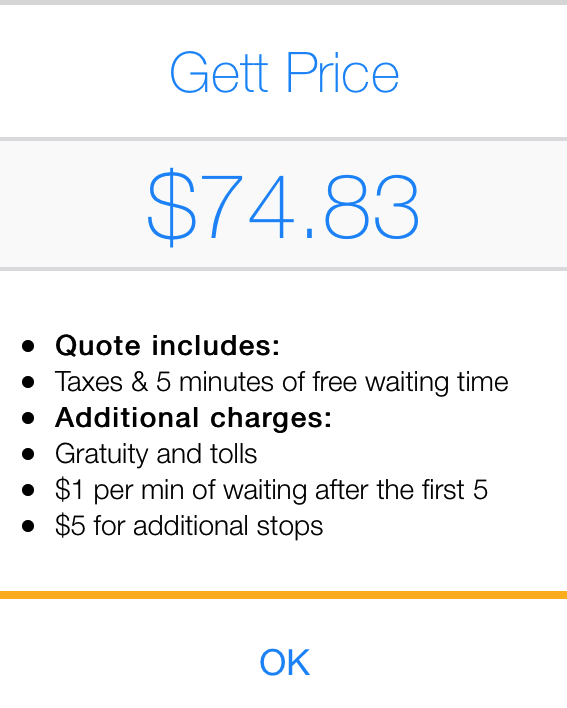 Track Your Driver's Progress Toward Your Pickup Location
You're given a time estimate of how long it will take for your driver to arrive, and then the map tracks your driver en route to picking you up, as well as the time to arrival. The munchkin was particularly excited to track our driver's progress and see the time countdown.
Once you're picked up, you can continue to monitor your car's progress toward your final destination.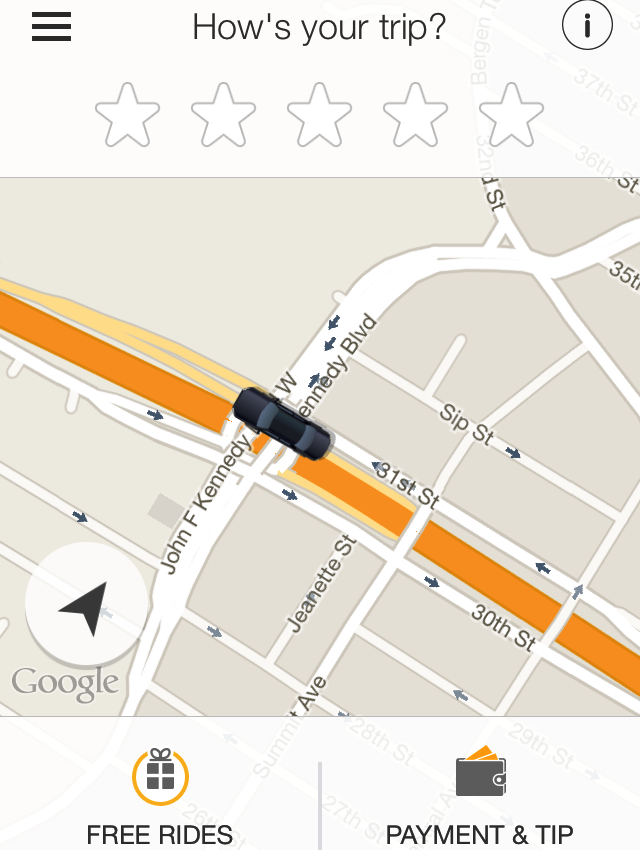 Our GetTaxi Vehicle and Driver
In general I could care less about vehicle models and cars, as long as they're reliable, driven safely by the driver, get me where I want to go, and are clean. Our driver's car was a super clean Toyota Highlander, and importantly, our driver drove smoothly, without the annoying trait so many NYC yellow cabbies have of pumping the brakes.
Our driver was noted as being one of GetTaxi's "Top 100 Drivers" which I took as a good thing. We may have lucked out due to the time we needed our car service to Newark Airport, since this was our first GetTaxi ride ever (so we had no status points), while GetTaxi notes that customers who have taken GetTaxi frequently and have more status points are more likely to get GetTaxi's best reviewed drivers.
Paying for Your Ride
In addition to the tracking our driver's progress to pick us up, the immaculate car and his superior driving skills compared to your typical NYC Yellow Cab, what we liked was that when it came time to pay, the amount was *exactly* what had been quoted. In fact, even though the quoted amount clearly stated that tolls would be additional, we weren't charged anything additional for them, so the quoted fare of $74.83 was exactly what was charged to the credit card.
For the car service quality provided, I was very pleased with the price. Meanwhile, I continue to see a slew of Yelp 1-star reviews for Uber NYC such as the following, which makes me very glad to have opted for GetTaxi instead of Uber, given Uber's surge pricing:
" I just took Uber from Manhattan to JFK and it cost me 170 dollars! [Uber] calling it a 'Flat Rate' is both misleading and a downright lie…" —Liz C., Yelp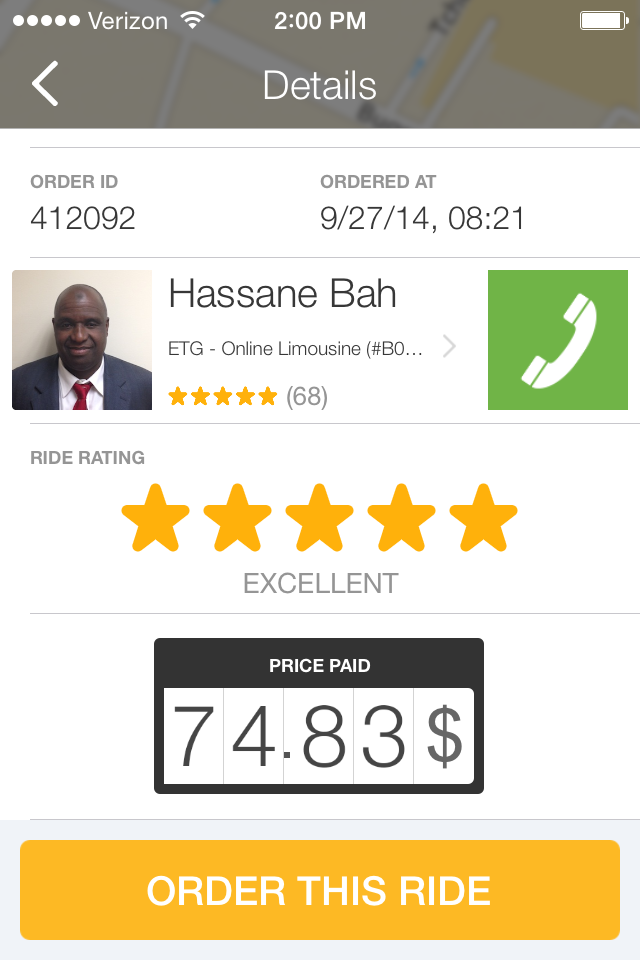 The only slight snafu was that we didn't manage to enter a tip amount before the driver closed out the ride, so we paid the tip to him in cash. No big deal. Thanks to TravelSort readers who signed up using our invite code, GTVNXFP we enjoyed a complimentary ride–many thanks to my readers!
Be sure to earn your own credits by referring colleagues and friends that have a need for a car service in NYC. You can refer your friends right in the app: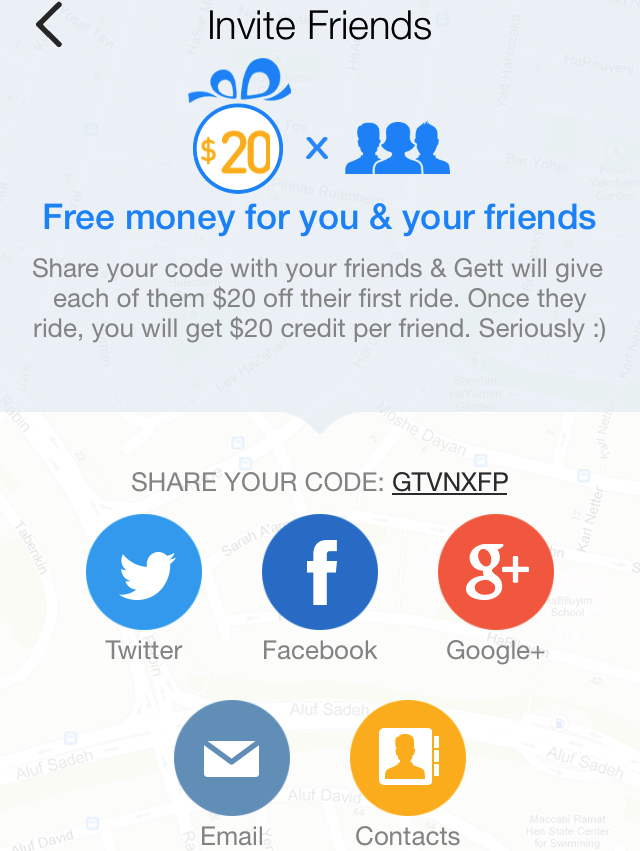 What GetTaxi Should Improve
Of course, no company is perfect, and there are a couple things I'd like to see GetTaxi improve on:
1. Enable In-App Advance Reservations: As I noted in my original post, you can order a ride in advance using the Web site by going through the Help section, but I didn't see a way to do this via the app. Ordering a ride in advance is a major differentiator vs. Uber, so it should be supported in the app
2. Improve Customer Service: Another selling point to me vs. Uber was the customer service phone number. The problem, at least on the occasions I tried it, was that it went to voice mail. I dutifully left my phone number…and no one ever called be back. Big fail. If you're goint to tout that you have live customer service, then it had better deliver.
The Verdict
We had a great first experience with GetTaxi, even though we took a longer ride to Newark Airport instead of a $10 ride within Manhattan. It was easy to set our location, check the ride cost before booking, track our driver's progress to our pickup location, and payment was automatic. We ended up paying a cash tip since I didn't manage to add a tip before our driver closed out the ride, but normally you can add a tip amount to be included in your credit card payment, and you can set a default tip amount that will hold unless you change it for a specific ride.
The ride itself was so much more pleasant than a yellow taxi, with a nicer, cleaner car, more courteous driver, and better driving (non pumping the brakes) that when we do opt for a car instead of public transportation, we plan to use GetTaxi. Since I hate surprises when it comes to fare amounts, I especially like the ability to see the fare amount before ordering the ride. I'm recommending GetTaxi to my clients who are visiting NYC, particularly those visiting before the end of 2014 who can take advantage of the $10 + tip fares anywhere in Manhattan. After all, for a family of 3, that's just a bit more than a subway ride, and a whole lot more pleasant, at least if you're not in rush hour traffic (although even if you are, it's still $10 + tip).
If you've used GetTaxi in NYC or one of its other cities, such as London, Moscow, St. Petersburg or Tel Aviv, what was your experience?
Related Posts
GetTaxi NYC: $10 Rides Within Manhattan
LIRR to Jamaica and Airtrain: Best Way to Get to JFK
Best Ways to Get From London Heathrow LHR to London
Best NYC Midtown Lunch Restaurants
NYC Hotel and Restaurant Reviews
Need Award Booking Help? Our fee is as low as $75 per ticket if you book your hotel through us.
If you enjoyed this, join 150,000+ readers: please follow TravelSort on Twitter or like us on Facebook to be alerted to new posts.
Become a TravelSort Client and Book Your Hotel with Virtuoso or Four Seasons Preferred VIP Amenities!