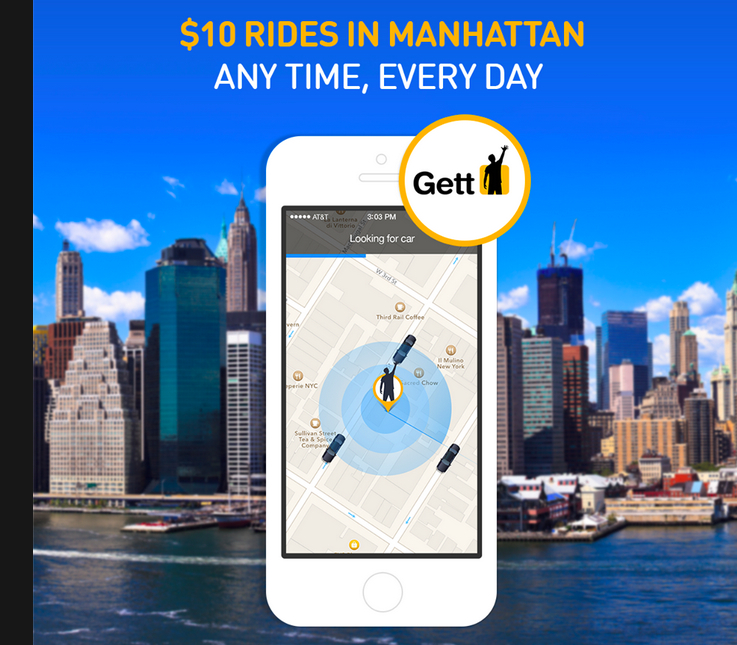 Gett (GetTaxi) is offering $10 rides in Manhattan, for all of 2014! Huge hat tip to Dan, whose post alerted me of this.
As someone who has given up on Uber, I'm thrilled. Basically, every time I really needed Uber, it didn't deliver: no cars. And if there is a car during a crazy peak period, watch out for Uber's nasty surge pricing, which charges 1.5-2x or more. Uber also failed at another key need: being able to book a ride in advance to the airport. Plus, there was no way to use the service through the Web site, on my laptop, which honestly I'm on a lot more than my phone.
Gett solves all four problems:
1. Gett allows bookings in advance: airport ride problem solved
2. Gett allows a future order through the Web site, not just the apps
3. Gett pricing for peak time is a flat $5-10 extra
4. Gett has cars on the road at that "transition" time of 4:30-5:30pm, when it can be so hard to get a ride due to all the taxi drivers changing shifts.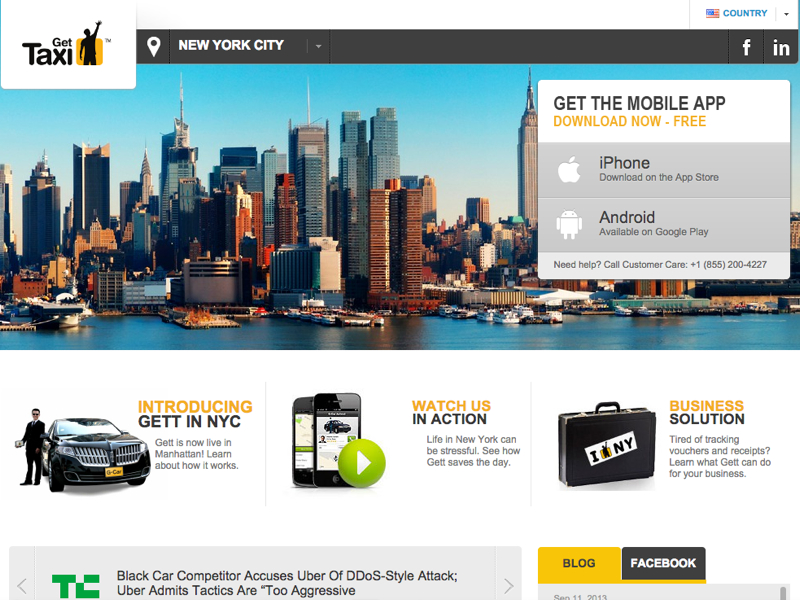 Of course, I'll reserve full judgment until I've actually used the service, but it has motivated me to update my husband's iPhone to the latest iOS version so that he can actually download the app, an update that we've procrastinated, oh, for a couple years.
Get $20 in free ride credit when signing up. You can use the invite code of a friend, or of course, I'd appreciate it if you use my invite code: GTVNXFP. After downloading the app and signing up, simply go to the Coupon Code section to enter the code and receive your $20 in credit.
FAQ
What Is Gett?
Gett, formerly GetTaxi, is a car service that you can order via the Gett app on your phone, or online. Cars are typically Lincoln Town Cars, with some SUVs. Gett has over 6000 drivers, 1000 corporate customers, including Google, and has over $80 million in funding.
What About Rides to NYC Airports–How Much Do They Cost?
Gett gives the following estimates for rides from NYC to JFK, LaGuardia and Newark. Note these are for base fare, excluding any waiting time or tip:
NYC to JFK: $63
NYC to LaGuardia: $44
NYC to Newark (EWR): $67
What Are the Usual Fees?
Base fare: always fixed flat rate between two given neighborhoods
Peak fare: $5-$10 during peak hours, bad weather, and major holidays. No extra charge for waiting in traffic.
Stops: Flat $5 for each additional stop
Waiting time: First 5 minutes are free, then $1 per minute thereafter
What Other Cities Does Gett Operate In?
In addition to NYC, Gett operates in London, Moscow, St. Petersburg (Russia), Tel Aviv, Jerusalem and Haifa.
How Do I Contact Gett Customer Service?
Call Customer Care at +1 (855) 200-4227 or email NYC@gett.com or tweet @gettaxi
If you've tried Gett in NYC or elsewhere, what was your experience?
Related Posts
Is Uber $45 Credit for New Users Worth It?
LIRR to Jamaica and Airtrain: Best Way to Get to JFK
Best NYC Midtown Lunch Restaurants
NYC Hotel and Restaurant Reviews
Need Award Booking Help? Our fee is as low as $75 per ticket if you book your hotel through us.
If you enjoyed this, join 150,000+ readers: please follow TravelSort on Twitter or like us on Facebook to be alerted to new posts.
Become a TravelSort Client and Book Your Hotel with Virtuoso or Four Seasons Preferred VIP Amenities!