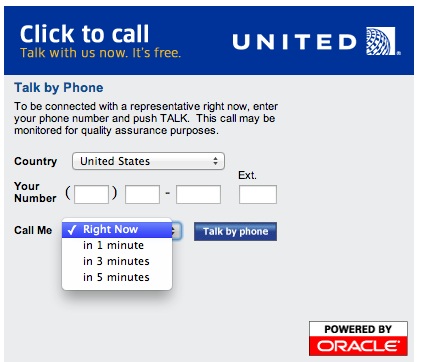 Update: Unfortunately this number no longer works. If stuck on hold with United's U.S. number for a long time, consider using Skype to call one of United's numbers abroad, which may have a shorter wait time.
—-Original Post—–
Get United to call you back with its Click to Call functionality, powered by Oracle. One of the few things I used to dislike about not being a frequent flyer is having to wait on hold for United, before I came across this United callback option. Now, American Airlines also has a callback option, but it merely calls you back once it reaches your place in the queue, so it can still be half an hour or more until you get called back. I infinitely prefer United's call back option, since it's been pretty instantaneous the times I've used it.
It's come in especially handy when I've had to get up in the middle of the night to snag award seats, whether our own or those for clients of my Award Booking Service, since these generally get loaded in the wee hours of the morning when I'd normally be sleeping.
Just enter your phone number and click the blue "Talk by phone" button, then typically seconds later your phone will ring, an automated voice will note that you're being connected to an agent, and a United agent will answer and help with your booking.
I've heard that sometimes there is a backlog and it can take several minutes, but you'll pretty much always be better off using the United callback option than the regular United 800-421-4655 number.
A side benefit is that on the occasions when technically I probably should have been charged a fee, I wasn't, but of course your mileage may vary, I don't make any guarantees that fees will always be waived.
Do note that you need to enter a U.S. or Canadian phone number, so this won't work for overseas numbers.
What's your experience having United call you back?
Related Posts
How to Fly Lufthansa First Class Later in 2014 with Pre-Devaluation United Miles
United Award Chart Devaluation: Redeem Miles Before February 1, 2014
United Award Chart Devaluation: Strategy Going Forward
How to Use ANA to Search for Star Alliance Award Space
Need Award Booking Help? Our fee is as low as $75 per ticket if you book your hotel through us.
If you enjoyed this, join 90,000+ readers: please follow TravelSort on Twitter or like us on Facebook to be alerted to new posts.
Become a TravelSort Client and Book Your Hotel with Virtuoso or Four Seasons Preferred VIP Amenities!
HT: Dan's Deals