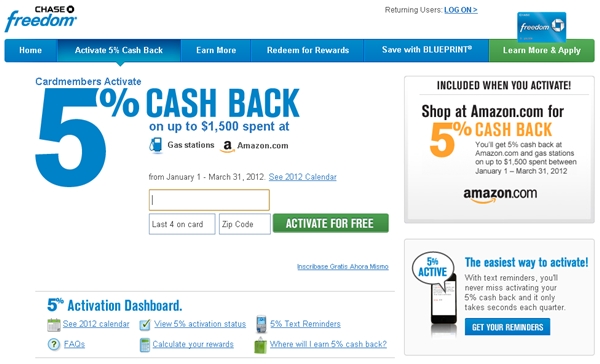 I recently got the Chase Freedom, which we wrote about in our Review of the No Fee Chase Freedom Card, mainly because the 2012 bonus categories include ones we tend to spend on anyway, such as Amazon in Q1, grocery stores in Q2, restaurants in Q3 and hotels and airlines in Q4.
In particular, I tend to buy tons of things on Amazon, but havent' been able to get much in the way of bonus miles lately. Dividend Miles Shopping changed its provider such that there aren't points for clicking over to Amazon, leaving only Hawaiian Miles eMarket shopping portal where you get a paltry 1 Mile per dollar spent after clicking through to Amazon. If you don't yet do much shopping via Amazon, here's a small sampling of the things I buy there, though just do a search and you'll find almost anything you're looking for:
Cereal (Grape Nuts, McCann's Oatmeal, Nature's Path Organic Cereal, Dorset Muesli, all by subscription)
Granola bars (18 Rabbits, also by subscription)
Wet wipes (by subscription)
Tea (by subscription)
Shoes
Socks
Toys
Kids' books
Wrapping paper
Kitchenware
Shower curtains
Towels
Anyway, you get the idea. At least for us, it won't be hard to front load some of our purchases this year to spend $1500 Jan.-March on Amazon (we don't even have a car here in NYC, so gas stations is useless bonus category to us, but could be great if you drive and have long commutes). What I like about Amazon is that not only is it convenient to have a single place to search for things and read prior customer reviews, but there are a number of smaller vendors, for example 18 Rabbits, which are pretty much impossible to find products for locally, even in NYC. These vendors will never be a part of any of the mileage malls or shopping portals, but they are on Amazon.
Don't forget–if you, like us, have a number of Subscribe and Save items on Amazon, switch the payment method over to the Chase Freedom for January-March 2012 so that your subscription spend is rewarded with the 5x bonus.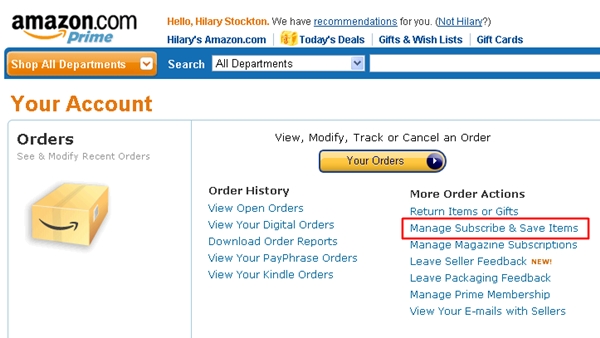 Here's what to do if you want to take advantage, and get 5x bonus points for Amazon spend:
1. Apply for the
Chase Freedom
if you don't already have it. The prior link is ours and offers 10,000 Freedom points, which convert 1:1 to Chase Ultimate Rewards Points. The previous higher bonus offers are dead, but if you're award of a better current offer, let me know and I'll post it.
2. Make sure you activate the bonus–you'll need to do this each quarter, which is kind of a pain, but you can set up text alerts to remind you. Also, when you call to activate your card, you can ask the representative to activate your bonus for Q1 2012.
3. Complete your spend: up to $1500 in the bonus categories in the relevant 3 month period will be rewarded with 5x Chase Freedom points.
4. Once you've been awarded your Chase Freedom points, both the 10,000 bonus for $500 spend within the first 3 months, and the 5x points for bonus category spend, you can transfer it to Chase Ultimate Rewards, and from there, you can transfer to any of the Chase Ultimate Rewards partners. For most people, the most valuable transfer partner will be United. Need help finding Star Alliance award availability? See
How to Find Star Alliance Award Space
If you enjoyed this, please follow TravelSort on Twitter or like us on Facebook to be alerted to new posts.
Become a Member to find your perfect luxury or boutique hotel at up to 50% off: TravelSort Hotels