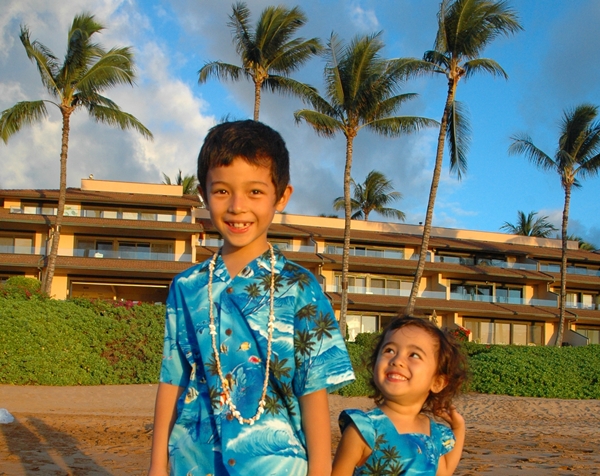 Why Go
As far as family vacation destinations, Hawaii has always been one of the best options out there. Not only are there wonderful beaches and delightfully pleasant temperatures, the natural wonders that keep parents enthralled are equally absorbing for children, something that cannot be said about many other spots out there. From outdoor pursuits like hiking and snorkeling to surfing lessons or simply splashing in the breakers, there is plenty to keep little ones and their parents busy. Most Hawaii restaurants and attractions are very welcoming to children, fascinating animal species abound, and the cultural activities and historical monuments are usually in spots that children will find interesting, too. And for the best in natural wonders with a stunning variety of options in a bustling city space, Honolulu is definitely the most convenient option for first-time visitors.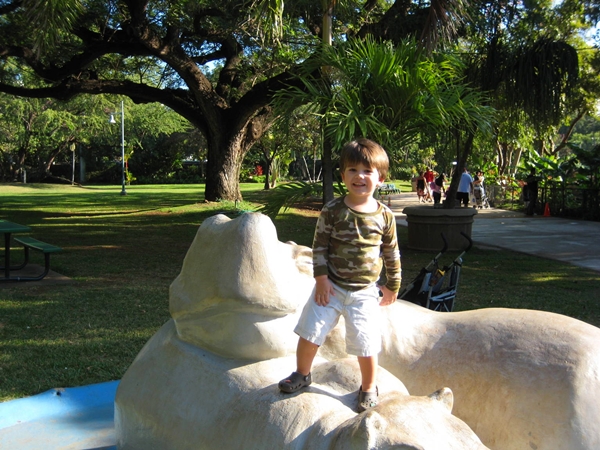 Insider Tips
You may want to plan your trip to Hawaii from the mainland for Christmas or winter break, but know that many other people are doing the same, so flights will be more expensive. Those trying to redeem mileage awards will likely encounter blackout dates during these times, too. Summer is a popular time to visit, but is extremely hot; you may want to avoid July and August. The best seasons to visit are spring or fall.
Don't forget to pack and use high SPF sunscreen, sun hats, and sun-protective clothing–and this is especially important for your children. Honolulu is close to the equator and the sun is very strong, even when out in it for short periods.
Getting to Honolulu is easy. Most major airlines have direct flights from all major United States mainland cities, and smaller markets are often well-served, too. My personal favorite to fly is Hawaiian Airlines. It has wonderful service and is one of the few airlines to still offer a meal included in your airfare.
Once you are here, I would recommend renting a car from the airport. Although parking can be expensive in Waikiki, where you will most likely be staying at some point during your visit, it is the easiest way to travel around the island, especially if you have smaller children. Another option would be to take the airport shuttle or taxi from the airport and only rent a car on the days you want to leave Waikiki. There are several rental car kiosks in and around Waikiki, and arranging for a car is straightforward.
In Waikiki, it's important to take advantage of the concierge. If you have specific ideas or requests, just ask them. Almost every hotel in every price range has a concierge. Unlike many places, the concierge service is really good at almost all places. If you tell them you want kid-friendly activities, they will have a million suggestions. Almost all activities that occur outside of Waikiki will have free shuttle access, too.
Honolulu is the capital of Hawaii, and is a city as well as a county. As a city, it is bordered by the airport on the west, Hawaii Kai on the east, the base of the Koolau Mountains on the North, and Waikiki on the south. As a County, it refers to the entire island of Oahu. As a resident, I rarely go into Waikiki. But as a visitor, it is the best place to stay because it has endless possibilities for accommodations, dining, and activities. Definitely try to get out of the hustle and bustle of Waikiki for day trips, especially those nature buffs coming. Below is a summary of each area of the island. I include suggestions for activities and eating in each place, as you probably won't get back to the separate areas on the same visit, so might as well know what you might be missing!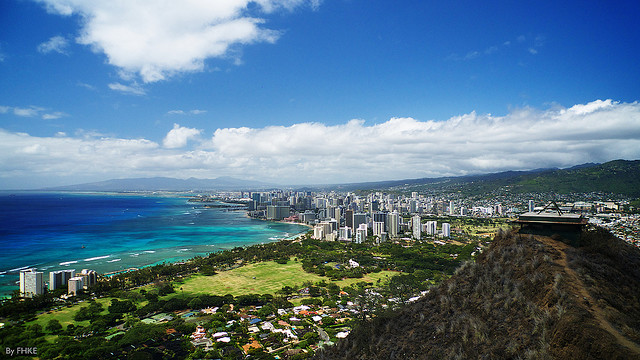 WAIKIKI
Where to Stay
From local, low-tech and "quaint" to foreign, hi-tech and businesslike, travelers will find a wealth of hotel options. If you are traveling with infants, I would highly recommend a hotel that has a kitchenette, or at least a microwave. One excellent option for families is the Hilton Hawaiian Village Beach Resort & Spa, located just outside the major hubbub of Waikiki. A five-minute drive has travelers right in the thick of things, but a great night's sleep comes easy being slightly secluded. Almost a resort town unto itself, it is packed with activities in addition to its comfortable rooms. It has numerous pools, restaurants, accommodation levels, and activities. Children will love the mini-golf and the activities and field trips offered through the Rainbow Express Keiki Club for children ages 5-12. Signing youngsters up for activities might give you adults some much-needed alone time.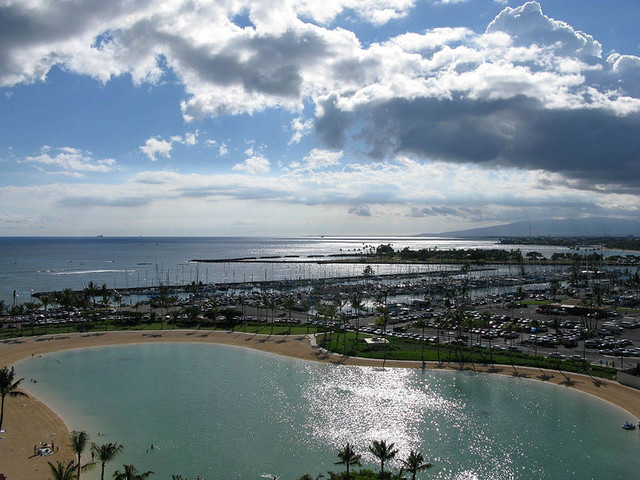 Where to Eat
Roy's Waikiki is a fair reproduction of the original Roy's which is in Hawaii Kai, but fortunately it still caters to young children. They sometimes have a box of toys for kids (but sometimes it is unavailable if other kids are using them, or if they are being cleaned). But the greatest thing is that they have a kids menu, and they start serving the kids right away, like before you even order. So they have something to nibble on the whole time. The kid options include some adventurous choices. I recommend the miso butterfish.
Tanaka of Tokyo is the perfect place to bring your family for an engaging dining experience. It is a Benihana concept, but the food is actually fantastic, and the "show" they put on will delight everyone at the table. The best part? It might actually allow parents to have an uninterrupted conversation and not have to bring the iTouch or other gaming device. Because they cook everything in front of you, there is a constant flow of food and always something to watch and marvel at throughout. Tanaka of Tokyo is located on the fourth level in the Waikiki Shopping Plaza.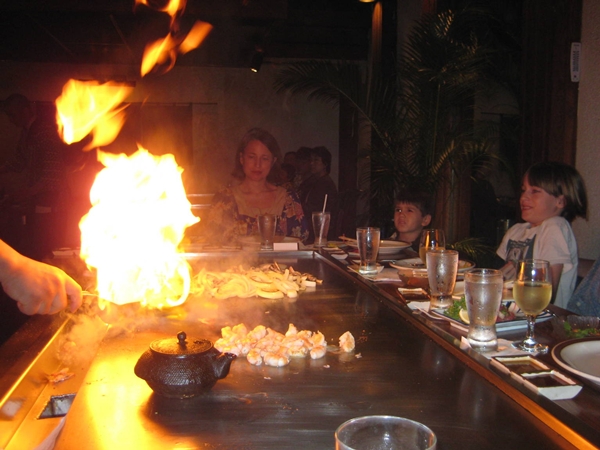 For fantastic Thai food, Keo's on the west side of Waikiki is a must. You can choose your spice level, so even younger kids should find something they enjoy. A related restaurant is Keoni by Keo's on the east side of Waikiki. This one also serves American style breakfast for a song, and has a Fun Factory arcade nearby for the kids.
Sansei Seafood Restaurant and Sushi Bar is an excellent kid-friendly pick for sushi, though not the island's best in terms of raw fish. It has a very lively atmosphere, some generic favorites, and specializes in those sushi rolls accentuated with lively adjectives like "crazy" and "dynamite."
Duke's Canoe Club has surprisingly good food, is right on the beach, and it is quick once you get seated. Go early, or try to make reservations; otherwise, expect to wait a bit. They have a great salad bar for lunch and dinner, and a lot of options to fit every budget and taste, and provide the family-friendly atmosphere that those traveling with children crave.
What to See and Do
Waikiki's biggest attraction is Waikiki Beach. It is iconic and instantly recognizable…sort of. It actually loses tons of sand a year due to erosion. The Waikiki Beach of my childhood was easily at least 50 percent wider than it is currently. Some of the high-end hotels try to cordon off parts of the beach and imply that only guests can go behind the velvet ropes (yes, some are velvet). A good thing to know about Hawaii is that we have strong public access laws regarding the beach. If it is the beach, it is open to all users. So feel free to make yourself comfortable ANYWHERE on the beach. Wakiki Baeach is relatively clean, and almost always quite gentle. The only real problem is the box jellyfish that make their way into Waikiki (and the rest of the South Shore of Oahu) about five days after a full moon. When the jellyfish are around, signs are posted. Stay out of the water if you see these signs. Getting stung by a jellyfish and finding out (the hard way) that you are allergic is no way to spend your vacation.
Ages: All (But be sure to protect everyone, especially little ones, from the sun)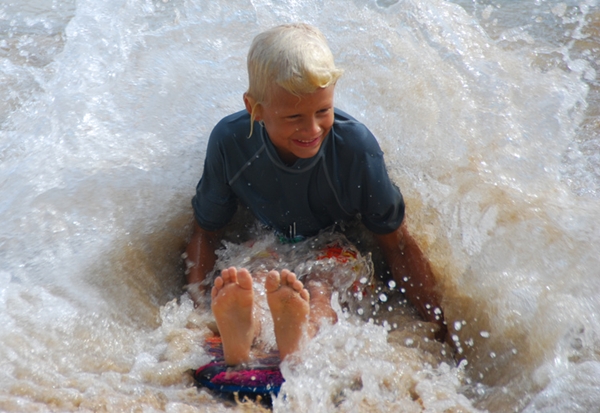 An excellent option for families with younger children, The Honolulu Zoo, located on the east side of Waikiki, is packed with possibilities. Highlights include the lively chimpanzee area and the baby lions, who are often wrestling playfully with each other. Because Hawaii is a rabies and snake-free place and we try to keep it that way, it means that the zoo cannot have certain types of animals that, if they found their way outside, could wreck havoc on our sensitive environment. There is a great playground towards the back, near the snack bar, where kids can let out their energy and you can sit on a shaded bench. It also makes for a great "reward" if the kids behave themselves! Behind the playground is the Keiki Zoo. It has a cow, donkey, turkey, goat, sheep, and even llama, plus a few other animals. It also has some nice exhibits and a fish enclosure with a plastic tunnel so you can get up close and personal with the marine life. But if you want to do that then you should really go to the Waikiki Aquarium.
Ages: All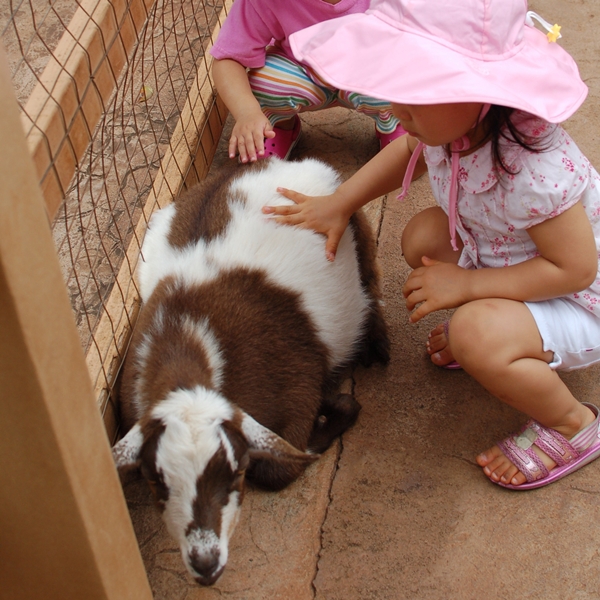 Waikiki Aquarium is a "quaint" aquarium, just about two blocks from the Zoo. But for excited aspiring marine biologists, it's a great spot to visit, as there are some really unusual fish and a great audio tour. You can go at your own speed and just punch in the number next to the exhibit to hear about what you are looking at…or not. It's up to you. The highlight is the reef area outside, where a volunteer will let the youngsters–and the not-so-youngsters–touch a wana (sea urchin) or hermit crab. Then, there are the two monk seals. Monk seals are very important to Hawaii, and we do what we can to protect them, especially since they are no match for the ever-growing population of careless motorboats and jet skis.
Ages: All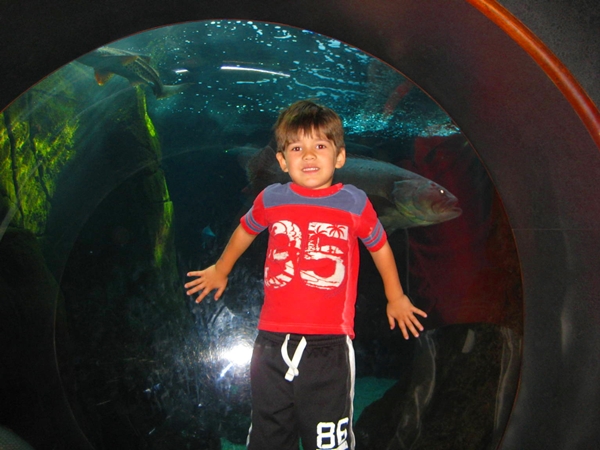 Walk, bus, or drive towards Diamond Head Crater, hang a left, and you'll find the entrance to the Diamond Head Crater Reserve Park. They do charge for parking, but the hike is free. This is not a traditional hike, as it is not through a forest. Instead, visitors will walk on a path built into the crater. In fact, the paths were built by the military when Diamond Head was primarily used for military purposes (it still is today, though less so). Walking through bunkers is often the most thrilling part for kids, so that itself might be a worthwhile reason to visit. It isn't a difficult hike (although not recommended for under 4, as there are a lot of steps), and the view from the top is lovely.
Ages: 4 and up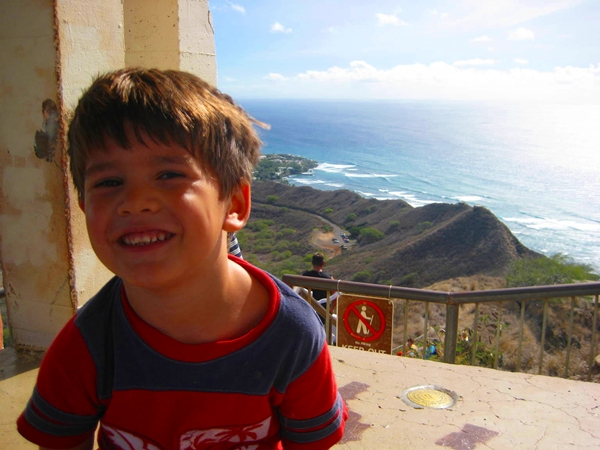 The official Web site for the Iolani Palace (located in downtown Honolulu not far from Waikiki) claims that it allows children who are five and older, but I probably wouldn't recommend it until your children are at least seven, eight if they are boys! The palace was completed in 1882 and was the first electrified building in Honolulu. It actually had electricity before both the White House and Buckingham Palace. Hawaiian royalty lived here until Queen Liliuokalani was put under house arrest as part of an illegal overthrow of the Hawaiian sovereign government by the U.S. in 1893.
Ages: 7 and up
EAST HONOLULU: This is pretty much the entire area that is east of Waikiki.
Where to Stay
There are very few hotels to stay at in East Honolulu, so most likely this will be a day trip from your base in Waikiki or elsewhere. For those who are in a position to splurge, The Kahala Hotel & Resort, a true luxury hotel in every sense of the word, will be a truly unforgettable vacation experience. Even those who are not getting pampered here 24/7 during their Hawaii vacation should stop by on their way out to Hanauma Bay, as the resort is on a lovely stretch of beach and has a lagoon with dolphins, sea turtles and tropical fish where you can participate in an "educational program" and then feed the dolphins.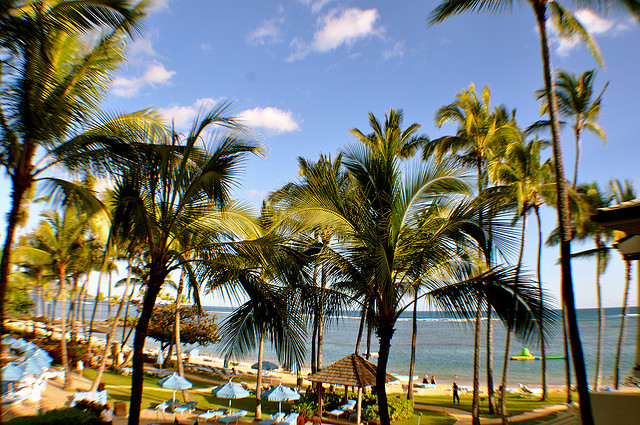 Where to Eat
Kahala Mall is located on the way from the Kahala Resort to Hanauma Bay, so it is a good place to stop either on the way there or on the way back. It has an assortment of places to eat, though unfortunately they are not in a central food court. My two favorites are Pearl's Korean BBQ, with fast food Kalbi, meat jun, and teriyaki chicken all served with rice and a variety of Korean vegetables and side dishes, and The Counter, which is a burger joint with great milkshakes and sweet potato fries. If you want to pick up some organic fruits, cereal, snacks or prepared foods for a picnic, there's also a Whole Foods grocery store.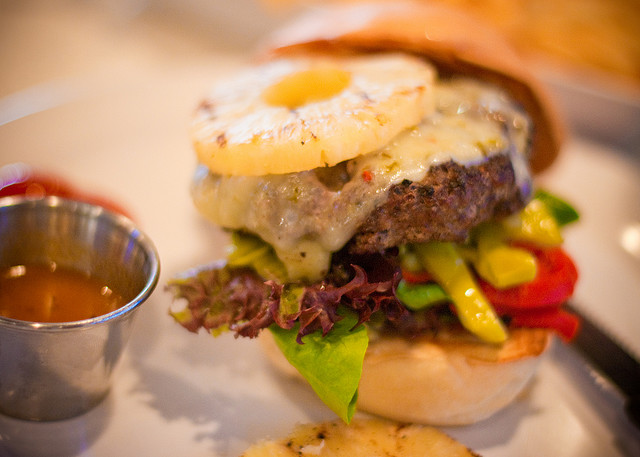 Le Bistro (5730 Kalanianaole Highway) is probably my favorite restaurant. It started out as a neighborhood place to get some great French/Continental food with Asian influences, but has turned into a pretty well known place around the island. Only open for dinner, but might be worth the trek from Waikiki. It is located on Kalanianaole Highway towards Hanauma Bay.
Roy's Restaurant (the original Hawaii location) is truly the best. Same goes here as in Waikiki. But keep in mind that the restaurant is super noisy. Great if you have cranky kids, but terrible if you actually want to talk to your family. Don't tell anyone I told you this…but here is what you do: make a reservation, but go early, and see if you can snag a table at the bar area, or better yet, the outside dining area. No reservations are allowed for these areas, but they are quieter, with the same menu, and sometimes you get a great local band playing. If you can't snag one of these tables, then stick with your reservation.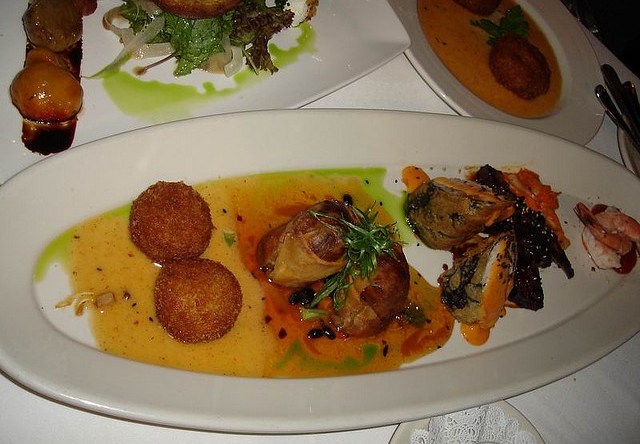 What to See and Do
Hanauma Bay is now famous and is still quite decent, but nowhere near what it used to be "back in the day." This is a natural bay that has become a fish reserve. The view from the parking level is amazing, and the waters are calm and beautiful. Those who want rustic should note that the whole atmosphere is somewhat sterile, like a Disney resort without the characters, ambiance, activities or food. In my day, you fought for (free) parking and then went and fed the fish, unsupervised. But now, you have to see a ridiculous movie about the bay and fish reserve first. This movie has no subtitles for Japanese tourists, who make up a large percentage of visitors to the Bay. The snorkeling is still decent, but I think it is just as good in front of the Outrigger Canoe Club, which is just a little further past the Aquarium. Closed on Tuesdays.
Ages: All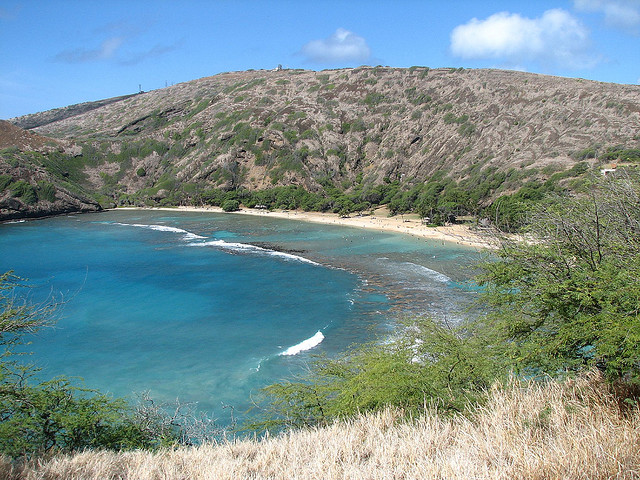 Just past Hanauma Bay is Sandy Beach. It looks serene and peaceful, but beware: the shore break here is literally a killer. People have died here, so it's important to not let little kids go in to play, not even on the shore. Nevertheless, it's very beautiful, a nice place for a picnic, there are bathrooms, and it's a great spot for flying a kite.
Ages: 5 and up
Makapuu Lighthouse is another easy hike. Longer than Diamond Head and fully paved, it's a nice pick for those with younger children. I saw people with baby strollers, so it's perhaps more of a stroll than a hike. With lovely views of the ocean, it's a great pick no matter the season and an excellent place to look for whales in the winter.
Close to Makapuu Lighthouse trail parking is Sea Life Park. A 62-acre ocean theme park with various sea life and shows, it's an excellent choice for families with children who love all things aquatic. Also home to a wholphin which is supposedly a cross between a false killer whale and an Atlantic bottle-nose dolphin.
Ages: 2 and up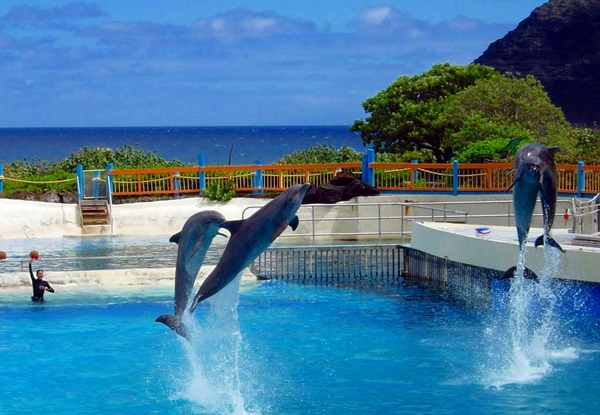 NORTH SHORE
This is the place we see in the movies: sleepy town with an eclectic art and surf community. It really is a gem, yet somehow gets missed by a surprising number of tourists. If the surf is high, expect a lot of traffic on the two-lane roads headed into and out of the surf spots.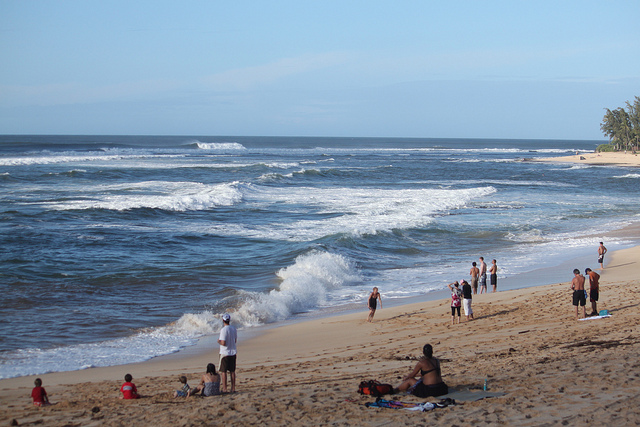 Where to Stay
There are numerous bed and breakfasts in the area, but not a lot of full service hotels. The only one that comes to mind is Turtle Bay Resort, and that is far past Haleiwa and the surf spots. Laid-back and very much of the area, it's a great place to be lulled into sleep with the sounds of the surf.
Where to Eat
Matsumoto Shave Ice still manages to eek out a living and has truly wonderful shave ice. Try the local flavors like mango and lilikoi. My favorite places are actually lunch wagons located at the beginning of Haleiwa.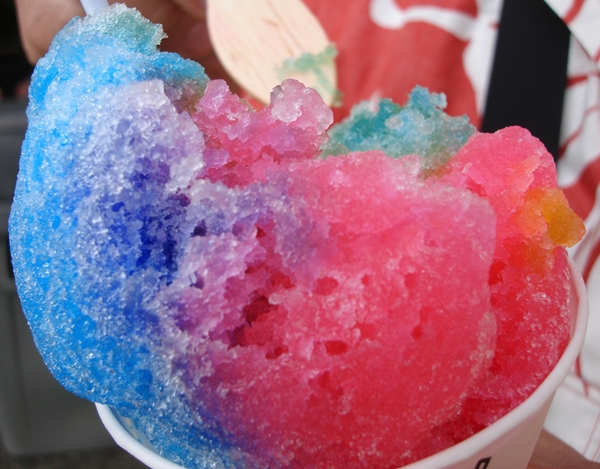 Giovanni's Shrimp Truck (83 Kamehameha Highway) that serves delicious garlic shrimp with the shell on. If you don't mind a wait, a little mess, and flies, it is a great little piece of (garlic) heaven.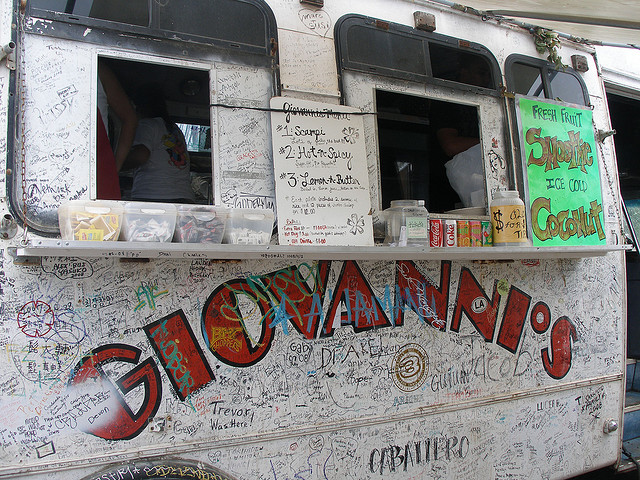 What to See and Do
Waimea Bay, Pipeline, and Sunset Beach are the most popular for surfing and surf-watching. Just keep driving until you find a parking space and then pull over and enjoy. During the summer, all of these places are calm and perfect for a day at the beach, but if it is winter, or the surf is high, be careful and head lifeguard warnings.
Ages: All
The Bishop Museum could be a stop on the way to the North Shore, as it's located about 7 miles west of Waikiki, this Hawaiian museum holds the world's greatest collection of Hawaii artifacts (natural and cultural). There is usually a great, kid-friendly temporary exhibit, along with some interesting and entertaining permanent exhibits. We go here about once a month with our son and continue to find enjoyment. Be sure to plan your trip around a presentation at the planetarium.
Ages: Best for 4 and up
The Polynesian Cultural Center is sort of like a "day in the life of Polynesia" experience. There are 7 cultures featured (Fiji, New Zealand, Marquesas, Samoa, Tahiti, Tonga and Hawaii). Each area offers exhibits, crafts and activities from the featured culture. There is also a surprisingly good luau and show here at night. It is possible to do the park, luau and show all in one night, but not if you have young children.
Ages: Best for 4 and up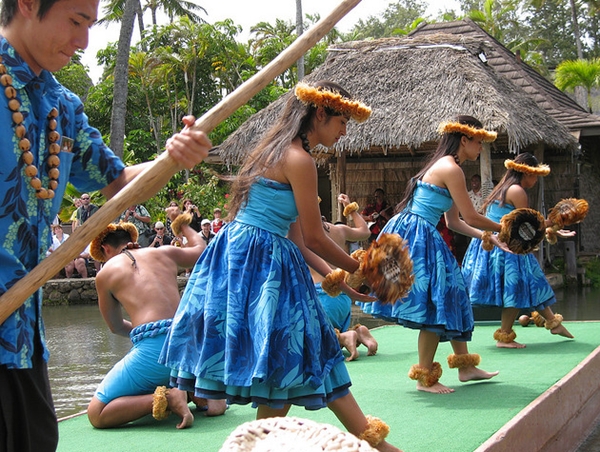 If you ask me, Lanikai Beach is the most beautiful beach in Hawaii, but, don't tell anyone! It is located in Kailua on the Windward side of Oahu. You have to find parking in a residential neighborhood and then take one of the many public access paths to the beach. The water is pristine, with bright white sand and a gentle breeze. It doesn't have any public restrooms, though, so if you have young children you will want to stay near Kailua Beach Park at the entrance to the Lanikai area. The only problem is that Kailua Beach is much windier, which makes for good sail-boarding and windsurfing.
Ages: All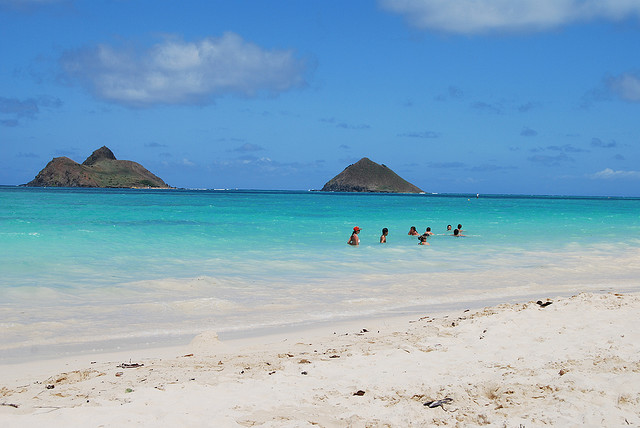 The USS Arizona Memorial is a stunning place to visit. The presentation and exhibits are outstanding and will give you chills at least once. The stories behind the military invasion are amazing. You can see the USS Arizona about 6 feet below the surface, still oozing oil and carrying the bodies of many that perished on December 7, 1941.
Note that tickets are free but are distributed on a first come, first served basis from 7am with programs starting at 8am, so you should try to get there in the morning to avoid a potentially long wait. Strollers are allowed in the Visitor Center but not in the theater or on the shuttle boats to the Memorial. Given this and the film, the Memorial is best for kids 6 and older.
Ages: 6 and up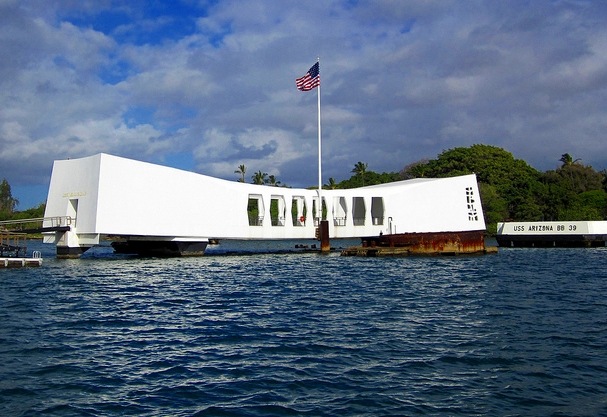 Hiking is a great North Shore activity for older kids. Get an Oahu hiking book and pick the trail most suited to your condition and temperament. The Hauula Loop and Ma'akua Ridge Loop offer incredible panoramic views and Maunawili Falls is an easy hike with several waterfalls and pools. Don't do the hike if conditions are wet and muddy, as it gets too slippery for kids.
Related Posts
10 Things You Shouldn't Miss in Honolulu, Oahu
Luxury for Less: The Top 5-Star Honolulu Hotels
Tips for Booking Award Flights to Hawaii
How to Book a Business Class Award Ticket to Hawaii
How to Fly Hawaiian from NYC to Hawaii with AAdvantage Miles
Need Award Booking Help? Our fee is as low as $75 per ticket if you book your hotel through us.
If you enjoyed this, join 100,000+ readers: please follow TravelSort on Twitter or like us on Facebook to be alerted to new posts.
Become a TravelSort Client and Book Your Hotel with Virtuoso or Four Seasons Preferred VIP Amenities!
Photo Credit: Lance Shields, mandolin davis, dawneday, blpsman, Kyler Kwock, Patrick Rudolph, D'Arcy Norman, Sarah Ackerman, Kanaka Menehune, jmcd303, Jennifer Martinez, Jason Helle, Matt Sims, Heather Harvey, nattokun, gadgetdude, Mikenan1, gochie*, cplbasilisk, Lady_Fox, FHKE, wallyg