This Freemans brunch review is one of our many NYC Restaurant Reviews. Visiting New York? See all of our posts tagged NYC.
Freemans is quite literally a hidden gem on the Lower East Side–you could easily walk right past Freemans Alley, which is just off Rivington between Bowery and Chrystie, and I would definitely have missed it if I hadn't known that I was looking for an alley. Even then, I peered a bit uncertainly down the graffiti-ridden alley, wondering if taking the munchkin here had been such a good idea, notwithstanding our mission in search of NYC's best pancakes. I could just make out an "A" restaurant grade, a good thing, since as I noted in my post on What to Eat in Singapore, I'd go to a Singapore food center stall rated a "B" but not a NYC restaurant graded "B."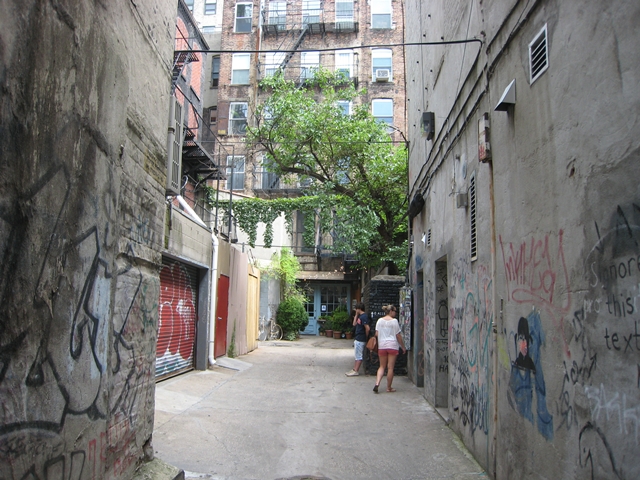 Unlike at Zoë, I wasn't able to make a reservation at Freemans for brunch–it only takes reservations for parties of 6 or more at brunch and dinner, although you could make a reservation for lunch for any size party. I wasn't thrilled about this, but the good thing is that Zoe has several rooms and considerably more seating than Prune. Plus, as a hipster spot, our chances of getting a seat were quite good even at 11am when we arrived–I've heard that as long as you arrive before noon, there's likely to be minimal to no wait.
Sure enough, when we arrived there was no wait, and we were led to a table in the back room, quite dimly lit (perhaps to accommodate hangovers?), and rustic American in the extreme: think multiple antlers on one wall, and taxidermy gone amok on the other. Fortunately the munchkin was pretty oblivious to the decor, so I didn't have to do any explaining.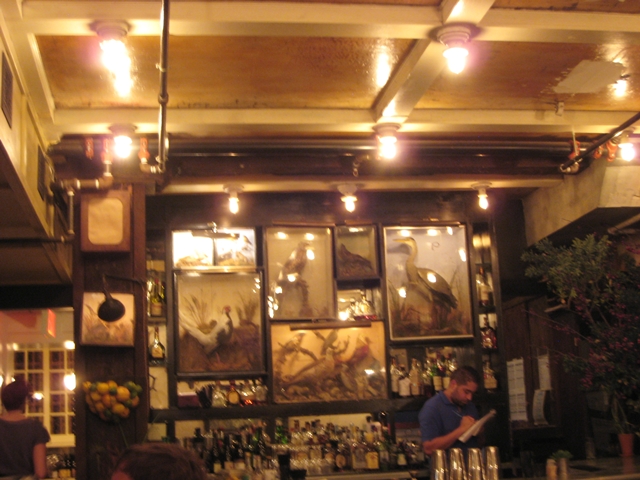 Instead, we focused on the menu, which the host had already placed on the table.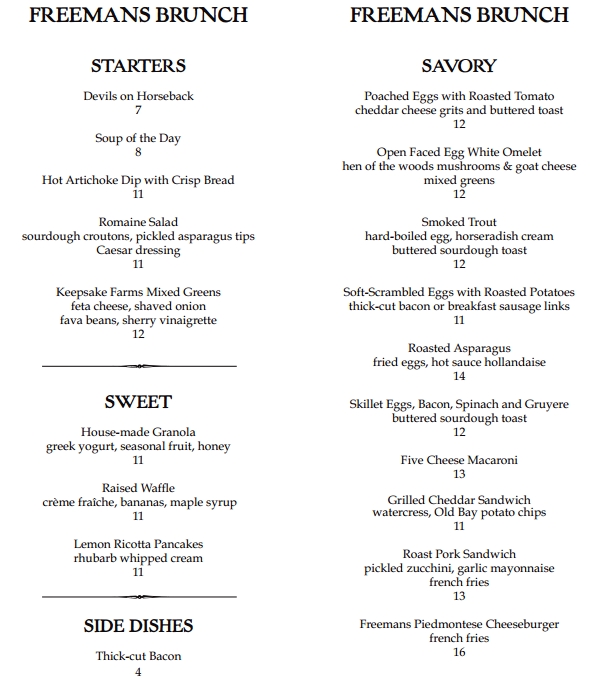 I'd already looked at the menu online in deciding to come to Freeman's, so after confirming with the munchkin that he wanted pancakes (met with a resounding yes) I caught the eye of our server. There didn't seem to be any air conditioning, and even though it fortunately wasn't as hot as at Zoë, I knew we'd be drinking lots of water. I requested one of tall green carafes of water which I'd seen on the other tables. While he was pouring the water, I asked if we could order. No doubt I'd jumped the gun a bit, as he replied just a bit testily that he needed to finish pouring the water first. Fair enough. We ordered, and while waiting read some books together.
I liked that although there was some music in the background, it wasn't as loud as at Prune, where it can be quite distracting and sometimes even a bit hard to have a conversation. Freeman's was certainly not quiet, and the tables are packed in very close together, but the noise level, at least in the back room where we were, is fine for brunch. I can imagine, however, that at peak dinner and bar times in the evening it's a lot crazier. I also noticed that the front room, which had more natural light but also more people, was a good bit louder, so I was quite happy to be in the back room. We didn't venture upstairs, so I can't comment on that space.
Although not quite as fast as Zoë, the kitchen was still very efficient; I don't think we waited more then 10-12 minutes for our brunch dishes to arrive. Somewhat inexplicably, the runner (not our server) placed the burning hot cast iron dish containing the mac and cheese right in front of my four-year old while cautioning me that it was very hot. I quickly intervened to place it in front of me, so that the pancakes could go in front of the munchkin. They were lemon ricotta pancakes with rhubarb cream, but when I asked our server about the rhubarb, he noted that it was mixed into the cream. It was pretty much indiscernable, but no matter; the pancakes were very good with the cream and maple syrup (served in a cute glass log cabin container), and a very generous portion for $11. They were cakey and tender, and not as light as the ricotta pancakes I make at home (which get their lightness from whipped egg whites) but good nonetheless.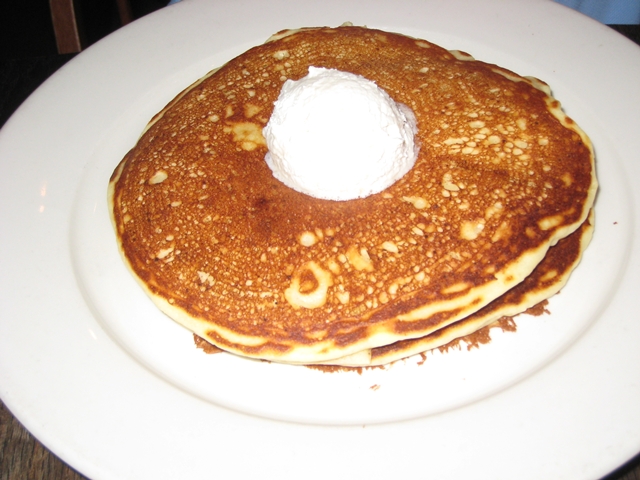 The thick cut bacon was cooked perfectly: not as crisp of course as thinner bacon, due to being thick cut, but with great flavor to it, and not burnt, which I hate.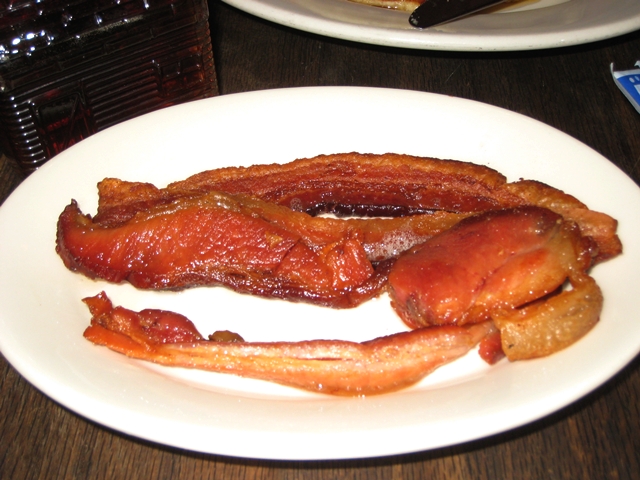 The five cheese macaroni was a smaller portion than I expected (a bit smaller than at Five Points), but its richness justified it. The breadcrumb gratin was a nice contrast, though I felt that a pinch of freshly ground nutmeg and black pepper were needed to give it a bit of kick. Fortunately there was a pepper grinder at the table (I hate places that just have preground black pepper).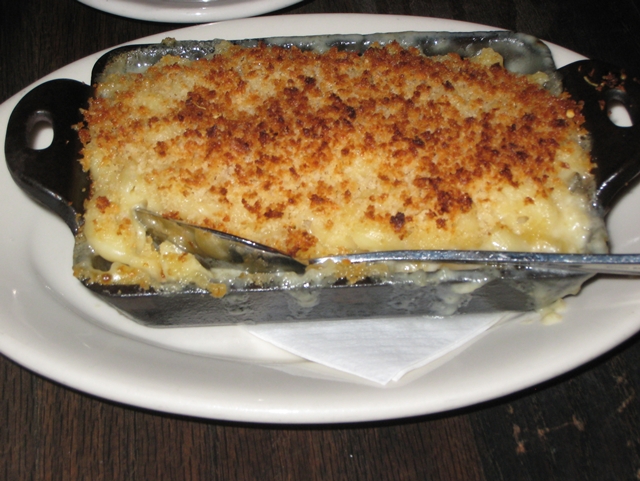 The Verdict: 4/5. Brunch for two came to $31 + tip = over 150 Ultimate Rewards points. I've seen some reviews that complain about Freeman's being overpriced, but given what we had, I can only wonder–overpriced compared to what? McDonald's or a diner? $11 for a generous portion of pancakes this good is a great deal for Manhattan, even if this LES location wasn't previously on my radar. And while the $13 mac & cheese at first seemed a small portion, it was so rich that I ended up bringing a bit of it home, with some of the leftover bacon ($4), for my husband. It's true that I didn't try any other food or brunch cocktails, so I can't comment on whether some of those may seem overpriced, but for what we ordered, I was very happy with the value and food quality. As for the environs, I can't say I'm as taken with the "American rustic" theme as some–I tend to prefer lots of natural light flooding in and modern, beautiful surroundings, whereas I found Freeman's rather gloomy. Service was better than I expected–hosts didn't bat an eye at seating a 4-year old, our orders came quickly, and our server kept our water glasses refilled. Yes, I did notice he was seemingly more attentive to a couple of rather scantily dressed women seated next to us, but who cares? We were happy with our brunch, and will definitely go again at some point, especially as it has both pancakes and mac & cheese at brunch–the munchkin's two most requested foods.
Related posts
Review: Clinton Street Baking Company, NYC
Where to Go for the Best Brunches in New York
Cafe Katja NYC Restaurant Review
Need Award Booking Help? Our fee is as low as $75 per ticket if you book your hotel through us.
If you enjoyed this, join 200,000+ readers: please follow TravelSort on Twitter or like us on Facebook to be alerted to new posts.
Become a TravelSort Client and Book 5-Star Hotels with Virtuoso or Four Seasons Preferred VIP Amenities!