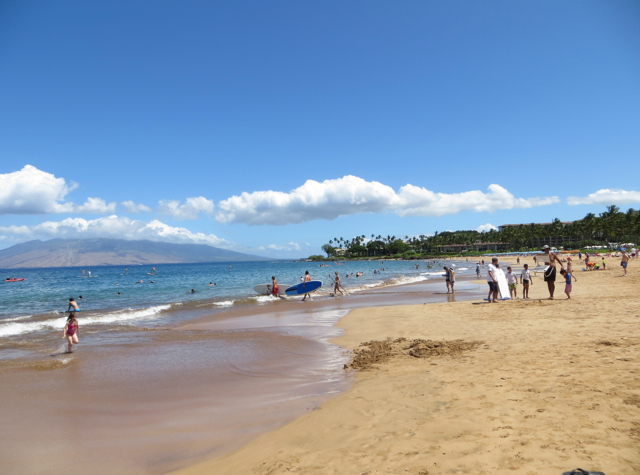 A free one way to Hawaii with United miles: what's not to like? I previously covered great ways to get to Hawaii in Best Frequent Flyer Miles for Hawaii Award Tickets, but have had to update that post since a free one way with AAdvantage miles is no longer possible, ever since American AAdvantage eliminated North American stopovers on award tickets (see No More AA Free One Ways).
Earlier this year, as an Award Booking for a client who travels to both Hawaii and Asia regularly, I booked an award that effectively includes a free one way to Hawaii before the Asia trip. How so? Well, Hawaii is a weird exception to the general United MileagePlus rule that no longer allows open jaws on stopovers–only at the destination.
But Hawaii is an exception that allows you to open jaw on a stopover to or from Asia (including North Asia, Southeast Asia, Japan, Central Asia), Australia and Oceania. Drew eloquently explains this in a recent post that reminded me of my client award booking.
This would allow you to do something such as:
The great thing is that you don't have to use the open jaw within Hawaii; you can instead open jaw within the North American region. So my client's booking looked like this:
EWR-HNL (United BusinessFirst)
JFK-ICN (Asiana First Class)
ICN-JFK (Asiana First Class)
Now, this was before the
United Award Chart Devaluation
, when roundtrip in Asiana First Class used to be 140,000 MileagePlus miles. With the devaluation, roundtrip has jumped 100,000 miles, to 240,000 United miles. Still, the ability to get a free one way on that nice EWR-HNL United BusinessFirst nonstop, worth ~$1600 one way, is some consolation if you can get this award to work for you.
Here are a few other examples–note that in each case, the United miles required are the amounts for the roundtrip to Asia or Australia; the one way to Hawaii is effectively free. For ideas for the return from Hawaii, simply refer to the
Best Frequent Flyer Miles for Hawaii Award Tickets
post for miles that can get you back.
Example 1: EWR-HNL and LAX-SYD-LAX, All in United BusinessFirst
Due to the United award chart devaluation, which created separate award charts for United and Star Alliance partners, United awards are cheaper. This example includes that hard to get EWR-HNL nonstop in United domestic first, plus LA to Sydney roundtrip in United BusinessFirst, which can also be challenging to secure, as a coveted nonstop.
2. 2 Award Seats: DEN-HNL and SFO-TPE and NRT-SFO in United First Class
In this example, there are two open jaws: the one in Honolulu, for the stopover (the Hawaii exception that is the subject of this post), and also an open jaw at the destination: flying into Taipei and out of Narita. It was possible to find two award seats in this instance, since West Coast to Hawaii awards tend to be easier to come by than East Coast to Hawaii.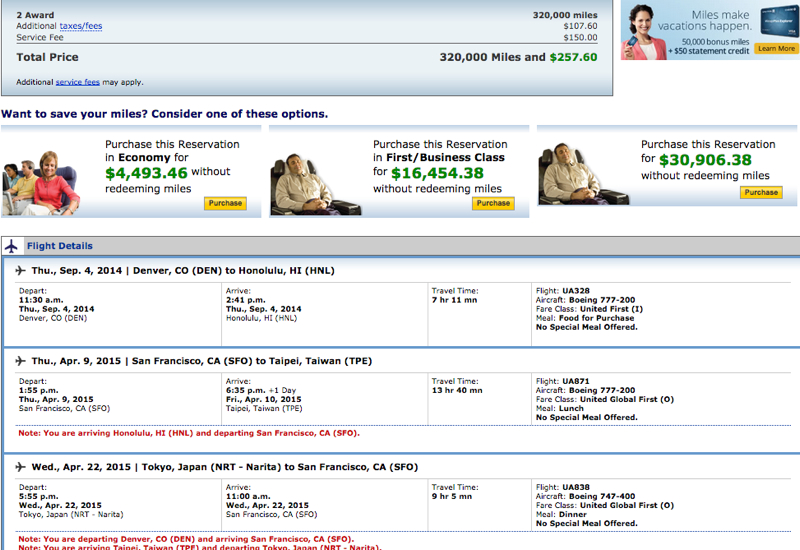 Although this example is for just one award ticket, you'll notice it's quite expensive, due to the post-United Award Chart Devaluation mileage required for Star Alliance partners such as Asiana and ANA. Still, if you have plenty of United miles, the great thing is that you pay just $53.80 in taxes for some fantastic products to and from Asia, not to mention a flat bed United seat to Hawaii from Washington, DC.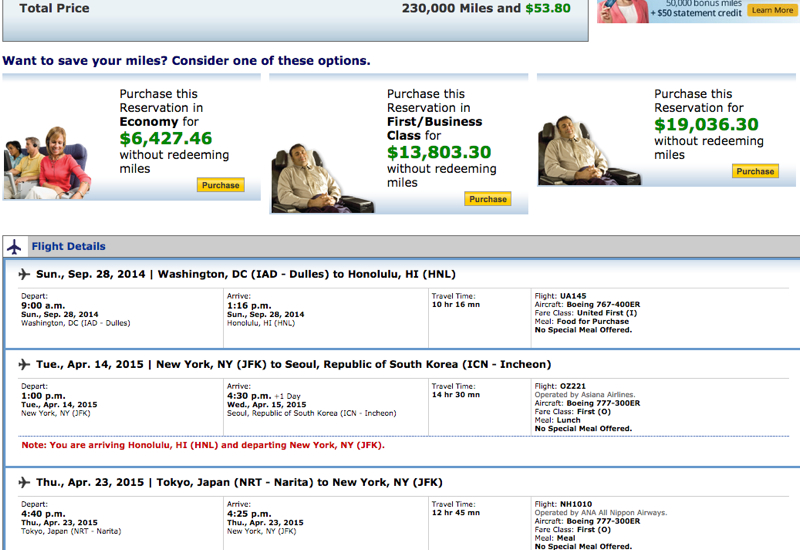 Things to Keep in Mind
No Backtracking Through the Same Airport
You won't be able to backtrack through the exact same airport you departed from. That's why in the second example, the free one way to Hawaii was from Denver; it wouldn't have worked if it was from SFO and the roundtrip to Asia was also from SFO. EWR and JFK, however, have worked in terms of not counting as the same airport.
Search Segment by Segment, Then Book as Multi-Destination
When piecing your award together, as usual, you'll want to search segment by segment to ensure there's space for your dates, then use the Multiple Destinations tool to actually book it. You won't see it priced out until the final screen, when the miles should reflect the amount for the roundtrip award to North Asia, Australia, etc.,
Major Caveats: Why This Won't Work for Most of My Clients
There are a couple reasons why I've only booked this award once for a client:
1. United BusinessFirst Award Space to Hawaii is a Major Bottleneck
All of my Award Booking Service clients want business or first class awards, and it can be VERY challenging to find business class award availability to Hawaii, especially from the East Coast, the EWR-HNL and IAD-HNL nonstops in particular, with flat bed seats. It's easier from the West Coast, where the product is also just a recliner seat, but there's usually still very scarce availability for business class saver space during popular travel times.
2. Much More Difficult for a Couple or Family with Date Constraints
While I booked this award for a client flying solo, most of my clients are couples or families with fairly narrow date parameters that will work for them. The chance of finding two or more of them business class seats to Hawaii on their preferred dates, in addition to their first class or business class award tickets to Asia or Australia, is pretty much nil.
Have you taken advantage of this free one way to Hawaii with United miles as part of a roundtrip to Asia or Australia?
Related Posts