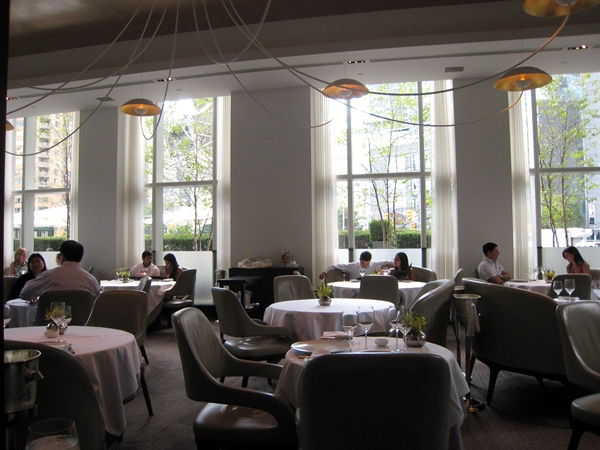 I and many others are far from thrilled about the upcoming devaluation of the British Airways award chart for single Oneworld Partner awards, as we wrote in Time to Redeem British Airways Miles for Cathay Pacific First Class. It's not time to cancel the BA credit card just yet, however, since the British Airways Visa Offers $100 off 2 New York City Michelin Star Restaurants and the offer has been extended through December 31, 2011. Finally, there is literally a free lunch–at Jean-Georges no less.
We've written about Jean-Georges in our Splurging on New York's Best Special Occasion Restaurants, where we recommended the 2-course lunch followed by dessert. At the time, it was definitively the best fine dining lunch value in Manhattan, at $29 + $8 for dessert. Since then the price has increased (after Labor Day) to $38 for two courses (each additional plate is $16) so it's not as good a deal–unless, of course, you're getting a $50 statement credit that makes it free (or very inexpensive, even if you get dessert and a glass of wine).
Recently my husband and I enjoyed our free lunch at Jean-Georges, which fortunately is easier to reserve now than it used to be, since it's available on
Open Table
(previously it wasn't, and you had to call).
We arrived right on time for our reservation, but our table wasn't ready yet, so the hostess invited us to wait in the lobby of the Trump International Hotel, where Jean-Georges is located. Unfortunately, the hotel lobby is very small, and all the seats were taken up by a family. In about 10 minutes, we were shown to our table, which was probably the most private banquette, as it was recessed into the wall. So private, in fact, that we didn't see a good part of the room and didn't even notice a friend of ours who was also dining, until after we had all finished lunch.
As our reservation was for 2pm, we were both famished and grateful for the fresh bread that was soon brought, along with butter (no seaweed butter, alas, unlike the delectable versions we tried at Spring Restaurant and at the Four Seasons George V Paris. The rye bread, nonetheless, was a delicious–and a rather unusual choice, I can't remember when last I've been offered dark rye at a Michelin star restaurant.
The amuse bouche was an interesting pairing–a savory soup in a shot glass with watermelon and cucumber: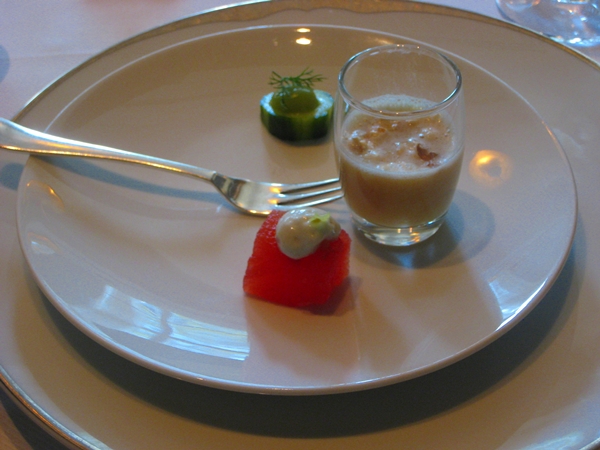 For my appetizer, I ordered Sea Scallops with Caramelized Cauliflower and Caper-Raisin Emulsion. This is one of Jean-George's signature dishes, so it incurred an $8 supplement. I loved the flavors, but for the small portion size (and given how great my husband's app was) I frankly didn't think the supplement was worth it. I would try something different next time.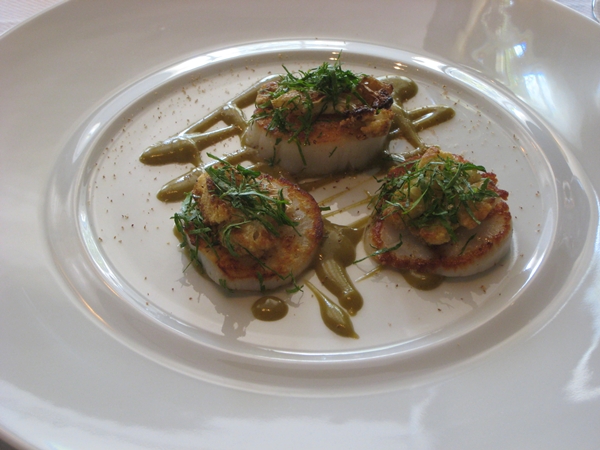 For our appetizers, my husband ordered peekytoe crab squash blossom tempura on a summery bed of roasted tomatoes. As soon as I tasted it, I wished I'd ordered the same thing! Unfortunately it was a seasonal dish, and I no longer see it on the menu.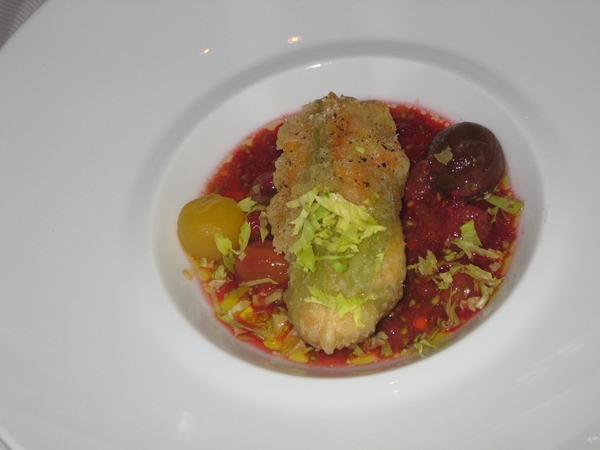 For entrees, I enjoy sweetbreads, so I ordered the Salt and Pepper Sweetbreads with Sweet Chili Emulsion and Pea Shoots. I have to say, I was a bit disappointed with this dish, compared to other sweetbread dishes I've tried. I'd expected the sweetbreads to be seared more. It may just be personal preference though.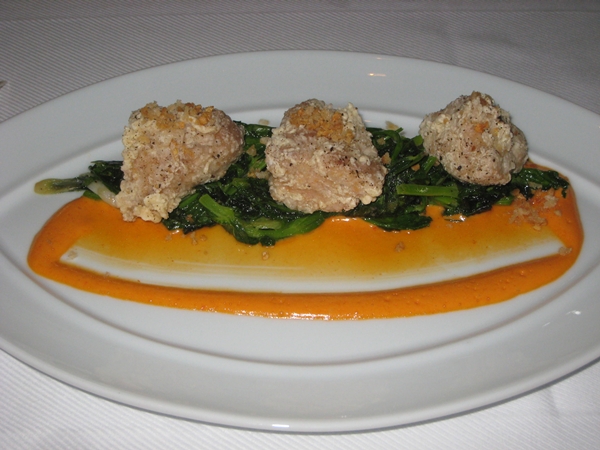 My husband went with the Caramelized Beef Tenderloin, Goldbar Squash with Parmesan Cheese and Buttery Hot Sauce. I definitely preferred his dish, although we agreed that it more a solid execution and lacked a "wow" factor.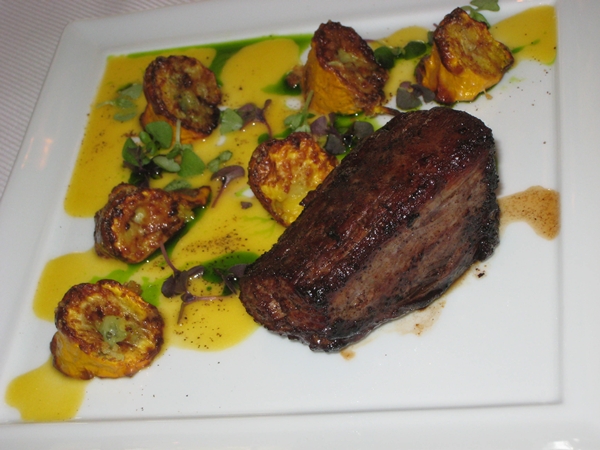 I wasn't necessarily expecting much from dessert, which we shared, but it was the second strongest aspect of the meal, after the fantastic peekytoe crab appetizer. We chose the chocolate pudding cake with basil, cherry compote and swirled quark cherry ice cream. Excellent dark chocolate, probably Valrhona, and the cherry and quark ice cream pairing worked beautifully. This is unfortunately another seasonal item that is no longer on the menu, although the classic molten chocolate cake and warm sweet potato cake are also delicious, I've tried them both on previous occasions.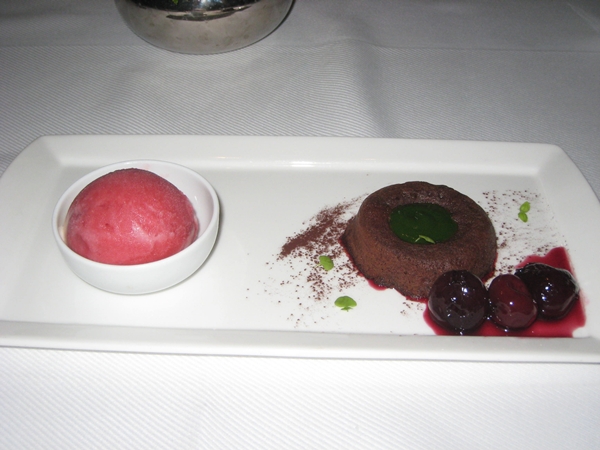 Service throughout our meal was professional, but not nearly as polished as, say, at Eleven Madison Park or Le Cinq in Paris, even simply comparing lunch service. I was also a little piqued that they placed the bill on our table without first offering us the complimentary chocolates and macarons that other tables were offered-I had to ask for them-perhaps a simple oversight, but not one you'd expect at a 3 Michelin restaurant.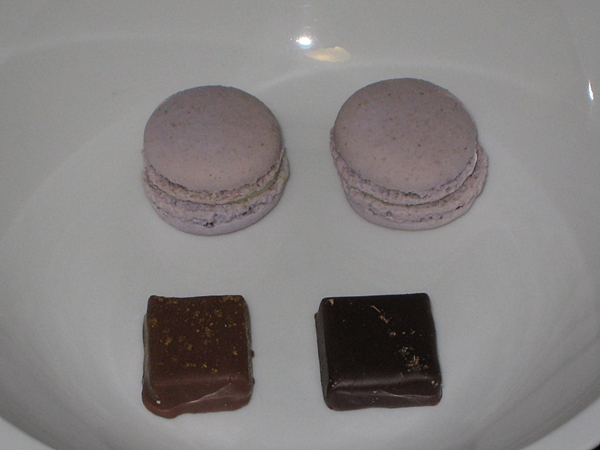 Ultimately, we can't complain since our actual lunch was free, and we paid only for wine and tip (we split the bill and each used our British Airways cards, which netted us two $50 statement credits for a total of $100 off) but I probably would not rush to go back at full price. A pity it's not possible to simply order appetizer and dessert, as those two courses were truly amazing.
Related Posts