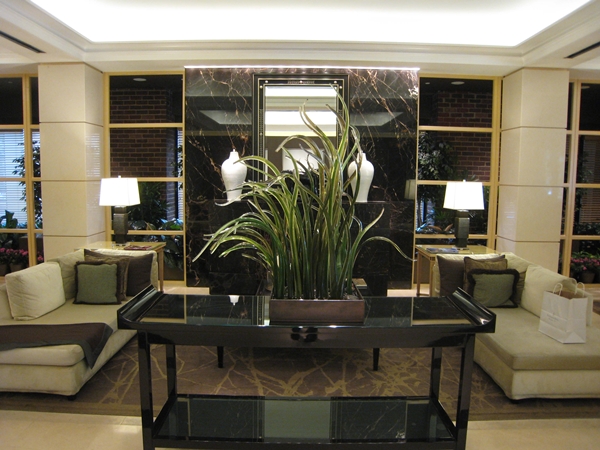 Recently I had a work trip to DC, so I decided to try out Seasons Restaurant at the Four Seasons Washington DC for breakfast. Keep in mind that TravelSort Clients can enjoy complimentary breakfast as part of these Four Seasons Preferred Partner benefits:
Daily full American breakfast for two people per bedroom, served through In-Room Dining or in the hotel restaurant (including buffets)
Choice of USD100 Spa credit (not applicable to products) or USD100 food and beverage credit once during stay
Upgrade of one category, based on availability at time of check-in (excluding signature suites and villas)
Complimentary basic Internet in all guest rooms, complimentary premium Internet in all suites.
Seasons is best know for its opulent Sunday brunch, which is equally richly priced, at over $80/person. But even its regular breakfast is known for attracting the capital's power brokers, and I was also curious to see the results of the recent $1 million renovation.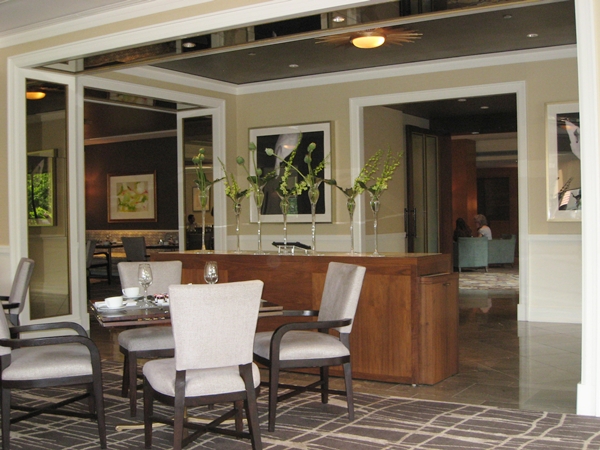 When I arrived, I was warmly greeted and led to a table by the window, with a view of the outdoor patio. In fact, they had already thoughtfully provided a Washington newspaper at the table, although seeing my Financial Times in hand, they deftly removed it. As it was a very warm day, I was just as happy to be seated indoors, with air conditioning, but otherwise the outdoor seating and views overlooking Rock Creek looked inviting. While I never visited Seasons Restaurant prior to the renovation, I can't say anything stood out to me about the room, other than its understated elegance, in keeping with the Four Seasons brand. Apparently its former incarnation was darker, and the current setup has a lighter and more open feel to it.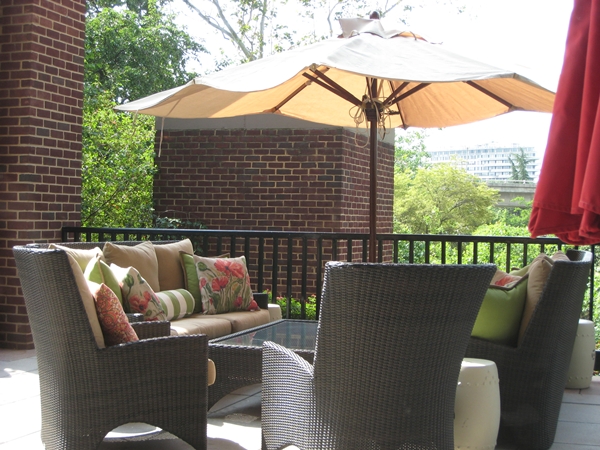 The menu, as I'd expect in DC, is quite traditional: eggs benedict, breakfast sliders with housemade sausage patties, house smoked salmon and bagel, buttermilk pancakes, Belgian Waffle, steak and eggs. The most tempting options for me were the Egg White Omelet with Jumbo Lump Crab, Boursin, and Roasted Tomato, and the "Smashed" Chocolate Croissant French Toast with Raspberry Compote. In the end I felt like something more savory, and went with the omelet, after asking them to make it with whole eggs instead of egg whites (maybe it's just me, but egg whites have basically no flavor–and why give up the complete protein that whole eggs provide?)
While waiting, I noticed a deck of DC trivia cards on the table, with questions such as this one: "She was the first First Lady, of just two so far, to be one president's wife and another's mother. Name her, please." I enjoyed looking at the cards, although I've always been awful at trivia games. I think the only time I've managed to win Trivial Pursuit was when I played the Norwegian version and my Norwegian opponent handicapped himself by taking out all the Norway-specific questions. In any case, a nice local touch. I was in fact a bit surprised that the menu doesn't nod more to local or Southern favorites–the main southern influenced item seemed to be Shrimp and Grits with Creole Gravy.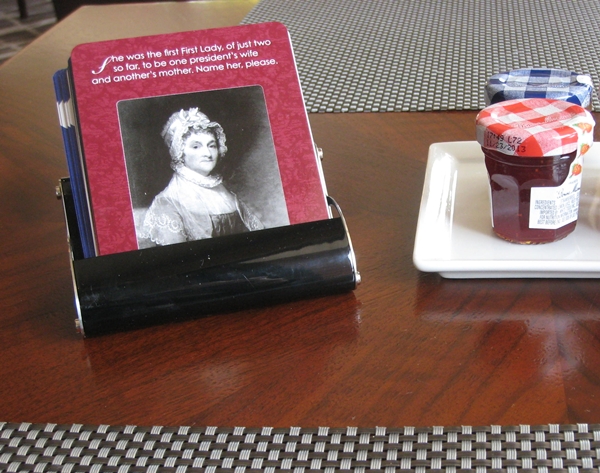 My omelet arrived after about 15 minutes, accompanied with a baby arugula salad. While I'd been a bit skeptical of this dish (mainly because it's normally made with just egg whites) I was pleasantly surprised by how flavorful it was and how well the crab, boursin and roasted tomatoes complemented each other. The boursin had melted nicely, and the garlic upped the flavor without overwhelming the freshness of the crab. The roasted tomatoes added a lovely piquantness, without being as strong as, say, sun dried tomatoes packed in olive oil.
The arugula salad was exactly as described, very lightly dressed (which I prefer), and with a few tomato slices and radish. Normally, I avoid anything with radish in it, but the bitter flavors in the salad contrasted quite nicely with the creamy boursin cheese in the omelet. If I had to nitpick, they might want to note that the salad comes with radish, as many don't care for it. Then again, easy enough to take out.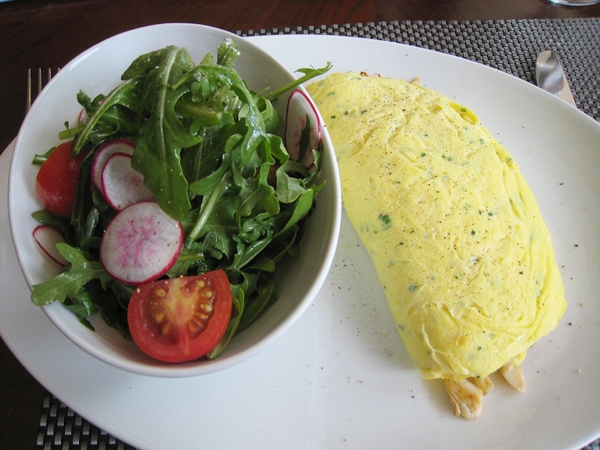 Even though the omelet was a good portion size and normally would, together with the salad, have been enough for me, I was ravenous that day and also ordered, on the recommendation of the server, some traditional coffee cake, along with a cappuccino.
As requested, they were served together, and the coffee cake turned out to be two pieces, although I just ate one. The illy cappuccino was excellent–among the best I've had anywhere. The coffee cake, on the other hand, while perfectly fine, was disappointing to me. I'm sure traditionalists would be very happy with it: crumb coffee cake, with no other flavors or anything added–but personally I prefer the pumpkin chocolate coffee cake I make at home, or German sour cherry kuchen, or the blueberry coffee cake I get from a local NYC bakery, Glaser's. That said, it's really a matter of personal taste, and slicing the coffee cake and adding some of the provided Bonne Maman jam improved it, though a nice housemade fresh fruit jam would have been an even better touch. Still, I really can't complain, especially as I wasn't even billed extra for it. When I checked with my server about this, he smiled and said it was included with my omelet dish. I didn't see anything about this on the menu, but if that's the case, it makes the $23 omelet a better deal–especially since it staved off hunger for a good 7 hours in my case.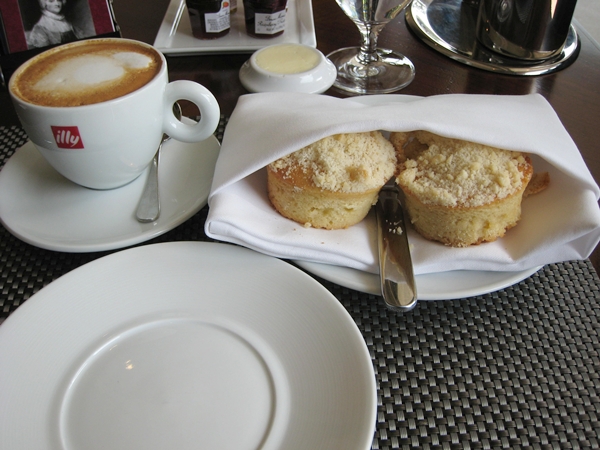 A review of Seasons Restaurant would be remiss without mentioning the perfect service. Even though I just had a rather quick breakfast and wasn't even staying at the Four Seasons hotel, it was almost a mini vacation–service is that stellar, and not just for the high-powered politicians, financiers and celebrities, from George Clooney to Carlyle Group's David Rubenstein who like to dine here.
The verdict: A pricey spot, particularly for drinks (my cappuccino was $8, total bill was $42 including tax and tip) but probably about on par price-wise for other 5-star hotels in DC, and an excellent choice for a working or special occasion breakfast, where great service is key.
Related posts:
Review: Four Seasons Washington DC
Best Luxury Hotels in Washington, DC
History, Ghosts, and Delicious Eats in Washington, DC
Where are the best pancakes in Washington, DC?
What are the best kid-friendly sights and things to do in Washington, DC?
Need Award Booking Help? Our fee is as low as $75 per ticket if you book your hotel through us.
If you enjoyed this, join 200,000+ readers: please follow TravelSort on Twitter or like us on Facebook to be alerted to new posts.
Become a TravelSort Client and Book the Four Seasons Washington, DC with Four Seasons Preferred Partner Benefits!