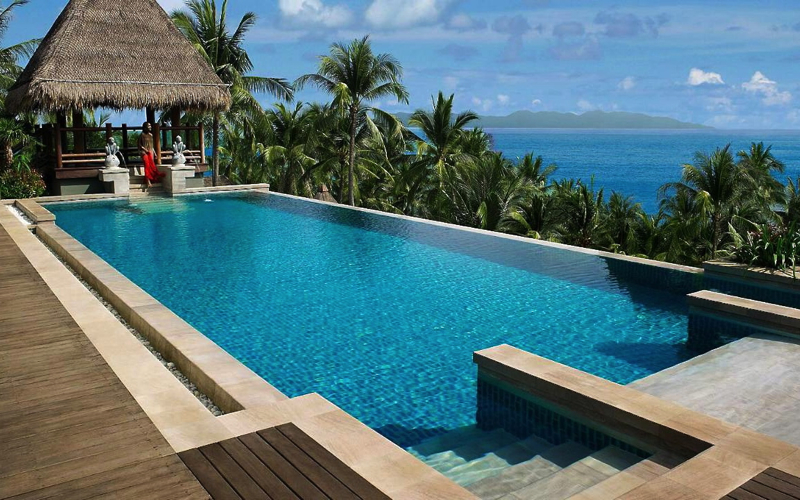 This Four Seasons Koh Samui review is part of a trip report including Singapore Suites, Cathay Pacific First Class, Emirates First Class, Asiana First Class and luxury resorts and dining in Southeast Asia. For the previous posts, please see:
Singapore Suites A380 Review: New York JFK to Frankfurt
Review: Lufthansa Senator Lounge Frankfurt
Singapore Suites A380 Review: Frankfurt to Singapore
Singapore Airlines Private Room Lounge Review
Cathay Pacific First Class Review NYC JFK to Hong Kong
Singapore Suites A380 Review: Singapore to Hong Kong
Review: Grand Hyatt Hong Kong Club Harbour View Room
Tin Lung Heen Hong Kong Dim Sum Review
Review: Grand Club Lounge, Grand Hyatt Hong Kong
Emirates First Class A380 Review: Hong Kong to Bangkok
Review: Novotel Bangkok Suvarnabhumi Airport Hotel
Conrad Koh Samui Zest Restaurant Review, Menu and Prices
Koh Taen Snorkeling with Tours Koh Samui Review
Conrad Koh Samui Jahn Restaurant Review, Menu and Prices
TravelSort Clients may book the Four Seasons Koh Samui with Four Seasons Preferred Partner benefits:
Daily full American breakfast for two people per bedroom, served through In-Room Dining or in the hotel restaurant, including the breakfast buffet at KOH Thai Kitchen (review in future post)
$100 spa credit once during stay
Upgrade of one category, based on availability at time of check-in
Complimentary basic Internet in all guest rooms, complimentary premium Internet in all suites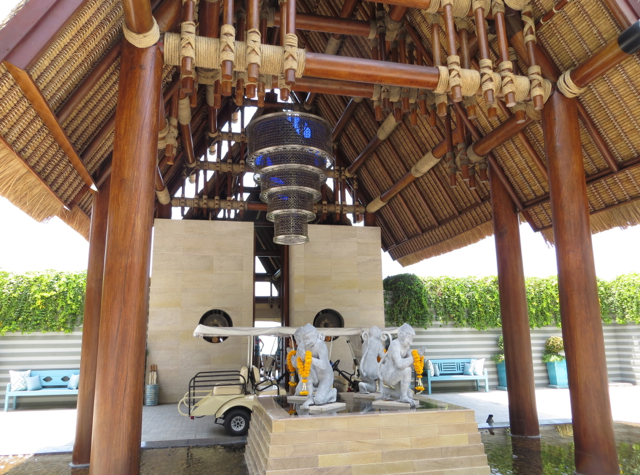 Four Seasons Resort Koh Samui Location and Check-In
The Four Seasons Koh Samui is 25-30 minutes from Koh Samui Airport, on the northwestern part of the island on Laem Yai Bay. It was about 30 minutes from where we took the boat on our Koh Taen Snorkeling trip, and we arrived mid-afternoon. Fortunately, since it's Koh Samui and the Four Seasons, we were warmly welcomed even in our swim gear, and were soon enjoying some of the most elegant welcome drinks I've seen, presented in beautiful glass holders with an orchid and a fragrant jasmine garland for me.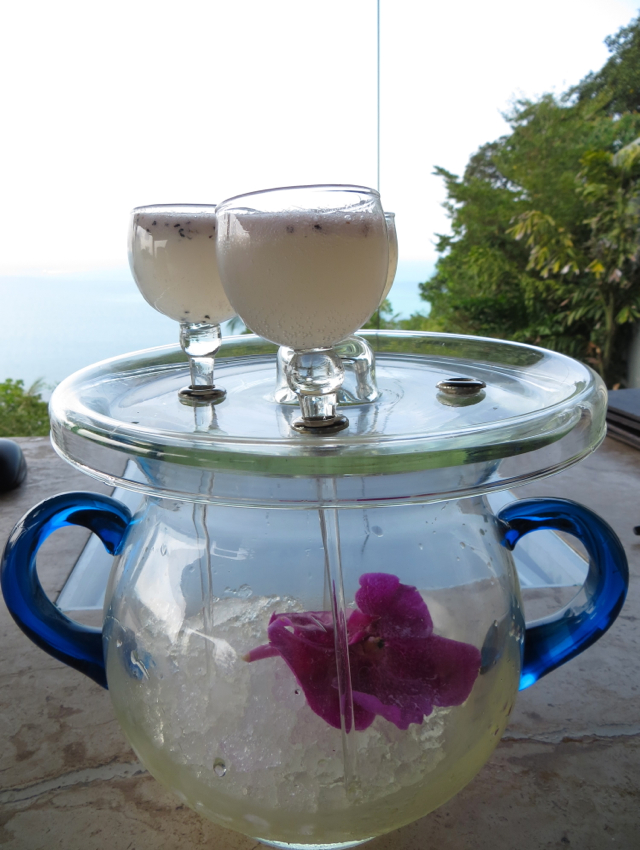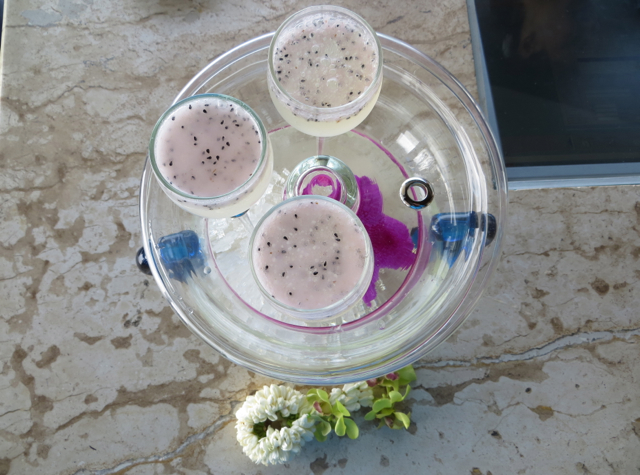 We sipped our drinks, enjoying the beautiful ocean views of Laem Yai Bai: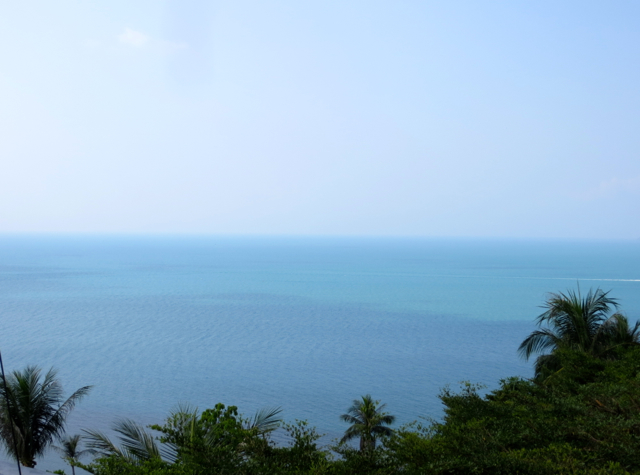 Meanwhile, the munchkin was thrilled to receive a Four Seasons Koh Samui frisbee: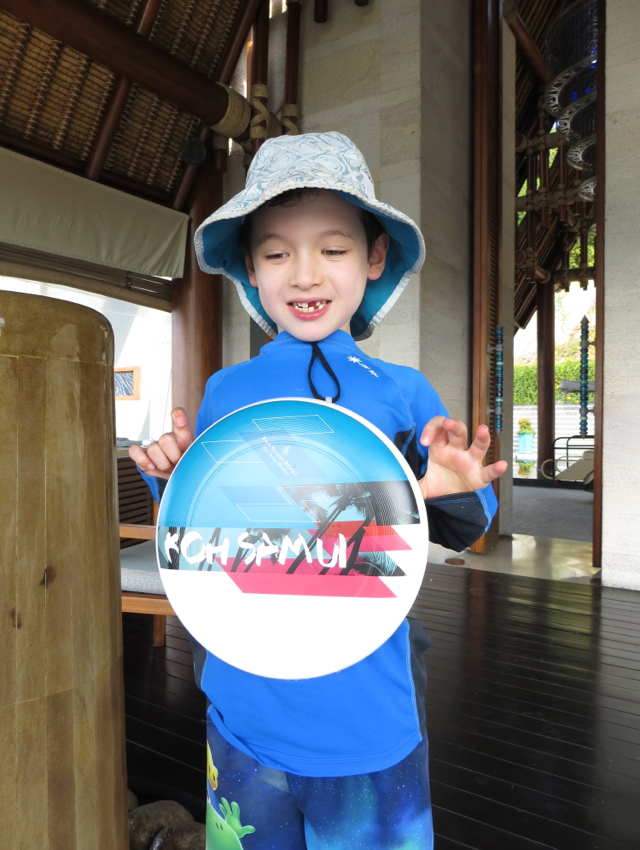 Check-in was quick, and we were soon on our way in a buggy to our villa, which the resort had generously upgraded to a Premier One Bedroom Villa.
Four Seasons Koh Samui Premier One Bedroom Villa: Villa 204
All Four Seasons Koh Samui villas are stand alone and have their own private infinity pool (or in the case of some of the private residence villas, two infinity pools). The different villas vary mainly by villa size, the size of the infinity pool, and the view.
I loved the privacy–you enter via an exterior door off the path where the buggy drops you off, and then go down several steps to the villa.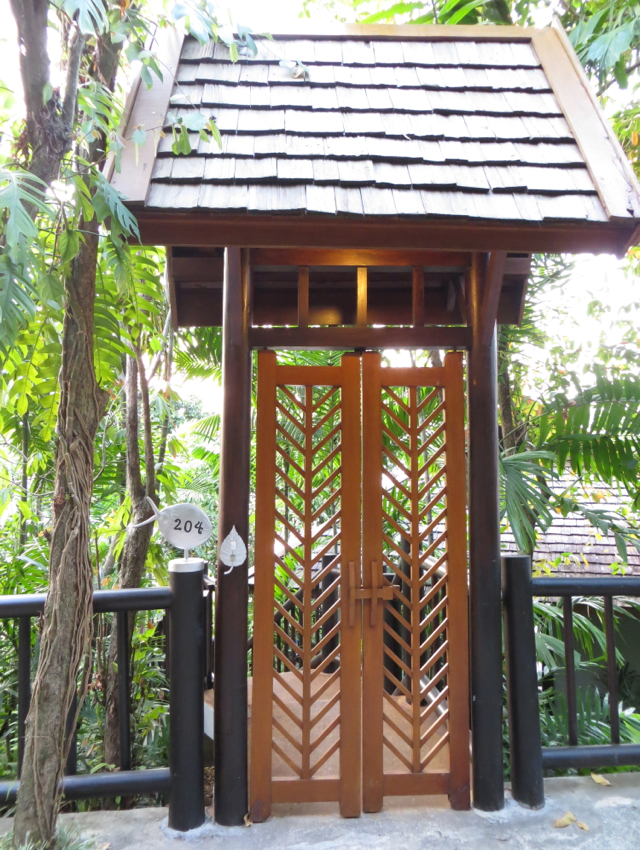 The spacious deck and private infinity pool first greet your eye, and it wasn't long before my husband and the munchkin were already in the pool, and having–you guessed it–another water gun fight. So here's a photo prior to the water war: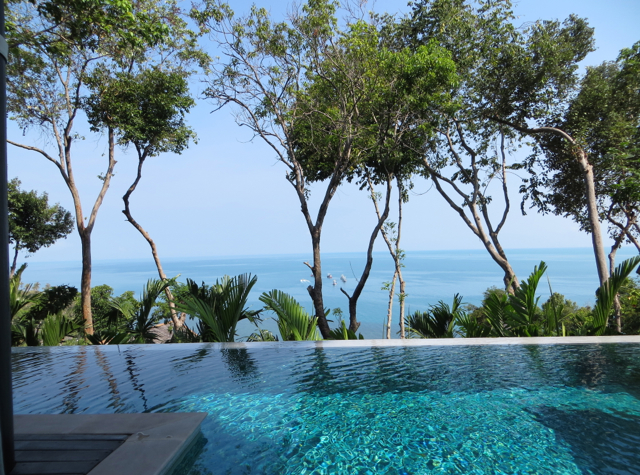 Sliding glass doors open to the bedroom and desk. There were delicious welcome amenities: for us, some sparkling wine and appetizers, and for the munchkin, a generous spread of yogurt, fresh strawberries, marshmellows and fresh squeezed juice.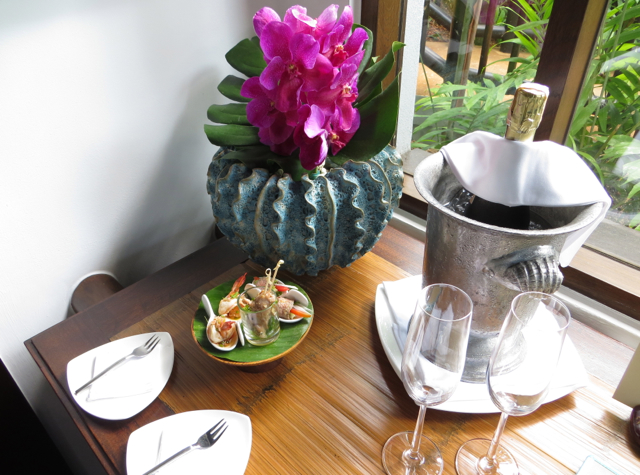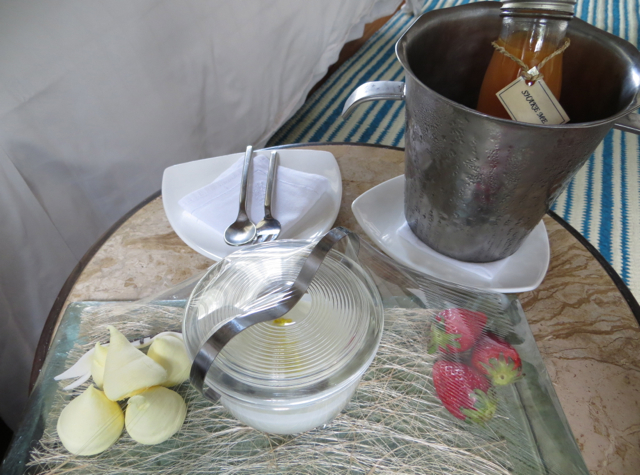 Later, lying down on the bed, my husband sighed with contentment at the Four Seasons bed. Nothing else is quite as comfortable, and we had our best sleep in Koh Samui here.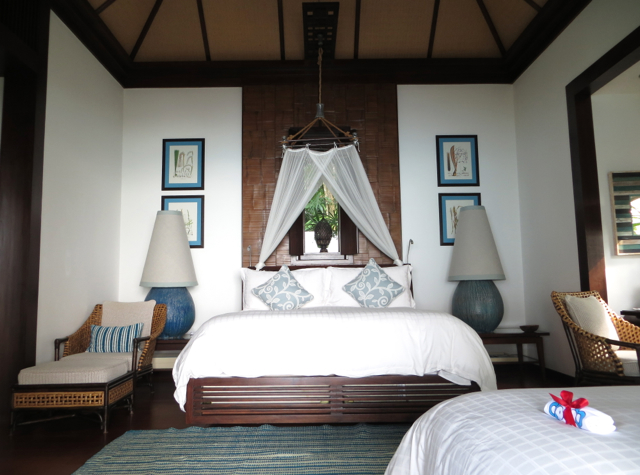 The bathroom is light filled and spacious, with two separate vanities and his and hers closets–very convenient.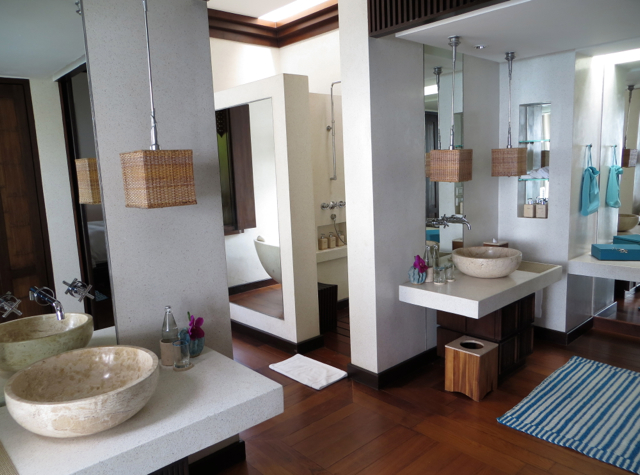 Everything is open plan, so the only door is between the bedroom and bathroom, with alcoves for the walk-in shower and toilet chamber.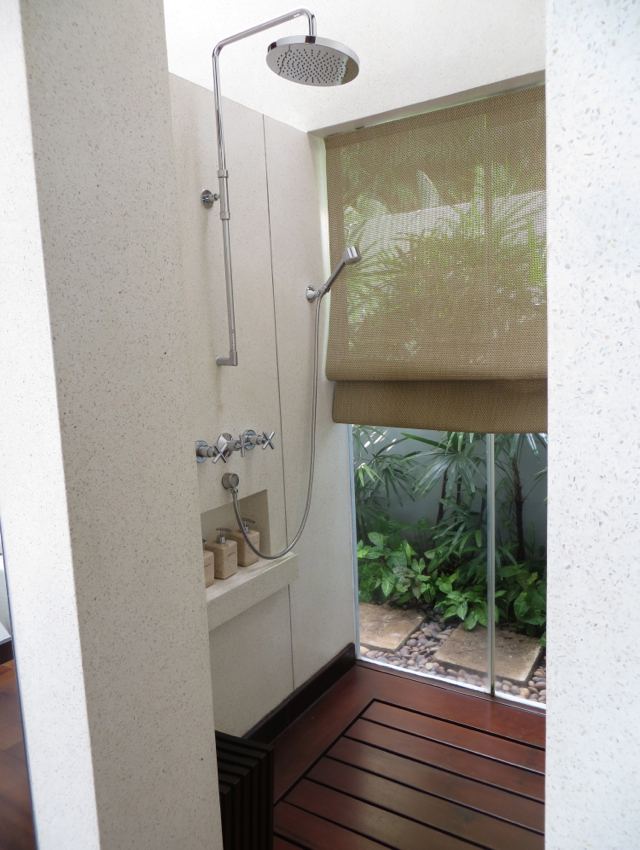 As at the Four Seasons Bali Jimbaran Bay, the shampoo, conditioner and bath gel are the Four Seasons' own custom blend, provided in large dispensers. More ecologically friendly, and unlike some resorts' house brands, excellent quality, similar to Kiehls.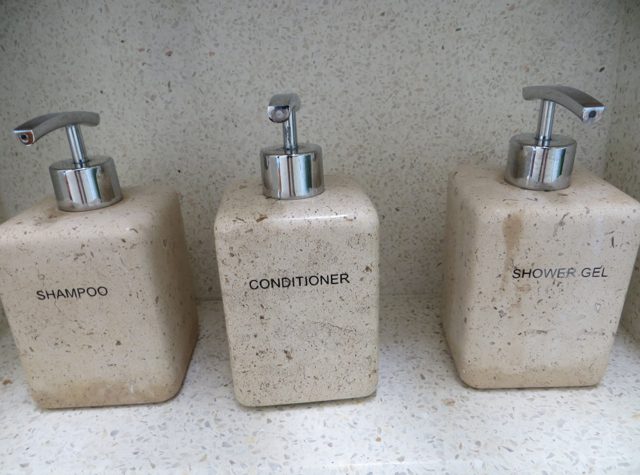 The soaking tub was by the window, with a view of the outside deck and the ocean, and there were even foam letters spelling the munchkin's name, a fun surprise for him.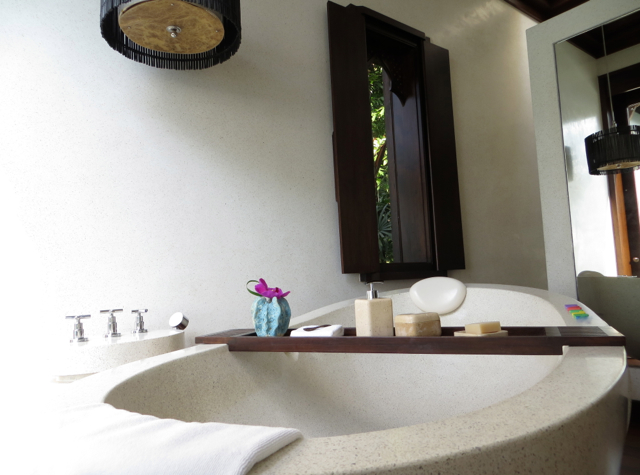 The munchkin was also thrilled to have his own child size light cotton bathrobe, just like ours, but in his size: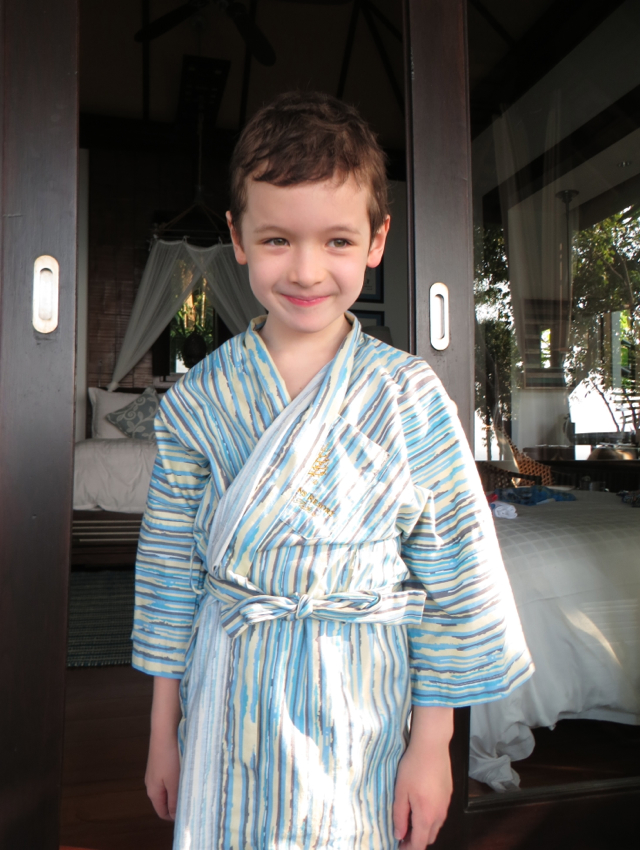 Four Seasons Koh Samui Beach and Swimming Pool
Unless you're staying in one of the Beachfront or Beach Villas, you'll probably want to take a buggy to the beach. We never waited long between calling for a buggy and when it arrived–impressive, given just how extensive the property is. The beach here is much nicer than at the Conrad Koh Samui: whiter, softer sand and clearer water. For active sorts, kayaks, boogie boards, stand-up paddle boards, snorkelling equipment and a hobie cat are all available on a complimentary basis.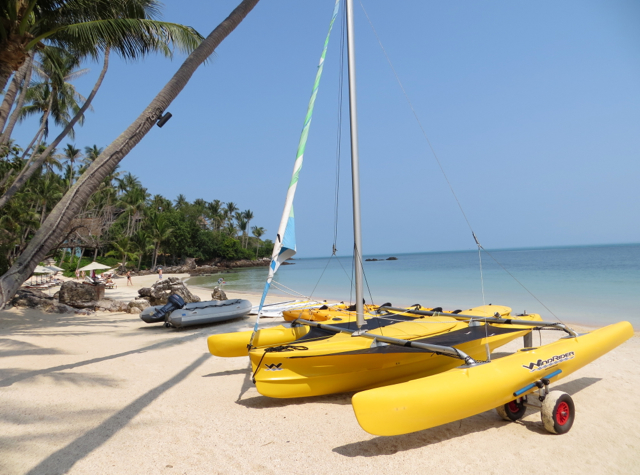 And if you'd rather relax under the palm trees, there are plenty of comfortable lounge chairs, with attentive Four Seasons service: cool towels, ice water, and little treats such as fresh fruit and smoothies served periodically.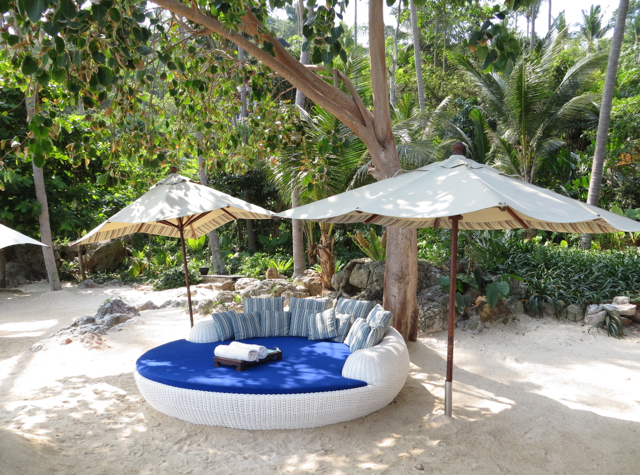 The main pool is nearly superfluous given that each villa has its own private infinity pool, but perfect if you do want to swim laps or simply want to savor an even closer view of the ocean, given that it's located right by the beach. The munchkin loved swimming there with some new friends from the Kids for All Seasons Kids Club–they took turns jumping into the water.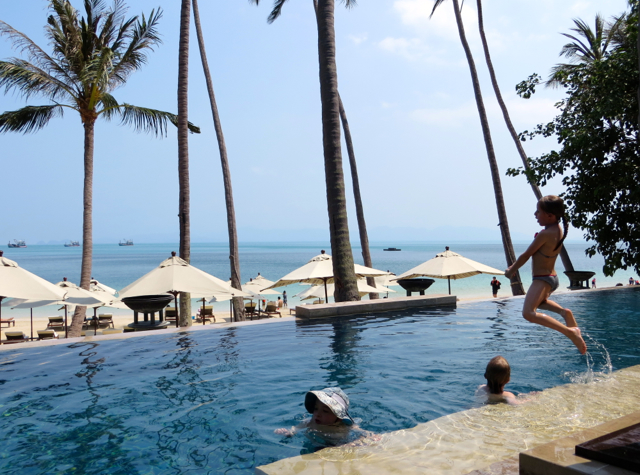 Four Seasons Koh Samui Spa
The Spa was a short walk from our villa, and I couldn't resist trying a Siam Fusion Massage. It's described as incorporating Thai yogic stretching and accupressure, together with luk pra kob, a warm compress of lemongrass, ginger and camphor, to further relax muscles. This is followed by deep-pressure massage, using essential oils of mandarin and peppermint.
I first completed a brief questionnaire, mentioning the areas I most wanted to focus on, and enjoyed a cup of fragrant herbal tea: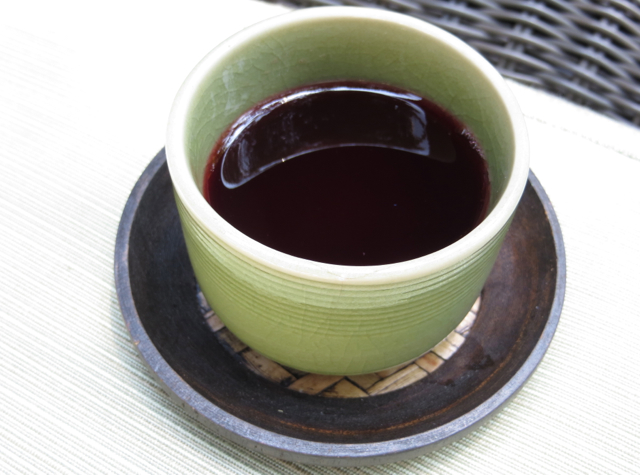 Afterwards, I met my therapist, who led me along the pathway to a stand alone spa villa for my massage.
Inside, there was a changing room, where a cotton robe was ready for me to change into, then I was seated for the customary Thai foot washing that begins each spa ritual.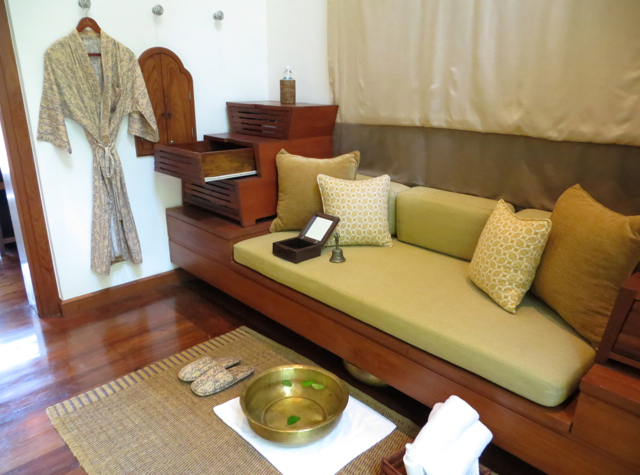 In the next room, there were two massage tables, making for a tranquil place for a couples massage if you and your partner would like to both enjoy treatments at the same time. I loved that a lotus flower was thoughtfully placed underneath for you to look at while having your back massaged.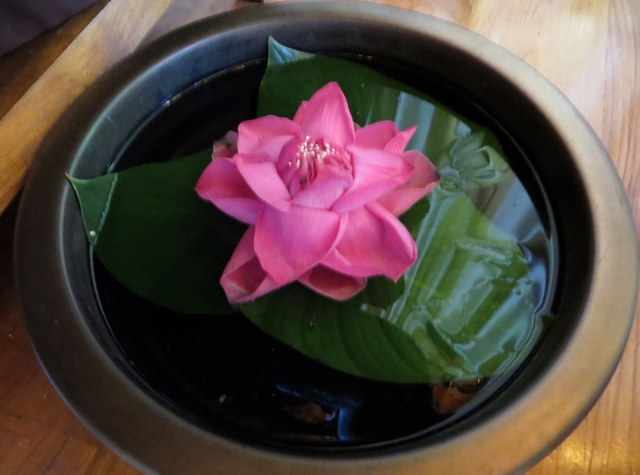 The warm compress full of Thai herbs was a highlight for me of the massage–it significantly helped relax my muscles and made the massage that much more effective. I also loved the fresh scent from the lemongrass and ginger used in it. While initially I thought a 90 minute treatment might be too long, it went by much faster than I anticipated. Between that and the Four Seasons bed, I slept more soundly that night than I had in some time.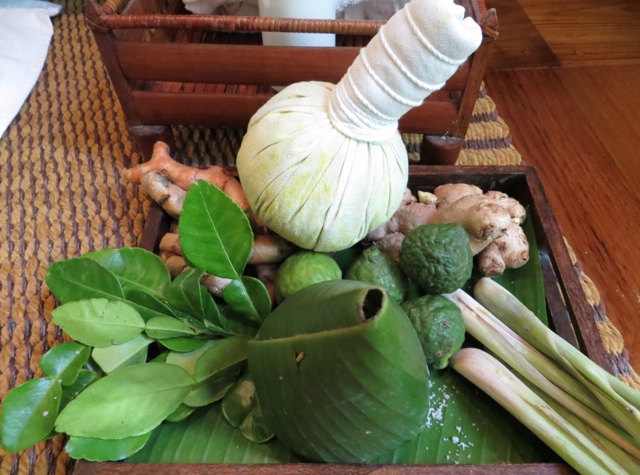 Four Seasons Koh Samui Kids for All Seasons Kids Club
One of my favorite aspects of a Four Seasons resort stay, in addition to the fantastic service and superb Four Seasons bed, is the complimentary Kids for All Seasons Kids Club. The munchkin had a great experience at the Kids for All Seasons club at the Four Seasons Bali at Jimbaran Bay, so we were all looking forward to him trying the Kids Club at the Four Seasons Koh Samui.
In the mornings, the Kids Club is at the beach, where kids enjoy coconut shell painting, face painting, and other crafts outdoors: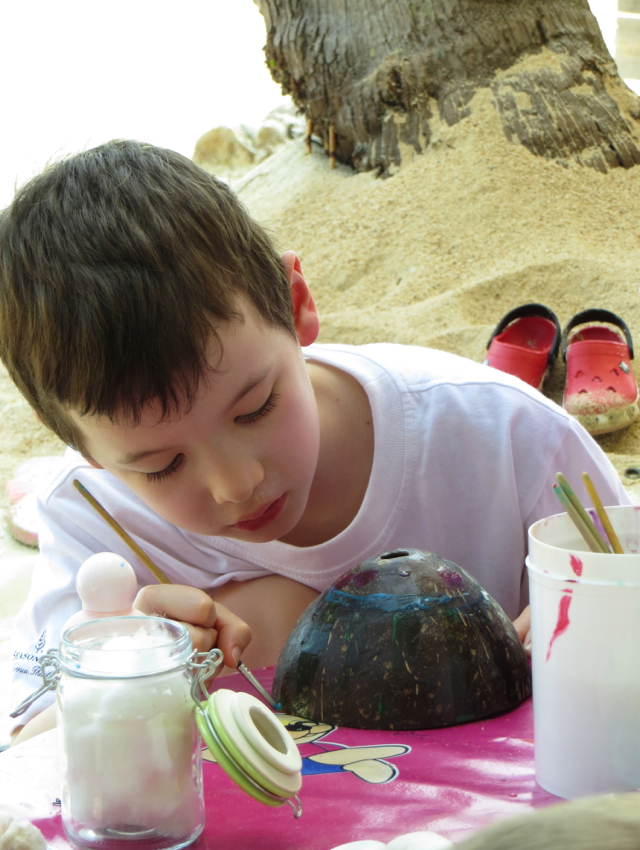 If they tire of that, there's the nearby pool (as pictured earlier in the post) and beach ping pong (or table tennis, for Brits):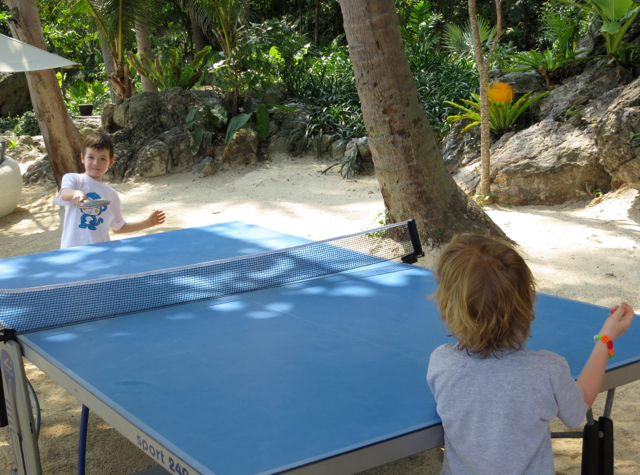 In the afternoon, it's often very hot, so the Kids Club is indoors. The space itself is rather small, although still larger than the Turtle Kids Club at the Conrad Koh Samui–I do think that with such incredible villas and such a large property, the Kids Club should have been made larger since at one point it did get very crowded. The activities themselves are fantastic for kids with an artistic or crafty bent. I was so sorry we didn't get the munchkin there earlier for batik painting, because the finished pieces of the other kids looked professional. The munchkin did get to do some cookie decorating, which he loved, however: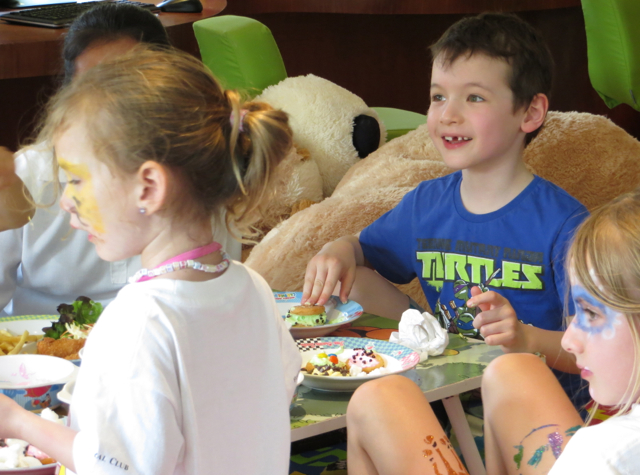 Four Seasons Koh Samui Dining and Food
I'll cover Four Seasons Koh Samui dining, including the bountiful daily breakfast buffet and dinner at Koh Thai Kitchen, in a future post.
The Verdict
We had our best stay on Koh Samui at the Four Seasons Koh Samui. Everything came together: the private villa with private infinity pool, gracious service with amazing attention to detail, beautiful views and the nicest white sand beach of the three resorts we stayed at in Koh Samui, delicious food, great spa, complimentary kids club and many other complimentary activities. Highly recommended for a honeymoon, anniversary trip or special family stay in Koh Samui.
Related Posts
Four Seasons Preferred Partner Benefits
Koh Taen Snorkeling with Tours Koh Samui Review
Four Seasons Marrakech, Morocco Review
Disclosure: My family and I were guests and enjoyed a complimentary stay at the Four Seasons Resort Koh Samui, however the views expressed in this post are my own.
Need Award Booking Help? Our fee is as low as $75 per ticket if you book your hotel or cruise through us.
If you enjoyed this, join 150,000+ readers: please follow TravelSort on Twitter or like us on Facebook to be alerted to new posts.
Become a TravelSort Client and Book 5-Star Hotels with Virtuoso or Four Seasons Preferred Partner Amenities!