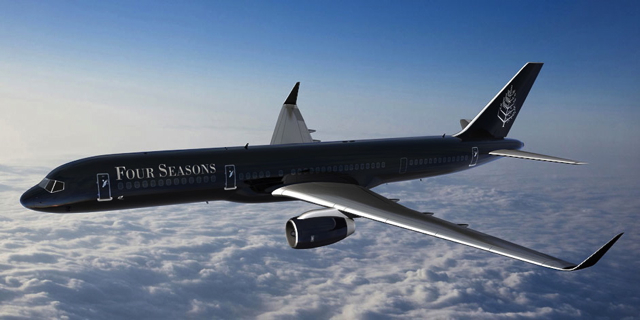 Four Seasons Private Jet has launched, the hotel industry's first fully branded private jet experience. While previously Four Seasons offered Around the World trips by charted private jet, Four Seasons Private Jet enables a more seamless Four Seasons experience throughout the journey, including in-flight.
Four Seasons' previous Around the World trips by chartered private jet have sold out, so it makes sense to expand the offering while also upgrading the in-flight experience with a completely custom Four Seasons Private Jet. If interested in any of the journeys I outline below or for other Four Seasons Preferred Partner bookings, please become a TravelSort Client and I would be happy to answer questions and secure your reservation.
The Four Seasons Private Jet, which is leased, is a 757, with:
52 flat bed leather seats, hand crafted in Italy
Four Seasons bedding: custom mattresses, duvets and pillows
On-demand entertainment streamed to your iPad
In-flight WiFi
Four Seasons Onboard Concierge to assist with special requests and destination planning
Exclusive Four Season in-flight menus crafted by a dedicated Four Seasons chef
RIMOWA case for each guest
Since the actual seats are modest looking compared to first class private suite offerings, such as Singapore Suites, Asiana First Class Suites, Etihad First Class, Emirates First Class, etc. I think the key will be how successful Four Seasons is with making the bedding as close to Four Seasons bedding and comfort as possible. In my experience, Singapore Suites has the most comfortable bed, but even that isn't comparable to a Four Seasons Hotel bed.

For 2015, there are three Four Seasons Jet journeys offered:
Around the World: February 9 – March 4, 2015 (24 Days)
Feb. 9-10: Los Angeles, Beverly Wilshire in Beverly Hills
Feb. 10-13: The Big Island of Hawaii, Four Seasons Resort Hualalai
Feb. 13-16: Bora Bora, Four Seasons Bora Bora
Feb. 17-20: Sydney, Four Seasons Sydney
Feb. 20-23: Bali, Four Seasons Bali at Sayan
Feb. 23-26: Chiang Mai or Chiang Rai, Four Seasons Chiang Mai or upgrade to the Four Seasons Tented Camp in Chiang Rai
Feb. 26-28: The Taj Mahal and Mumbai, Four Seasons Mumbai
Feb. 28-Mar. 3: Istanbul, Four Seasons Istanbul at Sultanahmet
Mar 3-4: London, Four Seasons London at Park Lane
Price: USD $119,000 per person based on double occupancy

Backstage with the Arts: April 20 – May 5, 2015 (16 Days)
April 20-21: Paris, Four Seasons Hotel George V, Paris
April 21-23: Lisbon, Four Seasons Hotel Ritz Lisbon
April 23-26: Milan, Four Seasons Milan
April 26-29: Istanbul, Four Seasons Istanbul at Sultanahmet
April 29-May 2: St. Petersburg, Four Seasons St. Petersburg
May 2-4: Prague, Four Seasons Prague
May 4-5: Paris, Four Seasons Paris
Highlights:
Lisbon: Private reception at Palais de Santos, residence of the French Ambassador, private tour of Jeronimos Monastery and cocktail reception
Milan: Backstage tour of La Scala, private tour of Duomo viewing parts of the cathedral not open to the public, dinner at a private Milan residence
Istanbul: Private, bespoke visit to the Hagia Sophia and Basilica Cistern
St. Petersburg: Private tour of the Hermitage Museum and St. Isaac's Cathedral, Private gala at Pavlovsk Palace
Prague: Private visits to Strahov Monastery and Klementinum, with its Mirror Chapel housing an 18th century organ played by Mozart
Price: USD $69,000 per person based on double occupancy
Around the World: August 16 – September 8, 2015 (24 Days)
Aug 16-17: Seattle, Four Seasons Seattle
Aug 18-21: Tokyo, Four Seasons Tokyo at Marunouchi
Aug 21-24: Beijing, Four Seasons Beijing
Aug 24-27: The Maldives, Four Seasons Resort Maldives at Kuda Huraa
Aug 27-30: Serengeti, Four Seasons Safari Lodge Serengeti
Aug 30-Sep 2: Istanbul, Four Seasons Istanbul at Sultanahmet
Sep 2-5: St. Petersburg, Four Seasons St. Petersburg
Sep 5-7: Marrakech, Four Seasons Resort Marrakech
Sep 7-8: New York, Four Seasons Hotel New York
Price: USD $119,000 per person based on double occupancy

FAQ
Which Room Category is Included?
The highest category of non-suite room is booked. Preferred Partner suite upgrades available on a first come, first served basis.
What Is Included in the Trip Cost?
Four Seasons Private Jet transportation
All accomodation, at Four Seasons Hotels and Resorts
All meals
All beverages, including alcohol, while on the Four Seasons Private Jet; at Four Seasons Hotels and Resorts, beer, selected wine and liquors, soft drinks and bottled water are included for lunches and dinners. Bottled water available at all times.

Emergency medical assistance, including coverage for up to $100,000 in medical evacuation and coverage for up to $50,000 in medical expenses for covered reasons.
Are Single Travelers Welcome?
Yes, single travelers are welcome on all of the trips. Please note there is an $11,000 supplement for single travelers for the Around the World journeys, and $8000 single supplement for the Backstage with the Arts trip. You may request a roommate, and the Four Seasons Guest Services Manager will do her best to assist in matching you with a like-minded fellow traveler.
Are Children Welcome?
All the Four Seasons Private Jet journeys are designed with a focus on adults. It's recommended that you consider bringing only well-traveled children age 12 and older.
How Much Luggage Is Allowed?
Each guest will receive a RIMOWA Salsa Deluxe Hybrid Cabin Multiwheel approximately 2 weeks prior to departure, limited to 40 lbs. In addition, each couple is allowed three full size suitcases up to 50 lbs. each) and each single traveler is allowed two full size suitcases. Golf clubs count as one suitcase.
Here's the Four Seasons Jet video:
Which Four Seasons Private Jet journey would you want to experience?
Related Posts
New Four Seasons Bed: Customized to Your Sleep Preference