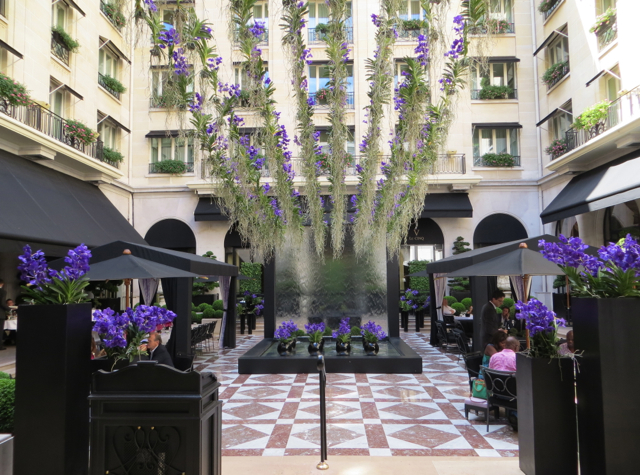 This Four Seasons Hotel George V, Paris Review is part of a UK and France trip report including flights in British Airways in New First Class, Singapore Business Class and Singapore Suites, stays in a Scottish castle and 5-star hotels in London and Paris, and Michelin Star Dining in Paris. For the prior posts, please see:
British Airways New First Class 777 Review
British Airways Galleries Arrivals Lounge London and Concorde Room
Singapore Business Class Review NYC (JFK) to Frankfurt
Petrus London Restaurant Review
Dalhousie Castle Hotel Review, Scotland
Dalhousie Castle Falconry Review, Scotland
Epicure at Le Bristol Paris Restaurant Review
The Four Seasons Hotel George V, Paris is legendary. While the building itself is not old by French standards, having been built in 1928, and the hotel only opened as a Four Seasons property in 1999, just 14 years ago, the Four Seasons Paris has become one of the true jewels in the Four Seasons crown. Only minutes after arriving at the hotel this time (and only the second time he's been to the Four Seasons Paris) my husband remarked to me that it's his favorite city hotel in the world so far. And as the husband of a luxury travel advisor, he's had the chance to stay at some incredible 5-star hotels and resorts around the world.
This review will cover our stay, but other posts will review Le Cinq, the hotel's 2 Michelin Star Restaurant, and also a special Back of the House Tour I went on with the munchkin.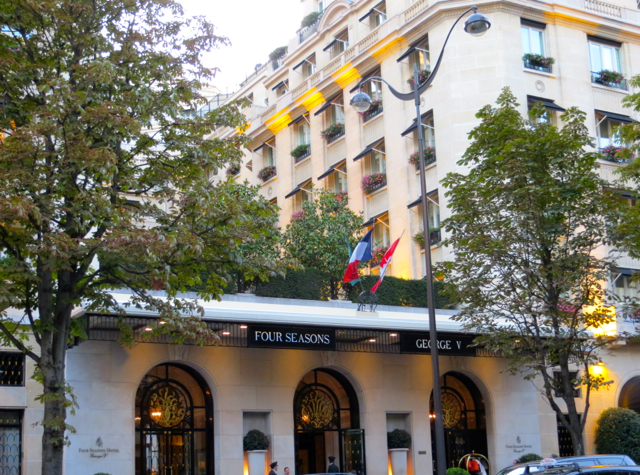 Lobby and Check-In
Stunning flower displays by superstar floral designer Jeff Leatham are the signature of the Four Seasons George V, Paris, greeting you as you enter the elegant marble lobby as well as throughout the hotel's rooms, suites and restaurants.
To the left as you enter is the reception, where we checked in. We arrived just before 12:30pm and were able to leave our bags in order to go to our lunch reservation at Le Cinq, which we were escorted to.
On the right of the lobby is the concierge desk, which I only had occasion to use once, to ask about a supermarket. While in some lesser hotels my French has been discouragingly answered in English here at the Four Seasons Paris, if you prefer to trot out your high school French, you will always be courteously answered in French, which I love.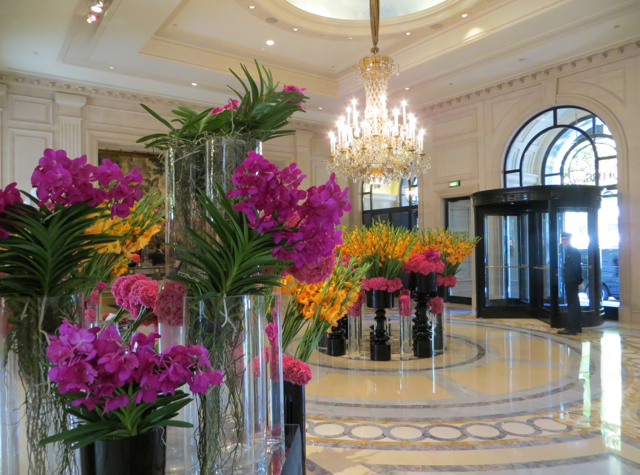 Rooms and Suites
The Four Seasons Paris offers 185 guest rooms and 59 suites, and even entry-level Superior Rooms are the largest of their type in Paris, at 400 square feet, able to accommodate 2 adults and a young child. Premier Rooms are 538-651 square feet and accommodate 3, with a King bed and a sofabed or a rollaway. While our reservation was for a Premier Room, we were actually upgraded to an even more spacious Four Seasons Suite, with a separate bedroom and a living room with sofabed where the munchkin slept.
You enter into the spacious living room, with a sofa, coffee table, desk and even a bookcase with French books and sculptures, lending it a distinctly residential feel.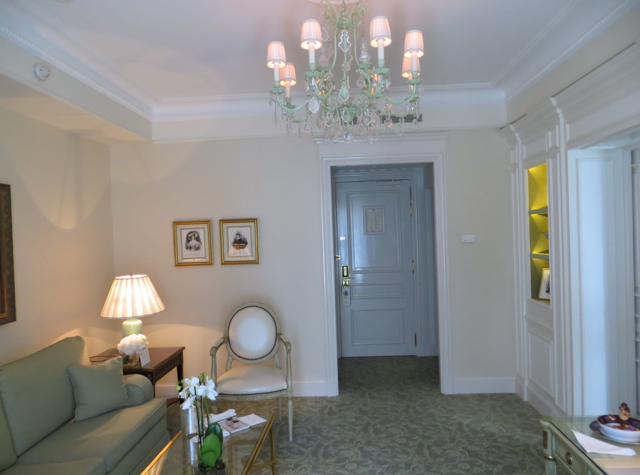 There were exquisite sweets and a welcome card for my husband and me, along with a chilled bottle of excellent Sauternes. I'll confess that while we didn't have occasion to drink the Sauternes that evening, we did take it with us when we travelled the following day to the South of France, where we shared it with some Parisian friends. And while I'm certainly no expert in Sauternes, our Parisian friends commented that it was excellent, not that I would have expected anything less of the Four Seasons Paris.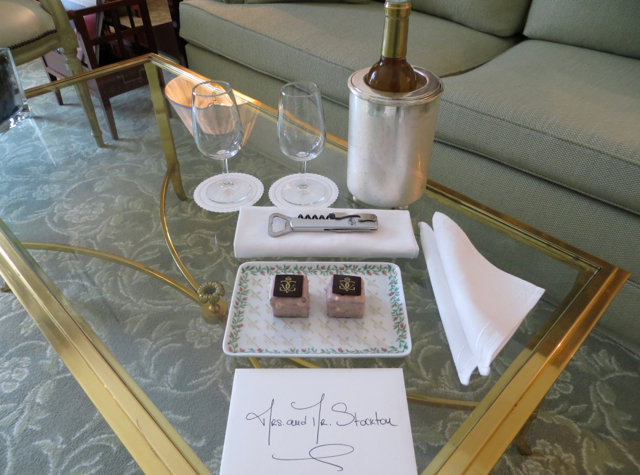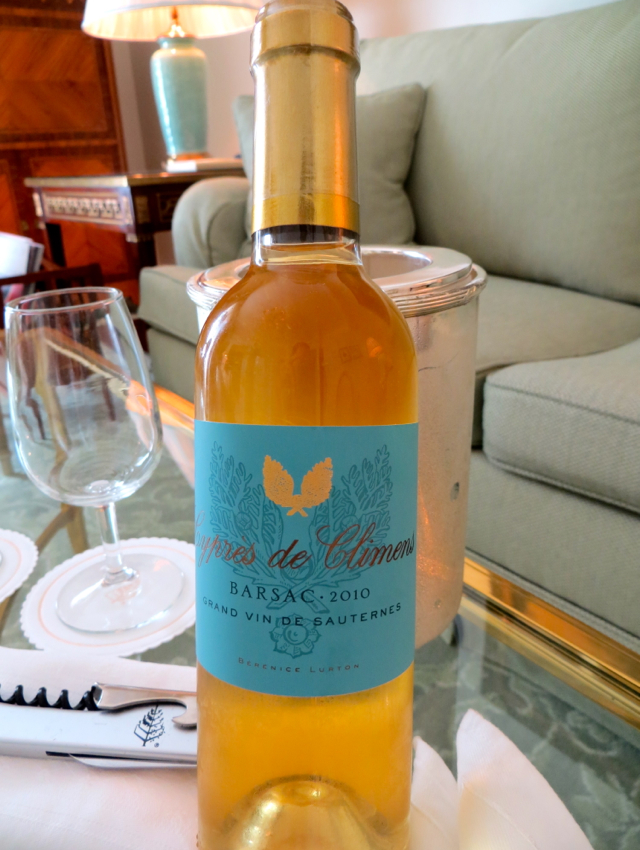 I also loved the flowers in the room, both the elegant orchid on the coffee table and the white rose bouquet with an additional welcome card for me. So few hotels these days brighten the room with flowers, and to my mind they add so much beauty: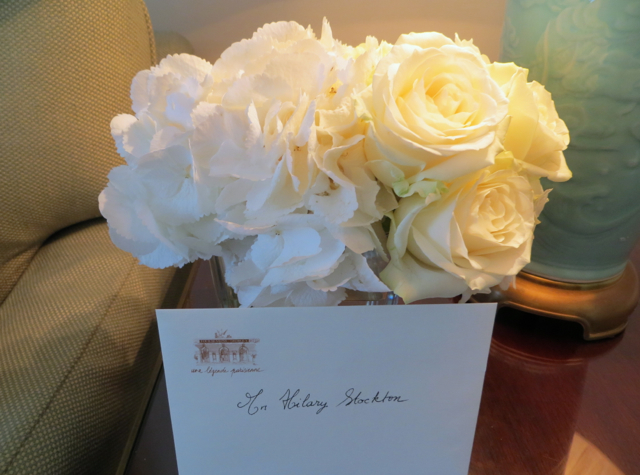 The munchkin got his very own welcome treat of ice cream cones with a yummy chocolate mousse, arranged on a bed of pastel candies, so needless to say, he was very happy. Next to it was a bottle of artisanal strawberry nectar, which again was taken with us to the South of France, where our son shared it with the kids of our Parisian friends–and again, our friends knew the label and spoke of the high quality.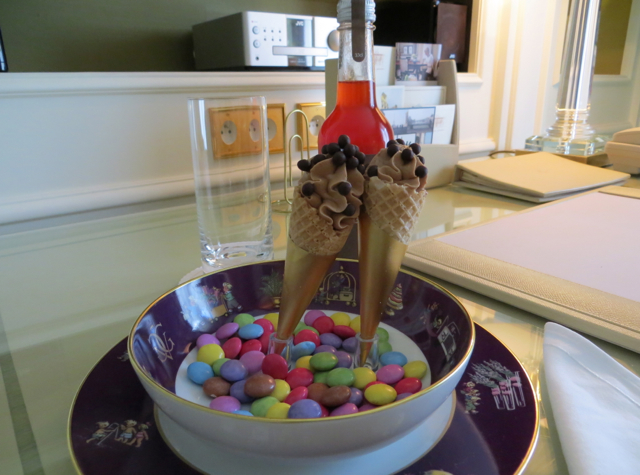 I loved that in the top drawer of the desk, there were already two power adapters–no need to call or wait for housekeeping to bring these.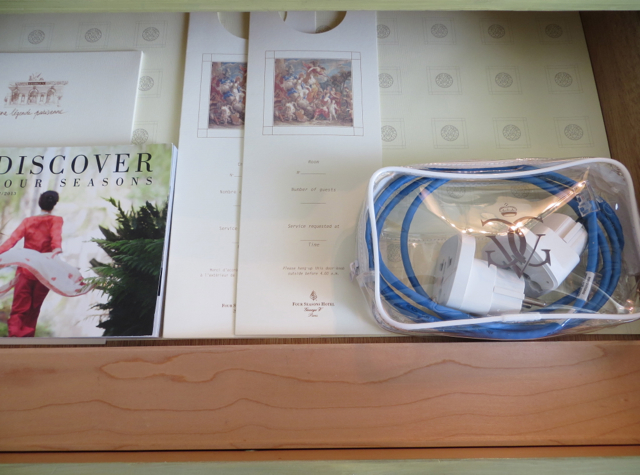 In the entrance foyer there was a Nespresso machine, with the Nespresso capsules in a drawer with liquors for postprandial drinks. Underneath was the minibar, which included additional bottles of the artisanal fruit nectar that was part of our son's welcome gift.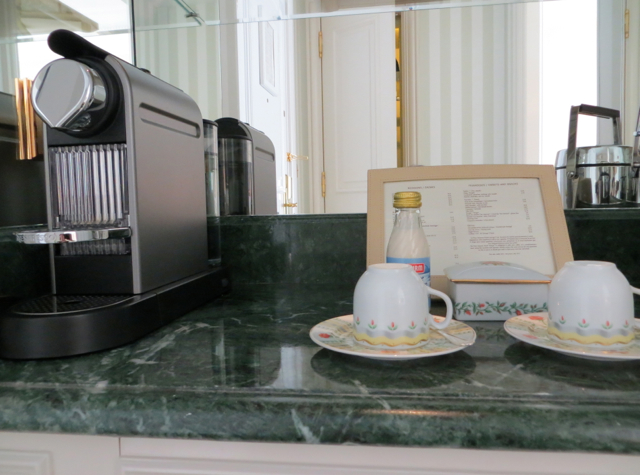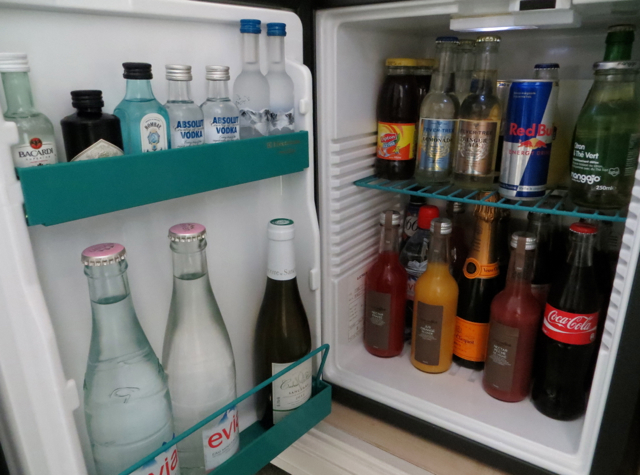 The living room was separated by sliding doors from the bedroom, making it easy to put the munchkin to bed at his usual time, while we stayed up a bit later talking and watching a movie.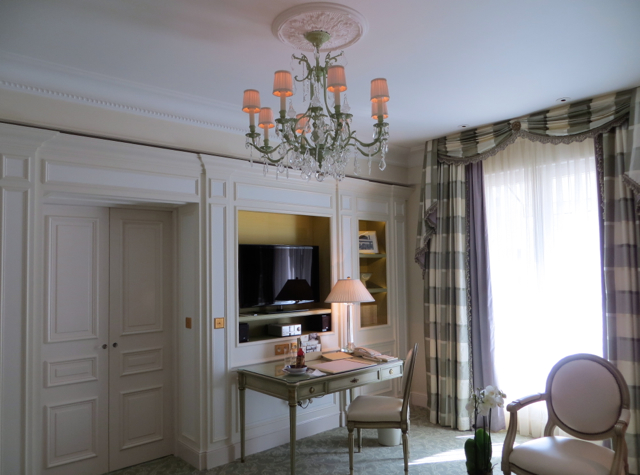 The bedroom's pillowtop king bed was wonderfully comfortable. Ultimately, you want to sleep well so you can actually enjoy your trip or recover from jetlag, and we have never been disappointed with a Four Seasons bed.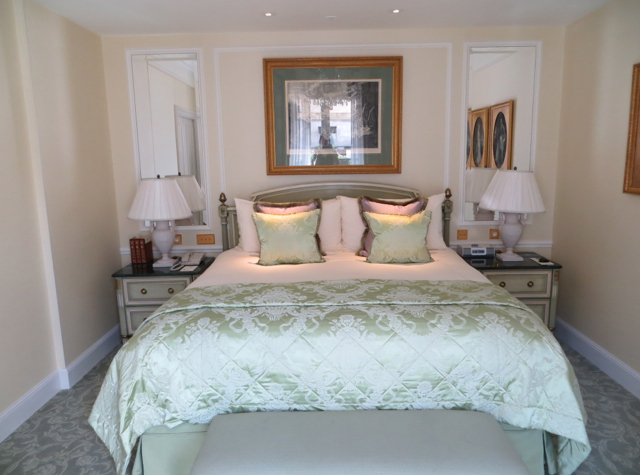 The bedroom opened up to a terrace overlooking the interior courtyard. This was perfect for us, as it was a lovely day and very peaceful there, which we wanted. You can, of course, request a room or suite overlooking the Avenue George V if you prefer a livelier atmosphere and people watching.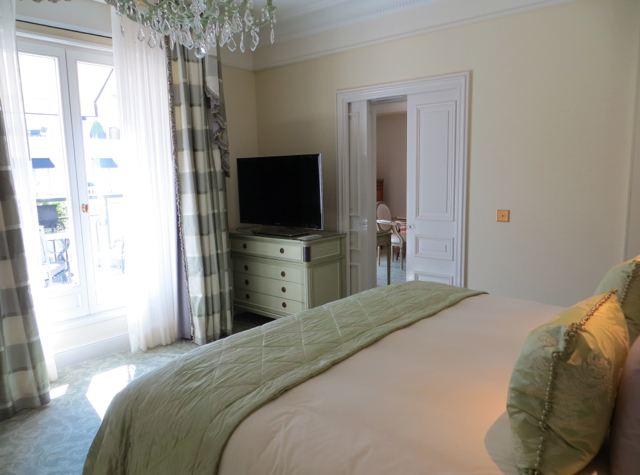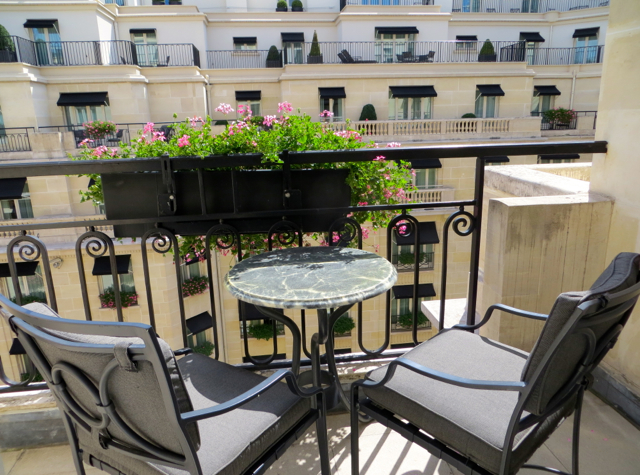 The marble bathroom included a deep soaking tub, separate glass enclosed shower, and separate chamber with toilet and bidet.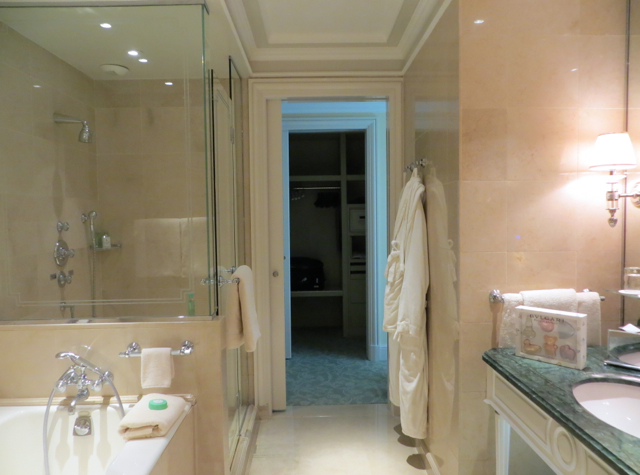 My son, always fond of mirrors and technology, was excited to see an embedded flat screen in the mirror:
And even more thrilled to see Bulgari soaps just for him: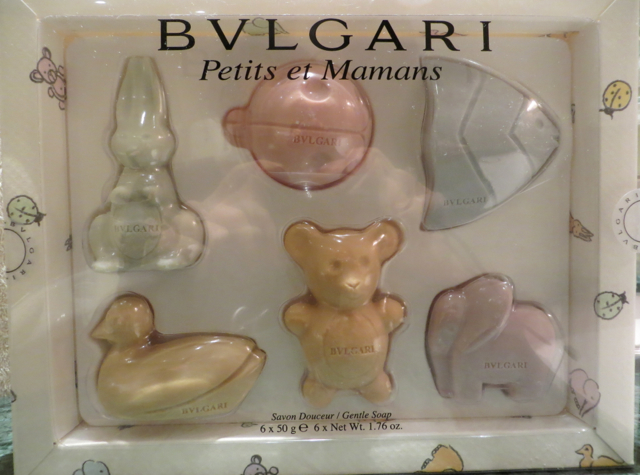 I loved that the bath amenities are still Bulgari green tea (the vert) as I don't know another Paris hotel that provides Bulgari green tea (as opposed to the more common white tea):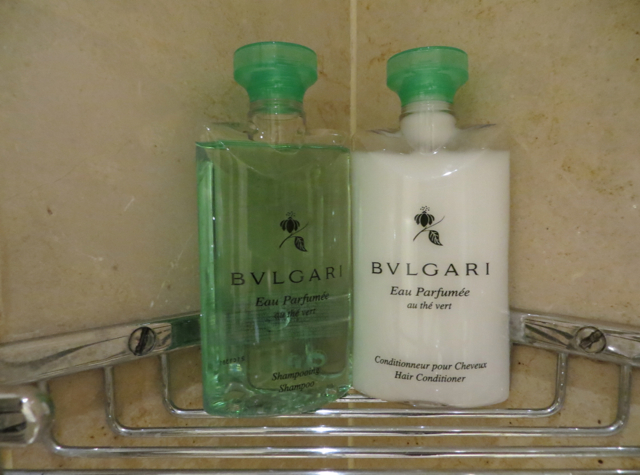 Pool
I well remembered the pool from a work trip some years ago, when I stayed briefly at the Four Seasons George V, Paris. Although it's on the hotel's lowest level, a great deal of thought and work was put into giving it a more spacious and light feel than you usually encounter with interior pools. The trompe l'oeil garden murals are reminiscent of Marie Antoinette's boudoir and are designed (as well as the other interiors) by designer Pierre-Yves Rochon.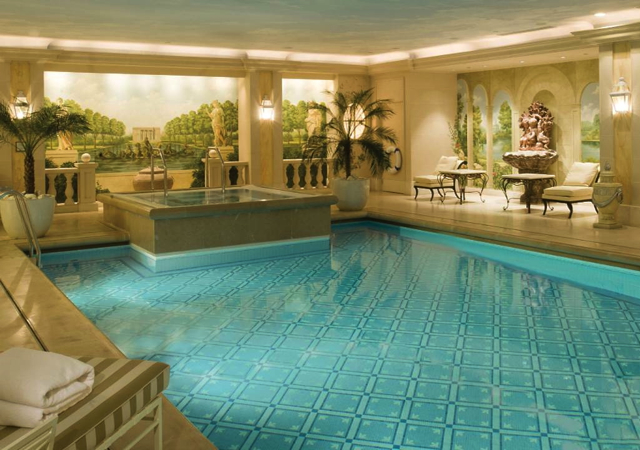 Only a few central Paris hotels offer a swimming pool at all, so this is a huge plus for families–it was certainly a huge hit with the munchkin, and both he and my husband loved luxuriating in the jacuzzi as well, after their swim.
Later, after his bath in our suite, he couldn't wait to put on his child-sized Four Seasons robe: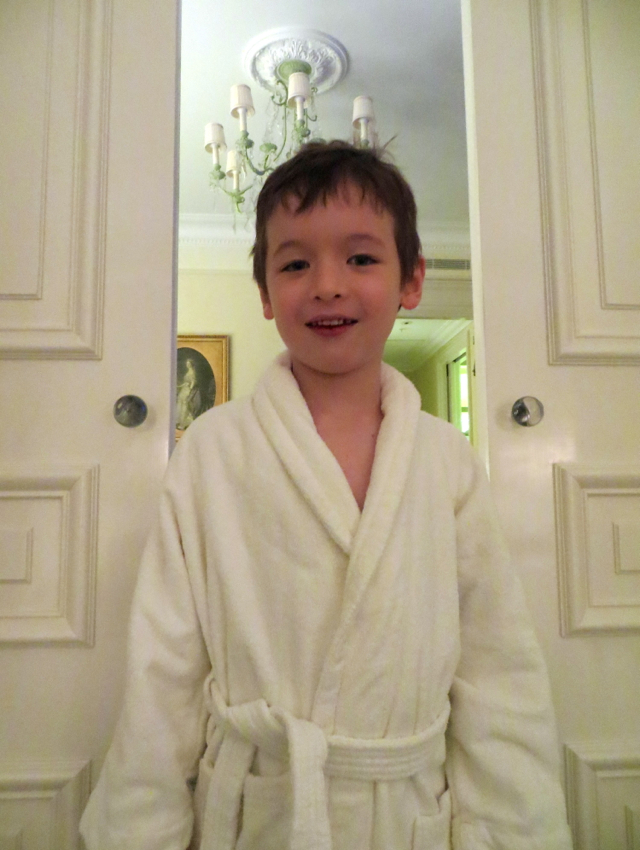 While I didn't have a chance to try a spa treatment, the relaxation room at the Spa looked tempting or a pre or post treatment little nap (that's the parent in me talking!)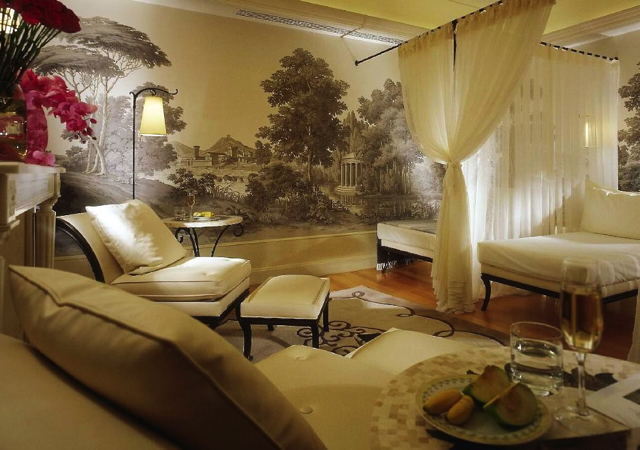 The Verdict: The Four Seasons Hotel George V, Paris is the ideal choice when you want a truly special Paris hotel for a Paris honeymoon, anniversary, or family stay. While many city hotels are business focused, the Four Seasons Paris is actually more popular with couples and families on a special occasion trip or vacation.
While of course rooms and suites are extremely well appointed and the floral arrangements are gorgeous, it's the high quality of service and attention to detail that really sets the Four Seasons Paris apart and makes it so ideal when you want a truly memorable stay. Don't forget that if you book with TravelSort, a Four Seasons Preferred Partner, you'll enjoy an upgraded room or suite if available, complimentary full American breakfast for two either in Le Cinq or the comfort of your room or suite, complimentary Internet access, and a $100 spa credit.
If you've stayed at the Four Seasons Paris, what was your experience?
Disclosure: My family and I were guests and enjoyed a complimentary stay at the Four Seasons Hotel George V Paris, however the views expressed in this post are my own.
Related Posts
Le Cinq at Four Seasons Paris Restaurant Review
Paris Travel Guide for Couples
Four Seasons Preferred Partner Benefits
Top Paris Restaurants Open During August
Paris for Foodies: Where to Eat
Need Award Booking Help? Our fee is as low as $75 per ticket if you book your hotel through us.
If you enjoyed this, join 200,000+ readers: please follow TravelSort on Twitter or  like us on Facebook to be alerted to new posts. 
Become a TravelSort Client and Book 5-Star Hotels with Virtuoso or Four Seasons Preferred Partner Amenities!