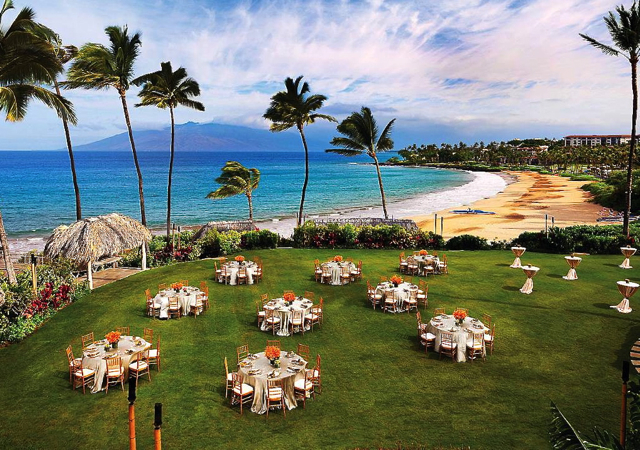 The Four Seasons Maui and Hualalai resorts booked with Four Seasons Preferred Partner benefits offer the best value, thanks to the complimentary breakfast, upgrade (if available), food and beverage credit and complimentary internet access they provide, at no extra cost, when you book through TravelSort or FSPP travel advisor.
But how do you obtain the best deal in terms of rates? The secret is when you book.
Book Well in Advance
Particularly if you have very specific dates and not much flexibility, it's critical to book many months in advance for both Four Seasons Maui at Wailea and Four Seasons Hawaii at Hualalai. Otherwise, even if there's still availability, you risk the cheaper, lower category rooms being sold out. For example, let's say you're thinking of going to the Four Seasons Hualalai in spring, March 11-15. At this point, the least expensive room is the Prime Ocean View, at $1280 + tax per night: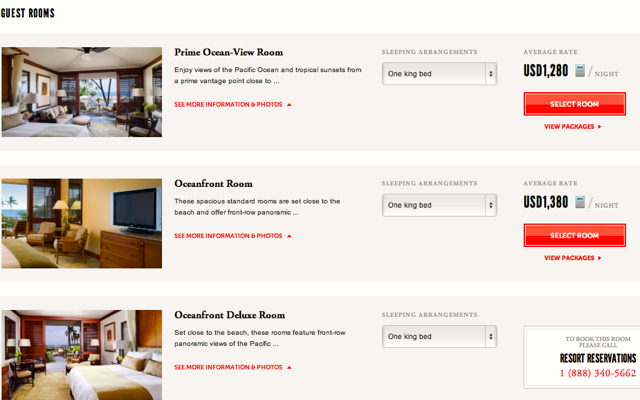 But Forget Booking Over Christmas and New Year's Unless You Were a Previous Guest During That Time
First of all, forget about booking either property for Christmas and New Year's, even if you're planning one year in advance. Not only is there a 10 day minimum stay, there's not even availability *unless* you were a previous guest during that time period and have been invited back. The waitlist starts on January 1 (so forget putting your name on it now for Christmas 2014), if you do want to put your name down.
But even if you're able to book during this period, do you really want to be at a completely sold out property? While the Four Seasons Hualalai offers more pool choices than the Four Seasons Maui at Wailea in this regard, there will still likely be waits for a lounge chair by the pool, unless you get there very early. Consider going at another time for a less busy and more relaxing experience.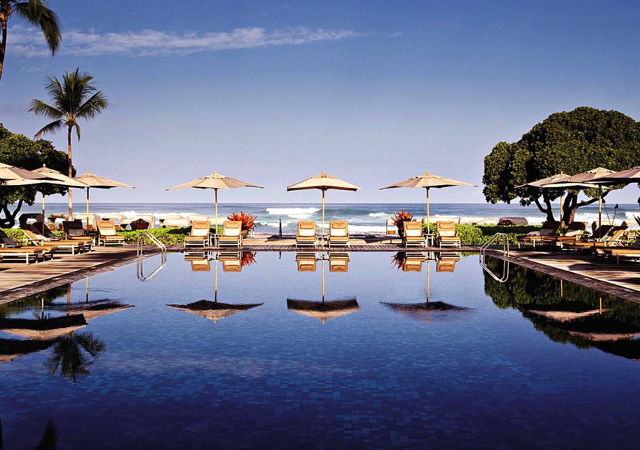 Better Strategy: Book During Off-peak
Since both the Four Seaons Maui at Wailea and the Four Seasons Hualalai are very popular, we're not talking about entire months being off-peak, but rather certain weeks sprinkled throughout the year. And note that, while there are no guarantees, since these are both very popular properties, you have a higher chance of an upgrade if your stay is during one of these off-peak periods.
Let's look at a couple examples.
Example 1: Four Seasons Maui at Wailea
May 23 – May 29: Rates Start at $899 + Tax per Night
If you book the Four Seasons Maui during this period, you'll be looking at over $1000 per night including tax just for the least expensive Mountain View Rooms: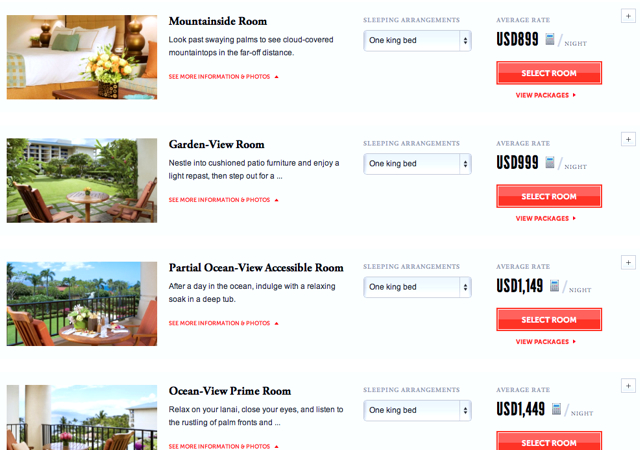 May 30 – June 5: Rates Start at $549 + Tax per Night
If instead you booked during the first week of June, you'd save over $300 per night on the Mountain View Room: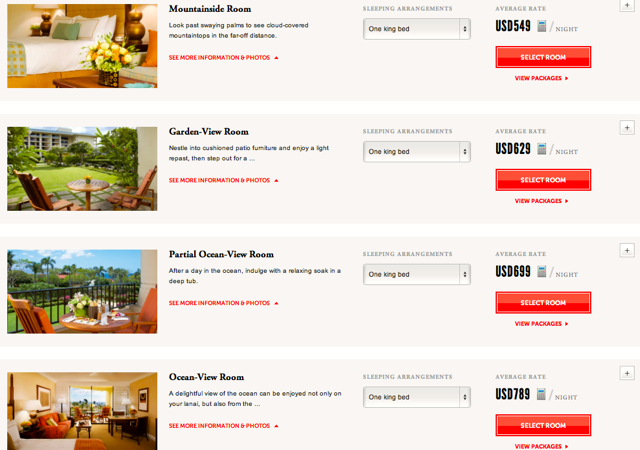 Example 2: Four Seasons Hualalai
June 28 – July 2: Rates Start at $805 + Tax per Night
Visiting either the Four Seasons Hualalai or Four Seasons Maui during the peak of summer means higher rates. Late June and most of July and August is a busy time for Hualalai.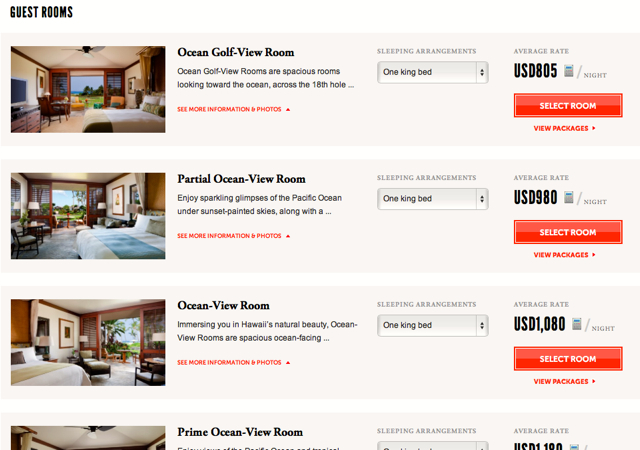 May 17 – 21: Rates Start at $695 + Tax per Night
If you're able to time your Four Seasons Hualalai stay for late May, you would save over $100 per night for the least expensive category, the Ocean Golf View Room, and avoid the situation where the lowest category rooms have been sold out, as in the March example earlier in the post.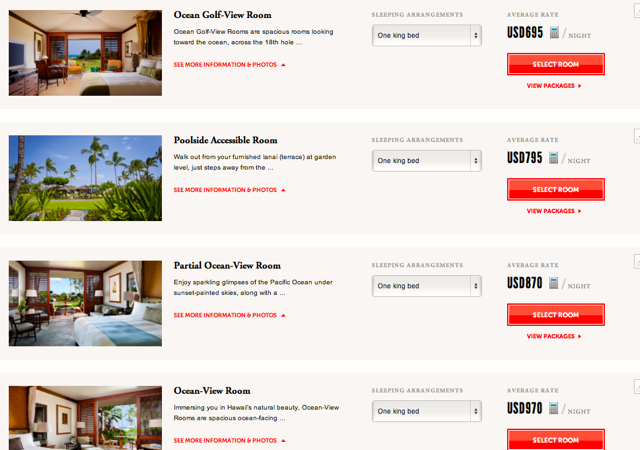 Would you like assistance booking the Four Seasons Maui or Four Seasons Hualalai or other Four Seasons hotel with Four Seasons Preferred Partner benefits? Become a TravelSort Client and we'd be happy to help.
Related Posts
Four Seasons Preferred Partner Benefits
Best Offers: Four Seasons Maui, Four Seasons Hualalai, Four Seasons Lanai Manele Bay, Lodge at Koele
Honeymoon in Hawaii: Which Island and Which Hotels?
Top 20 Four Seasons Third Night and Fourth Night Free Offers in 2013
Need Award Booking Help? Our fee is as low as $75 per ticket if you book your hotel through us.
If you enjoyed this, join 100,000+ readers: please follow TravelSort on Twitter or like us on Facebook to be alerted to new posts.
Become a TravelSort Client and Book Your Hotel with Virtuoso or Four Seasons Preferred VIP Amenities!