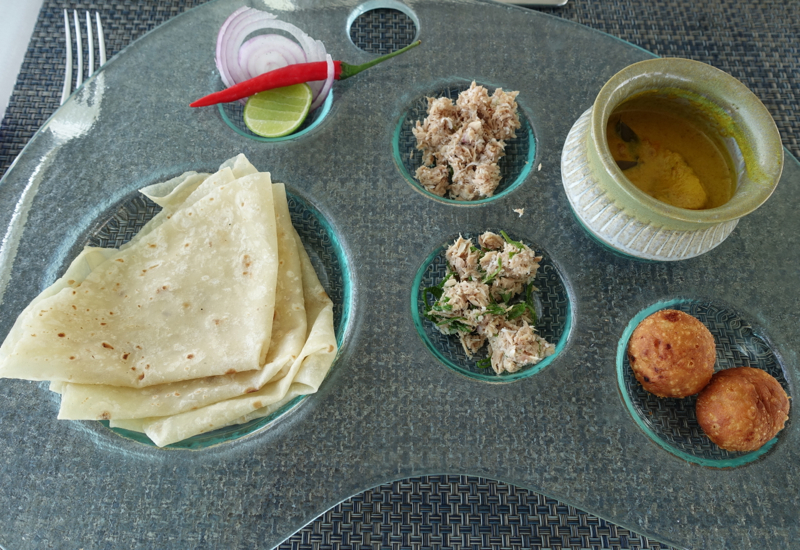 This Four Seasons Maldives at Landaa Giraavaru Restaurant Reviews and Menus post covers our food and dining experiences at the resort. A future post will cover the best things to do at the Four Seasons Maldives at Landaa Giraavaru. Our stay was part of a trip including visits to 4 different luxury resorts in the Maldives, as well as flights in Etihad First Class. For the prior posts, please see:
Review of Etihad's Lounge at Washington Dulles Airport (IAD)
Etihad First Class 787-9 Dreamliner Review
Review: Wingtips Lounge JFK for Etihad First Class Passengers
Review: Etihad First Class 777-300ER NYC to Abu Dhabi
Review: Etihad Business Class Lounge Abu Dhabi AUH Terminal 1
Four Seasons Maldives at Landaa Giraavaru Review
TravelSort Clients receive these Four Seasons Preferred Partner benefits, when reserving the Four Seasons Maldives at Landaa Giraavaru:
Upgrade of one category, based on availability at time of check-in (excluding signature suites and villas)
Daily full American breakfast for two people per bedroom, served through In-Room Dining or in Cafe Landaa (including the buffet) or Blu Restaurant
Spa credit of USD100 once during stay (not applicable to products)
Complimentary basic Internet (up to 2 devices) in all guest rooms, complimentary premium Internet (up to 4 devices) in all suites.
Four Seasons Maldives at Landaa Giraavaru Restaurants
The resort has 4 restaurants:
Blu Restaurant, open for a la carte breakfast, lunch and dinner
Al Barakat, open for dinner
Cafe Landaa, open for buffet breakfast and a la carte lunch and dinner
Fuego Grill, open for dinner
During our stay, we dined at Blu Restaurant for breakfast and dinner, and Al Barakat for dinner.
Blu Restaurant
Our Beach Bungalow was a short walk from Blu, and we fell in love with the gorgeous views, so opted to enjoy an a la carte breakfast at Blu both mornings. TravelSort Clients with Four Seasons Preferred Partner reservations may enjoy their complimentary breakfast at Cafe Landaa, where a buffet breakfast is offered, at Blu, choosing any of the a la carte selections, or enjoy breakfast in the privacy of their bungalow or villa, via in-villa dining.
Breakfast at Blu
We loved both the view and the food during our breakfasts at Blu Restaurant. Both times we were able to sit at a table right by the water, gazing out at the water villa pier, the turquoise water, and marine and shore life such as schools of fishes and crabs scuttling across the sand. Afterwards, we would also look out at the Blu Pool and white sand beach: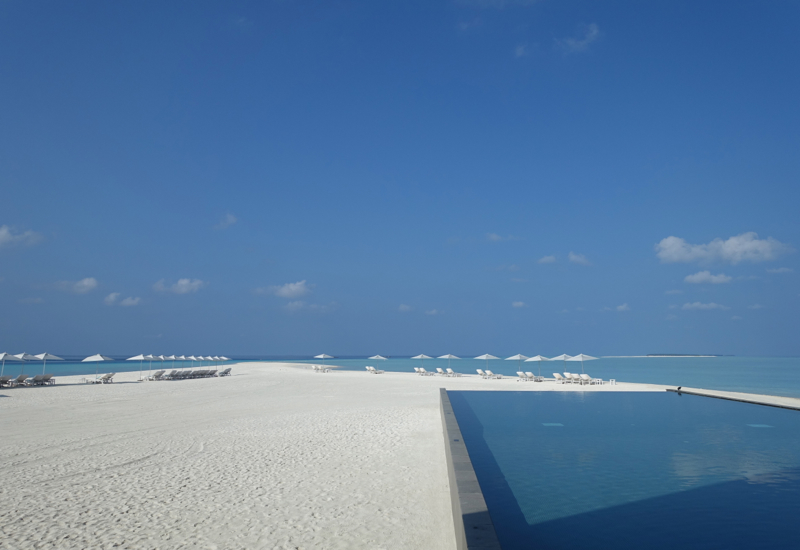 Blu has an a la carte breakfast menu, which I actually tend to enjoy more than buffets as everything is made fresh to order.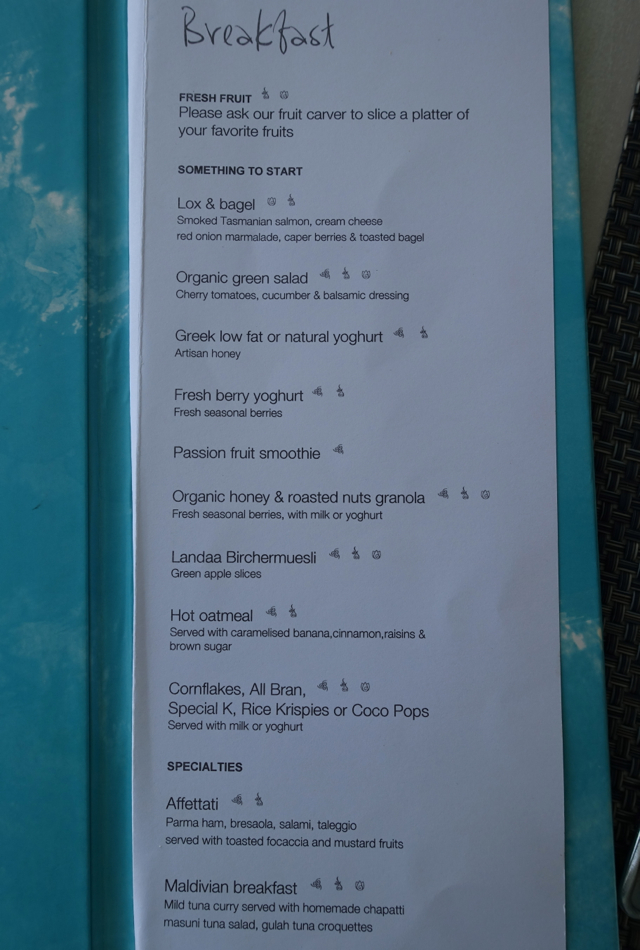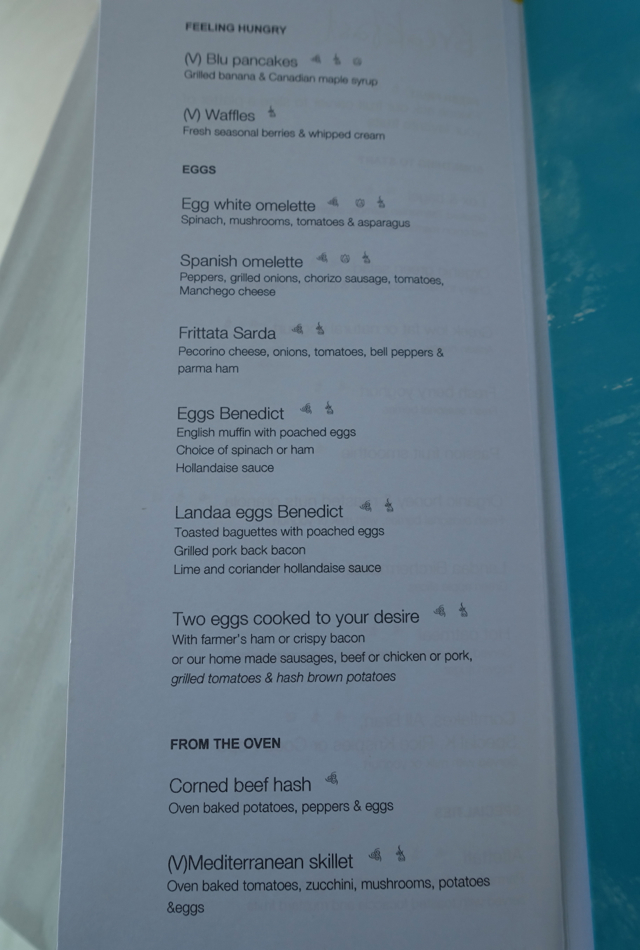 Here are our favorite Blu breakfast items:
1. Maldivian Breakfast
Anyone who has spent time in the Maldives will recognize the traditional mashuni roshi breakfast, with flaked tuna and shredded coconut served alongside roshi, unleavened flatbread similar to Indian chapati. But Blu's version elevated this standard to another level, comprising two versions of mashuni plus the roshi, a delicious fish curry, and even crispy tuna croquettes. This was my favorite savory way to start the day.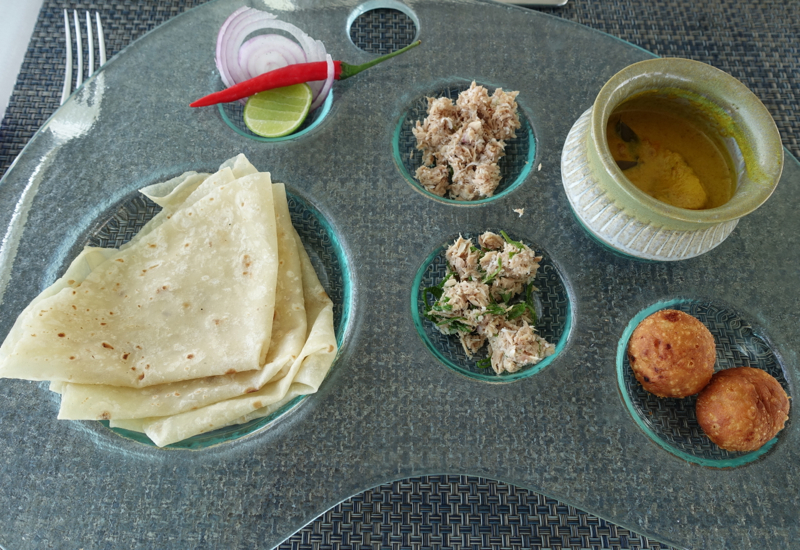 2. Yogurt with Fresh Berries
Yogurt is a breakfast staple for me, and I loved Blu's homemade berry yogurt, which was creamy and very fresh tasting, with fresh berries adorning it.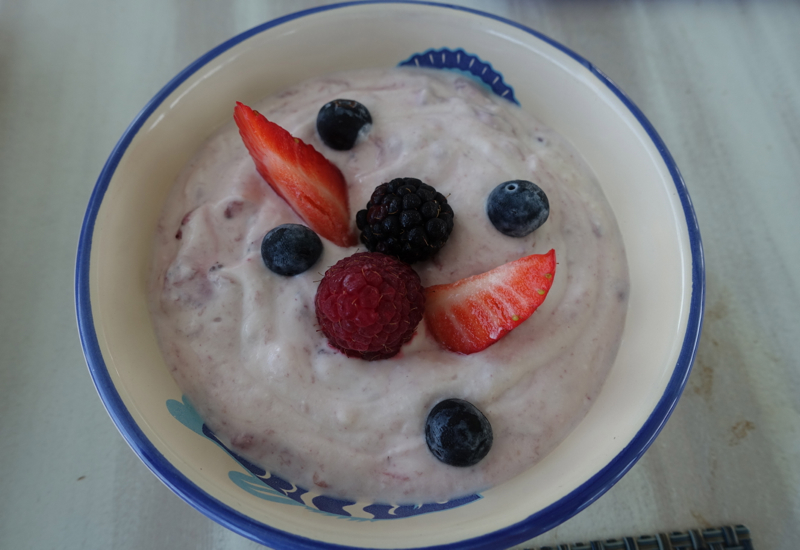 3. Croissants and Pastries
Naturally all pastries have to be baked on island, so at most any luxury resort in the Maldives they should be quite fresh tasting. But with the humid heat, many times pastries baked just a few hours ago become limp and chewy. Somehow Blu's were always perfectly crispy and flaky, and the best croissants we had in the Maldives were these ones.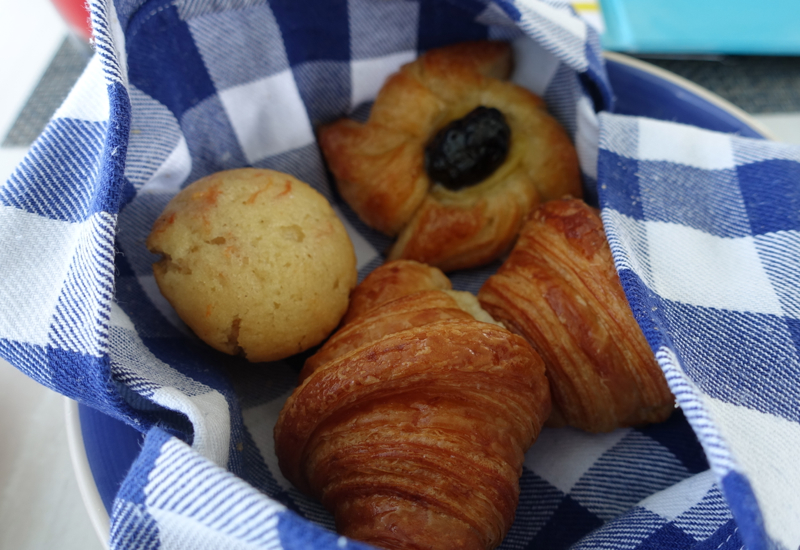 4. Smoked Salmon and Bagel
Naturally you don't go to the Maldives to get a bagel with lox for breakfast, but the munchkin, New Yorker as he is, insisted on getting this our first morning. And I must say that it would put most New York lox to shame, even though the smoked salmon is apparently sourced from Tasmania. I couldn't resist stealing some bites.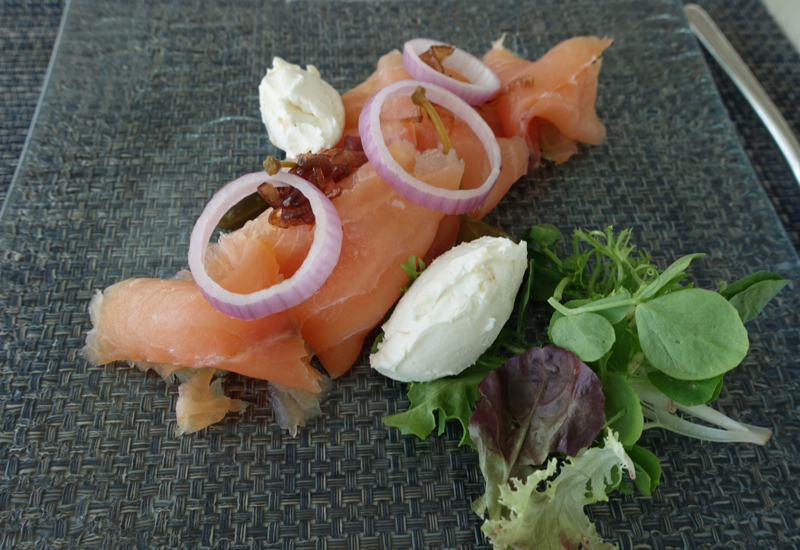 5. Banana Pancakes
Blu's banana pancakes were light and cakey, with generous pieces of banana that were slightly caramelized from the pan. They were served with a dusting of powdered sugar and pure maple syrup, and very satisfying.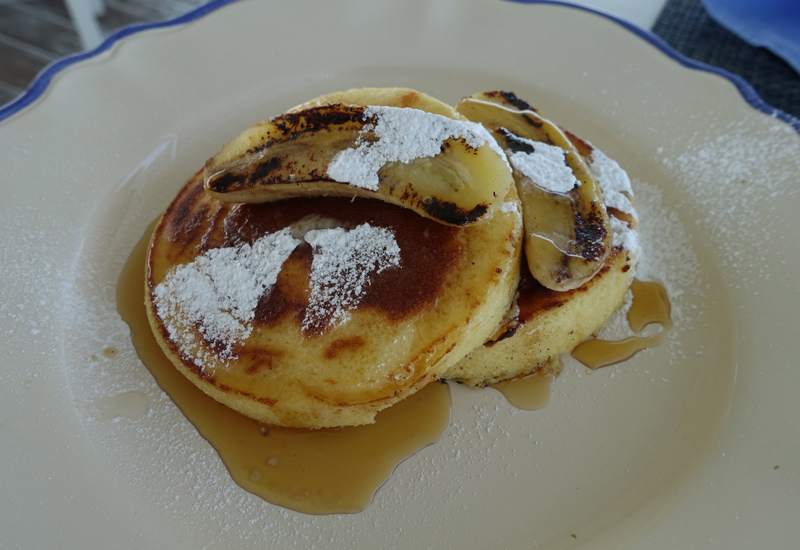 6. Frittata Sarda
I'm not a huge eggs person for breakfast, but I did enjoy Blu's Frittata Sarda, especially the combination of pecorino cheese with parma ham.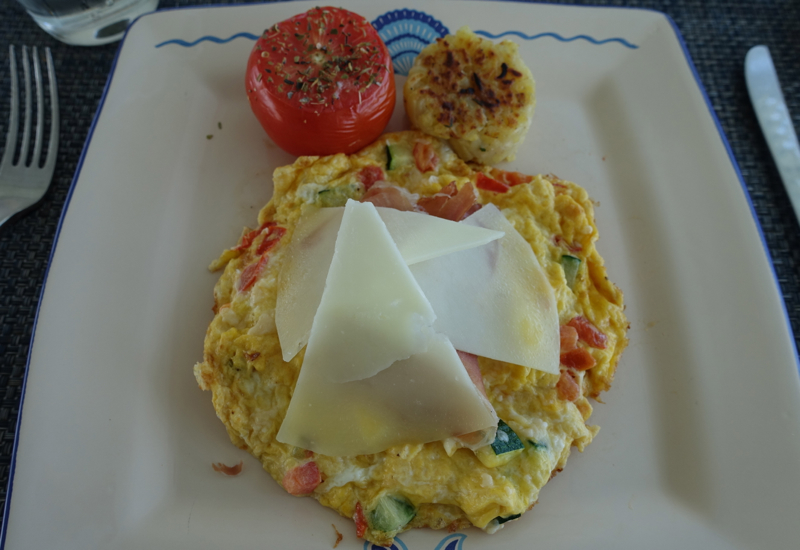 6. Fresh Squeezed Juices
You should be able to get good fresh squeezed juices at most all Maldivian Resorts, although these were among the best we had, and I was happy that Blu's staff was willing to make unique mixtures for us, such as this mango pineapple combination.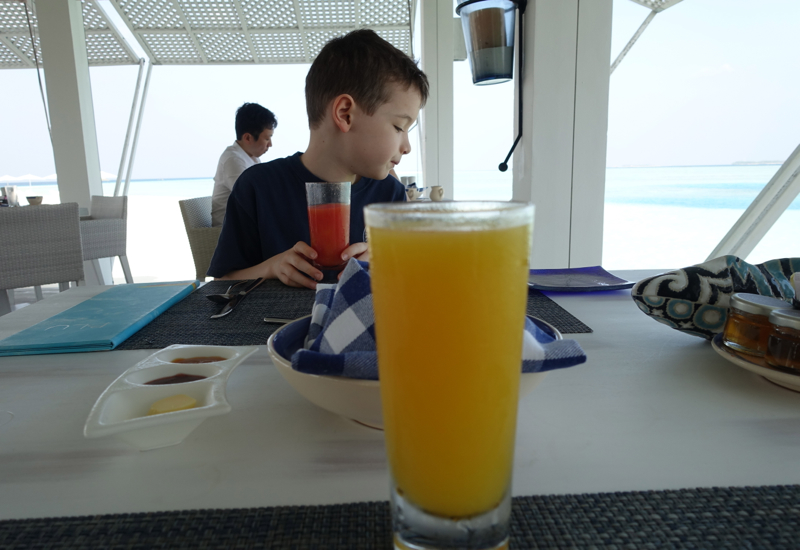 Dinner at Blu
Blu serves Italian cuisine for lunch and dinner, with a variety of both modern Italian and classics on its menu.
We loved the fresh, warm foccacia served with three types of tapenade, which got us off to a good start: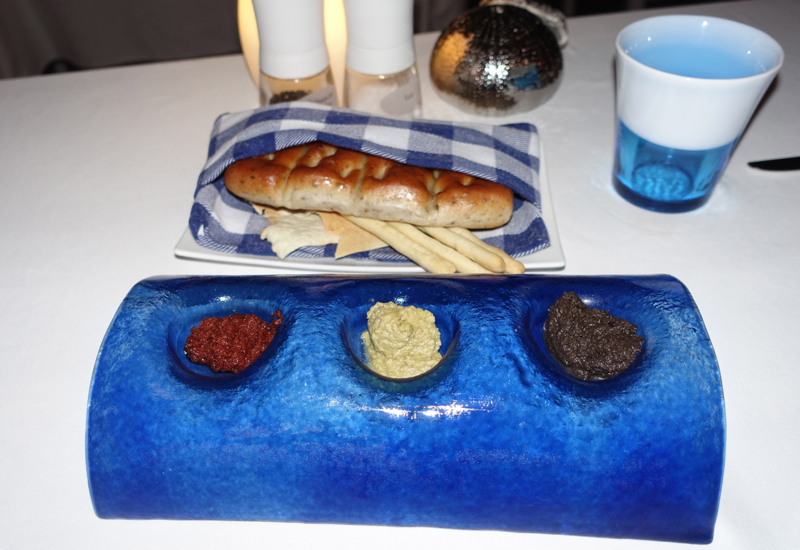 The appetizer I ordered of tuna sashimi, decadently dressed with foie gras flakes, avocado sauce and passionfruit sauce, was outstanding: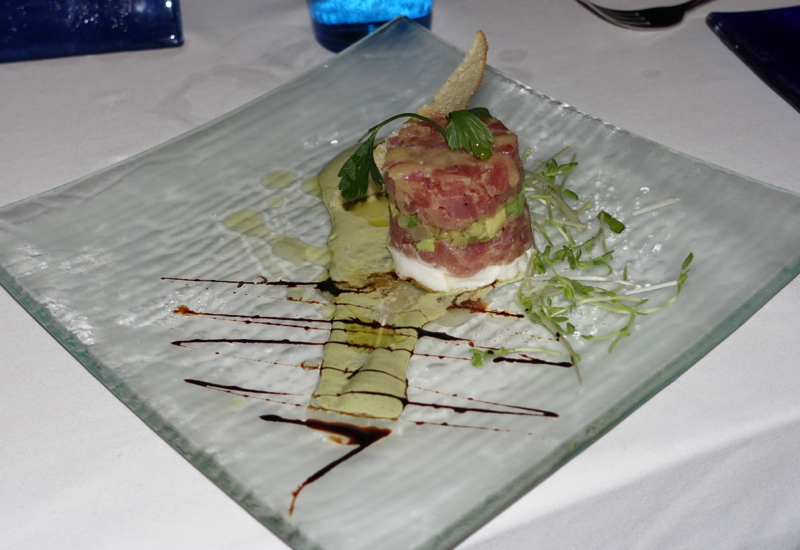 My son also adored his thin crust Italian pizza, which was quick to come out: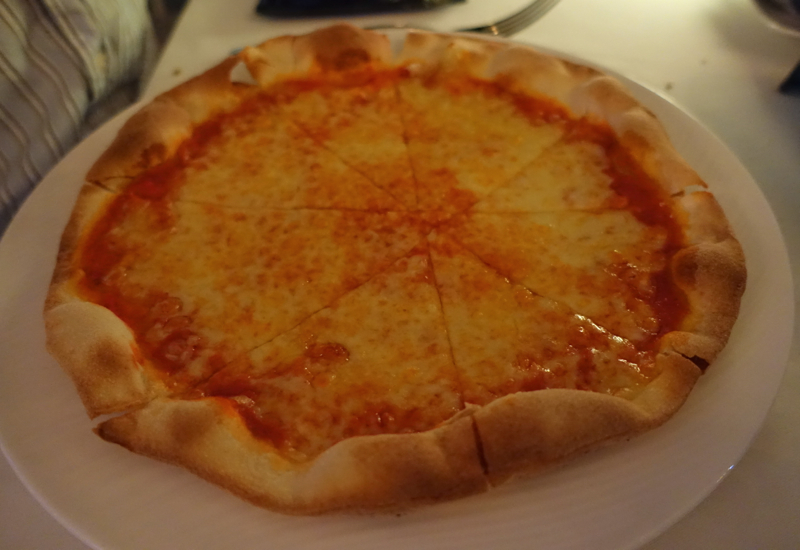 And the highlight for me was the baked Maldivian lobster–so succulent: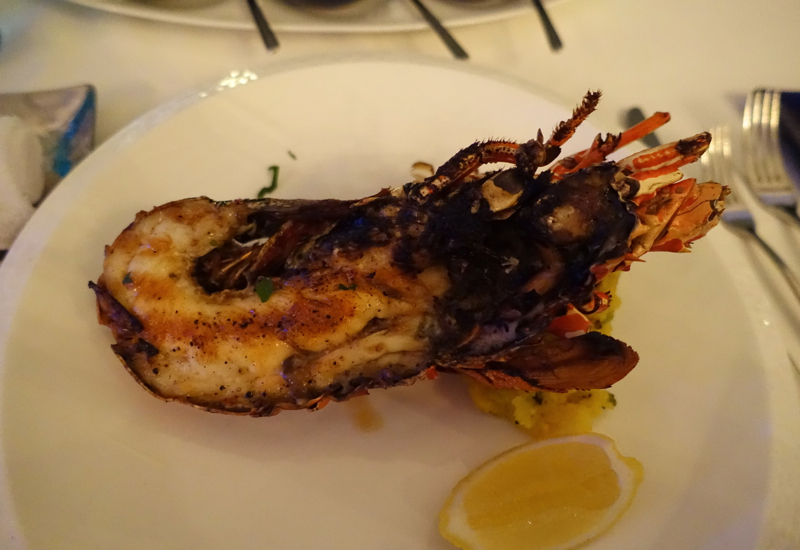 Dinner at Al Barakat
Our second evening we dined at Al Barakat, which features Arabic, Moroccan and Lebanese cuisine. It's located near the arrival pier, with a lovely view at sunset:
Here are a few of the pages from the extensive menu: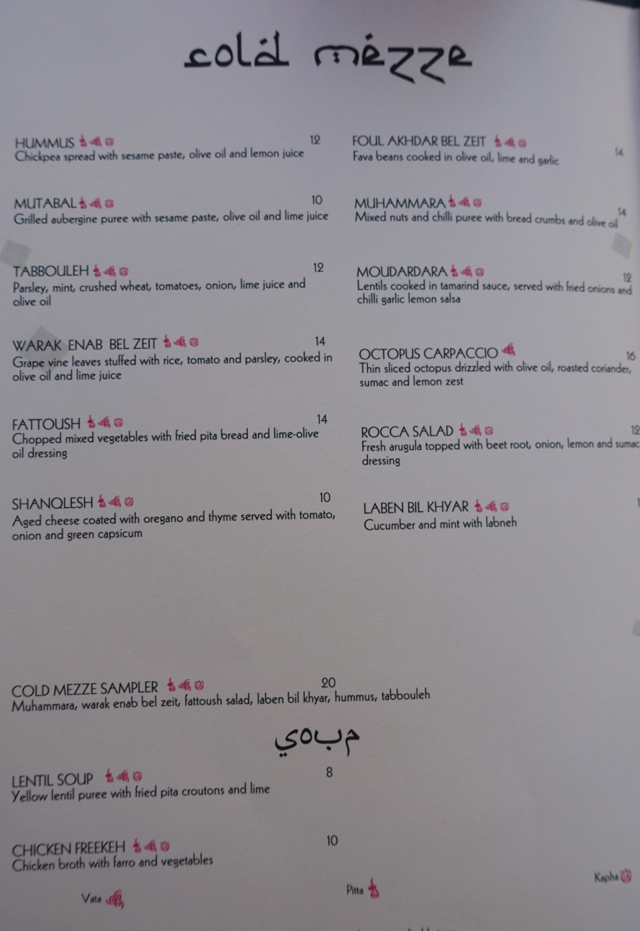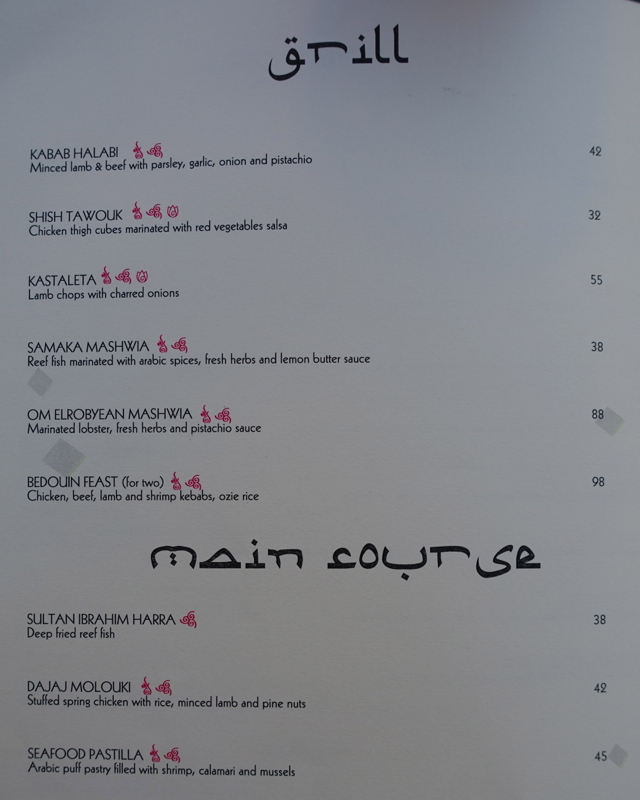 A super fresh and healthy starter of crudites was accompanied by a yogurt dip: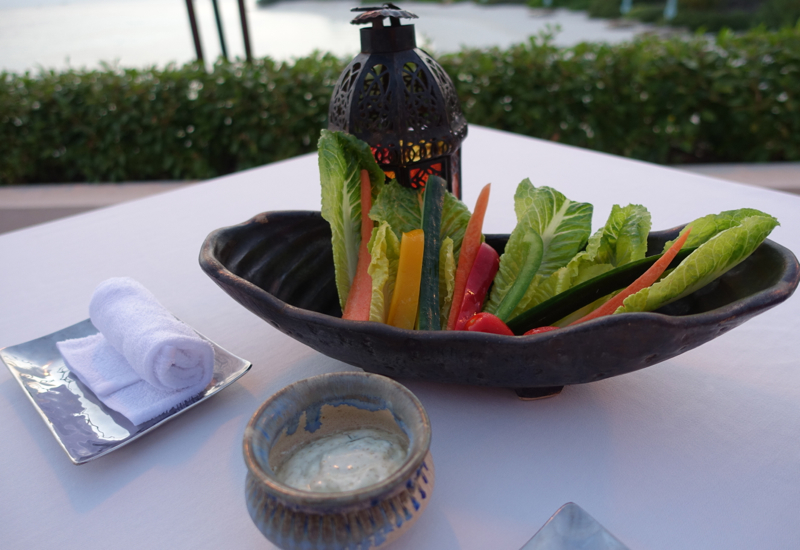 There was also complimentary hot, fresh pita bread, which we couldn't stop nibbling on: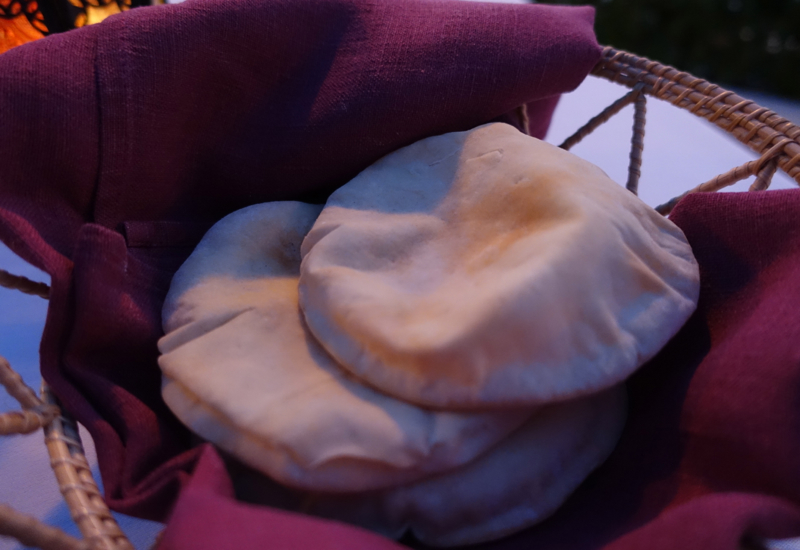 The savory highlight for me was the Octopus Carpaccio: both beautifully presented and incredibly fresh and flavorful.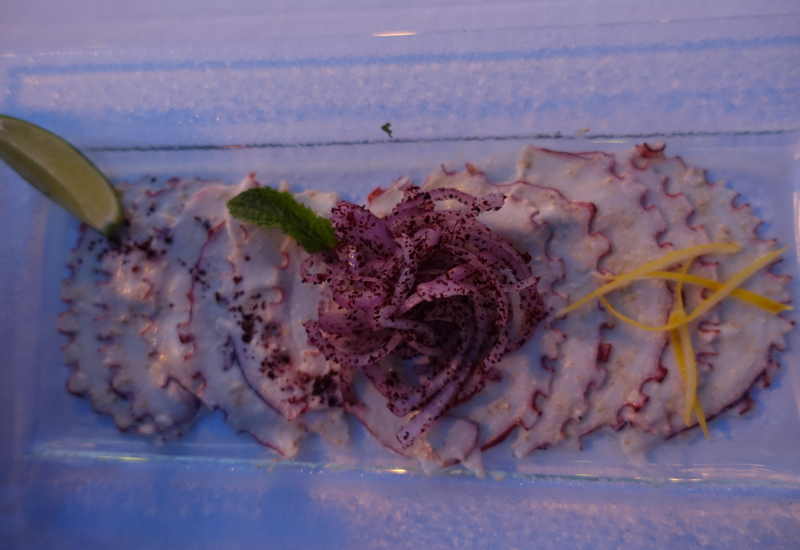 I liked but didn't love my reef fish in Arabic spices. It was impeccably fresh and well cooked, but I wished I'd gotten something a bit more exotic with more assertive spicing.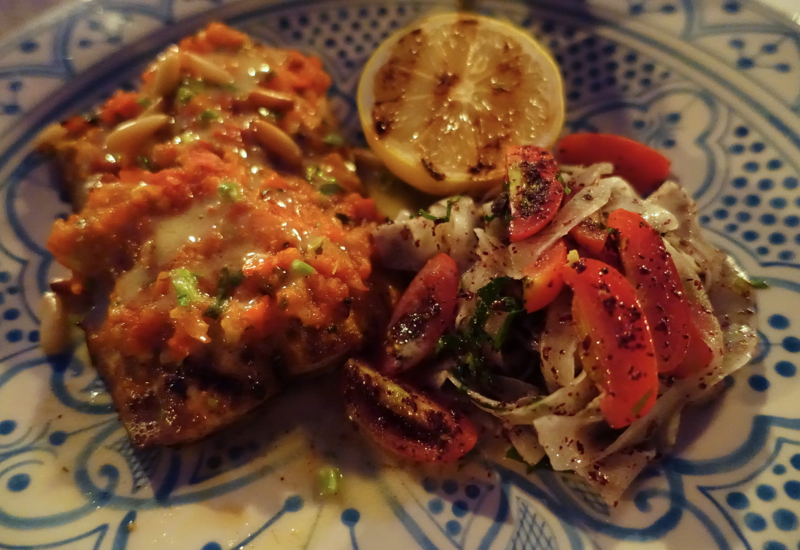 It was hard to choose from several tempting choices on the dessert menu, so I asked our server for his recommendation.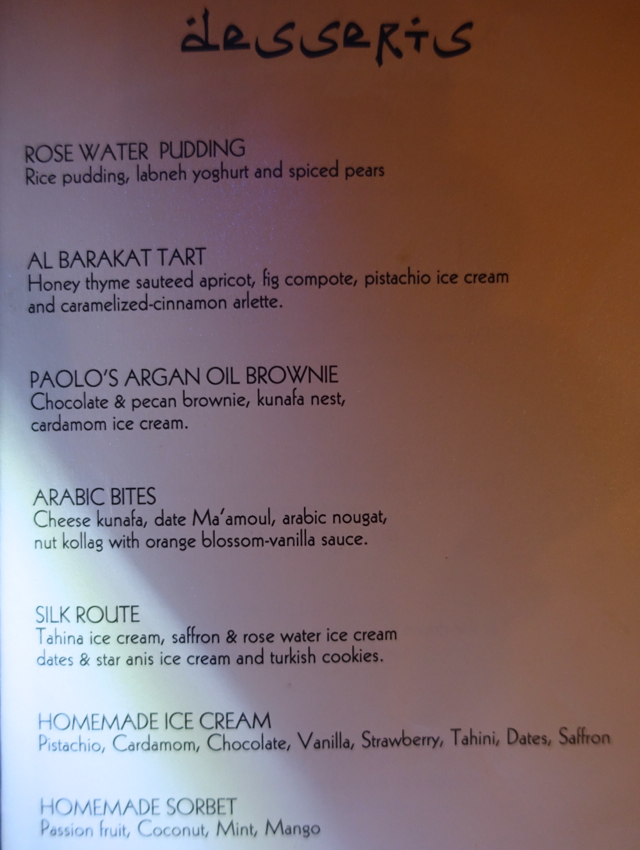 The finale was very memorable: Paolo's Argan Brownie with Kataifi and Cardamom Ice Cream. It's a must-order for anyone who enjoys scrumptious chocolate desserts with a unique twist.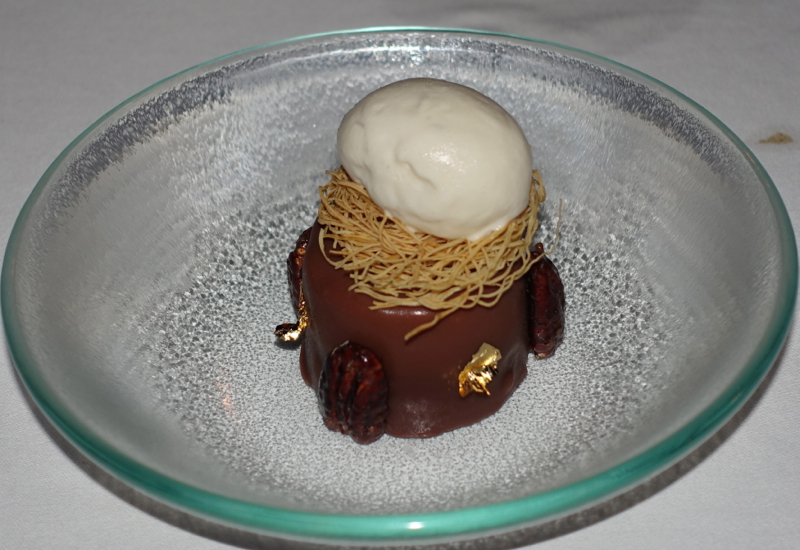 If you've dined at the Four Seasons Maldives at Landaa Giraavaru, which were your favorite restaurants and menu choices?
Related Posts
Disclosure: I was a guest at Four Seasons Maldives at Landaa Giraavaru and received a complimentary stay and daily breakfast and dinner, however the views expressed in this post are my own.
Need Award Booking Help? Our fee is as low as $75 per ticket if you book your hotel through us.
If you enjoyed this, join 150,000+ readers: please follow TravelSort on Twitter or like us on Facebook to be alerted to new posts.
Become a TravelSort Client and Book Four Seasons Landaa Giraavaru with Four Seasons Preferred Partner Perks!