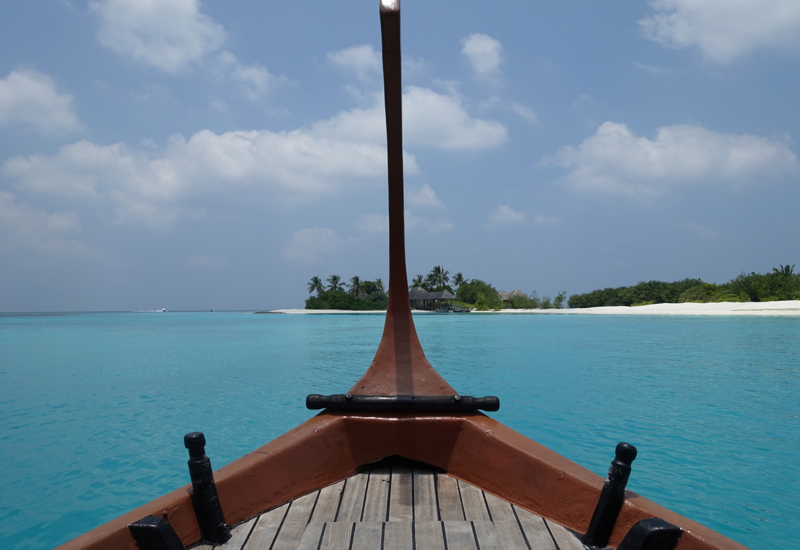 This Four Seasons Maldives at Kuda Huraa Activities and Top Things to Do post is part of a trip report including Four Seasons Landaa Giraavaru in the Maldives as well as luxury hotels in Southeast Asia and Etihad First Class and Business Class. For the prior posts, please see:
Review of Etihad's Lounge at Washington Dulles Airport (IAD)
Etihad First Class 787-9 Dreamliner Review
Review: Wingtips Lounge JFK for Etihad First Class Passengers
Review: Etihad First Class 777-300ER NYC to Abu Dhabi
Review: Etihad Business Class Lounge Abu Dhabi AUH Terminal 1
Four Seasons Maldives at Landaa Giraavaru Review
Four Seasons Maldives at Landaa Giraavaru Restaurant Reviews and Menus
Four Seasons Maldives at Landaa Giraavaru Activities: Top 10 Things to Do
Interview with Armando Kraenzlin, General Manager of Four Seasons Maldives at Landaa Giraavaru
Review: Four Seasons Maldives at Kuda Huraa
Surfing in the Maldives at Four Seasons Kuda Huraa
Review: Four Seasons Maldives at Kuda Huraa Sunset Water Bungalow
Four Seasons Maldives at Kuda Huraa Restaurant Reviews and Menus
The great thing about a stay at the Four Seasons Maldives resorts is that they can be as relaxing or active as you wish. We managed to try several great activities during our stay, but there were several others I would love to return and try.
1. Go Snorkeling on a Turtle Safari or Shark Safari
A highlight for us during our stay at Kuda Huraa was going snorkeling on a turtle safari. We took a speedboat to another island, where we snorkeled with the gentle current and were fortunate enough to see 4 turtles up close, in addition to a variety of Maldivian fish, such as Empress Angel Fish, Rainbow Parrotfish (Adorned Wrasse), Palette Surgeonfish, Unicornfish, Trumpetfish, various Butterflyfish and Angelfish, and my son's favorite: the Powder Blue Tang. Obsessed as he is with numbers, he even counted 128 of the Powder Blue Tang alone 🙂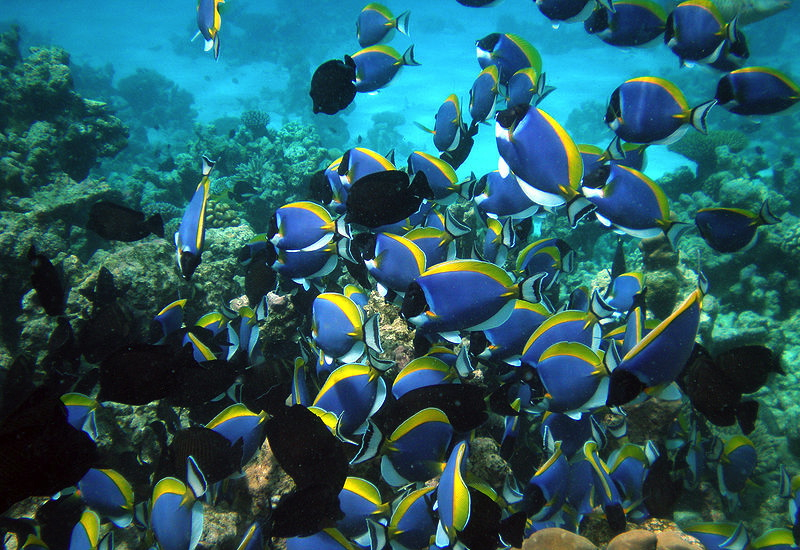 On the way back, everyone was exhilarated by what we had seen, and we also enjoyed some delicious brownies and hot tea, which hit the spot after snorkeling.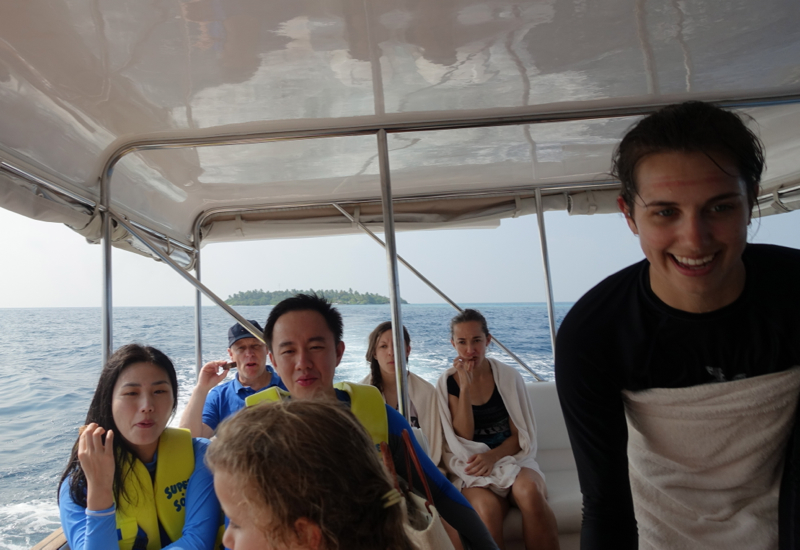 2. Go Diving, Including Wreck Diving
If you're a certified scuba diver, the Maldives offers some of the best diving in the world, often with great visibility and also in pleasantly warm waters where you don't even need a wet suit (although I do recommend a dive skin, for skin protection and comfort).
From Kuda Huraa, wreck dives are popular: you can visit The Shipyard, where there are two wrecks near Lhaviyani Atoll, Skipjack 1 (the former Hokomaro 3) and the Gaaffaru. Both ships are encrusted in hard and soft corals and offer an abundance of angelfish, butterflyfish, damsels and other fish, and sometimes stingrays. The Victory is another wreck and since it had cargo aboard when it sank, unlike Skipjack 1 (which was intentionally sunk, albeit a fire caused it to sink in a different place than planned), you can explore the various cargo holds and still see bottles, stereos, cassettes, etc.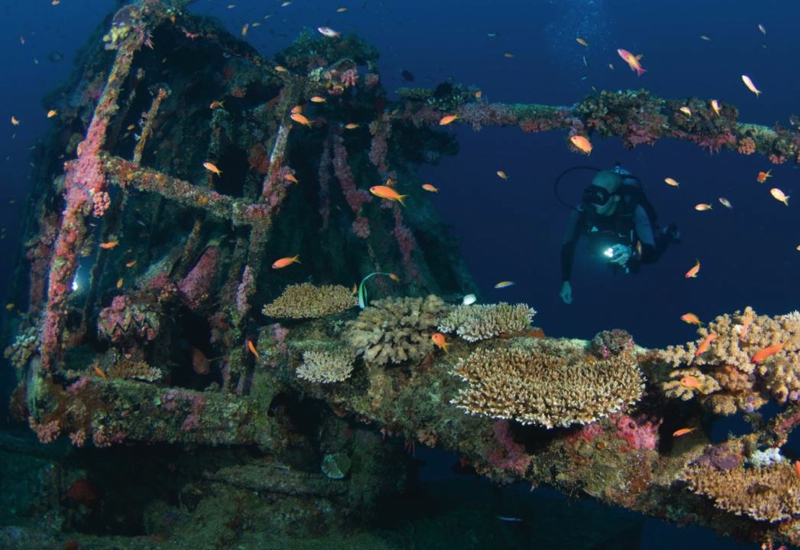 3. Learn to Surf
Even, or especially if you've never tried surfing before, Kuda Huraa's calm lagoon is a great place to learn. We had a great instructor and fun learning to go from paddling to standing up on our board. See Surfing in the Maldives at Four Seasons Kuda Huraa.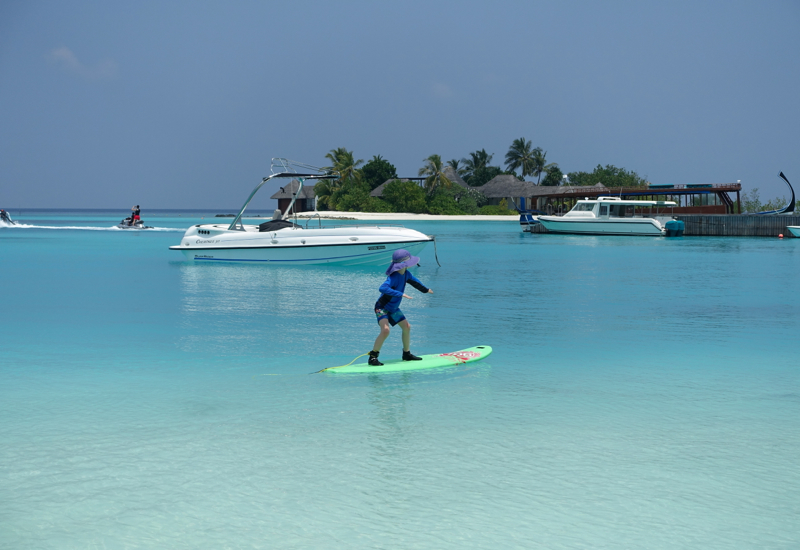 Of course, if you're an expert surfer, you'll find plenty of breaks to challenge you during the summer surf season:
4. Relax with a Massage at the Island Spa
Just want to relax? I can highly recommend Kuda Huraa's Island Spa, which you get to by one of the cutest little boats I've ever seen–in fact my son nicknamed it the "Cutie Boat":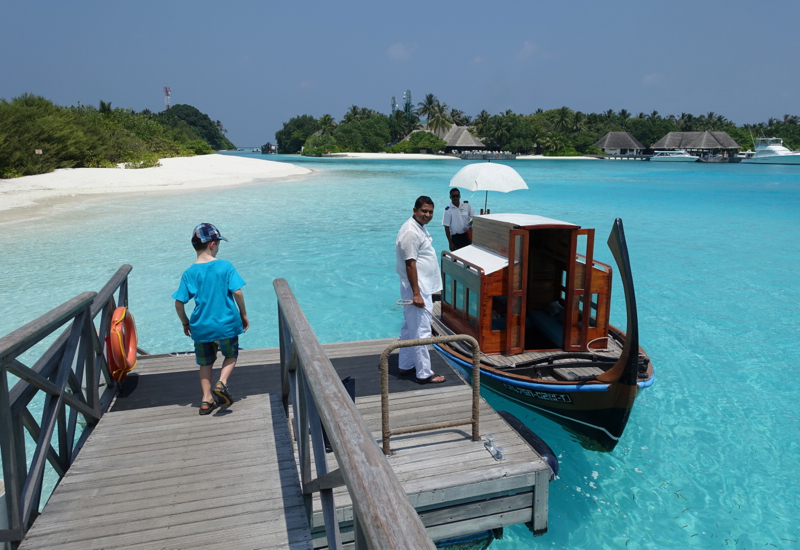 I was welcomed with a cool towel and refreshing lemongrass tea: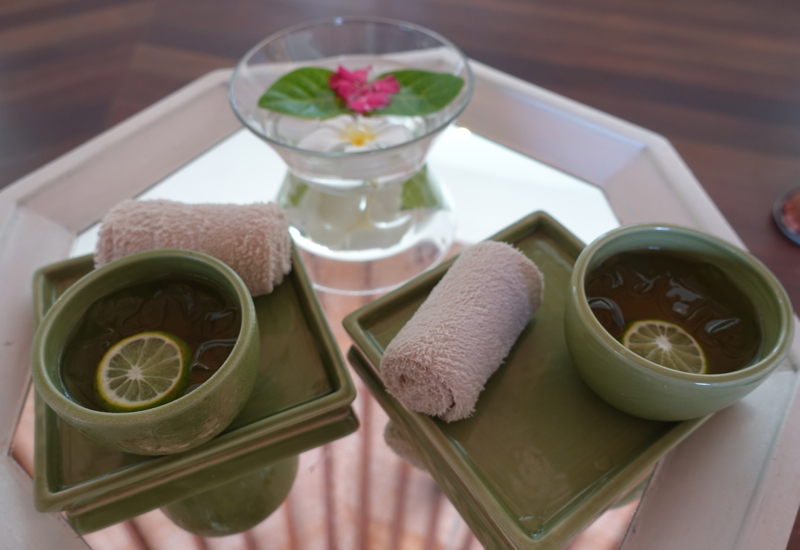 Then I was led to one of the individual spa pavilions where my therapist invited me to change and enjoy the sauna prior to the massage. As at Landaa Giraavaru, she was Indonesian, although in this case from Java instead of Bali. Before the massage, she washed my feet in flower infused water, a lovely way to begin.
The massage itself was excellent, although I had to cut it short a little when my son came to tell me that it was time to go, otherwise we'd miss the Turtle Safari Snorkeling! Do request a pavilion with a lovely ocean view: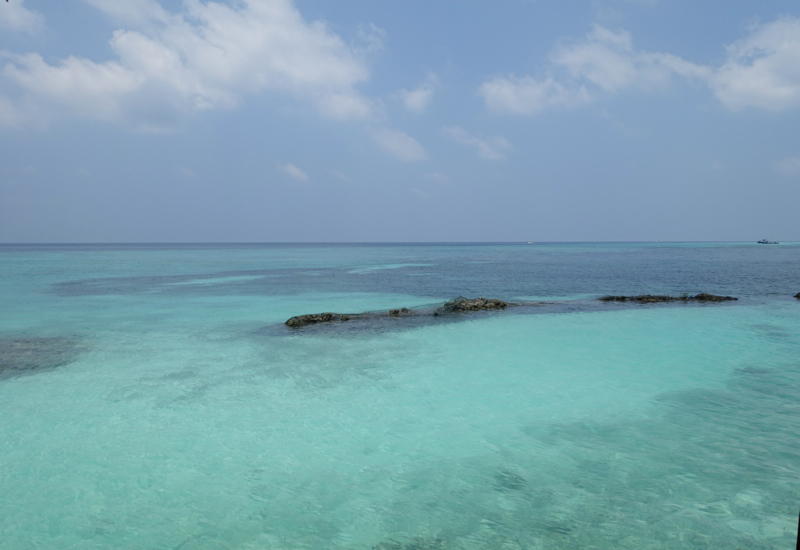 5. Observe and Learn More About Turtles at the Marine Discovery Center
Opened in 2011, the Marine Discovery Centre at Kuda Huraa provides interactive marine education to guests, and also houses the Maldivian Sea Turtle Conservation Program that helps to rear turtle hatchlings as well as care for rescued turtles until they are healthy enough to be returned to the sea.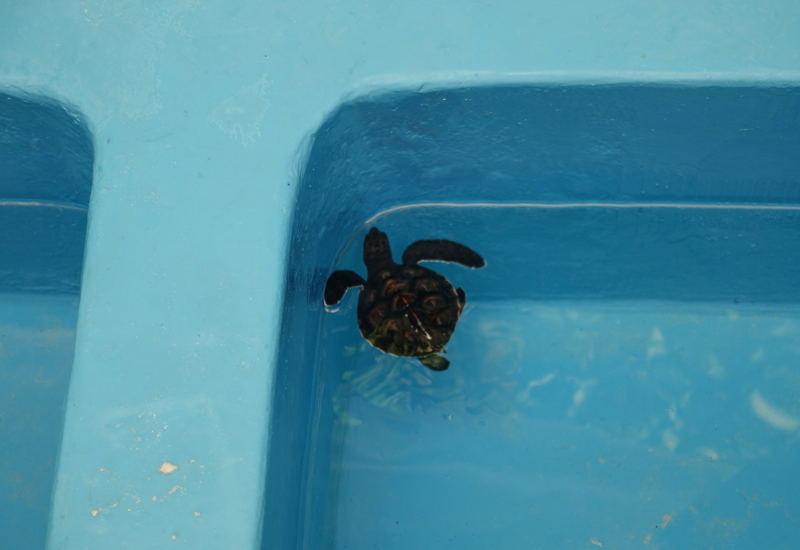 6. Enjoy the Sunset from Your Water Bungalow
Everyone in my family loves a beautiful sunset, and the munchkin and I were very happy to take in the beautiful colors from our Sunset Water Bungalow.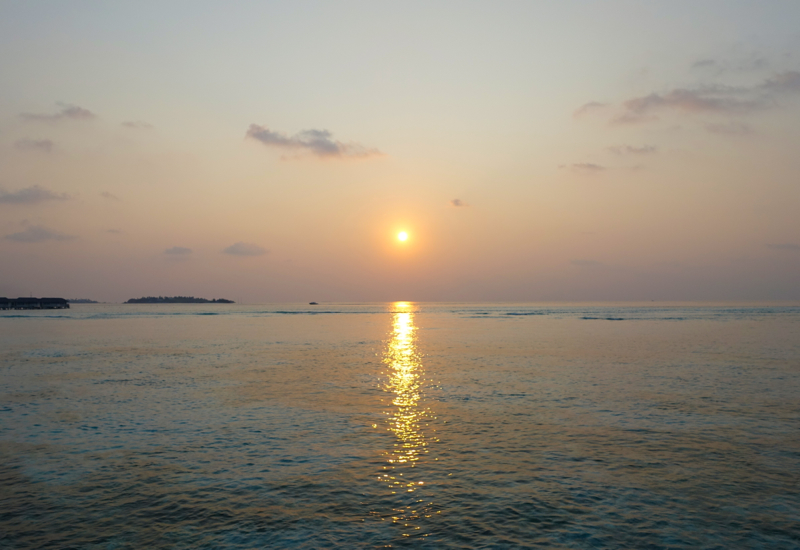 7. Take a Dolphin Watching Cruise
Dolphins are fast moving and generally aren't right near shore, so a Dolphin Watching Cruise is the perfect way to view their playful antics.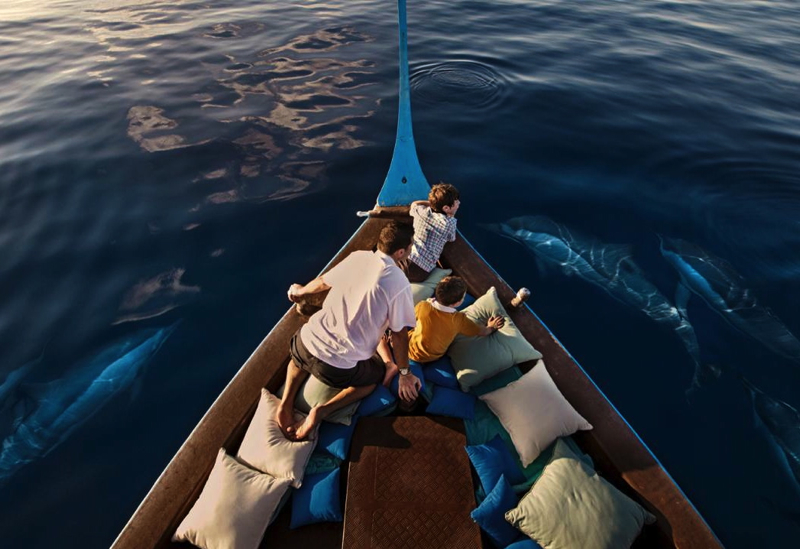 8. Savor a Cooking Class at Baraabaru
We so enjoyed the fantastic Indian cuisine at Baraabaru that I'd love to take a cooking class next time. Pick up some pro tips so you can recreate some of your favorite dishes at home!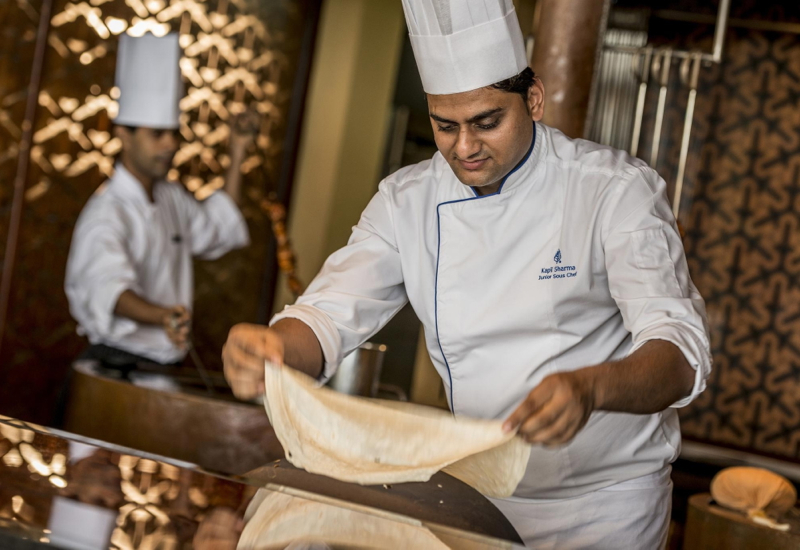 9. Learn How Things Work with a Back of the House Tour
Find out just what it takes to create paradise for your stay by going behind the scenes with a Back of the House Tour. We got to see a new staff gym being built and the current fitness room, the generator room, desalination facility, water bottling, the plant nursery and the staff mosque, among other things. My son asked our guide and head engineer about the Maldivian flag, and we learned that the red stands for the bloodshed lost in securing independence, the green for peace and prosperity, and the white crescent moon for Islam.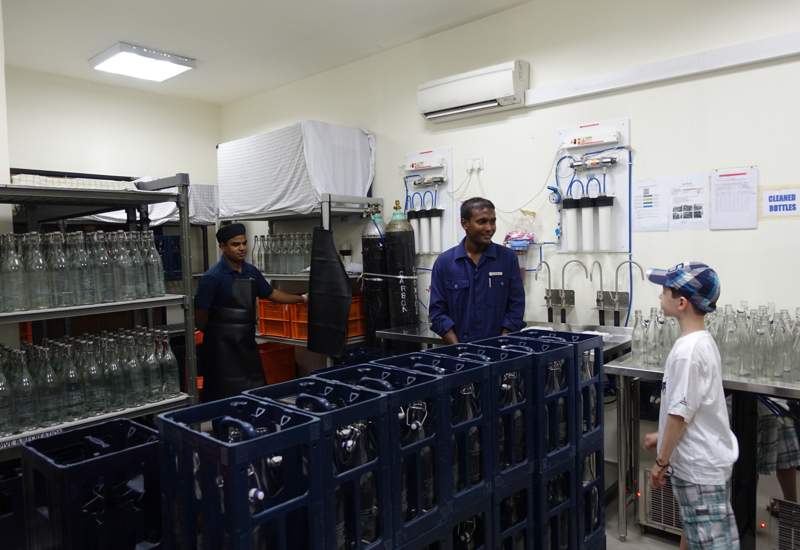 10. Give Your Kids a Great Time at the Complimentary Kuda Velaa Kids Club
We were so busy with various activities that my son didn't actually spend any time at the Kuda Huraa Kids Club, but he loved the one at Landaa Giraavaru, and Kuda Huraa had a similarly engaging program. Here's the calendar for our stay: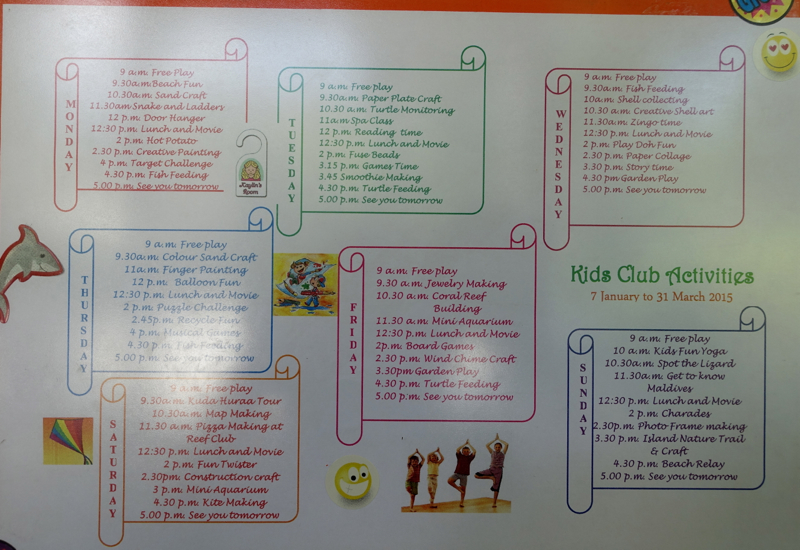 If you've stayed at the Four Seasons Maldives at Kuda Huraa, what were your favorite things to do?
Related Posts
Surfing in the Maldives at Four Seasons Kuda Huraa
Review: Four Seasons Maldives at Kuda Huraa Sunset Water Bungalow
Four Seasons Maldives at Kuda Huraa Restaurant Reviews and Menus
Review: Four Seasons Maldives at Kuda Huraa
Disclosure: I paid for my stay, which was booked with Four Seasons Preferred Partner benefits. Activities were provided to me on a complimentary basis. The views expressed in this post are my own.
Need Award Booking Help? Our fee is as low as $75 per ticket if you book your hotel through us.
If you enjoyed this, join 180,000+ readers: please follow TravelSort on Twitter or like us on Facebook to be alerted to new posts.
Become a TravelSort Client and Book with Four Seasons Preferred Partner Perks!
Photos: Four Seasons Maldives, Hilary Stockton, Uxbona via Wikipedia Creative Commons