Four Seasons Hualalai Resort vs. Hualalai Villa Rentals: What Are the Pros and Cons? I often receive questions from clients who are traveling as a family, extended family or group of friends about the pros and cons of staying in a Hualalai villa, vs. staying at the Four Seasons Hualalai resort.
TravelSort books both options for clients, so I thought it would be helpful to explain some of the key differences and considerations, especially as Four Seasons Hualalai, together with its recently renovated sister property Four Seasons Lanai, remain the most coveted Hawaii luxury resorts.
Why Choose Four Seasons Resort Hualalai 
Four Seasons Preferred Partner Benefits and Offers
Note that Four Seasons Preferred Partner benefits and offers only apply for reservations at Four Seasons Hualalai Resort, not for Hualalai villa rentals. This is because the villas are NOT Four Seasons Residences; they are owned by individual owners and managed by villa rental companies, not by Four Seasons. This is unlike Four Seasons Residences at some of Four Seasons' other locations, such as Punta Mita, Costa Rica (Peninsula Papagayo), Bali at Jimbaran Bay, Jackson Hole, Nevis, Seychelles and others, where TravelSort Clients do enjoy Preferred Partner benefits. See Four Seasons Residential Vacation Rentals with Preferred Partner Benefits
Access to All Resort Facilities, With No Additional Fee
If you're staying at Four Seasons Hualalai, you enjoy all the resort amenities daily, with no additional fee, apart from activities that require an additional fee, such as spa treatment and rounds of golf. Four Seasons Hualalai complimentary resort amenities include:
Overnight self-parking

Concierge services

Swimming pools, including King's Pond, a unique lava rock pool with tropical fish and an eagle ray that is ideal for snorkeling
Snorkeling equipment
Poolside amenities such as sunglass cleaning, frozen pops, fruit kabobs, chilled towels
Fitness center and fitness classes, including fitness walks, aqua fitness, interval circuit training
Activities such as basketball pick-up games, tennis doubles on Thursday evenings, snorkel lessons, Touch Talk Tank, Eagle Ray and fish feeding at King's Pond
82-foot (25-metre) outdoor lap pool and separate relaxation areas for men and women that include: whirlpool, cold plunge, sauna, steamroom and locker rooms with indoor and outdoor showers
Complimentary cultural classes, including Hawaiian language lessons, Hula dance classes, Ukulele lessons
Complimentary early morning coffee service at Hualalai Golf Club, Hualalai Spa, Lobby and 'ULU Ocean Grill + Sushi Lounge

Wine Tasting at 'ULU on Wednesdays


Kona Coffee Tasting at 'ULU on Tuesdays and Thursdays to Sundays

Garden Tour upon request

Live entertainment at Beach Tree Restaurant every evening

All restaurant meals for children under four years of age and under (excludes room service and poolside dining)

Use of children's toys, games, DVDs and books

Use of crib, high chair and playpen

Honeymoon, anniversary, birthday and children's amenities


Kids For All Seasons children's program (ages 5 to 12 years) open from 8:00 am to 5:00 pm with daily activities. 

Hale Kula, a game and activity centre geared primarily toward teens but can be enjoyed by the entire family. The Centre is open daily from 8:00 am to 9:00 pm and offers: 

State-of-the-art entertainment centre complete with a 54-inch (137-centimetre) television with surround sound, 6 video game stations, grassy area for organized outdoor games
If you're staying in one of the villa rentals, a resort fee is charged that is as high as $200-$250 per adult per day and $100-$150 per child 5-13 per day, during popular holiday seasons.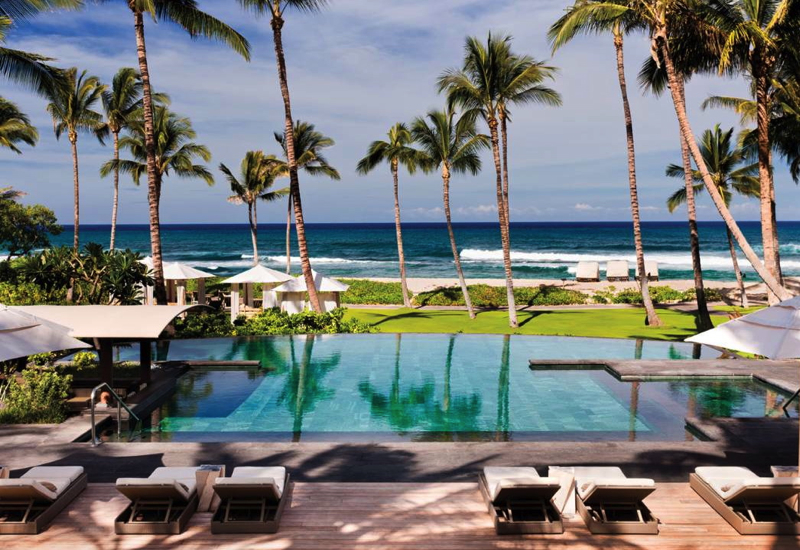 Access to All Chaise Lounges
If you're staying at Four Seasons Hualalai, you enjoy complimentary access to all chaise lounges by the resort's 4 main pools, which is convenient if one or more of you (particularly kids) is in the pool, and you want to be close by. During peak holiday seasons, Hualalai villa rental guests do not have access to any of the chaise lounges on the pool decks; they only have access to chaise lounges on the grass or on the beach.
Room Service
While my family doesn't make much use of room service, I have clients for whom this service is critical. It's important to note that only Four Seasons Hualalai guests enjoy room service, with the very limited exception of a few Golf Villas that are so close to the resort that they can enjoy room service as well. The one that is usually available is a 3 bedroom that goes for $3000 + tax or more per night.
You Want the Flexibility to Cancel Without Penalty Until 21-30 Days Before Arrival
Four Seasons Hualalai reservations do require a 2 night + tax deposit at time of booking, but they may be changed or cancelled without penalty until 21 days prior to arrival for rooms, and until 30 days prior to arrival for suites.
In contrast, each Hualalai Villa has its own deposit and cancellation policy, but a common one is a 50% non-refundable deposit at time of booking, with the remaining balance due 65-90 days before arrival. Keep in mind there can also be significant refundable security deposits, not to mention the resort fees mentioned above and cleaning fees.
Why Choose a Hualalai Villa
More Living Space
Unquestionably the greater living space is what leads most clients to prefer a Hualalai villa rental over a stay at the resort. While even entry level rooms at the resort are not small, at 635 square feet, and entry level suites are 1050 square feet, a typical 2 bedroom villa boasts 1650 square feet or more of interior space, plus 200-400 square feet or more of lanai or terrace space.
Kitchen Facilities
For families that want the flexibility of cooking some of their meals, have a small child that will require sterilized bottles, or wants to entertain, a villa rental is a must, since even suites at the Four Seasons Hualalai do not have kitchens.
You Want to Select the Exact Place You'll be Staying
With a villa rental, you get to choose the exact villa you'll be in, and don't have to wonder where you'll be. The downside is that you also can't move to another villa if you're disappointed in any aspects, nor is there any potential for an upgrade.
You Plan to Be Away from the Resort Most Days and Don't Need Much Concierge Assistance
Because of the significant resort fee per guest per day, villa rentals tend to work best for guests who plan to spend at least some days away from the resort entirely. Keep in mind that for days that villa rental guests do want to use resort facilities, these must be at least two consecutive days and may only occur once during the stay. For example, over a 7 day villa stay, guests might opt out of resort facilities for the first 4 days, then pay for resort access for the last 3 days. It would not, however, be permissable to do the first 2 days with resort access, 3 days without access, then 2 days with resort access; all resort access must occur once, for a minimum of 2 consecutive days.
Also keep in mind that Hualalai villa rental guests use the Hualalai Club Concierge, and that Club Concierge access is only available on days that resort access is paid for. Hualalai villa rental guests do not have access to the Four Seasons Hualalai Concierge Team.
If you've stayed at a Hualalai Villa, what was your experience?
Recommended Posts
Review: Four Seasons Hualalai, Best Resort in Hawaii
Four Seasons Residential Vacation Rentals with Preferred Partner Benefits
Top 5 Hawaii Luxury Hotel Offers 2017-2018
Honeymoon in Hawaii: Which Island and Which Hotels?
Top 10: Best Four Seasons Hotels in the World
If you enjoyed this, join 200,000+ readers: follow TravelSort on Twitter or like us on Facebook to be alerted to new posts.
Subscribe to TravelSort on YouTube and TravelSort on Instagram for travel inspiration.
Become a TravelSort Client and Book 5-Star Hotels with Virtuoso or Four Seasons Preferred Partner Benefits