This Four Seasons Bali at Jimbaran Bay Review is part of a trip report that includes luxury hotels and food in Bali and Hong Kong. Note that the best way to reserve the resort is through TravelSort or another Four Seasons Preferred Partner luxury travel advisor, since FSPP guests receive top priority when it comes to upgrades.
Prior posts include:
Review of British Airways Galleries Lounge at JFK Airport
Cathay Pacific Business Class Review: 777-300ER NYC to Hong Kong
Cathay Pacific First Class NYC-Hong Kong
Tim Ho Wan Review: Hong Kong's Best Dim Sum and Cheapest Michelin Star?
Mandarin Oriental Hong Kong Review
Cathay Pacific Business Class Review 747-400: Hong Kong to Bali
Ayana Resort and Spa Review-Club Level
We gave a taste (pun intended!) of our experience at the Four Seasons Bali at Jimbaran Bay with our review of Warung Mie, the resort's restaurant that serves Balinese and Indonesian food. Now it's on to the main course: the resort itself.
We couldn't have had an easier trip to the Four Seasons Bali Jimbaran Bay, since we'd stayed the prior two nights at the nearby Ayana Resort, less than 5 minutes away. The reception area is open air, and this is the ocean view that greets you: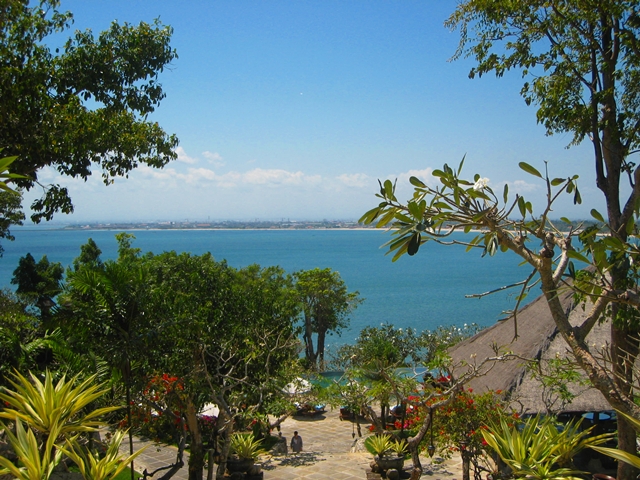 Rather than checking in at the reception desk, we were invited to sit down in one of the comfortable rattan chairs, and welcomed with cool towels and refreshing lemongrass infused drinks while filling out the simple registration form.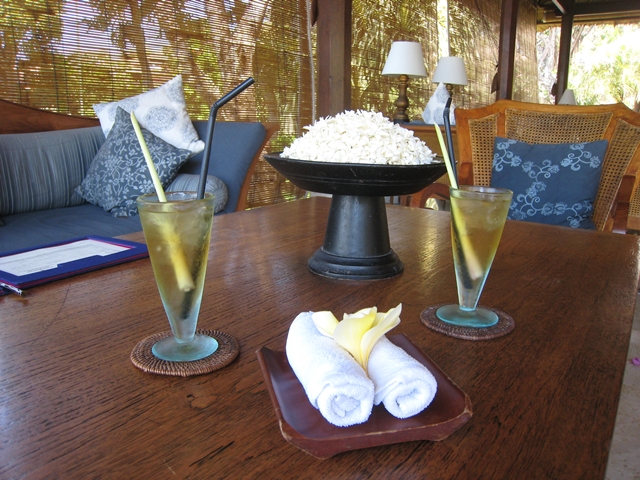 The kind associate immediately engaged the munchkin by telling him he could feed the fish in the carp pool near reception. You should have seen his eyes light up! Those carp were some of the most well-fed I've ever seen, no doubt thanks to the many kids who get to feed them: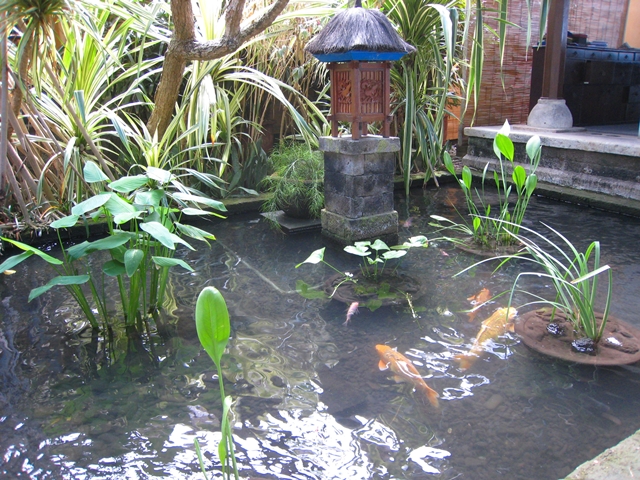 Since we had arrived early, our villa wasn't yet ready, they offered to take us to the Kids' Club, which sounded great to us, and especially to our son. Apart from the Ayana, this was the only resort we stayed at to have a kids' club, and he was thrilled to be around other kids. The club is brightly decorated, with both an indoor playroom and covered but open air section, plus a kids' pool. The great thing about the Four Seasons Kids' Clubs, Kids for All Seasons, is that they're complimentary, unlike the kids' clubs of most other resorts (including the Ayana, Ritz-Carlton, etc.) where there's typically a fee. There are some optional activities, such as the tennis clinic, that are charged, but most of the activities are complimentary. Quite soon, our villa was ready, so I went to unpack our things, but our son decided to stay at the kids' club since he was having so much fun!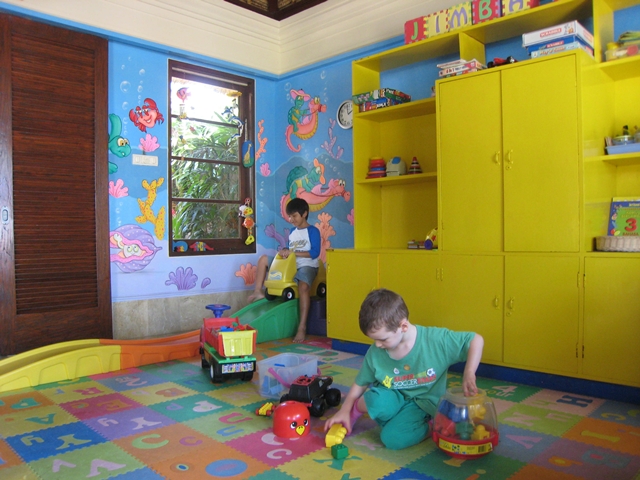 The Four Seasons Bali at Jimbaran Bay is set on extensive grounds of 35 acres, and the lush foliage is more natural looking and less manicured than at the Ayana. There are plenty of golf carts available to whisk you to anywhere you might wish to go, and to get our bearings we took advantage of them to get us to the kids' club and initially to our villa. Unlike at the Ayana, there are no regular rooms at the Four Seasons Bali–all residences are private villas, from One Bedroom Villas with a garden view to Ocean View, Deluxe Ocean View, Oceanfront, Two-Bedroom Villas (garden view, Ocean View, Oceanfront) and Royal Villas. We were in a One Bedroom Ocean View Villa, which we found incredibly spacious, at 2152 square feet of indoor and outdoor space.
Here's the entry, which faces a Balinese statue: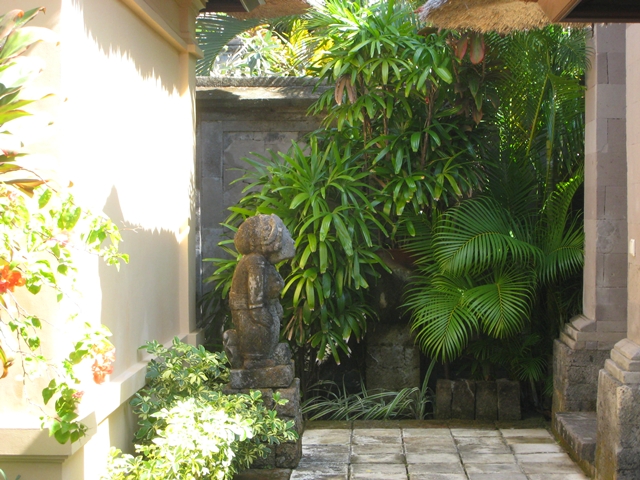 On the left, across from the main villa, was an open air living room with sofa, fresh flowers, dining table and chairs: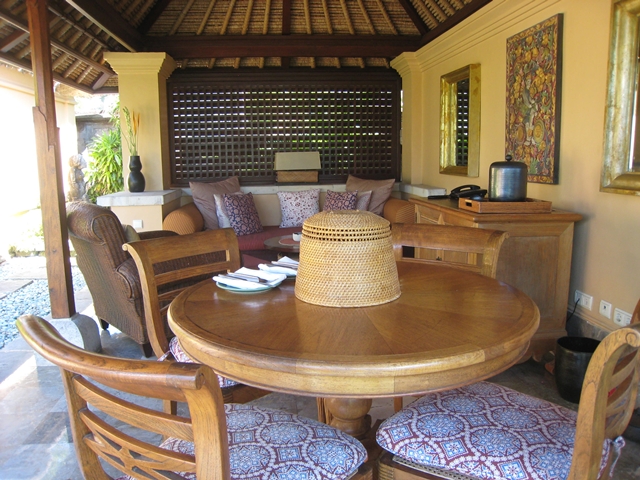 There was a fruit welcome amenity that we didn't have occasion to enjoy, as we dined so well at Warung Mie and at the Cooking School the next morning: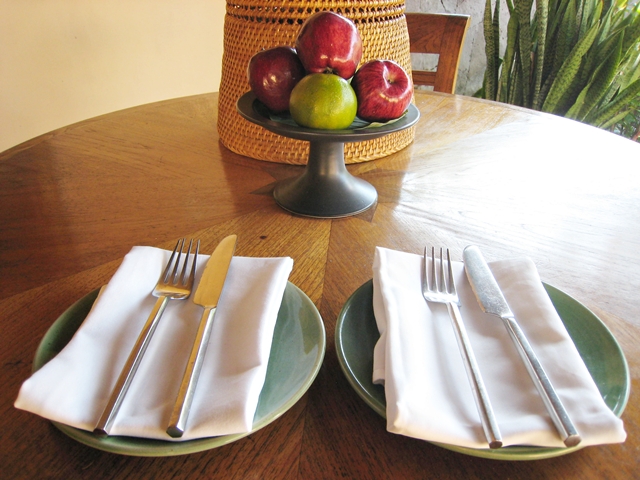 Right by the open air living room is the plunge pool: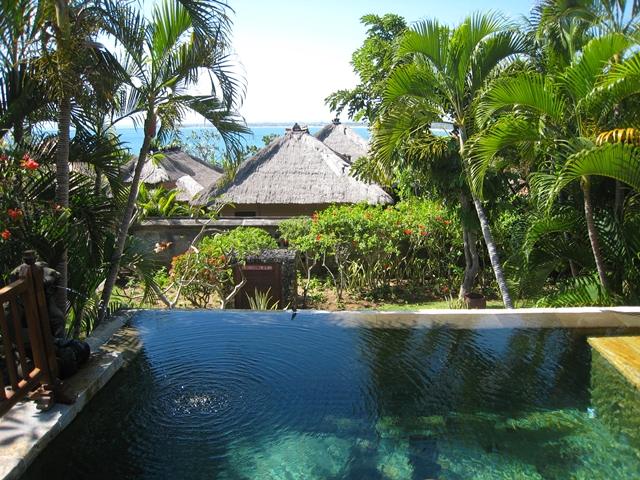 And next to that, in front of the main villa, are lounge chairs so you can soak up the sun while reading a good book or simply relaxing: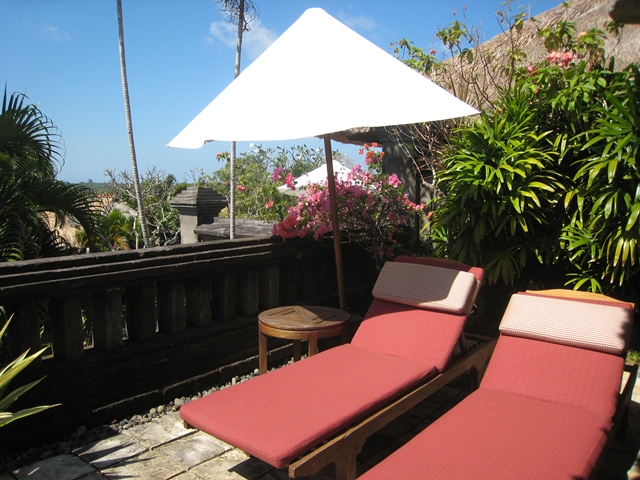 When you enter the main villa, you're in the bedroom, with an ultra-comfortable King size bed:
There's a good size flat screen TV (as usual, never used) and in the other corner, a writing desk with resort information, menus, etc.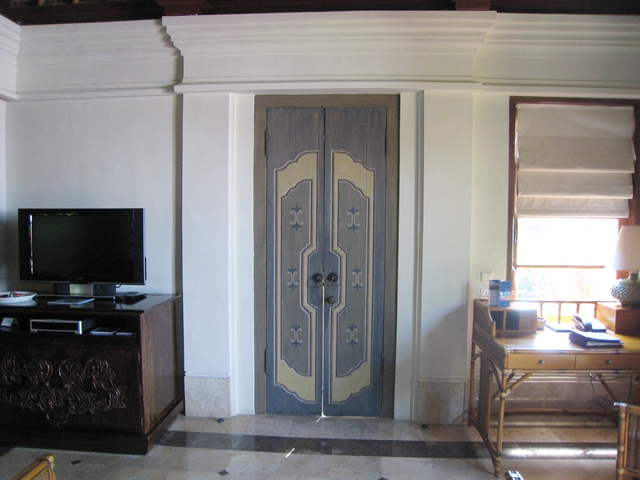 I'm not a runner, but if you are, you could go for a run along the beach (lots of exercise running on that surface!), as the Four Seasons running map suggests: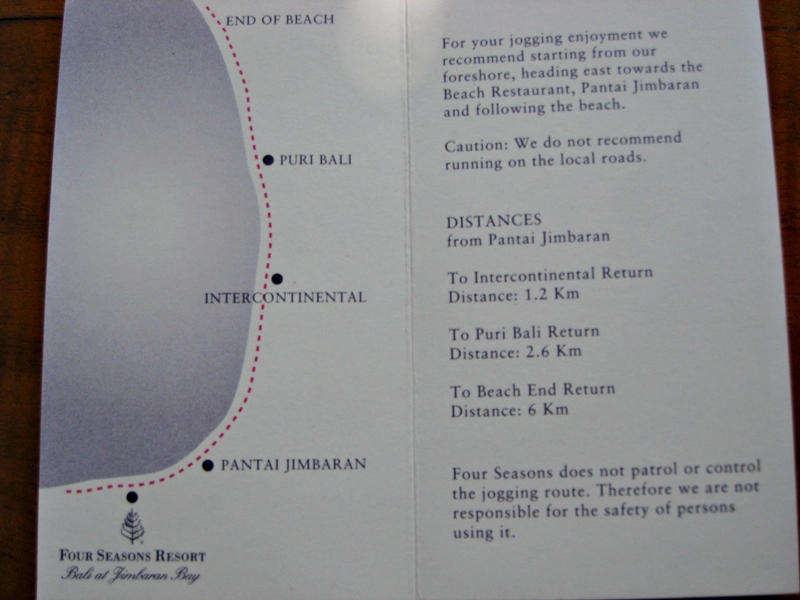 The hallway from the bedroom to the bathroom perfectly accommodates an extra bed, which had already been set up for our son, with a child's robe, slippers, coloring book and excellent quality coloring pencils thoughtfully provided: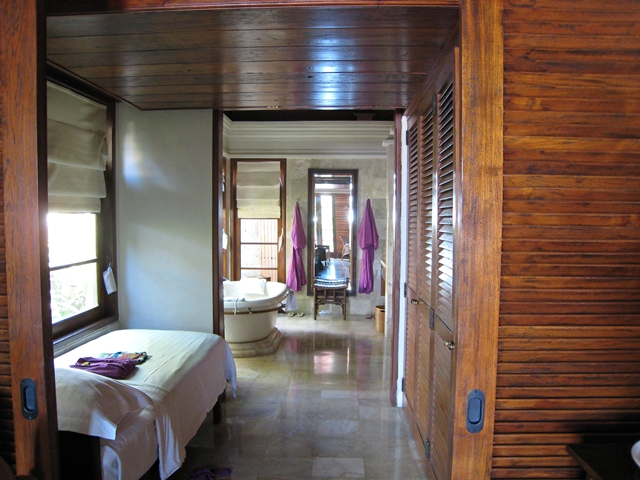 Our son even received his own welcome amenity, a giant chocolate chip cookie and Capri Sun juice! He so wanted to eat this cookie, but it's a good thing we checked whether it had an allergen he's allergic to, as it did, so we unfortunately couldn't let him eat it. I'm sure if we'd advised the resort prior to our arrival of his allergy they could have provided one that he wasn't allergic to, so that was actually our fault for not letting them know.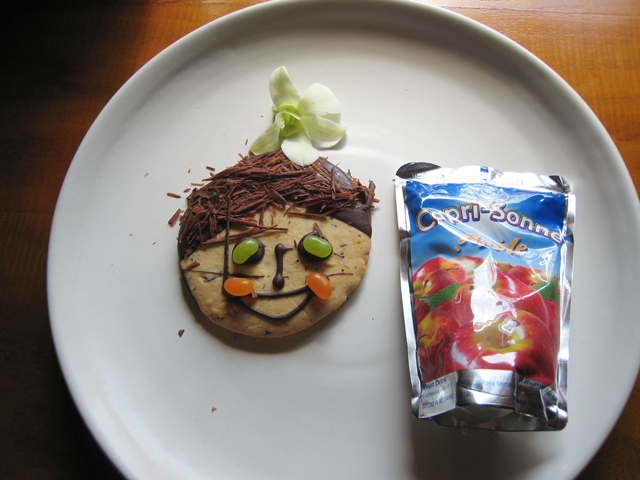 The bathroom was about half the villa, and I loved it. There was a stand-alone soaking tub, which of course my son enjoyed: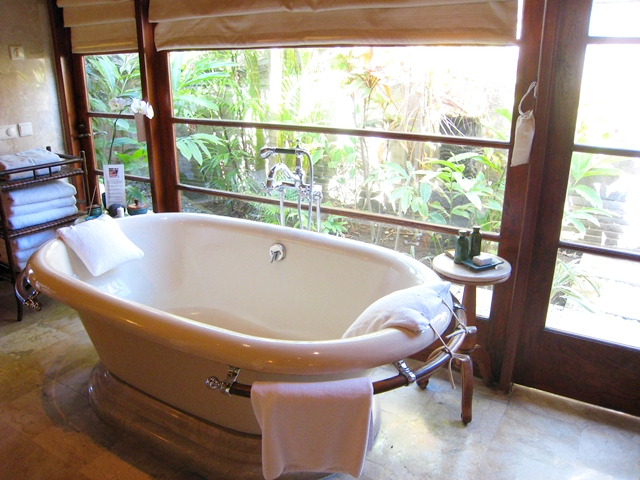 Next to it was a menu of specialty baths that you could order, along with bath salts, a candle, and incense: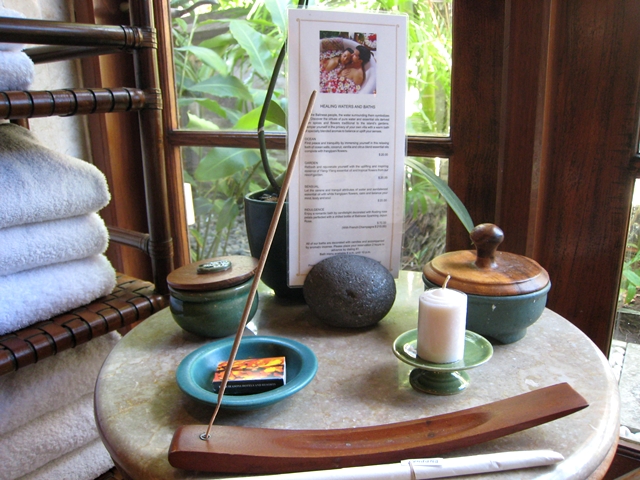 There were dual vanities (or his and hers sinks), always convenient for families: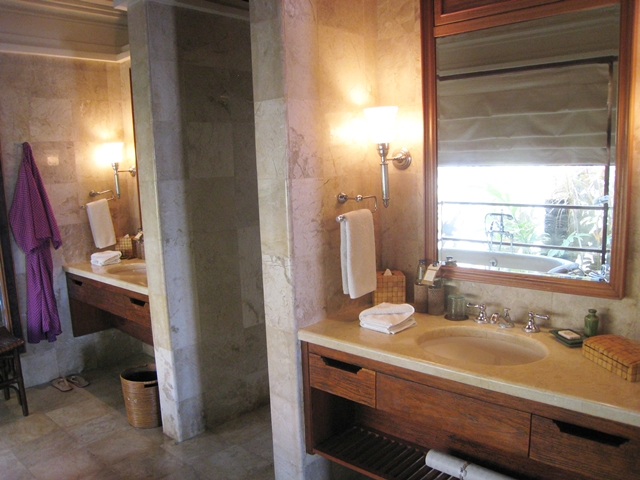 And the counter top amenities were beautifully encased in their own wooden box, which when opened revealed toothbrushes, toothpaste, razor, shaving cream, comb, etc. It's always so nice when these are already there, in case you forgot anything, as there's no need to call and have them brought to you.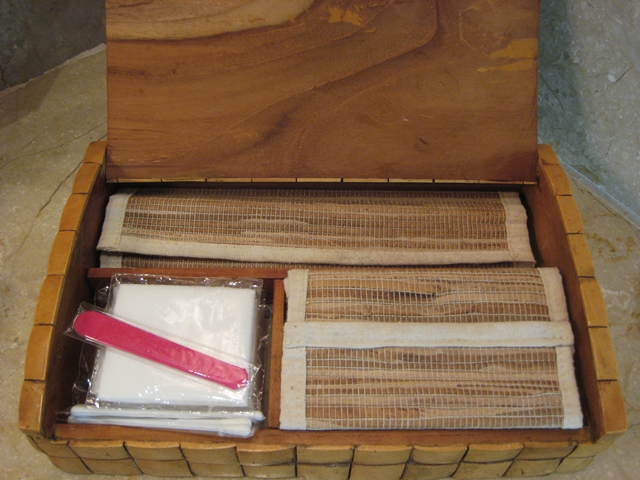 There was an indoor rain shower, with the window adorned with a lovely traditional wood carving: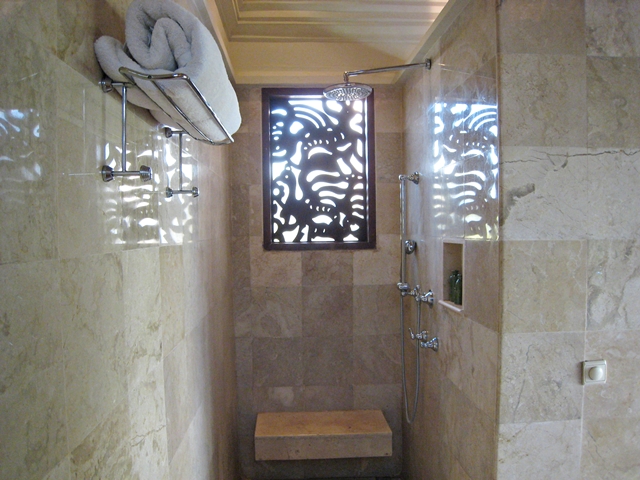 Bath amenities were in ceramic containers. I do appreciate this more ecologically sensitive solution, although I'm also glad they were placed up high, since it's not the most practical thing with kids around–not something you'd want to accidentally drop and break.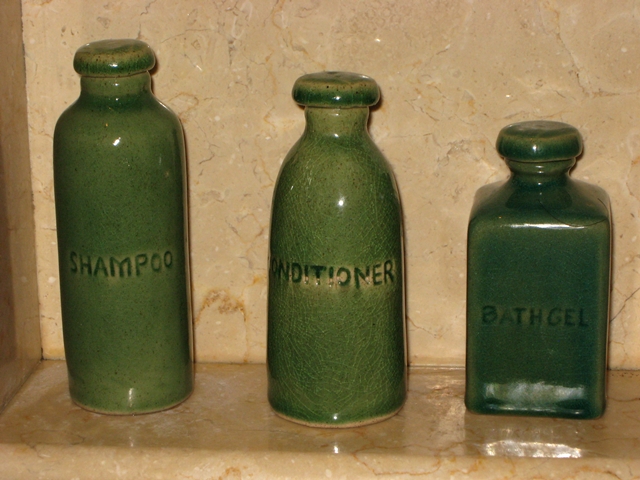 There was also an outdoor shower just outside the bathroom: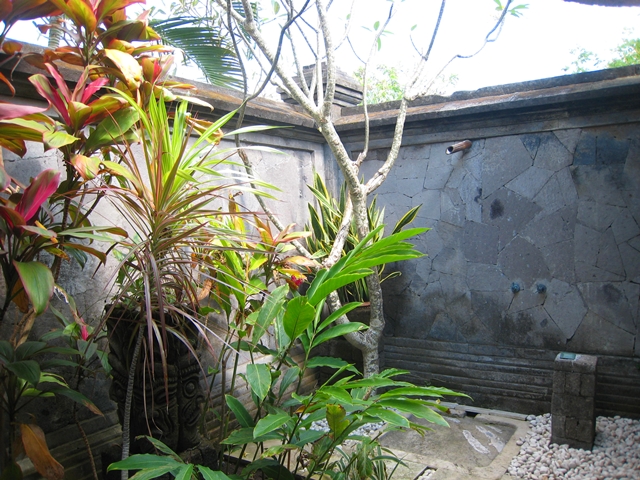 It was an easy walk to the main infinity pool, with its gorgeous ocean views: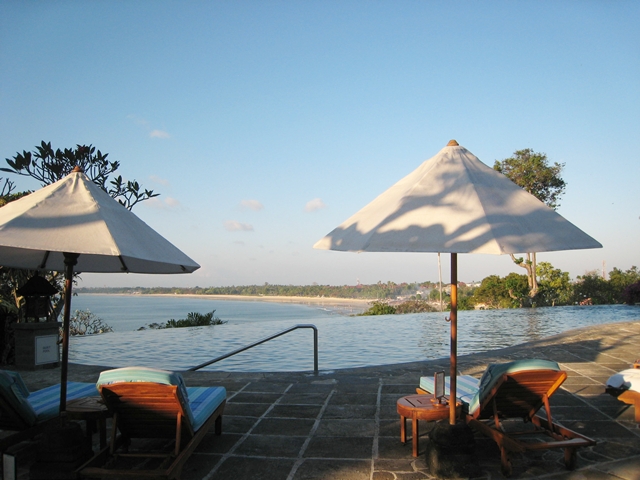 We actually spent more time, however, at the lower pool, which seemed a better bet with an energetic kid, especially as there was no one around when we were there. That's something I really loved about the Four Seasons–you could certainly find other kids for your child to play with by taking him or her to the kids' club, but it was also so easy to have your own peaceful private retreat within your villa, and even in the public spaces, so much opportunity to enjoy time with your family without tons of other folks around.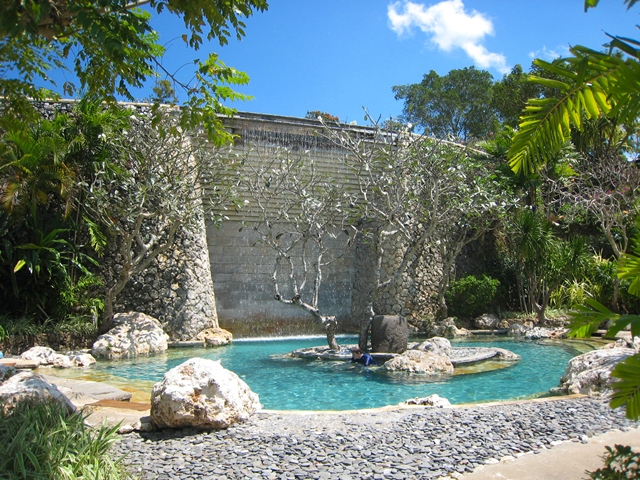 The outdoor jacuzzi enjoyed sweeping views of the Indian Ocean and coastline: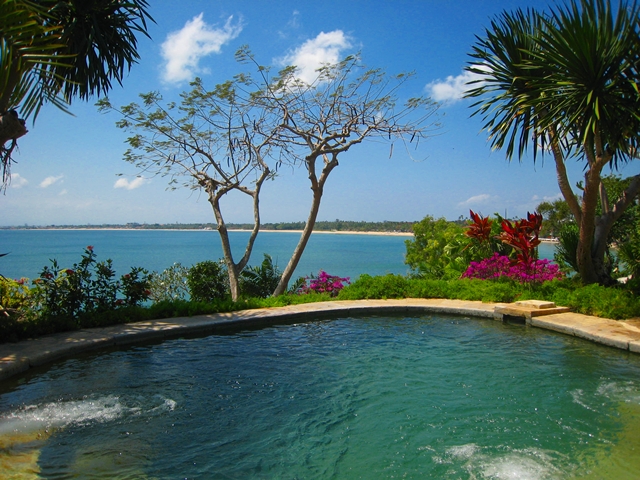 Verdict: While my husband slightly preferred the more manicured look and our more unobstructed view of the ocean of the Ayana (and I should note that higher villa categories at the Four Seasons Bali have if anything more stunning ocean views), I definitely preferred the Four Seasons for the spacious villa with traditional Balinese flair, perfect yet friendly and unobtrusive service, superior food, and less crowded pool area with better poolside service. I didn't have a chance to try the spa, but when I slipped in to make a call, a mother and daughter passed me that looked so blissful, post-treatment, I certainly wish I'd been able to squeeze in a massage. There's no question that all this comes at a higher price point, but if privacy, exclusivity, service and food are important to you, the Four Seasons Bali at Jimbaran Bay should be at the top of your list if you're planning to stay in Jimbaran or really anywhere in sunny south Bali.
Related Posts