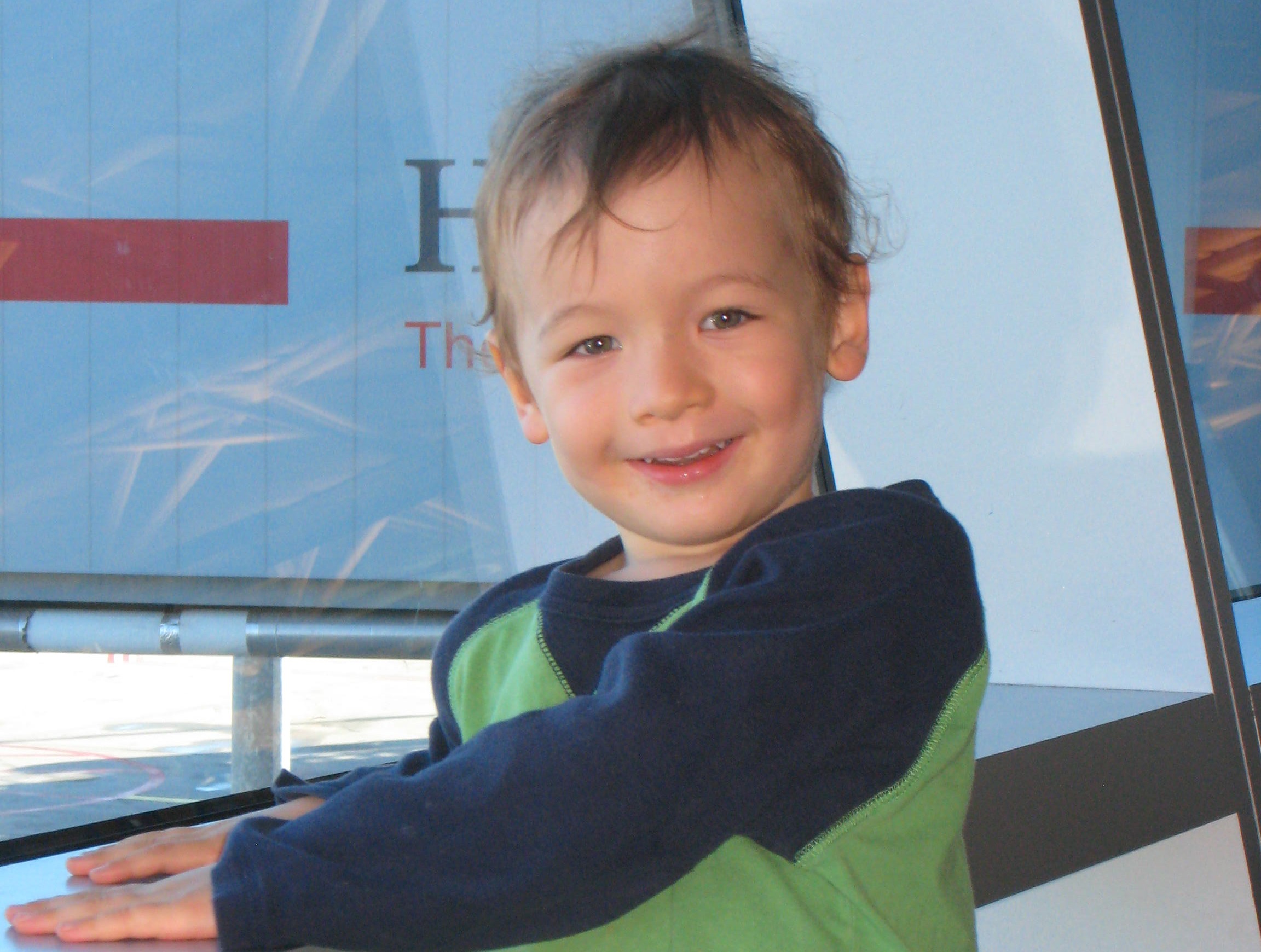 These days, between the consternation of potentially having your little one undergo a full body scan or be groped by the TSA, and having to brave packed flights, you may well decide to drive or persuade relatives to visit you instead. Still, if staying home isn't an option or all of you need a vacation somewhere warm, there are ways to make flying with an active toddler easier for your toddler and you. And if you're lucky enough to have a kid who will happily color, sleep or watch a DVD for the entire flight, please don't cast smug looks at those of us not so blessed—believe us, their high energy is nature, not nurture!
Trip Planning
How long a flight can my toddler manage?
It's one thing to take a 2-month old on a 12-hour flight (certainly exhausting, but doable, since they're not mobile) and another thing entirely to take an active 2-year old, who wants to explore every inch of the plane and refuses to sit down let alone sit still. You know what your child is capable of, so if 2 hours will be challenging enough wait until he's older to do a flight longer than that. On the other hand, some kids have no problem engaging in quiet play for hours, as long as you provide the activities (more on that later). And if you and your partner are willing to take turns walking your toddler up and down the aisles, or if your child can fall asleep anywhere and the flight is during their nap time, it's more likely you can manage a longer flight.
Which flight should I book?
The last thing you want when taking a toddler is a flight delay or cancellation, and while sometimes this is unavoidable, it helps to know which flights are historically most likely to arrive on time, and which aren't. Check out InsideTrip which assesses flight quality based on this and other factors, such as flight duration, security wait time, leg room, lost luggage likelihood and more.
Should I use miles and fly business class?
If you have the miles and can upgrade, I would absolutely recommend it, especially on long haul flights such as New York-Honolulu or international flights. Short domestic flights are probably not worth it. You may get some dark looks from fellow passengers, but having the extra room can make a world of difference and actually make it easier to keep your child happy and relatively quiet. In one case, I was even able to bring and set up a portable crib (the Bjorn travel crib) right in front of my seat, and my toddler slept most of the 12 hour flight from Honolulu to Newark. No travel crib is FAA approved, however, so the flight attendants may or may not allow you to do this.
What should I bring in my carry-on for my toddler?
Besides the necessities such as diapers, wipes, change of clothes and water, bring plenty of food, 7-8 light books, creative toys, and photos via your iPhone or digital camera.
Food: As everyone knows, there is precious little food (let alone quality, complimentary food) to be had on planes nowadays, so plan on bringing your own. Our favorite low-mess snacks that we bring in a little cooler:
Whole apple or apple pieces
Banana
Individually wrapped organic cheese
Cubes of cooked organic chicken
Energy bars, e.g. Clif organic ZBar
Organic cereal (e.g. Nature's Path brand)
Raisins
Books: You don't want to load yourself down with hard cover books, so bring thin paperback ones that have plenty of cool pictures to talk about. Some of our favorites for a 2-4 year old:
Photos: If your child loves looking at photos, make sure you keep a huge supply on your (fully charged) digital camera or iPhone/Android, so you can look at them together
Magna-Tiles: We never thought we'd bring these on trips (since they are a bit heavy) but it was well worth it, since our son loves to build and, other than books and photos, it was one of the few ways to keep him seated and quiet on a flight. Not cheap, but one of the best and most creative toys out there, I wish they'd been around when I was little.
DVDs and laptop or portable DVD player: This is a no-brainer if your child will sit still for favorite DVDs, even if normally you don't allow your child to watch TV. The original version of Sesame Street and Blue's Clues are good bets that you don't have to feel too guilty about.
Security item: Whatever you do, don't forget your child's favorite security blanket or other lovey—could be crucial for your toddler getting to sleep in a new environment, not just on the plane, and you don't want to risk this getting lost in your checked luggage.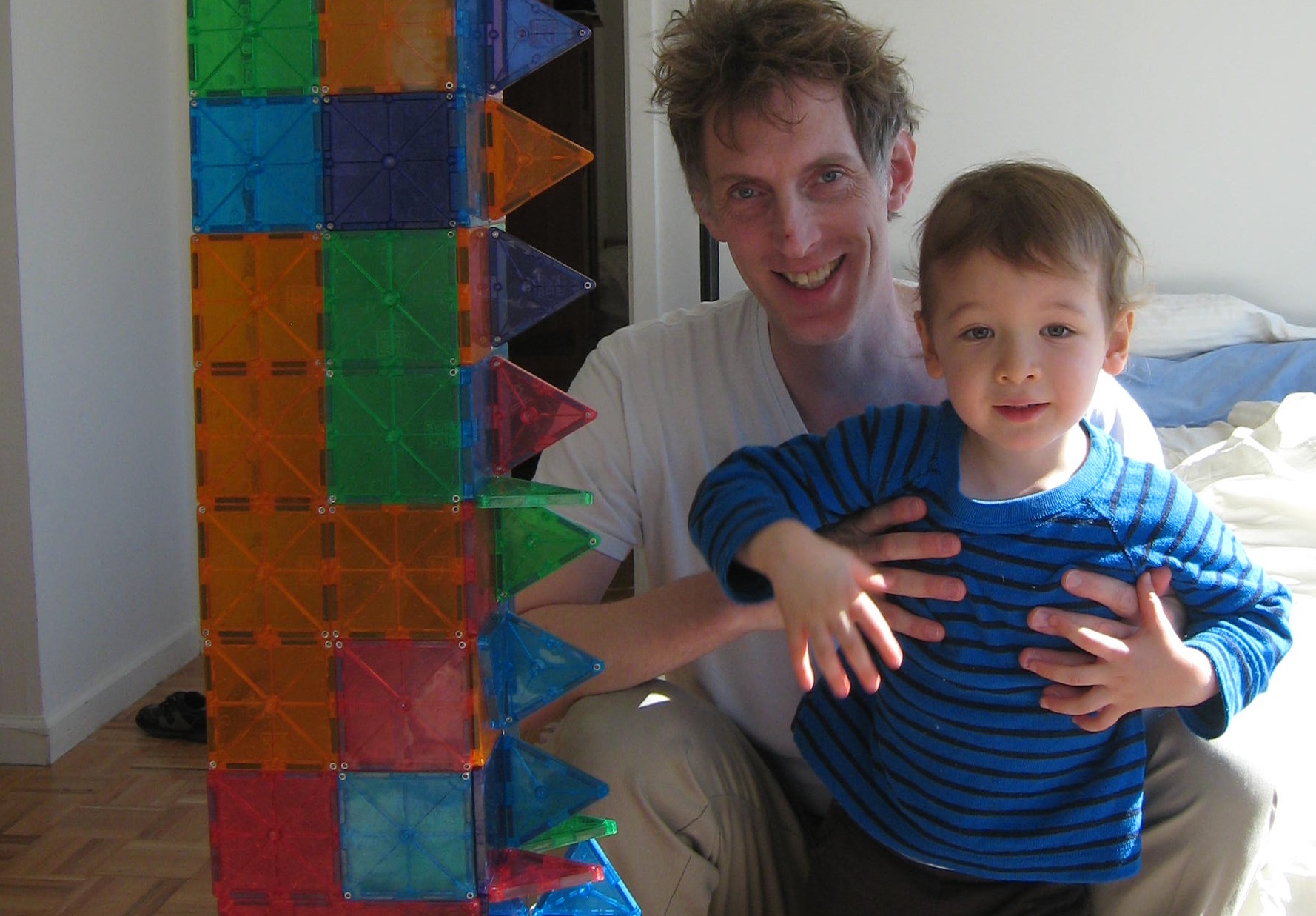 At the Airport
What should we do with the kids once we're through security? Check out where your gate is, and if needed, have one of you stay there with the carry-ons, while the other takes the kids around to expend as much energy as possible, so they'll be less antsy on the plane. With my toddler I find places that he can jump up and down, climb stairs, and generally make a lot of noise without people caring too much. Watching airplanes arrive, load baggage, and take off is a natural diversion for many kids. Try to find a gate with a good vantage point. Also be on the lookout for friendly kids that your kids can play with, even if it's not your waiting area but a nearby one. Don't feed the kids though, if you can help it, since eating is a good sit-down activity for the flight.
When should we board? If you have a large carry on, it might be tempting to board first, since families traveling with small children are sometimes allowed to, but just have one of you go ahead if necessary to stow luggage. You don't want to subject your toddler to more sitting than absolutely necessary.
On the Flight
How in the world am I supposed to change an antsy toddler in a lavatory without a changing table?
Most aircraft have such a lavatory somewhere; if there aren't any in coach, ask most sympathetic looking flight attendant you can find if you there's a lavatory with a changing table that you can use, and she may let you use the business class one.
My toddler always cries on takeoff and landing—help!
Have a drink or juice box ready for her so she can drink during those times; it will help equalize the pressure, the same way nursing or sucking on a pacifier did when she was a baby.
Looks like my toddler is losing it . . .
If he's well-rested, fed, and you can't get him interested in any more books, DVDs or photos, he may just be antsy and needing to walk around. Get up with him and, assuming there aren't meal carts blocking the aisles, walk up and down the aisles a few times, pausing in the back or the bulkheads to look out the windows, talk about where you're flying to, how fast the plane is going, etc. If your child is learning to count, try to engage him in counting all the passengers—that should buy at least a little time, and hopefully engross him enough to be distracted from his bad mood. There's also bribery as a last resort. Have some little presents that are wrapped in multiple layers of tissue paper, one for each hour of the flight.
Got any tips of your own? Share them in the comments . . .
Happy holiday travels!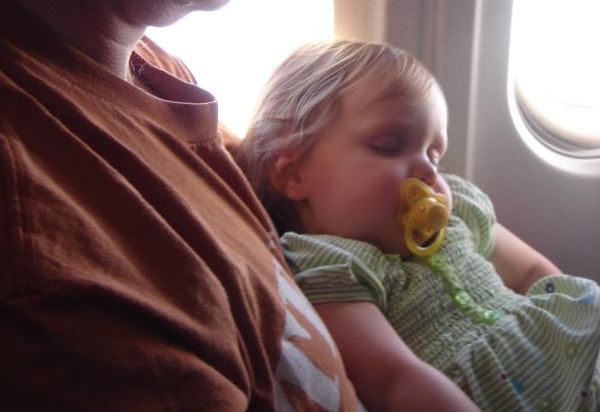 Related Posts
Best Airlines for Kids and Families
What's the Best Portable Travel Bed for Kids and Toddlers?
10 Tips for Fine Dining with Toddlers
Fun in the Sun: Exploring Honolulu Hawaii with Kids
Need Award Booking Help? Our fee is as low as $75 per ticket if you book your hotel through us.
If you enjoyed this, join 90,000+ readers: please follow TravelSort on Twitter or like us on Facebook to be alerted to new posts.
Become a TravelSort Client and Book Your Hotel with Virtuoso or Four Seasons Preferred VIP Amenities!s
Photos: Hilary Stockton, madgerly