You may have wished you'd looked up flight on-time performance, if you've ever suffered a long flight delay (and who hasn't, at least once–although hopefully not quite as delayed as this
American Airlines Flight From Hell
). Fortunately, there are tools that can help predict if your flight will be delayed; here are a couple:
FlightCaster estimates the probability of your flight being on-time, delayed 1 hour or less, or delayed one hour or more, by taking into account. It only works 6 hours in advance of your flight, so it's what you would check the day of your flight, not when booking it. Here's what it takes into account:
Inbound Aircraft: if the airplane you're supposed to fly on is itself delayed from another city, it will almost always delay your own flight
Departure Airport Status: Some airports are notorious for having a lot of flight delays: Newark (EWR), Chicago (ORD), Boston (BOS), New York LaGuardia (LGA), Atlanta (ATL), Miami (MIA), Minneapolis St. Paul (MSP), New York JFK (JFK), Los Angeles (LAX) and Northwest Arkansas (XNA). FlightCaster, though, focuses on actual FAA alerts for your departure airport.
Arrival Airport Status: Again, this looks at FAA alerts for your arrival airport to see if there are problems that are snarling flight arrivals
Offical Airline Status: This is probably what you check anyway, although there are definitely times when airline status is still showing as on-time yet other indicators point to the strong likelihood of a delay
Departure Weather: Goes without saying that departure airport weather and visibility can impact flight on-time performance
Arrival Weather: Not always the first thing that springs to mind, but stands to reason that extreme weather at your destination can also cause flight delays and cancellations
You plug in your airline and flight number, and then get back estimated likelihood of your flight being on-time, or delayed. I used Continental, er, United Flight 15 EWR-HNL today as an example: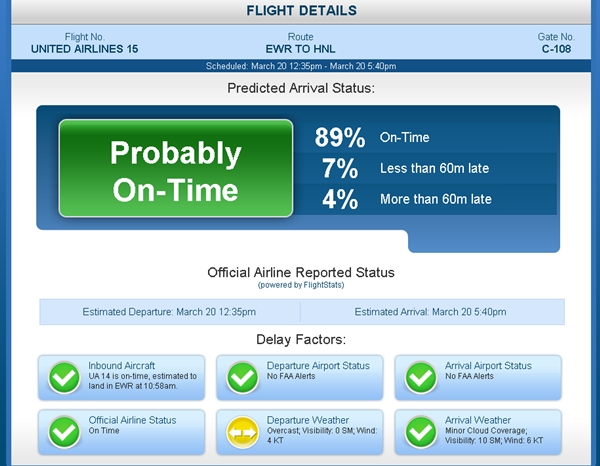 Ok, so Flight Caster may look nice, but it doesn't work for international flights and doesn't exactly help when deciding which flight to book. For that, you basically need to go on historical flight on-time performance. One tool that does this is
Flight Stats
.
Here, you have the option of looking up on-time rating by route, time/day, airline or by flight–I would focus on "By Flight."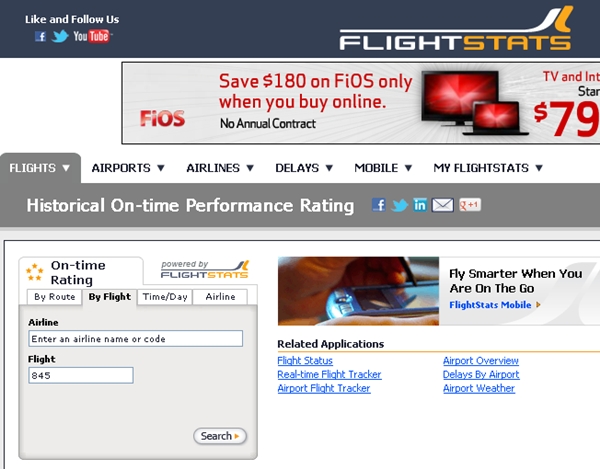 For the example, I plugged in a flight I'll be taking later this year, JFK-HKG on Cathay Pacific. Pretty impressive that for the 3 months of historical data or so evaluated, this route has been 100% on time! Personally, I wouldn't bother with the info on the left, and would just focus on the On-time Performance Summary percentages in the right-hand box.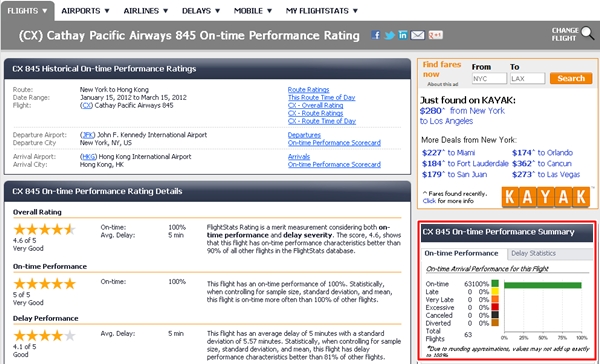 Hopefully you aren't regularly taking any of these flights, which have the worst track record for the percentage of time they're delayed: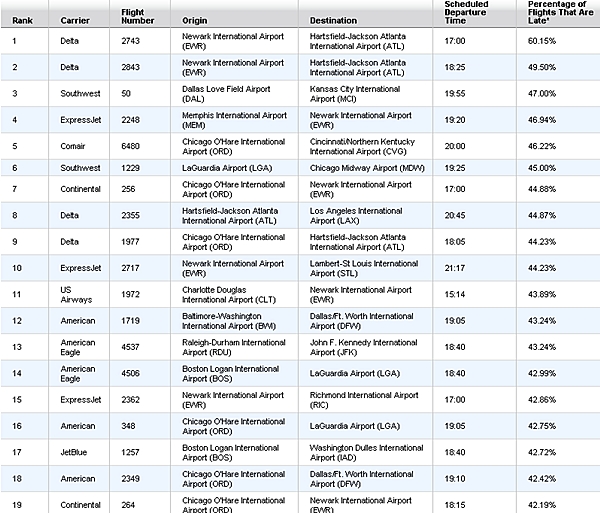 So there you have it–what are your favorite tools for predicting flight on-time performance and flight delays?
Graph credit: WSJ