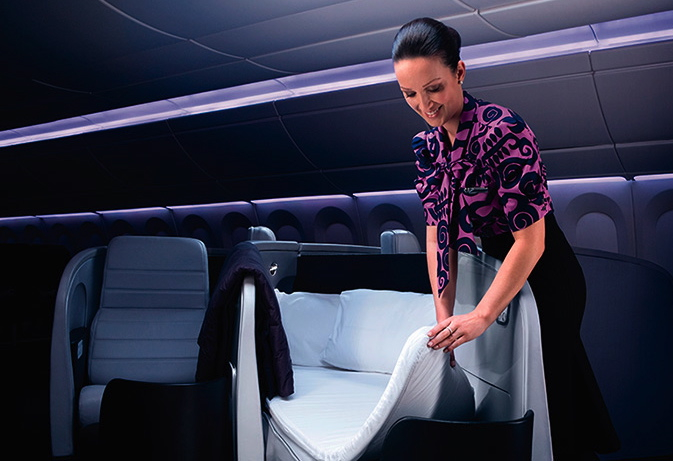 Is flat bed business class available to Tahiti and Bora Bora? I get asked this by TravelSort Clients and readers on a regular basis. Unfortunately no, not currently. While flat bed business class seats have become industry standard for all long haul international flights to major cities and business destinations, Tahiti is a leisure destination for virtually everyone except travel professionals, so the airlines flying to Papeete (PPT) have naturally not made flat bed business class seats a priority.
Airlines Flying to Tahiti
There are just a few airlines that fly into Tahiti to begin with:
Air France from Los Angeles LAX and Paris CDG (via LAX)
Air New Zealand from Auckland AKL
Air Tahiti Nui Auckland AKL, Los Angeles LAX, Paris CDG and Tokyo NRT
Hawaiian Airlines once a week on Saturdays from Honolulu HNL
LAN from Easter Island IPC, Santiago de Chile SCL
Air France Business Class
You might think that Air France is a good bet for a flat bed seat, since Air France unveiled its new Business Class seat last year and is now flying it to NYC. Unfortunately, it will take quite awhile to roll out, and my bet (although I've no inside info and hope I'm wrong) is that Air France will leave some or all of its flights to PPT on some of the 18 Boeing 777s that are still NOT planned to be equipped with the new Business Class seats (which Air France terms "BEST") as of 2017.
Currently, Air France flies 777-200ER flights to Tahiti (3 times per week) that are equipped with angle flat seats that are in a 2-3-2 configuration, for a total of 33 seats. You can technically redeem Air France Flying Blue miles, Delta SkyMiles or other SkyTeam miles for awards, although business award availability is often poor, even for these angled flat seats.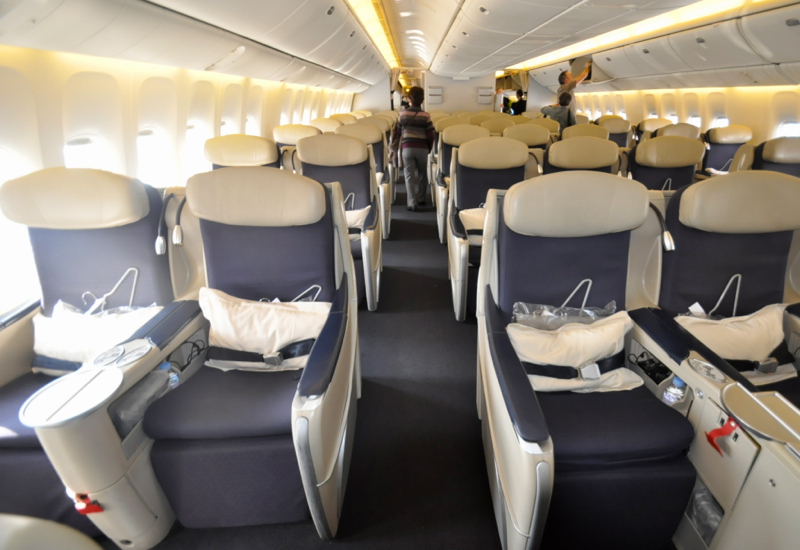 Air Tahiti Nui used to have first class, but eliminated it when it introduced its new Air Tahiti Nui business class on its A340s. While the new A340 seats are better than the old recliner seats, the new seats are still angled flat, which would be pretty unthinkable as a new business class seat on pretty much any other international long haul flight.
But since Air Tahiti Nui is the only airline that flies international long haul flights daily to Tahiti, it can get away with these angled flat seats, which are in a 2-2-2 configuration, for a total of 32 seats. The seats are a bit narrow for international business class, at 20.5 inches across, and have 154 degrees of recline. You can redeem American AAdvantage or Delta SkyMiles for awards on Air Tahiti Nui, and it's helpful to use ExpertFlyer to search for award availability.
Note that Air Tahiti Nui has selected Boeing 787-9 Dreamliners to eventually replace its Airbus 340-300 fleet, and delivery is expected Q4 2018, as part of the airline's 20th anniversary celebration. There are no details yet on the interiors and seating, but since I do expect Air France to have some if not all of its 777-200 flat bed business class product flying to Tahiti in 2018, I'd be surprised if Air Tahiti Nui doesn't finally go with a flat bed business class for its 787-9 Dreamliners.
Air New Zealand Business Class
Air New Zealand is another carrier with a great new business class product, Air New Zealand Business Premier, on the 777-300. Unfortunately, Air New Zealand doesn't currently fly its Business Premier product from Auckland to Tahiti; it instead uses its 767-300, which in Business Class just has 24 recliner seats in a 2-2-2 configuration. Sure, you might get lucky with an equipment swap, but most likely you'll be in a recliner. Air New Zealand
Certainly I would hope that by 2018 Air New Zealand has its flat bed Business Premier product flying to Tahiti, but no date has been announced yet. Air New Zealand Business Premier is notoriously hard to book as awards in any case, using any kind of Star Alliance airline miles.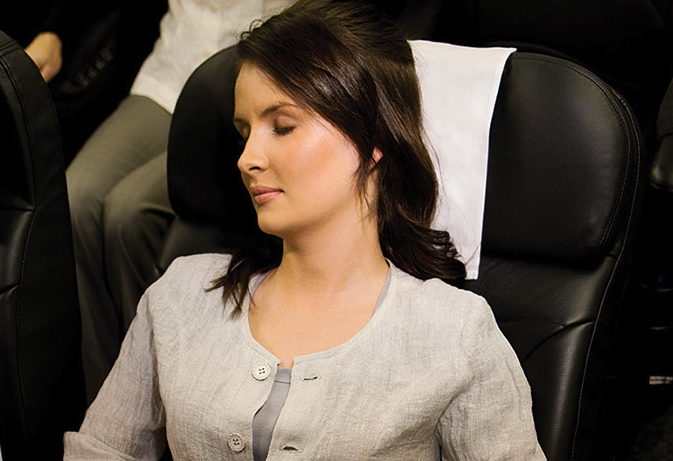 The upshot? No flat bed business class yet to Tahiti and Bora Bora, but hopefully by 2018 there will be flat bed business class from at least Air France, if not also Air Tahiti Nui and Air New Zealand.
If you've flown business class to Tahiti, which airline did you fly, and how comfortable were the seats?
Related Posts
Top Things to Do in Bora Bora if You Don't Scuba Dive
Air France New Business Class and La Premiere Photos (Air France Expo)
Top 20 Luxury Honeymoon Destinations
Need Award Booking Help? Our fee is as low as $75 per ticket if you book your hotel through us.
If you enjoyed this, join 200,000+ readers: please follow TravelSort on Twitter or like us on Facebook to be alerted to new posts.
Become a TravelSort Client and Book Your Hotel with Virtuoso or Four Seasons Preferred Partner Amenities!