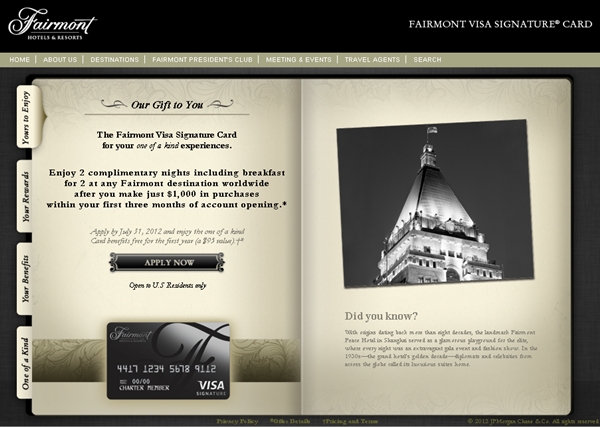 Fairmont and Chase have just released the new Fairmont Visa Signature Card, so figured it warrants a review, especially as many folks consider which Chase card to apply for next (note: I do not receive any referral for this card). Here's a quick summary of the benefits, which we'll then look at in more detail:
2 free nights including breakfast

for 2 at any Fairmont destination worldwide after $1000 in spend within first 3 months
Earn 5x Fairmont Rewards points per $1 spent on Fairmont properties
Earn 2x Fairmont Rewards points per $1 spent on airline tickets purchased directly with airlines, car rental agencies, local transit/commuting
Earn 1 Fairmont Rewards point per $1 on all other spend
One complimentary night each anniversary year that you make $12,000 in purchases with your card
No foreign transaction fees
Annual fee of $95 waived if you apply by July 31
Annual complimentary membership in Lounge Club plus 2 free airport lounge visits each year
2 Free Nights at Any Fairmont and Breakfast for 2
Here's the meat of the offer: the signup bonus. I double checked, and here are the details:
Complimentary night certificates be used at ALL Fairmont properties in the world, although The Plaza and The Savoy limit certificate redemptions to about 15 per month
Certificates are redeemable for a standard room or suite. At an all-suite property such as The Fairmont Kea Lani in Wailea, Maui, it gets you into a Fairmont Suite, not just a Moderate Suite
Certificates may be used in conjunction with Fairmont President's Club Platinum Room or Suite Upgrade Certificates, but may not be used in conjunction with any other Fairmont or third-party promotions or packages
Certificates may be used for one night each at two different properties
Certificates are valid for room and tax only, and do not include resort fees or other service charges
Certificates expire 1 year from their issue date
2 breakfast certificates worth $25 each come with each complimentary night certificate. So you receive $50 off breakfast for two, for each of your complimentary night certificates. These certificates may only be used for breakfast, not lunch or dinner.
The best value uses of these free nights are at the most expensive Fairmont properties in the most expensive cities, such as:
Le Royal Monceau-Raffles Paris
The Savoy, London
The Plaza, New York
Raffles Praslin Seychelles
Swissotel Krasnye Holmy, Moscow
Fairmont Rewards Points
The card is a no-brainer for any Fairmont elite that regularly racks up a lot of Fairmont stays, since the card provides 5x points for all Fairmont spend. While it's nice that the card offers 2x points for airline spend, car rentals and commuting, it's not that compelling given that you can get 3x Membership Rewards points for airline spend with the Premier Rewards Gold and 2.14x spend with the Chase Sapphire Preferred on all travel and dining (from the 2x points and the 7% annual bonus on all points, including bonus points). So as someone who rarely stays at Fairmont, and never at full Fairmont prices, the bonus categories don't pencil out for me.
How Fairmont Visa Rewards Points Work
Quite a few folks have been wondering how the points earned with the Fairmont Visa card work, since Fairmont's existing President's Club Rewards program isn't points based. The answer is that Chase has created a
Fairmont Rewards
site where you can see the points required for Fairmont hotels, grouped into four categories and 3 types of room redemptions: Standard, Junior Suite and Suite.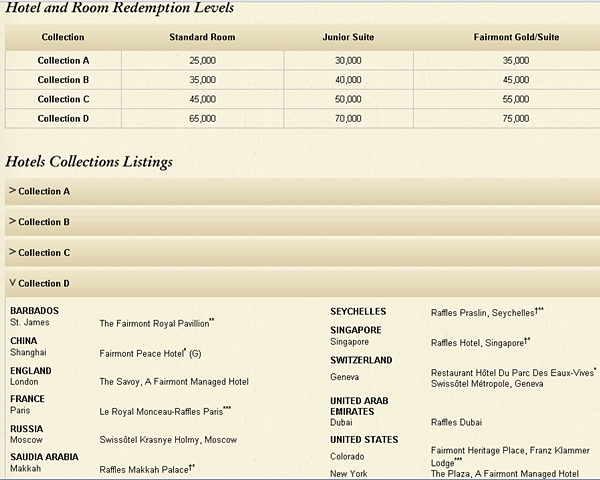 Pros:
Comparatively low incremental cost for Suites: Junior Suite redemptions are just 5000 more points than Standard Rooms, and Suites are just 10,000 more points, so you may as well trade up to a Junior Suite or Suite, especially with higher category hotels
Last room availability: As with the anniversary night, as long as there is an available room you can redeem, barring exceptional events such as the Grand Prix.
(I know I should think of some more pros, but none come to mind at the moment–feel free to suggest some in the comments!)
Cons:
High number of points required for a standard room redemption. For example, even if I managed to get 2x on all spend by only using the Fairmont Visa for airfare, car rentals and commuting (doubtful) I'd still need to spend $32,500 to earn enough to redeem for a Standard Room at The Plaza or The Savoy. If I instead spent $32,500 with a 5x bonus using my Ink Bold, I'd have 162,500 Ultimate Rewards points that I could redeem 1:1 for United miles for a First Class Flight to South Africa with miles left over, or, to stick with hotels, could redeem for 7 nights in top Park Hyatt properties.
Few higher category Fairmont hotels offer a Fairmont Gold Floor and Lounge that one can redeem points for: only 5 Category C properties (Fairmont Hamilton Princess and Fairmont Southampton in Bermuda, Fairmont Pacific Rim in Vancouver, Fairmont Dubai, and Fairmont Orchid in Hawaii) and only 1 Category D property (Fairmont Peace Hotel in Shanghai)
No cash and points redemptions, unlike Starwood
Complimentary Anniversary Night
While it of course makes perfect sense for Fairmont to want to see substantial real spend on the Fairmont Visa before awarding the complimentary anniverary night, $12,000 is a lot. For that spend, I could get 60,000 Ultimate Rewards points which would get me almost 3 nights at the very top Park Hyatts in the world, worth about ~$2700 if used towards a room or villa that would normally be $1000 per night. With Fairmont, it's just 1 night, although to their credit, they do allow it to be at any Fairmont worldwide. Also, unlike with the complimentary night certificates, the anniversary night is good for last room availability. The only exceptions are for major events, such as the Grand Prix and similar.
No Foreign Transaction Fees
Always welcome as a benefit, especially since if you're regularly staying at Fairmont properties abroad, the last thing you want is foreign transaction fees cutting into the 5x points you'll get on Fairmont spend.
Annual Fee Waived if You Apply by July 31
This is a clever move by Fairmont to get people to focus on this card sooner, rather than later. Since the Fairmont Signature Visa is issued by Chase, it calls for some tight prioritization for anyone who's recently applied for Chase cards. And while I dislike the $1000 minimum spend to receive 2 free nights, getting the annual fee waived just about makes up for it.
An unintended consequence, however, is that with the annual fee waived just for the first year, it makes it that much clearer that this card is really all about the sign up bonus, rather than a card to put lots of everyday spend on, unless you stay in a LOT of Fairmont hotels and are regularly getting the 5x bonus on your spend.
Yearly Dining Certificates for Existing Fairmont Platinum and President's Club Premier Holders
Existing Fairmont Platinum members receive 8 $25 dining certificates if they apply by July 31; after that date, they receive 2, and then on March 1st of each eligible year, another 2 (so if you're Platinum and apply for the card now, you'll receive 8, then another 2 on March 1, 2014, if you're still a cardholder)
Existing Fairmont President's Club Premier Holders receive 10 $25 dining certificates if they apply by July 31; after that date, they receive 4, and then on March 1st of each eligible year, another 4
A nice $200-$250 total credit if you're already Fairmont Platinum or President's Club Premier and apply by the July 31 deadline. As far as I can tell from the terms below, they can be used together, although not combined with any other Fairmont or third party offer, so you could use towards a very nice dinner for two at, for example, The River Restaurant at The Savoy in London, a notoriously expensive city to eat out in.
Update: Per Michael (see comments below), existing Fairmont Platinum members earn an additional 4 $25 breakfast certificates after completing the $1000 spend, and Platinum members who applied for the Fairmont card prior to July 31 will receive some additional (as yet unspecified) benefits as Platinum Charter Members.
From the Terms and Conditions:
"Dining certificates may be applied to tax; however, alcohol and gratuities are not included in the credit. Dining certificates are redeemable at all participating restaurants serving both food and beverages located at or in at any Fairmont hotel or resort worldwide. Dining certificates may not be used in conjunction with any other Fairmont or third-party package or special offer. Dining certificates are non-refundable if lost, stolen or destroyed, unless otherwise required by law. Dining certificates have no cash value, unless required by law. If permitted by law, dining certificates will expire within one year of date of issue. Dining certificates are non-transferable, except by Fairmont President's Club Platinum members, who may transfer them to immediate family members."
Lounge Club Membership
This is the same benefit that comes with the Ink Bold and a number of other credit cards. See our post
Chase Ink Bold Airport Lounge Access
for how to sign up (although presumably you'll receive a different code to use when signing up on the Lounge Club Web site). Can be handy, when you're not an elite and don't otherwise have airport lounge access, but nothing to write home about.
Verdict
This card is a must if you're a Fairmont elite and regularly stay at Fairmont properties, and probably worth keeping beyond the first year if you spend a good portion of the $12,000 required for an anniverary night at Fairmont properties, given the 5x bonus. For those of us not in that category, it's still a good card for the sign-up bonus, especially if you'll be staying in an expensive city such as Paris, London, New York or Moscow within the year that the 2 free nights certificates are valid. Beyond that, I don't find the card worthwhile to renew, given the rather uncompetitive Fairmont Rewards bonus categories and Fairmont Rewards redemption that I described above.
If you haven't recently applied for any Chase cards and value both hotel and airline points, here's what I would recommend applying for:
1. Use your Visa Signature card to become a Hyatt Platinum by tomorrow, May 11, then, as soon as possible, apply for the Hyatt Visa and the Chase Ink Bold (or the Ink Plus) on the same day (usually Chase is willing to approve one personal and one business card application).
If you already have the Hyatt Visa, apply for either the United MileagePlus Explorer or the British Airways Visa with 100,000 Bonus Avios and Ink Bold. Note that the British Airways Visa offer will expire early June, so if you want it, you should apply for that.
If you already have the Ink Bold, you could certainly try applying for any two of the Hyatt Visa, United MileagePlus Explorer, and British Airways Visa, but to be conservative, I'd pick just one Chase personal card.
2.
Before July 31, apply for the
Fairmont Visa
, so that you can have the annual fee waived.
Related Posts