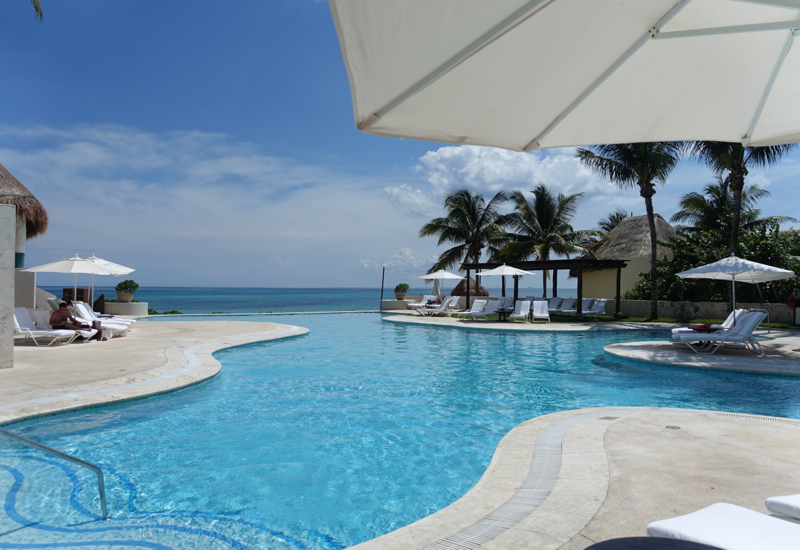 This Fairmont Mayakoba review is from a recent stay to attend ILTM Americas (an invitation only luxury travel event meeting with representatives of luxury and boutique hotels and experiences) on behalf of TravelSort Clients. While generally I reserve the Rosewood Mayakoba for my clients, I have on occasion reserved Fairmont Mayakoba for families, since it's a much larger resort, with 5 pools including a waterslide and children's play pool.
TravelSort Clients receive these Virtuoso benefits:
Upgrade on arrival, subject to availability
Daily Buffet breakfast, for up to two in room guests
$100 USD Equivalent Resort or Hotel credit,
Early check-in/late check-out, subject to availability

EXTRA RESORT CREDIT FOR SUITE BOOKINGS:

$150 USD equivalent Resort or Hotel credit to be utilized during stay (not combinable, not valid on room rate, no cash value if not redeemed in full)
Fairmont Mayakoba Location and Check-In
The Fairmont Mayakoba is located in Playa del Carmen, Mexico, in the Mayakoba resort area that also includes the Rosewood Mayakoba and Banyan Tree Mayakoba, 40 miles south of Cancun on the Riviera Maya. It took us about 40 minutes to reach the resort, since there wasn't any traffic in the early evening of the Monday I arrived. I would have preferred to keep my carry-on with me, but the bellmen insisted on taking it from me, which I found rather annoying, especially as it meant having to retrieve it again after checking in and before heading to my casita.
Due to the resort being booked out for ILTM, there were several other guests arriving at the same time and a line to check-in. There were only a couple people in front of me, but it seemed to take the staff a very long time to check people in, due in part to a problem with their credit card processing. They took a manual imprint of my card, but I later discovered that this was a problem when trying to charge meals from another resort to my room, which is supposed to be easy when you have a card on file.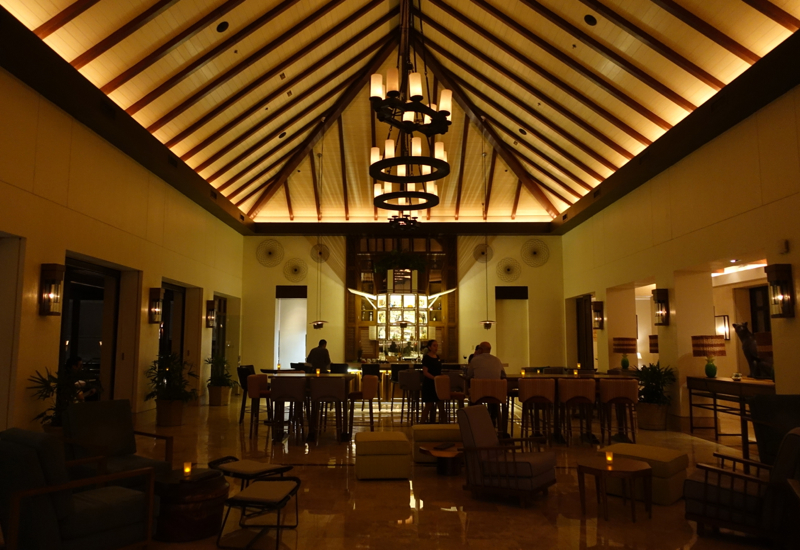 Fairmont Mayakoba Deluxe Casita
The lengthy check-in completed and my luggage retrieved, I was taken by golf cart to my Deluxe Casita. The resort is set on 240 acres, and as I couldn't see much at night, the distance we seemed to have traveled seemed daunting, though the associate who showed me to my casita explained how to get back to the lobby on foot, and sure enough it was actually quite quick to walk to breakfast and the conference center, and easy to grab a bicycle to go to the beach (which at least from my casita in the 600s would have been too far to comfortably walk to given the heat and humidity).
Deluxe Casitas are in low-rise two story buildings throughout the resort, and have views of the forest. Mine even had a peek-a-boo view of one of the canals that thread the resort: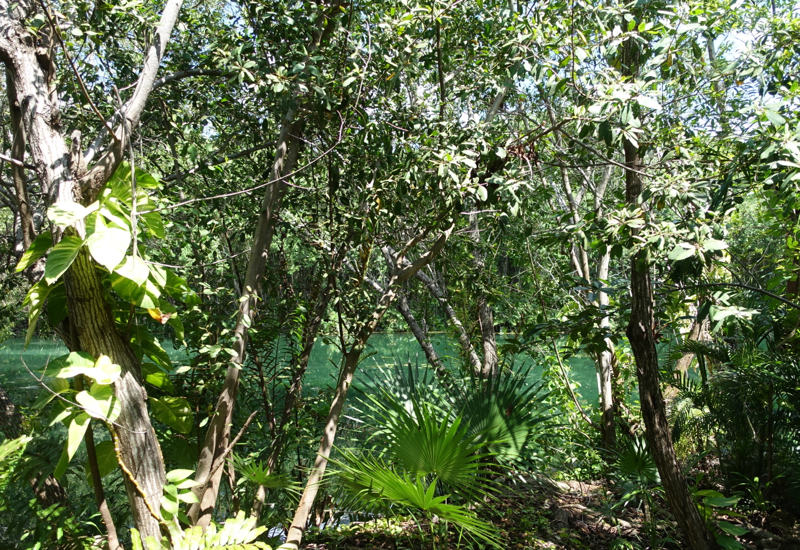 Here's the balcony of my casita–simple, but pleasant and very peaceful: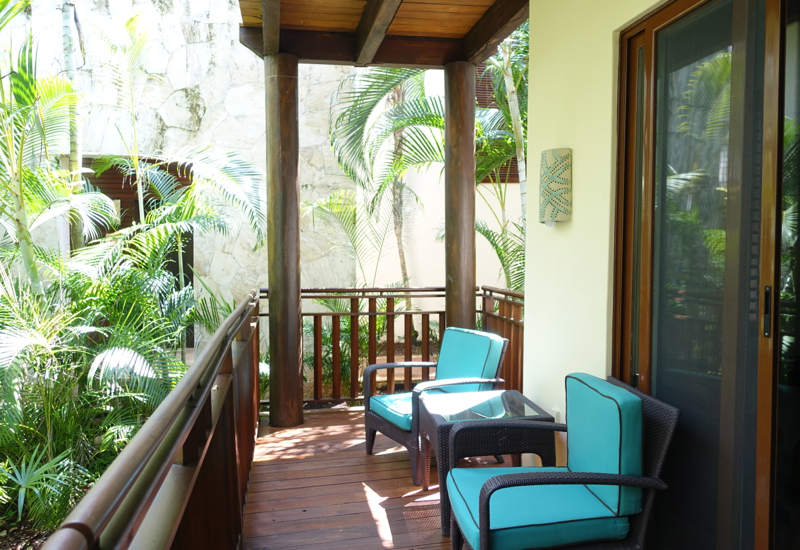 I found the Deluxe Casita room adequate in size (they range from 458-504 square feet) although too dark for my liking. Now, these photos were taken at night after arriving, but even during the day it was dark due to light only coming from the sliding glass doors leading to the balcony, and all the forest cover. There is natural light in the tub area of the bathroom, but due to the long layout of the room little of that light gets into the room itself, even with when leaving open the doors that separate the bathroom from the bedroom.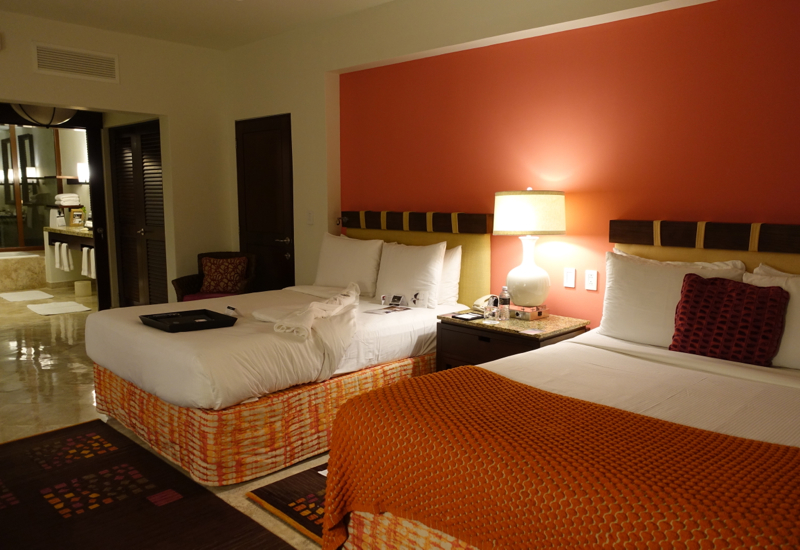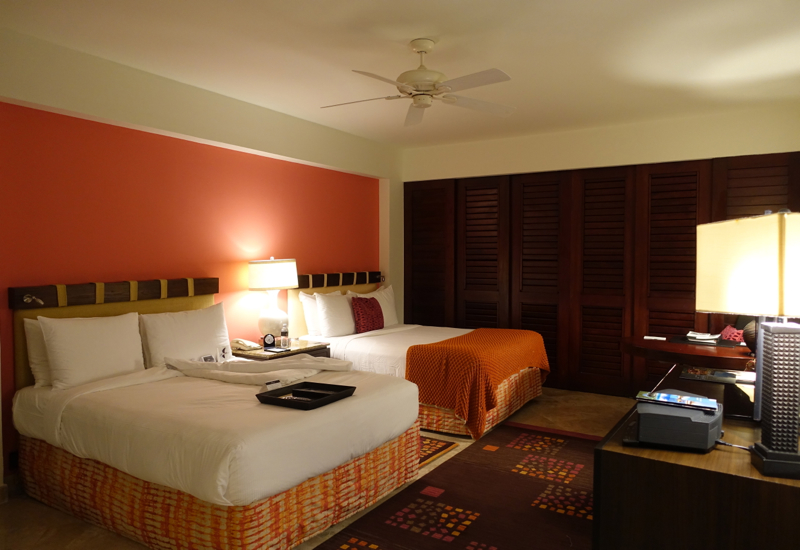 My first evening there was a nice turndown service that left a bathrobe on the bed, slippers laid out by the bed, and even a "Worry Keeper" doll, a lovely local touch. Subsequent evenings I was working in the room when housekeeping came, so I told them no turndown service was needed. Morning housekeeping was very thorough, and I appreciated that housekeeping started leaving me extra bottles of water, having noticed how much water I drink.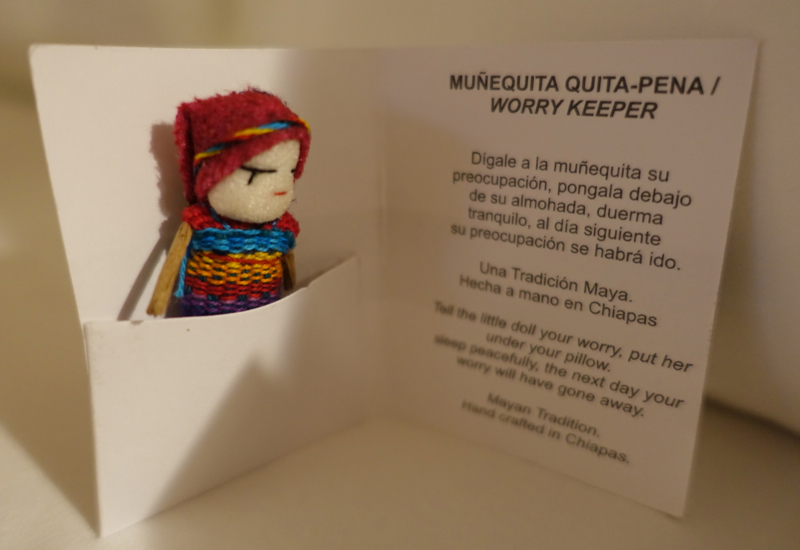 The bathroom is a good size and has double sinks, which although superfluous for me as I was traveling alone, is great for couples or families.
The soaking tub seemed a bit short, but was deep: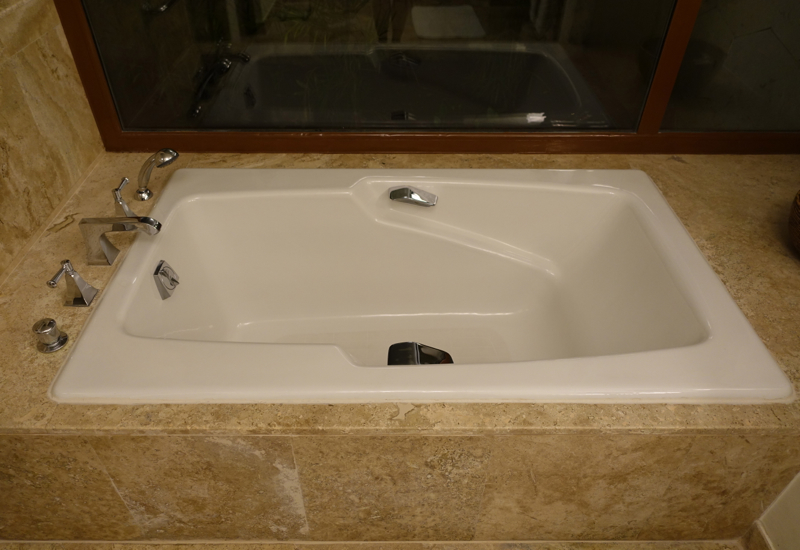 There was a rain shower and regular shower that had good water pressure but was a bit finicky temperature-wise–it took awhile for hot water to emerge and needed to be set just right so as not to be too scalding or too cold.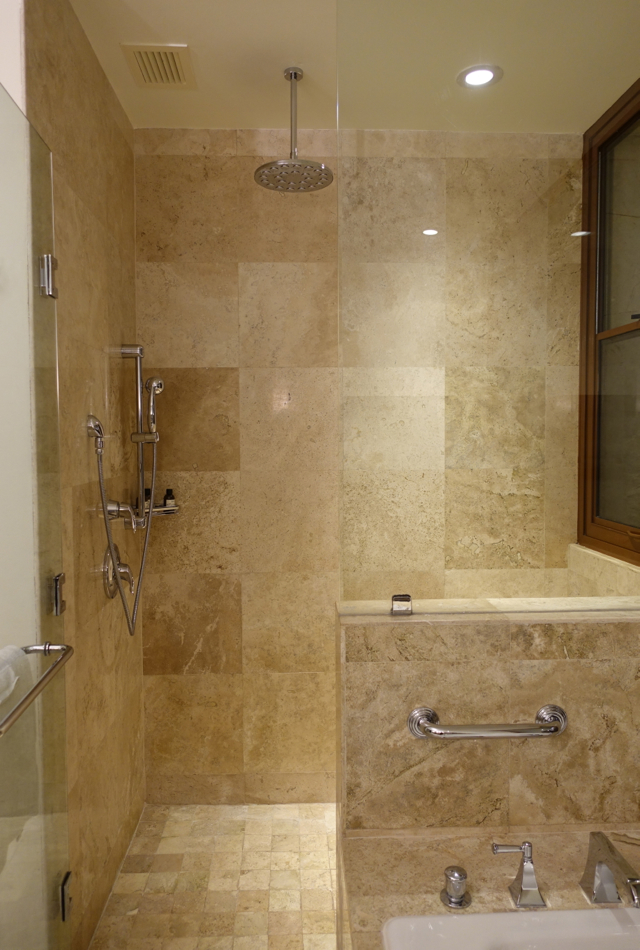 Bath products were Le Labo Rose 31. I like Le Labo, although can't say I'm a fan of the Rose 31 scent–I prefer more citrus infused, neutral scents such as L'Occitane offers with its lemon verbena line, or even Le Labo's Bergamote 22. Plus, I doubt that rose scented bath products appeal to many of Fairmont Mayakoba's male guests, though male readers feel free to chime in if I'm wrong on that one.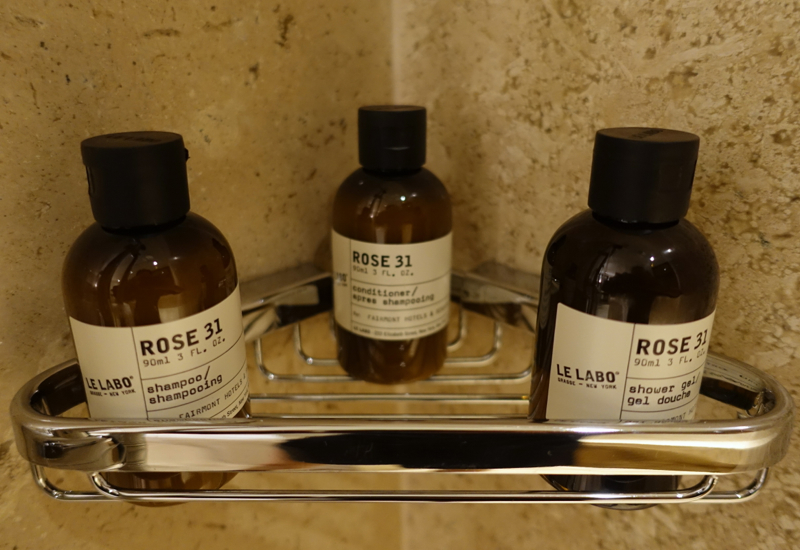 Here's a view of the room from the bathroom: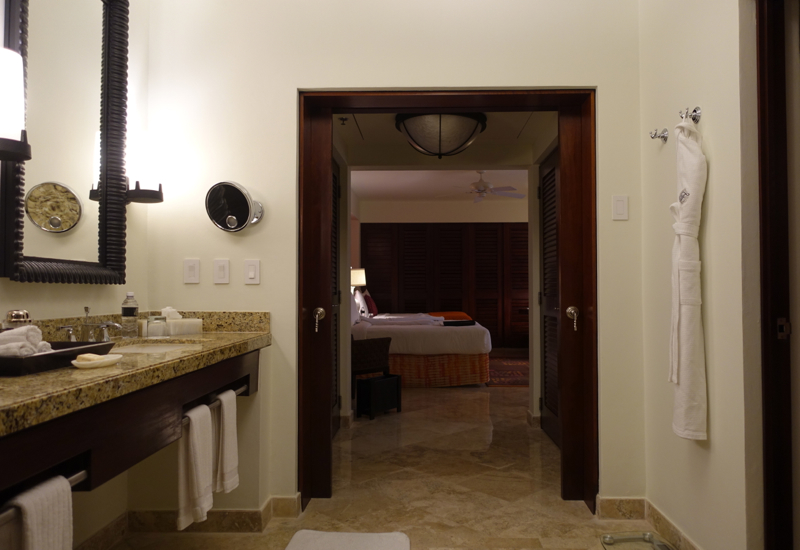 Fairmont Mayakoba Pools and Beach
The Fairmont Mayakoba's main free form pools are by the La Laguna Restaurant: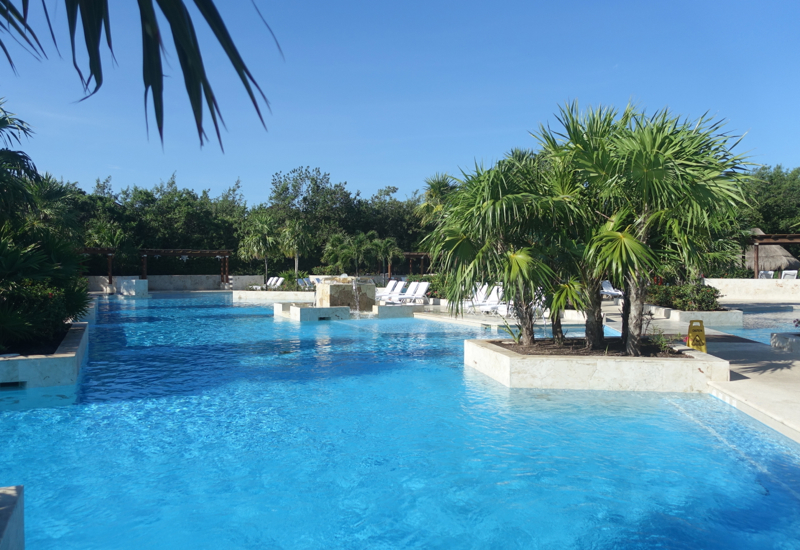 Among them is a waterslide, which normally would be a popular place for kids, although since ILTM took over the resort there were virtually no kids on property during my visit.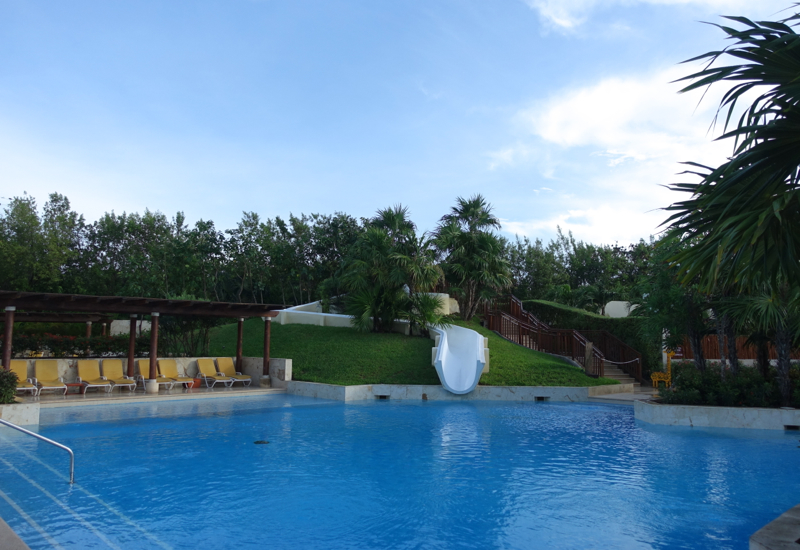 There's also a nice pool right by the beach and Brisas Restaurant: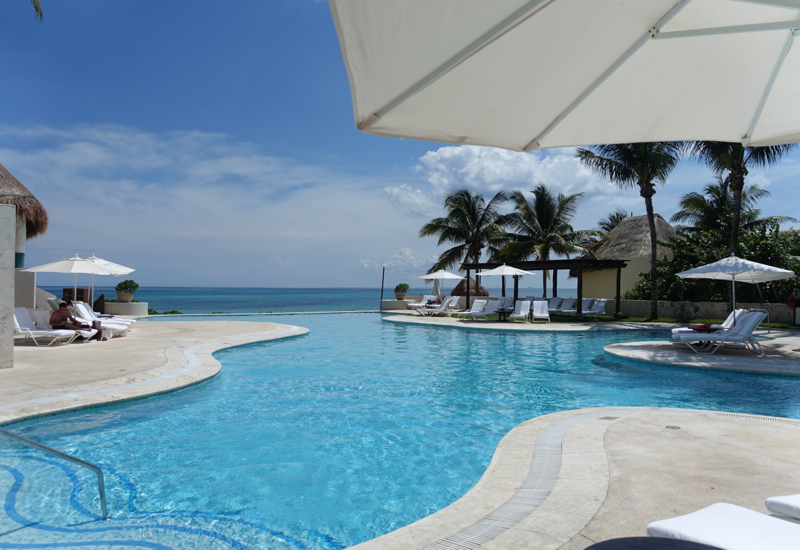 The beach itself was pleasant to walk along. The white sand is a bit coarse, not as soft as the sand at Four Seasons Maldives at Landaa Giraavaru, much less the super powdery white sand at Amanpulo (best beach in the world) in the Philippines. The water by the beach was mostly clear and quite warm when I waded into it, so nicer than I expected after hearing news reports earlier in the year about the seawood problems plaguing Mayakoba beaches, though there's likely daily beach cleaning and seaweed clearing that goes into keeping it nice.
Fairmont Mayakoba Food and Drink and Canal Tour
I'll cover breakfast at La Laguna Restaurant and lunch at Brisas Restaurant, as well as a canal tour, in future posts.
The Verdict
Though I visited for work, I enjoyed the service at Fairmont Mayakoba, apart from the lengthy check-in and insistent doormen, and also the canal tour I took early one morning. My walk along the beach was nice, though being from Hawaii and being in the luxury travel sector I've been fortunate to experience much lovelier beaches. The Deluxe Casita was fine for a work stay, but the darkness of the room would have been depressing for me on a leisure stay. There are only a few Oceanfront Casitas, Oceanfront Casita Suites and Oceanfront Premium Suites, but these are the categories I would focus on reserving if planning a stay here.
If you've stayed at the Fairmont Mayakoba in Mexico's Riviera Maya, what was your experience?
Related Posts
Review: Fairmont Orchid Gold Floor Worth It?
When to Book Hotels for Christmas, New Year's and Thanksgiving Travel
Best Places to Swim with Whale Sharks
Disclosure: As an invited hosted buyer at ILTM Americas, ILTM paid for my stay at Fairmont Mayakoba.
Need Award Booking Help? Our fee is as low as $75 per ticket if you book your hotel or cruise with us.
If you enjoyed this, join 200,000+ readers: please follow TravelSort on Twitter or like us on Facebook to be alerted to new posts.
Become a TravelSort Client and Book 5-star hotels with Virtuoso Perks and Four Seasons Preferred Partner Benefits