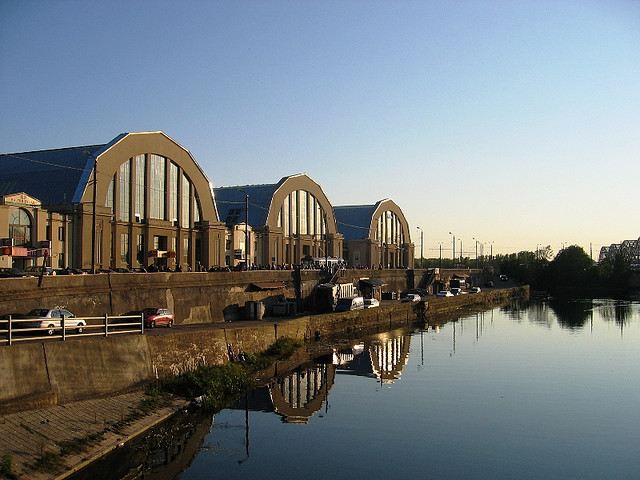 Why Go
For the striking array of cultures that manage to manifest themselves in a single city. Riga is a beautiful European capital with notable Swedish, German, Russian, and Polish influences. It's more bustling than its other Latvian counterpart cities, meaning that there are lively spaces to take a drink or people-watch until the wee hours. While those who appreciate a well-preserved look into the past will find more than enough to explore in the Old Town, which is also a UNESCO World Heritage site, there are plenty of modern flourishes here, too. Find an underground party and enjoy some cutting-edge techno, or opt to listen to one of the largest church organs in the entire world, located in the Cathedral of St. Peter's Dome. Stroll around and photograph some of the world's most famous Art Nouveau buildings, or take a quick break to check email in a westernized coffee shop. Whether dining in an upscale restaurant or picking up snacks directly from a market that's been functioning for hundreds of years, there's always a spot to try something delicious, and it seems as though every monument in town has a story behind it that is twice as interesting as its architecture, as quaint and lovely as the landmarks are. This consistent mixture of the past and the present makes Riga a vibrant city that will charm couples looking for a European city with a great vibe as well as beauty, history and culture.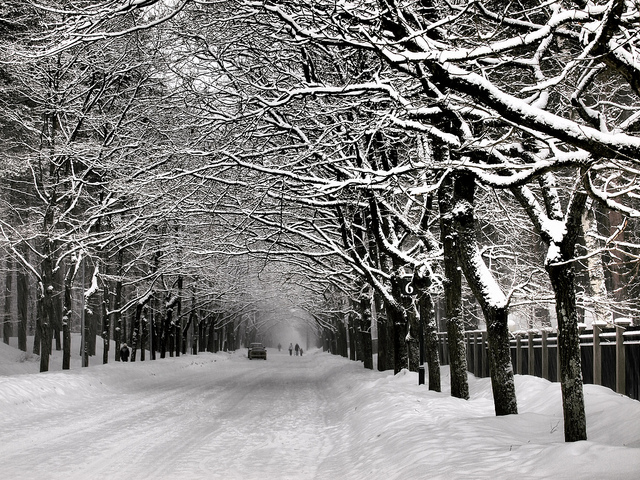 Insider Tips
Located 13 kilometers west of the city center, Riga International Airport is conveniently located and getting to the city is not that much of a hassle. It's possible to take a bus, a shuttle, or a taxi into the city. Bus No. 22 comes every 10-30 minutes, takes about 30 minutes to the city center, and costs ~70 santims (less than $2). A taxi will take you to the center in about 15 minutes but cost about 8 LVL (~$17).
While the summer months might mean the chance to rent a boat and explore the gulf of Riga, those who enjoy chillier days will absolutely love the quiet stillness that comes when the city is blanketed in a fluffy coat of snow.
Taxis are quite expensive. One trip in a taxi will cost not less than 10 lats ($ 20). Public transportation is considerably less, with a trip one-way costing about 50 centimes ($1).
At the heart of Riga's center are cobblestone roads, which have been around since medieval times. Those who plan on exploring for hours should remember to wear comfortable shoes. Ladies might want to avoid walking in high heels.
To feel the local flavor, you need to visit the Riga Central Market. Although housed in a modern building, the market has been the site of major business transactions since 1571. The market is located near the old railway station and occupies a huge area, so be sure to spend a bit of time here. Merchants sell meat, fish, fruits and vegetables, dairy products, and more.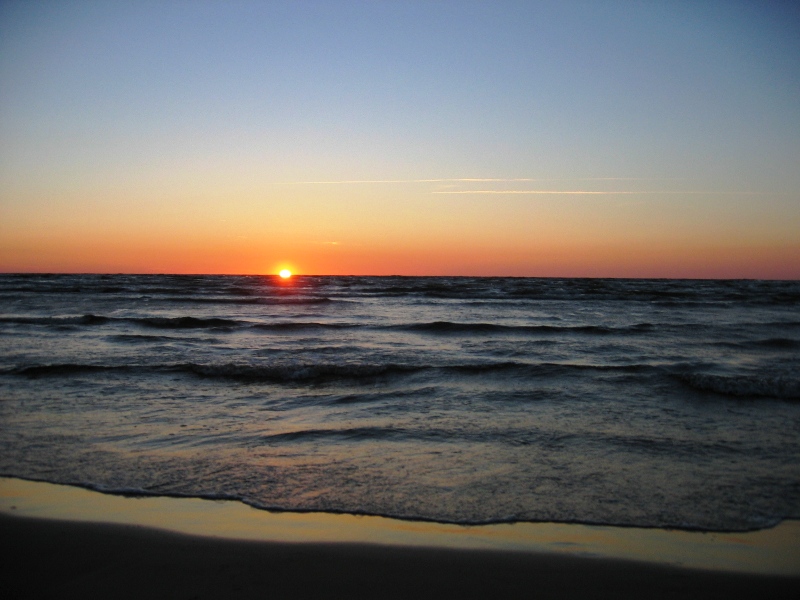 Where to Stay
For its understated elegance and excellent service, the 4-star Gutenbergs Hotel right in Dome Square is an excellent choice. This German hotel is tucked right into the heart of the city's Old Town, making it a perfect choice for those who want a central location. The interior of the hotel makes you feel like a princess (or prince) of the palace. All the floors are carpeted, and each floor has its own color. Everywhere there are chairs and sofas upholstered in silk cloth, wooden tables with antique books, paintings, and much more. Choose a room in either the new wing or the historical 17th century building, which has been lovingly restored. The staff speaks Latvian, Russian, German, and English. Rooms are well-decorated, with heavy curtains designed to block out sunlight and the noise from the bustling street below, in case travelers feel like sleeping in. It's the perfect place to relax after a long day of strolling around the city–and to woo that special someone all over again.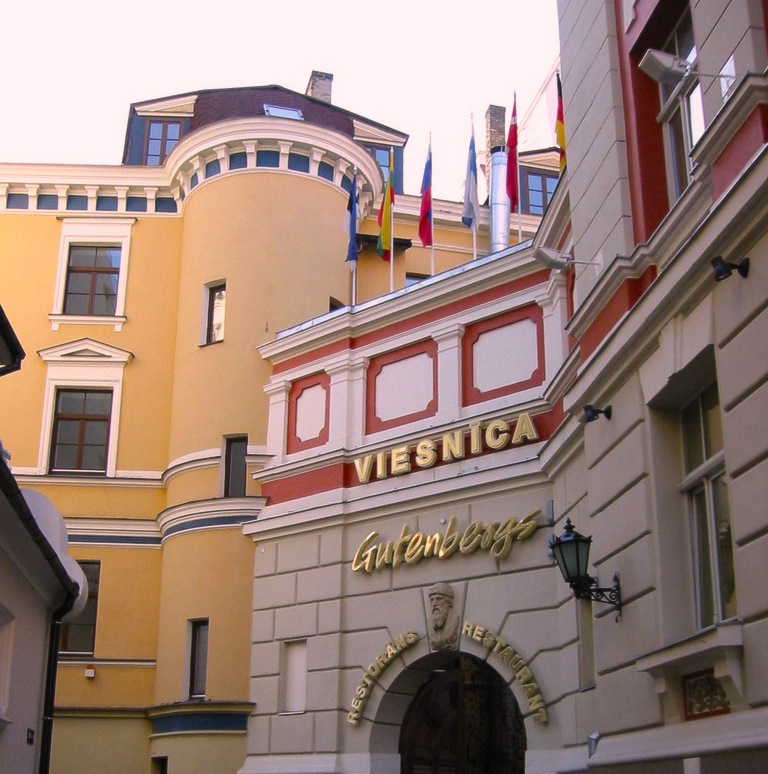 What to Eat
At Emil Gustav Chocolate Cafe (Emihla Gustava Shokoladhe, Aspazijas bulvaris 24) , you can try delicious sweet treats from Chocolatier Emil Gustav. Not only can you try his wonderful handmade chocolates, truffles and cakes, you can also see them being made behind the glass wall. Those who have ever tried these treats start licking their lips at just the thought of enjoying these delicacies again.
Those who want a bustling but pleasant cafe atmosphere should head to Double Coffee in Old Town. The first thing that stands out is the cafe is its speed of service. The menu comes in newspaper form, where the dishes are described in detail. There are written not only the name and price, but also photos and even calorie information. International cuisine, though waiters speak in Russian. This cafe opens early enough that you can easily have a meal at seven in the morning. Also an excellent place to quickly check one's email, as there is Wi-Fi.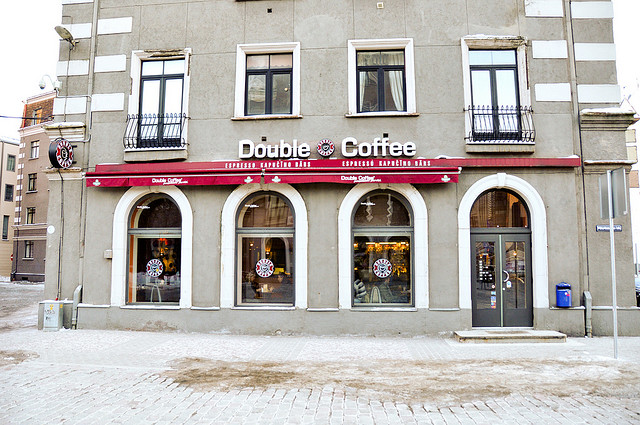 A fabulous choice for a romantic dinner, Terrace is one spot where dinner must be served at least once while visiting. The restaurant is located on the roof of Hotel Gutenberg, but it is open to all, not just hotel guests. Many travelers make reservations just for the view: the entire Gulf of Riga stretches out in a wonderful panorama. Wrought iron tables, chairs with soft cushions, and huge amounts of flowers in tubs only add to the atmosphere. No matter the time of year, it's possible to eat outside, thanks to the heat sources and the on-site blankets. Main dishes include all kinds of grilled meat, fish, and vegetables, and there are fantastic desserts and cocktails, both of which use berries. It's an expensive but delightful treat for those who want a truly unique dining experience in the heart of Riga, and a delightfully romantic option.
If the weather is pleasant, picking up some sundries from Riga Market and heading to find a quiet spot by the river for the picnic is a great and relaxing way to spend the afternoon with that special someone.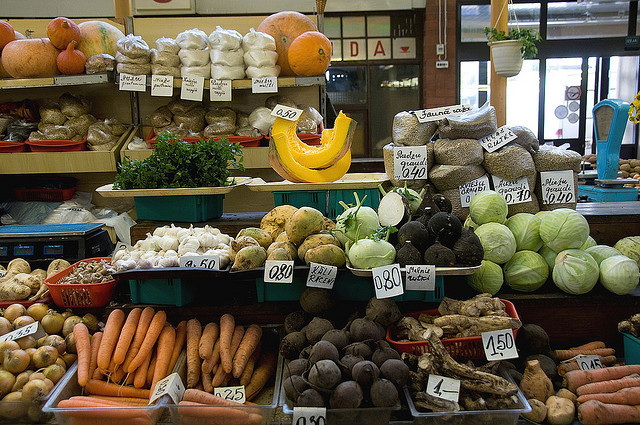 What to See and Do
St. Peter's Church has a little bit of something for everyone, which is why it is often packed with visitors. Those who enjoy religious sites while traveling to distant lands will appreciate the ornate flourishes and its incredible steeple, while anyone remotely interested in history will be thrilled to be setting foot inside the country's oldest church. Best of all, travelers who want a truly unsurmountable view of Riga can gaze out over the old city from the church top for a nominal fee, an experience that is absolutely essential while visiting.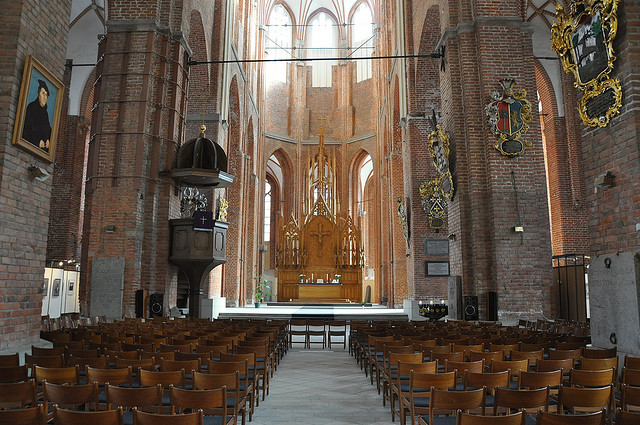 The monument to the Great Kristaps is worth visiting for anyone interested in the history and legends of the city of Riga. Located on the bank of the River Daugava, this very large sculpture of a man with a small child is a monument to Big Kristaps, a true man of legend. As the story goes, Big Kristaps was a giant who lived in a house near the Daugava River and assisted people in wading across. One night, he was awakened by a child crying on the other bank. He awoke and went to retrieve the child. Even though their river crossing was difficult, he struggled onward and brought the baby home, allowing him to sleep next to him in bed. In the morning when the giant awoke, in the child's place was a huge trunk of the money. He kept the money his whole life, but upon dying, it was used to build Riga on the spot where Big Kristaps' house used to be. With such a great story behind it, stopping by this work of art is essential.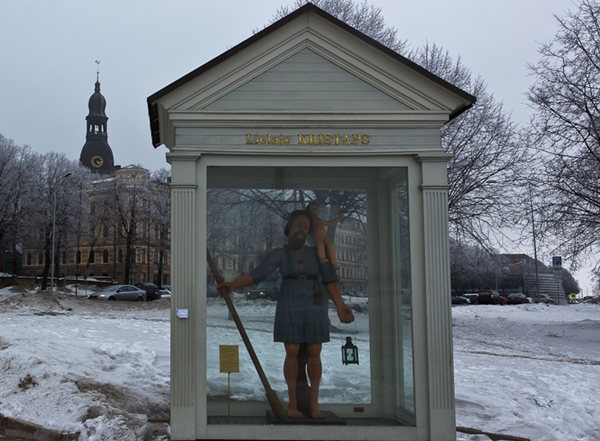 A true piece of Old Riga, the Swedish Gate in old town Riga was originally made in 1689, and has been preserved in its original form ever since. Again, a great tale accompanies this popular spot. As the story goes, there used to be a fee charged by the city for goods that were being imported and brought inside the city walls. One wealthy merchant was supposedly not very pleased, so he decided to avoid paying the fee by building his very own gate in a building that he owned.
As one of the most recognizable houses in the entire city, the House of Cats is a well-known and important landmark. 100 years ago, the house was built by a rich Latvian merchant. At that time, the guild that he wanted to join did not accept him, so he decided to take action in a less conventional way. He built this house right next to the Guild building and on the roof placed figurines of cats facing with their rears toward the Guild, which was a rather brave and somewhat confrontational move to make. This architectural affront became a matter of the court, though nothing could be done. Once things were resolved between the merchant and the Guild (privately, of course), he moved the cat statues so that their arched backs and raised tails pointed in the opposite direction.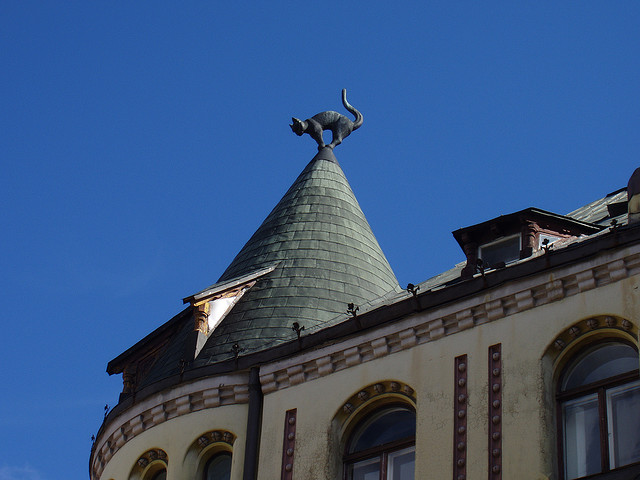 There are also many museums for history buffs. A majority of them are located right inside the Riga Castle, which is definitely worth a visit just to check out. Here, travelers can explore the History Museum of Latvia, Museum of Foreign Art, Museum of Literature, Theatre and Music Museum. In the tradition of keeping museums inside important buildings, another museum is located at the House of Blackheads. Those who want to learn more about the country's history are encouraged to visit.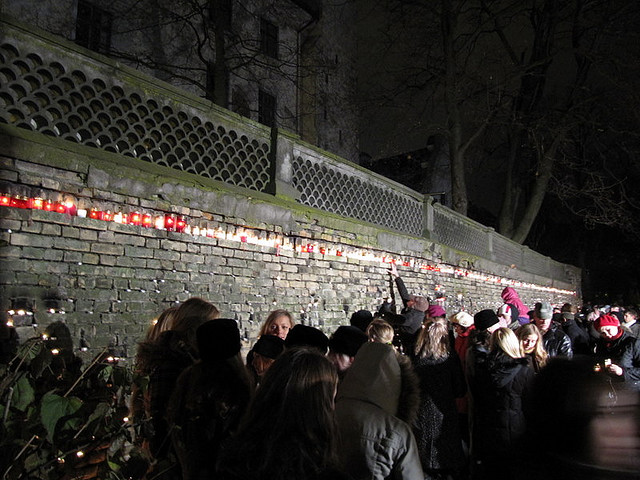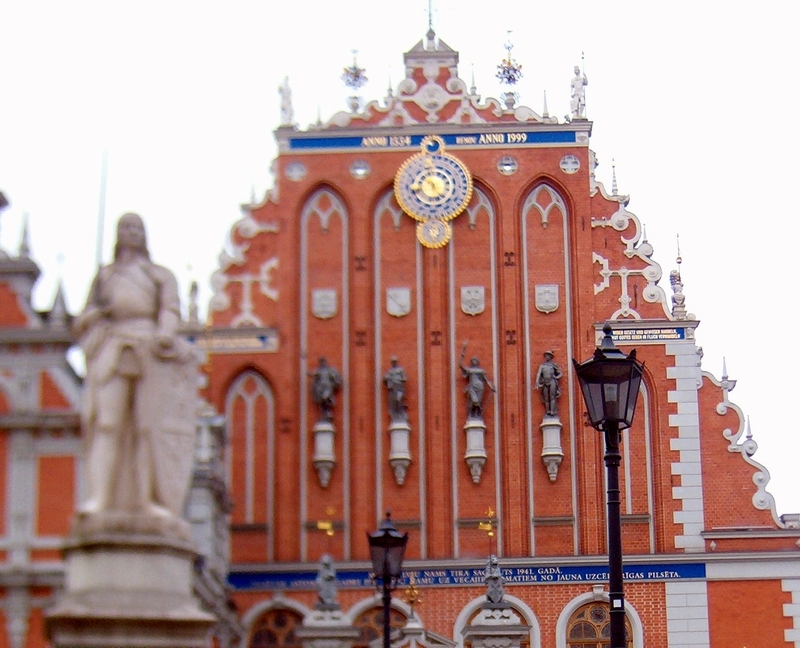 Photo Credit: anjči, araqnid, Dainis Matisons, access.denied, Martijn.Munneke, iz4aks, bluequartz