There are a few deals expiring tomorrow, so here's a quick reminder to take advantage of any you're interested in. You could earn extra Ultimate Rewards points so you can book Lufthansa First Class, the new Lufthansa Business Class, Swiss Business Class or stay at one of the best Park Hyatts, or simply save a few bucks using the AMEX Sync Twitter Deals.
Sears 20X
Sears was at 10X last month in the Ultimate Rewards Mall using the Ink Bold and Sapphire Preferred. This month, it's 10X using your Freedom card. All you have to do was log into Ultimate Rewards, select the appropriate card to see the offers, and click through to Sears to get 10X when purchasing gift cards. You can then use these gift cards to earn another 10X, for a total of 20X. Just make sure you can add items to your cart, since you won't get any bonus points for purchases where you click to a Sears Marketplace merchant to complete your purchase. Don't forget that as long as you have a Freedom card so that you can see the 10X Sears deal, you can use Sears gift certificates you may have bought last month using the Ink Bold and Sapphire Preferred.
I would also recommend doing your comparison shopping and figuring out what you plan to buy with your gift certificates first, then (to be safe) relaunching your browser and clearing all cookies so that you can click through from the Ultimate Rewards Mall to Sears and complete your purchase fairly quickly. This helps maximize your chances of the cookie tracking working correctly so that you get your bonus points.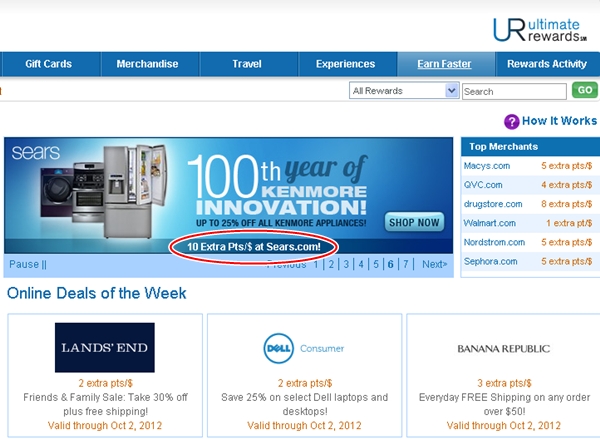 Freedom 5X for Dining and Gas
While I have zero use for gas, living in Manhattan, I loved the 5X dining bonus with the Freedom for July-September. If you haven't maxed out the $1500 (you can check using Chase Blueprint) which can get the 5X bonus, I definitely recommend purchasing some restaurant or gas gift certificates that you can use over the next year, for an effective 5X points anytime. Just think of anyplace you know you regularly eat at and that you can't already purchase gift certificates for through Office Depot, Staples or Office Max (e.g. Starbucks, Panera, etc.) since you can get 5X on those anytime using your Ink Bold or Ink Plus. Here's our latest Freedom 5X purchase: almost $100 (500 points) worth of pulled pork from one our favorite Manhattan bbq joint, Blue Smoke: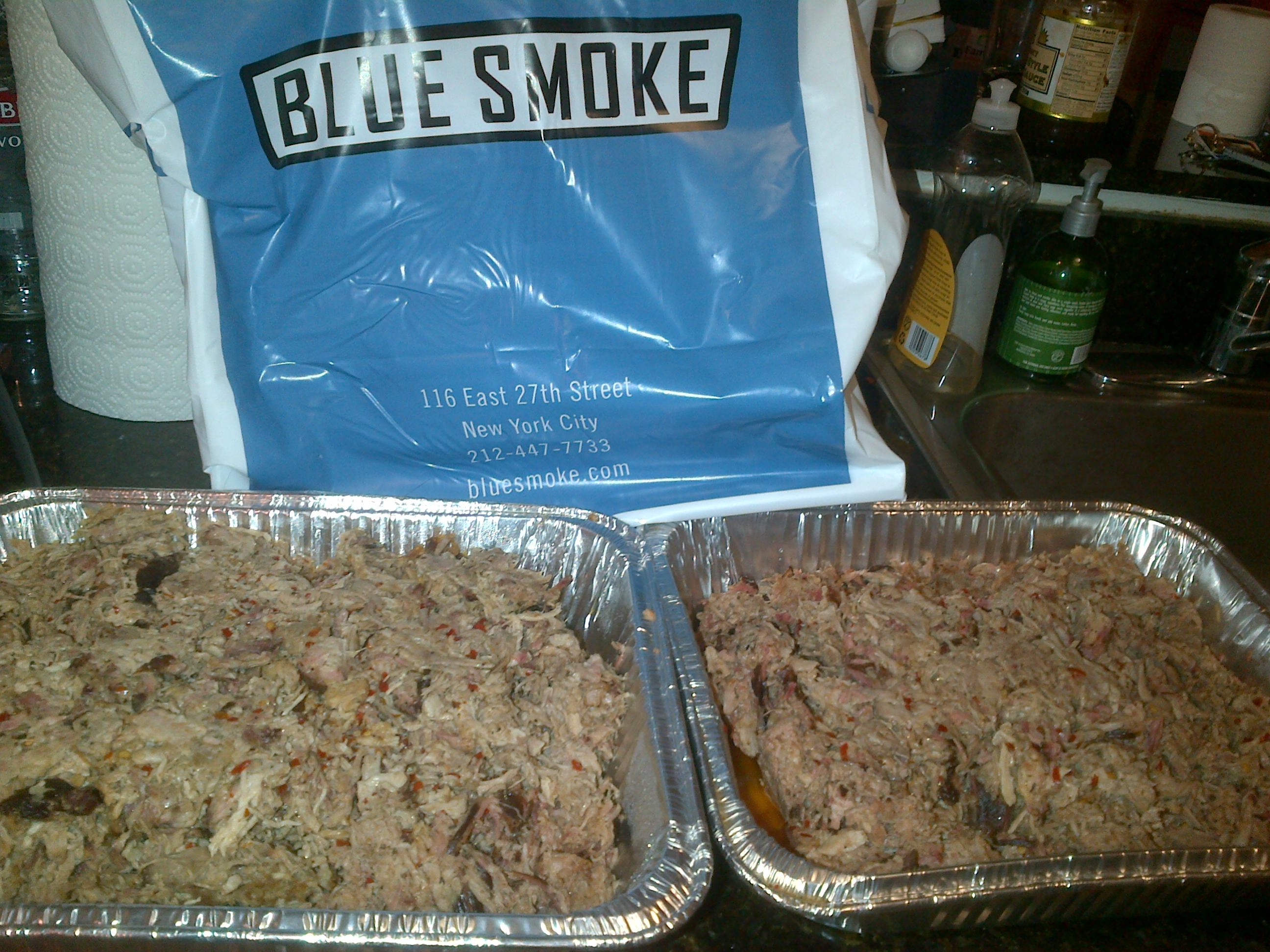 AMEX Sync Twitter Deals
I have to admit the AMEX Sync Twitter Deals have been pretty lackluster as of late, but you may have more use for them than I do. The ones expiring 9/30 are:
Ticketmaster: Get $25 back on next $75 or more purchase
FedEx: Get $5 back on next shipping purchase of $20 or more
Tommy Hilfiger: Get $25 back on next $100 or more purchase
Luck Strike: Get $10 back on next $50 or more in-store purchase
Other offers that are expiring soon are:
PGA Golf Shop: Get $10 back on next $30 or more purchase (expires 10/1)
Innovative Skincare: Get $10 back on next $50 or more online purchase (expires 10/2)
FrontRunners: Get $20 back on next $100 or more in-store purchase (expires 10/2)
Village Pourhouse: Get 20% back on next purchase (expires 10/5)
Kenneth Cole: Get $20 back on next purchase of $100 or more (expires 10/18)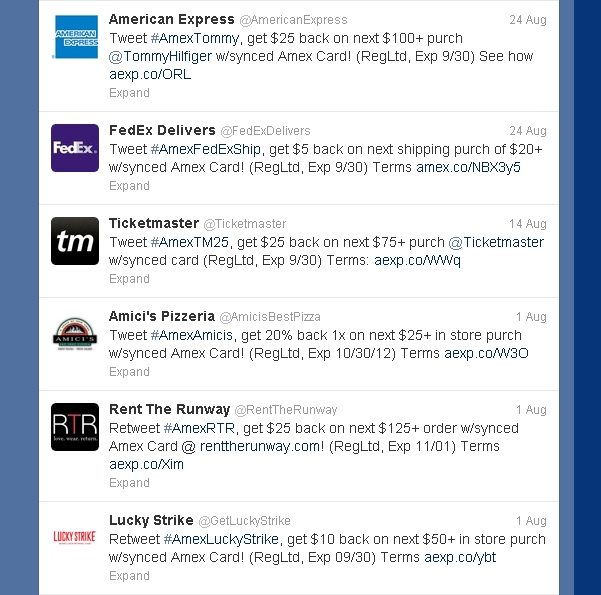 Related Posts
Sears 20X Bonus Points via Ultimate Rewards Mall and Freedom
5X Points for All Amazon Spend
Check out and apply for the Best Travel Credit Cards.
If you enjoyed this, please follow TravelSort on Twitter or like us on Facebook to be alerted to new posts.
Become a Member to find your perfect luxury or boutique hotel at up to 50% off: TravelSort Hotels