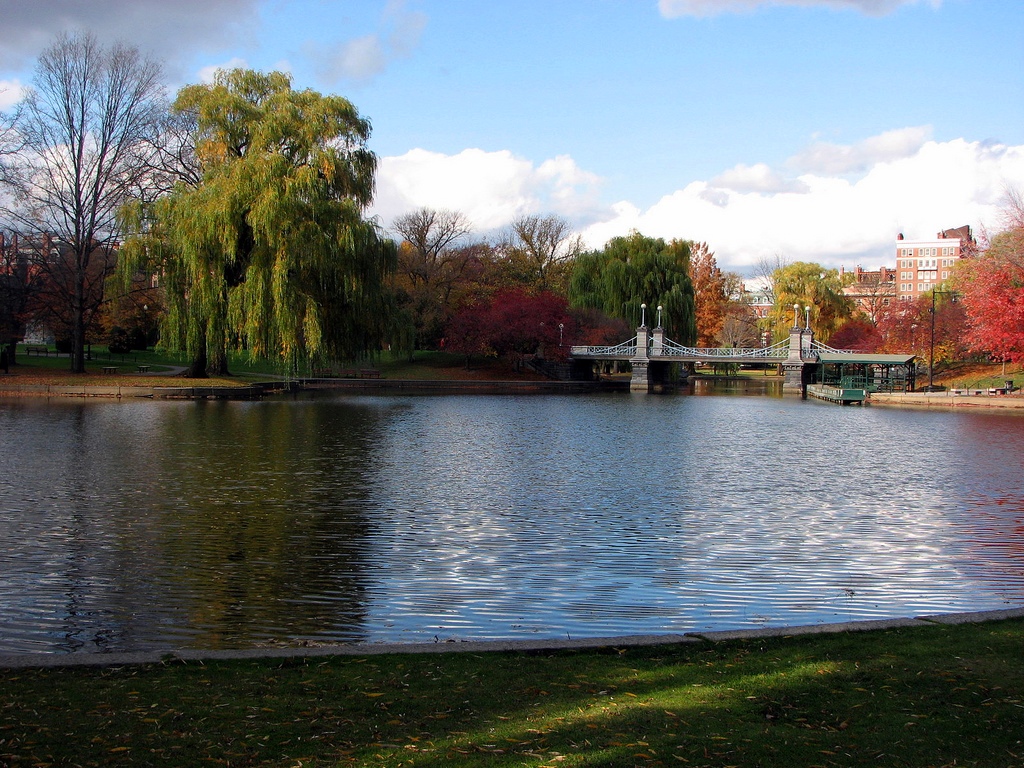 Why go
Boston, New York's bookish older brother, has its charms, but they require a little bit more searching than other recognizable cities in the States. Sure, history buffs will enjoy visiting the numerous sights where the Revolutionary War was won, but for a more contemporary traveler, the city has a slightly undeserved reputation as a little more fuddy-duddy than say, San Francisco or New York.
While it's true that the public transportation and the bars both shut down criminally early, Boston is far more than just a walk through history. With hundreds of thousands of university students and perhaps a higher number of intellectuals (and tweed jackets) than any other East Coast city, there's an elegance to Boston that feels decidedly European. Walk around Harvard Square and window-shop, shop for produce at Haymarket, and head down to Jamaica Plain, the city's answer to Williamsburg or Park Slope, where artists and yuppies fight over triple-deckers, ride bicycles, and scarf down ethnic food of every imaginable origin. There's always a prominent author or artist giving a lecture, sometimes even for free, independent films screen frequently, and the world's best bands and musicians often play more than a single night in town. There's something for everyone in Boston, and discovering what's right for you is part of the city's fun.
Insider tips
Skip the Freedom Trail and head straight for the North End. There are just as many historically significant sights and events that happened in the North End, and an afternoon exploring there is a lot more fulfilling than walking the entire Freedom Trail, or worse yet, getting roped into a Duck Tour.
The Museum of Fine Arts is good for a lot more than its vast collection of art. Concerts at the MFA are a great opportunity to see some of the world's best cutting-edge musicians in an intimate environment, and during the summer months, the concerts in the garden series is a beautiful and romantic way to spend an evening. Everyone from Brazil's national treasure Seu Jorge to much hyped acts like Grizzly Bear and Vampire Weekend.
Explore the more far-flung neighborhoods. Somerville's Union Square is quickly becoming a favorite of families and creative types alike, with its weekend farmer's market, green spaces, and some of the city's best bars and restaurants. Likewise, it's worth heading to Jamaica Plain for actual local flavor, whether it's sailing in the lake or hitting up the numerous Mexican, Indian, Cambodian, and El Salvadoran restaurants that the locals rave about. Jamaica Plain is also well known for its numerous open studios, for art lovers.
Avoid the B line at all costs. While other branches of the city's Green line subway system are tolerable, if not speedy, nothing is more of a buzzkill then getting stuck on the B line for an hour. This goes double on weekend evenings during the school year.
Plan to pay for a taxi, and plan to pay a lot more than other big cities. Boston still has a problem where the public transportation stops running at midnight at the very latest, so for those night owls who are planning on going to a concert, movie, or anything that keeps you out past midnight, cab fare is crucial. However, note that most bars will close by one anyway.
Don't forget to check what's on at the Coolidge Corner Theatre. An Art Deco movie theatre that's been fought for and preserved while the rest of the neighborhood turns into chain stores, Coolidge Corner consistently has the best and most clever film series in the whole city. Martin Scorcese was a surprise guest at a panel a couple years back, and directors and scientists regularly introduce classic and contemporary films here.
Where to stay
The Copley Square Hotel is one of those classic Boston secrets of a hotel, where long-time locals and people who work in downtown put up visiting friends on a regular basis. It's where I've always recommended that friends and family stay who are looking for something classy without spending too much. Right in the center of Copley Square, The Copley Square Hotel recently underwent a renovation designed to turn it into a top boutique hotel contender. Rooms are small, but not cramped, with incredible views of downtown. Best of all, for travelers who want to wake up and get going with little to no hassle every day, there simply isn't a more central location in the whole city. The decor and style is slightly more modern than in the past, but thankfully, (so far) this change has happened without an increased price tag. A great alternative to the seemingly endless sea of dull chain hotels in Boston's downtown area.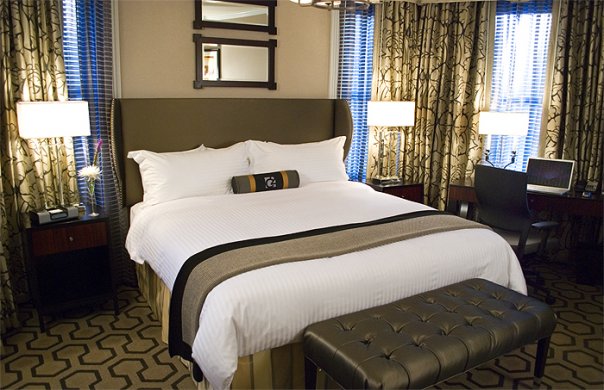 Located in Boston's South End, a charming and upscale neighborhood just steps from most public transportation and the tourist attractions of downtown and Copley Square, the Chandler Street Inn is a boutique hotel can't be beat for location or style. Recently renovated to be a little more hip and modern, the deluxe rooms feature docks for your IPod and flat-screen TVs. The real sell is its corner rooms, that offer incredible views of the city's skyline. Rooms are surprisingly large for the middle of Boston, with immaculately clean bathrooms (extra points for the water pressure in the shower). The concierge is helpful and attentive without being overbearing, meaning that if you need help with any reservations or directions, they're on it. The hotel is popular with a number of artists and gay travelers, and as one of the city's only real boutique hotels, it often nets semi-famous travelers. It was one of the most comfortable hotel beds I've ever slept in, too.
Where to eat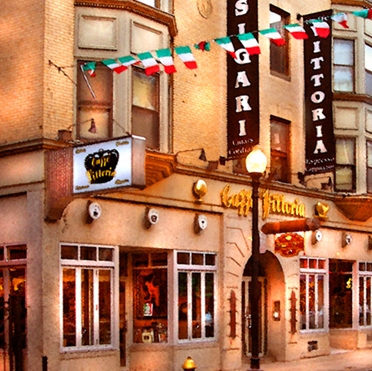 For anyone missing European charms, there is no better place to sigh like a romantic, people watch, and drink perfect espresso than at Caffe Vittoria. Located right in the center of Hanover Street, don't be taken aback by its proximity to other North End cafes that might be a little more like tourist traps. Cafe Vittoria is the real deal, right down to the espresso machines from the old country, the cigar bar downstairs filled with old men from the neighborhood, and the cute staff for whom English is usually a second language. The whole place feels equal parts New York 1950s and Italy 1930s, and it's a wonderful spot to people-watch during any season, and at any time of the day. If you feel like something a little stronger, their boozy coffee drinks are absolutely superb, and go great with some rum baba or tiramisu.
If you're not into waits, then avoid Zaftigs on weekends, when the brunch line stretches down the block. The most authentic Jewish diner in all of Boston, Zaftigs is a little more upscale, though you can still head up to the counter if you're single and enjoy a cup of borscht or some of their famous challah French toast. An excellent choice for both lunch and dinner, Zaftigs has all of the Jewish staple foods, including gefilte fish, latkes, and even brisket sandwiches. People come from all over Boston to have their breakfast foods, which are served at all hours of the day. The banana stuffed French Toast is just as yummy as the challah French toast, and all of the sandwiches are huge and come with a gigantic kosher dill pickle. Definitely worth a stop if you're visiting Boston, but don't make a habit of eating here or you're going to be, well, zaftig yourself.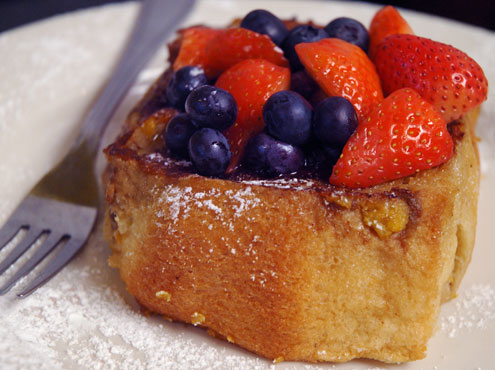 If it's any form of ethnic food that you seek, then Jamaica Plain is the neighborhood for you. Picking a favorite is a little bit tough, but El Oriental de Cuba wins simply because of its delicious food and dedicated fan base. A couple of years back, El Oriental de Cuba was actually fire-bombed by someone in the neighborhood, and everyone was really concerned that it was going to shut down forever. The neighborhood got together to offer their support, and a year later, there was a line around the block of people waiting to scarf down tostones on their first day back. Lovely color photographs of Havana hang over all of the tables, and while the bright lighting definitely diminishes the romantic quality of dining here, the food is worth sticking out a blizzard. The weekly specials are epic, whether it's drunken goat stew or a place of squid rice that could easily feed three people. On hot summer days, it's criminal to have lunch or dinner here without ordering a fruit milkshake for dessert.
Perhaps hearty southern-style barbecue isn't the first thing to come to mind when you think of dining in Boston. Me neither. But as a southerner, when I had friends raving about eating "authentic" pulled pork and ribs at Redbones Barbecue, I had to try it out and give my seal of approval, if it was up to par. They've totally got it at this Somerville restaurant, right down to its proximity to a bowling alley. Reservations might be a good idea, because this place was absolutely packed. Excellent smells, simple decor, and an open kitchen made it worthwhile, but the southern-size portions of sweet tea really won me over. Choose from a number of different barbecue sauces and styles, or if you're feeling like something a little less messy, go for a bunch of the sides–the hush puppies and fried green tomatoes are fantastic. Definitely worth going to, if only for the surreal experience of having top-notch barbecue north of the Mason-Dixon line and about a 10 minute drive from Harvard.
What to do
Boston is often lauded for its European charms, and there's no better neighborhood to understand what people are talking about than over in The North End, the city's version of Little Italy. Just don't even think about driving, as streets are narrow and space is at a premium. Stroll along the cobblestones of Hanover Street and peek into mom-and-pop clothing stores, corner groceries, and endless cozy restaurants that will take you right back to the old country. Side streets feature parks where old men play bocce and read the newspaper in lawn chairs, and it seems there's always church bells ringing for some sort of service or ceremony. Best of all, during the summertime, a number of saints have their feasts and festivals, turning the whole neighborhood into a party. Don't forget that the neighborhood's biggest charm is its desserts–pop into Gigi Gelataria for the best gelato this side of Italy, or engage in the endless cannoli debate by sampling the goods at both Mike's and Modern Pastry (my money's on Modern, though).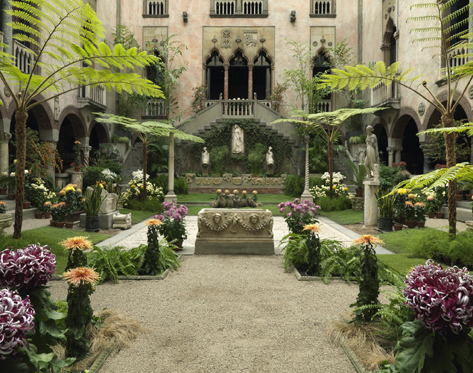 Boston has more than its fair share of museums, but the one that really sticks out is The Isabella Stewart Gardner Museum. Located just a short walk from The Museum of Fine Arts, the museum is famous for many reasons, but the general public knows it best as the place that a bunch of priceless paintings were stolen a few years back. Gardner's life history itself is worth reading about, and instead of a collection being housed in a building it has no relation to, the building itself is the real reason the museum is worth a visit. The museum is housed in the former residence of Isabella Stewart Gardner, with courtyards and fountains much the same way they were back when she lived there. For those who like history more than art, a walk through the house is like a trip back in time, and the decor itself is worth the admission price alone. It's also an excellent spot for students to take their visiting parents, who will appreciate the touch of class.
Boston is known for its green spaces, many of them designed by Olmstead, whose name is synonymous with early American public parks. However, for the best of the city, forget the classic tourist diversions of The Boston Common and The Public Gardens and head south, to Arnold Arboretum. Operated by Harvard, this vast expanse of green space offers visitors a place to relax, picnic, and explore. Plant lovers will be thrilled at the gardens, which are especially popular to visit during springtime, when everything is blooming. More than just a tourist spot, the Arboretum is where real Bostonians go to shake off the winter blues and enjoy some sunlight and grassy knolls. Bring a picnic, enjoy the leaves changing colors, and maybe even spot a wolf–it's so quiet that people have been seeing more of them lately.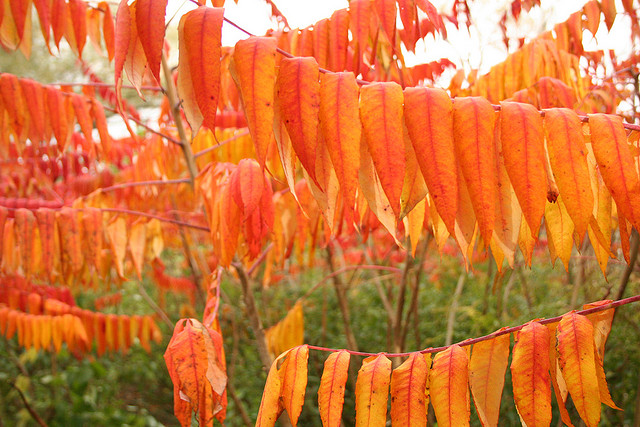 Boston's answer to Rodeo Drive, Newbury Street is where you're going to find clusters of boutique and high-end retail, as well as a number of odd stores thrown in for good measure. The expensive stuff is located down at the end of the street next to The Public Garden, with your usual designer shops right on the other side of The Ritz. As you make your way towards Massachusetts Avenue, window shop at any number of bag and shoe stores, poke your head into Camper or Marc Jacobs and have a look around, and stop for some tea at Teluxe on the way if you're getting a little bit peaked. Students and hipsters alike flock to the other end of the street, which does its best St. Marks Place impression with an army-navy store, a Condomania, the local record store Newbury Comics, and bookstore/cafe Trident Books. There's even a massive two-story Urban Outfitters a couple of doors down from the Diesel shop, and bike messengers tend to flock to the Other Side Cafe for beer and vegan nachos, which technically isn't on Newbury Street since it's on the other side of Mass Ave.
Related Posts
Four Seasons Boston State Suite Review
Cathay Pacific First Class Boston to Hong Kong Flights Coming
10 Places to Satisfy Your Sweet Tooth in Boston
Hotel Review: Intercontinental Boston
Need Award Booking Help? Our fee is as low as $75 per ticket if you book your hotel or cruise through us.
If you enjoyed this, join 150,000+ readers: please follow TravelSort on Twitter or like us on Facebook to be alerted to new posts.
Become a TravelSort Client and Book 5-Star Hotels with Virtuoso or Four Seasons Preferred Partner Amenities!
Photos: bdamon, David Berkowitz, Copley Square Hotel, Caffe Vittoria, Zaftigs, Isabella Stewart Gardner Museum, Bart Howard Everts