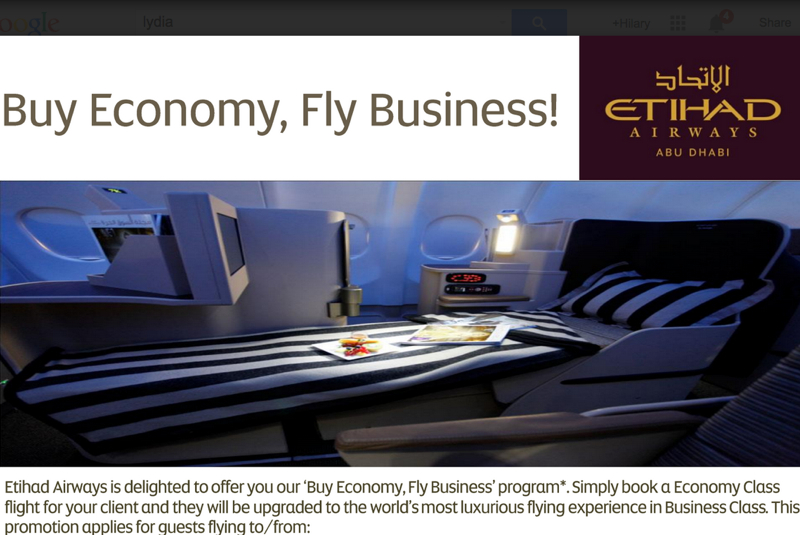 Etihad has a Buy Economy, Fly Business Class offer available, bookable by TravelSort Clients and other Virtuoso travel advisors. There is also a Buy Business Class, Fly First Class offer, but seat availability is extremely limited for it.
Who is this for? While most TravelSort clients and readers have significant mileage balances and will want to use their AAdvantage miles to book Etihad, some clients don't have AAdvantage miles or plans to accumulate them, or don't have enough miles to book awards for their family.
That's where a promo such as this can come in handy–if you might otherwise be booking paid business class to destinations that Etihad serves in the Middle East, Africa (including the Seychelles), Asia, and the Maldives.
Here are the details:
Book an Economy class ticket in Y fare class from one of Etihad's U.S. destinations to any of the destinations listed below in the FAQ, and you will fly Business Class (note that limited seats are available for this promotion)
Book by December 31, 2014
Travel by March 31, 2015
FAQ
Where Does Etihad Fly to in the U.S.?
For this offer, you must originate in the U.S., in any of these cities served by Etihad:
Chicago (ORD)
Dallas/Fort Worth (DFW) from December 3
Los Angeles (LAX)
New York (JFK)
San Francisco (SFO) from November 18
Washington, DC (IAD)
What Are Eligible Destinations?
These are the eligible destinations for the buy economy, fly business class promotion. I've highlighted in bold some of the more popular ones I receive client requests for:
Bahrain (BAH)
Doha (DOH)
Kuwait (KWI)
Muscat (MCT)
Dammam (DMM)
Jeddah (JED)
Medina (MED)
Riyadh (RUH)
Beirut (BEY)
Cairo (CAI)
Amman (AMM)
Ahmedabad (AMD)
Bengaluru (BLR)
Mumbai (BOM)
Calicut (CCJ)
Cochin (COK)
Delhi (DEL)
Hyderabad (HYD)
Jaipur (JAI)
Chennai (MAA)
Karachi (KHI)
Lahore (LHE)
Islamabad (ISB)
Dhaka (DAC)
Chittagong (CGP)
Sylhet (ZYL)
Colombo (CMB)
Johannesburg (JNB)
Nairobi (NBO)
Bangkok (BKK)
Beijing (BJS)
Shanghai (SHA)
Chengdu (CTU)
Male (MLE)
Seychelles (SEZ)
How Do I Get a Fare Quote?
You must be a
TravelSort Client
with a valid credit card on file to request a fare quote. A $50 fee is charged per quote and will be refunded in full after the trip if the air ticket is booked, together with at least $1500 in hotel or cruise bookings for that itinerary, with TravelSort.
What's an Example of the Savings?
I priced out a NYC to the Maldives roundtrip via Abu Dhabi, JFK-AUH-MLE-AUH-JFK for November. With the Buy Economy, Fly Business Class fare it came to $4734 per person; the cheapest Etihad business class fare I could find for the same days was $8269, a savings of 43%.
What Are the Features of Etihad Long Haul Pearl Business Class?
Etihad's long haul Pearl business class features a full flat bed seat on all wide-body aircraft, dining on demand (although good to tell the crew what you want upfront, to avoid any issues with running out of your preferred menu choices), a 15″ screen with noise cancelling headsets, in-seat power, and OnAir WiFi on some aircraft (three A330-300s and two A320s).
Do you plan to take advantage of Etihad's Buy Economy, Fly Business Class offer?
Related Posts
Etihad A380 The Residence and First Apartments
Etihad Airways: Flying Nannies Offer Childcare Help to Families and FAQ
Etihad Business Class Review: Male to Abu Dhabi
Etihad First Class Review: Abu Dhabi to NYC