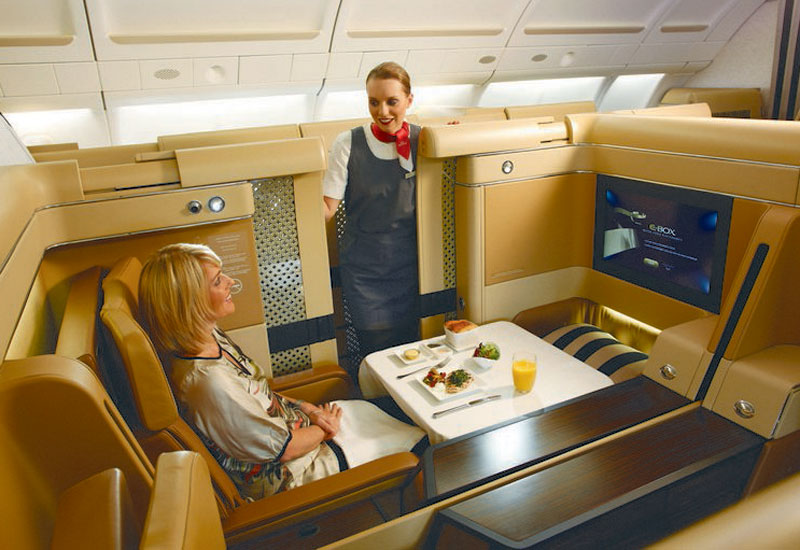 6/25 Update: Etihad awards are again bookable with AAdvantage miles–yay!
Seeking an Etihad award using AAdvantage miles? Currently not possible. This is due to Etihad not displaying award availability correctly in Direct Access, which American Airlines uses to view and book Etihad award tickets. Here's the May 28 memo that was provided to American Airlines reservations agents:
Etihad Airways Award Availability
It has been reported that Etihad Airways (EY) is not displaying award availability correctly in Direct Access. For example, when displaying availability for EY flights, you may receive availability for Jet Airways (9W* operated by Etihad Airways) instead. This issue has been reported and escalated. Once resolved and until further notice, please offer our apologies to customers wanting to book award flights on EY and advise to call back.
It's a major problem for those who had award tickets on hold and were just looking to add Etihad awards, or have been waiting for the Etihad award calendar to open. I have a couple of Award Booking clients where the ideal itinerary would have involved Etihad First Class award flights, although only one way, on the outbound. But given the current impossibility of booking Etihad awards with AAdvantage miles, with no ETA given on when it will be fixed, we've reconfigured their outbound on other airlines.
In case you're also frustrated by not being able to book Etihad awards, here's a quick FAQ:
Is This Problem on Etihad's Side or on American's Side?
The problem appears to be on Etihad's end, in terms of the display problems in Direct Access, and American per the memo claims to have escalated it with Etihad.
Any ETA On When This Will Be Fixed?
Unfortunately no. Believe me, I've called several times today, yesterday and over the weekend asking about this.
Is It Possible to Book Etihad with US Airways Dividend Miles?
No–even before this current problem, it hasn't been possible to book Etihad award space using US Airways Dividend Miles because US Airways doesn't partner with Etihad. Etihad is not part of oneworld, it's a non-alliance partner of American Airlines.
Any Other Ways to Book Etihad Awards?
Another option could be ANA, which you can transfer both Starpoints and AMEX Membership Rewards points to, although I haven't tried it during this glitch. Note that AMEX Membership Rewards transfers to ANA usually take 2-3 days.
Also, ANA awards must be roundtrip, returning to the country you originated from. And if you're thinking that you'll cleverly book one way from the U.S. to Abu Dhabi then a throwaway "return" from Canada to the U.S. that you won't use, to reduce the miles needed (since ANA has a distance based award chart) no dice–Etihad isn't a Star Alliance member, and you can't mix Star Alliance partners and non alliance partners on an ANA award. And needless to say, Etihad doesn't fly Canada to the U.S.
So you do have to book a round trip (which didn't work for my clients but may work for some readers) and ANA actually requests the space from Etihad, so this could work.
How Do I Search for Etihad Award Space?
Go to Etihad Guest (no need to even be a member) and search for awards. You need to check if there is GuestSeat availability.
Have you been frustrated with not being able to book Etihad awards, or been able to work around it by booking with Etihad Guest, ANA or other miles?