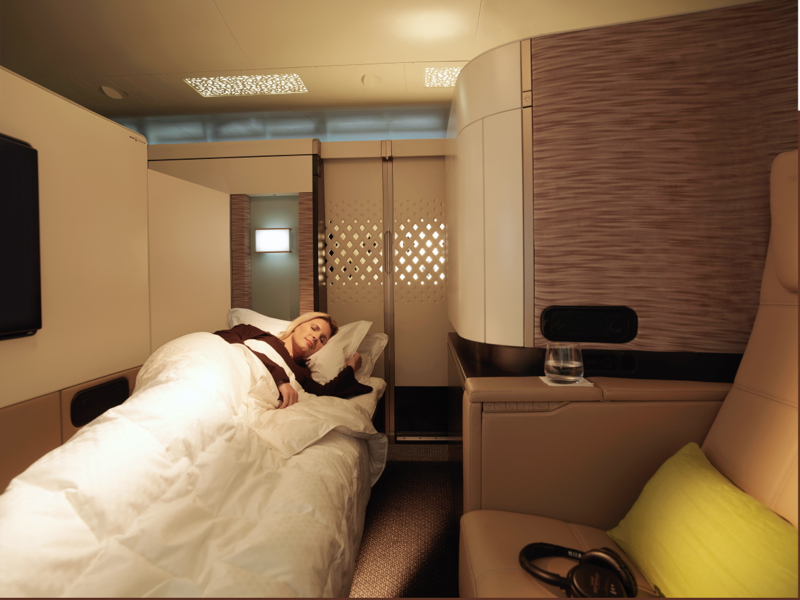 Update: Etihad is releasing limited A380 First Apartment award space, up to 2 seats per flight.
Etihad's A380 NYC to Abu Dhabi service starts December 1, 2015, joining Etihad's existing A380 routes between Abu Dhabi and London and Abu Dhabi and Sydney. So far, Etihad will just be flying the A380 on Etihad flights 102 and 103, while the other daily flight (EY100 and EY101) will continue to be a Jet Airways configured 777-300ER. Here are the details of the A380 route:
EY102 departs New York JFK 3pm, arrives Abu Dhabi AUH 12:30pm the next day
EY103 departs Abu Dhabi AUH 2:55am, arrives New York JFK 8:40am
Very Limited First Class Apartment Award Availability Using AAdvantage Miles on the NYC-AUH Route
Update: Etihad is starting to release limited first class apartment award availability using AAdvantage miles for flights EY102 or EY103, operated by the A380 from December 1, 2015. When this post was first written, there was nothing released–not too surprising. After all, when
Etihad announced the A380 Residence and First Apartments
back in May 2014, there initially was no award availability for the Abu Dhabi to London flight. 7 months later, in December, Etihad did start making saver awards available, which mean that it was possible to use AAdvantage miles to book a First Apartment–although not of course The Residence–that costs close to 2 million miles or points (see
Etihad The Residence Award Ticket: 1.9 Million SPG Points Abu Dhabi to London
)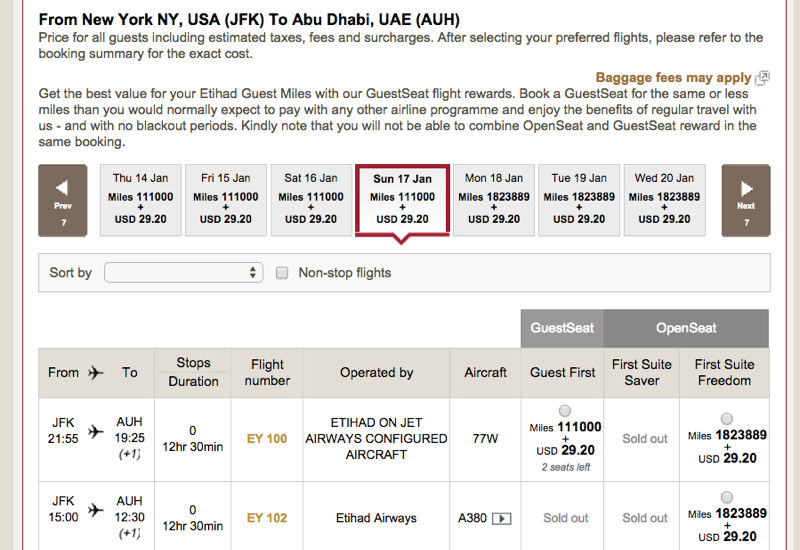 Etihad A380 Business Studio Awards Are Available
Etihad Business Studio awards are available already on the NYC to AUH flights, and these are 67,500 AAdvantage miles each way. These are in a 1-2-1 configuration, and couples or a parent and child traveling together can select the center seats in alternating rows to be closer together (unless you have a kid like mine who always wants to be able to look out the window–in that case you'll want solo seats one behind the other.
The Business Studio seats turn into fully flat beds that are 6 feet 8 inches in length–good for tall folks. And on flights between NYC and Abu Dhabi, as well as other long haul flights over 10 hours, you'll be given sleepwear, slippers, and a thin mattress pad.
FAQ
If I'm Already Booked on an EY102 or EY103 Flight After December 1, Will I Be in a First Apartment?
Yes! As long as Etihad doesn't have any delays with the A380 rollout to that route, of course.
Darn–I'm on a Jet Airways Configured Flight After December 1, 2015–How Can I Fly the A380?
Unfortunately so far there is no A380 on that Jet Airways configured flight. You could see if there's Business Studio space on the A380 for your date, but your best chance to fly a First Apartment will likely be later, sometime in 2016, if Etihad starts making award space available.
Is It Possible to Book New York to Sydney as a Single Award with AAdvantage Miles?
No–AAdvantage award rules mean that this would require two awards, one from JFK to Abu Dhabi, and the second from Abu Dhabi to Sydney.
Can Los Angeles to New York to Abu Dhabi be Booked as a Single Award with AAdvantage Miles?
Yes, if you can find space on an AA flight from LAX to JFK and then on Etihad from JFK to AUH, you can book this as one award. Likewise, you could book Cathay JFK to Vancouver YVR if you can find award availability for a flight departing within 24 hours of your arrival into JFK.
Do you plan to fly Etihad on the A380 between NYC and Abu Dhabi?
Related Posts