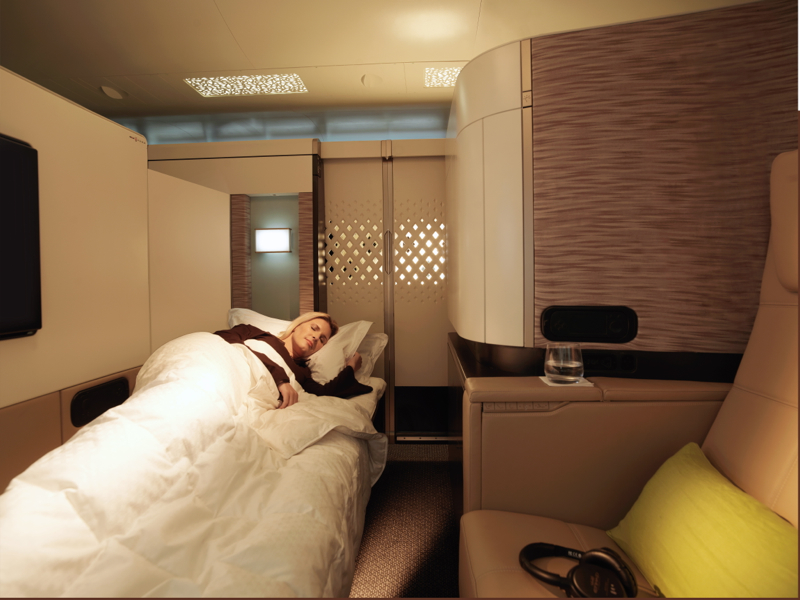 I have a few Etihad First Apartment Booking Tips, based on client and reader questions after I wrote Etihad First Apartment A380 Awards Available Abu Dhabi to NYC.
1. Be Flexible with Dates: There Are Still a Few Days with 3 Award Tickets
While most dates have been picked over, there are still a few dates with 2 or even 3 Etihad First Apartment seats, which you can see when searching via Etihad's own frequent flyer program, Etihad Guest.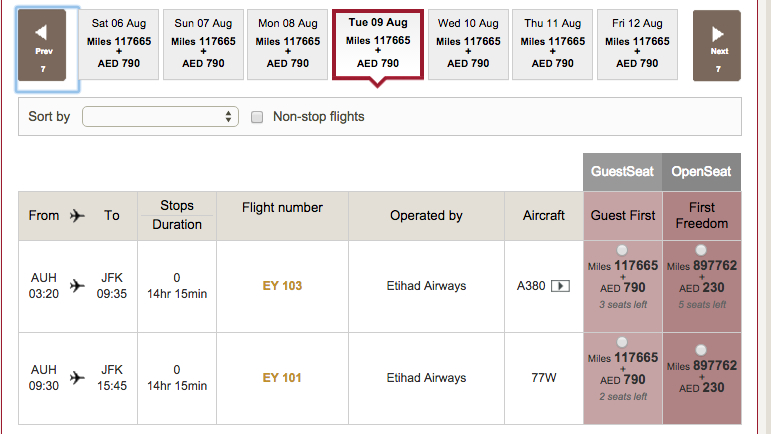 2. Don't Bother with the U.S. Call Center, Call Australia
I don't know whether there's been an explicit instruction to the U.S. call center (more Parkerization at work) or if I've just been unlucky the few times I test called to see if U.S. agents could see Etihad First Apartment award availability, but so far all the agents answering the Australian Call Center line (usually Singapore based, given the times I call) have been able to see the space without issue.
3. If You Held an Award with the Australian Call Center, Ticket and Follow Up With Them as Well
Originally I thought it would work to hold an award with the Australian Call Center and ticket with the U.S., but I was told in each case to call Australia, since I'd held it with that call center. That was fine with me, since I use Skype for inexpensive international calls.
4. Etihad First Class Maldives to the U.S. is Still 90,000 Miles, Not More
For some reason, the itineraries I've booked with the Maldives to Abu Dhabi in Economy and Abu Dhabi to NYC JFK have confused the AAdvantage system, which keeps pricing them higher than the 90,000 miles due for a one way first class award between the U.S. and the Middle East/Indian Subcontinenta, a region that includes the Maldives.
So as long as you have a layover in Abu Dhabi of fewer than 24 hours, you should NOT have to pay more than 90,000 AAdvantage miles per person one way for first class. The flight between the Maldives and Abu Dhabi should not price as a second award.
5. Can't Get Etihad First Apartment? Book Etihad First Class on an Etihad 777
There's good news: Etihad is moving up its 777-300ER flights EY100 and EY101 between Abu Dhabi and New York JFK to start June 1, 2016, which will replace the current (and very tired) Jet Airways plane.
Similarly, Etihad's 777-200LR EY 182 and EY 183 between Abu Dhabi and San Francisco will start April 23, 2016, replacing the current Jet Airways plane on those routes.
And if DC is convenient, there's always Etihad First Class on the 787-9 to Washington Dulles.
6. Make Sure to Get the Etihad Record Locator
As always, you'll want to be sure you write down the Etihad record locator, so that you can later pull up your itinerary to select seats and book Etihad Chauffeur online. Also see Complimentary Chauffeur Airport Transfers: Which Airlines and Hotels?
7. After Booking, Ensure It Tickets
AAdvantage always queues award tickets–they don't ticket immediately, and can take a few days to ticket when the flight is several months in the future. Nevertheless, keep an eye on your award, and if it hasn't ticketed within 4-5 days, call back and ask AAdvantage to complete ticketing. Until AAdvantage tickets your award, you won't be able to select seats on Etihad.
If you've booked Etihad First Apartment recently, what was your experience?
Related Posts
Etihad First Apartment A380 Awards Available Abu Dhabi to NYC
Etihad A380 The Residence and First Apartments
Review: Etihad Business Class Lounge Abu Dhabi
How We Earned 1 Million Miles and Points in 2015 Without Flying
Need Award Booking Help? Our fee is as low as $75 per ticket if you book your hotel or cruise with us.
If you enjoyed this, join 200,000+ readers: please follow TravelSort on Twitter or like us on Facebook to be alerted to new posts.
Become a TravelSort Client and Book 5-Star Hotels with Virtuoso or Four Seasons Preferred Partner Amenities!