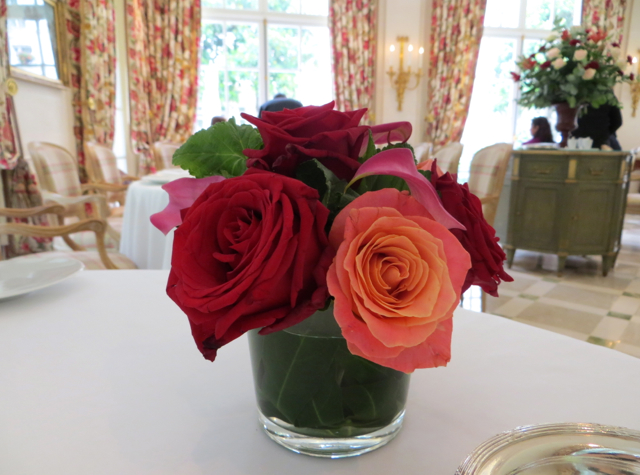 This Epicure at Hotel Le Bristol Paris Restaurant Review is part of a UK and France trip report including flights in British Airways in New First Class, Singapore Business Class and Singapore Suites, stays in a Scottish castle and 5-star hotels in London and Paris, and Michelin Star Dining in Paris. For the prior posts, please see:
British Airways New First Class 777 Review
British Airways Galleries Arrivals Lounge London and Concorde Room
Singapore Business Class Review NYC (JFK) to Frankfurt
Petrus London Restaurant Review
Dalhousie Castle Hotel Review, Scotland
Dalhousie Castle Falconry Review, Scotland
Epicure is the signature restaurant of Eric Frechon at Hotel Le Bristol in Paris, and has 3 Michelin Stars. While we didn't stay at Le Bristol during this trip, it's worth considering for a luxury Paris hotel stay, since it's one of the select Virtuoso hotels where an upgrade can be confirmed at time of booking to Deluxe and Prestige Rooms (see Virtuoso Confirmed Upgrade When Booking: Top 10 Hotels)
Since dinner at Epicure was out of the question for us, given prices and the munchkin's bed-time, we opted to experience a decadent Sunday lunch. A huge plus for us was that Epicure was open during our stay, as so many Paris restaurants, Michelin-starred and more humble brasseries alike, close for most or all of August (also see Top Paris Restaurants Open During August).
Although it was a struggle, we finally persuaded the munchkin to dress up, promising him some delicious lunch, and especially lots of French cheese. My husband even donned his suit jacket, since jackets are required for men (but fortunately not for little boys, since the munchkin doesn't own one). We arrived at the lobby, and when one of the associates saw me taking a photo of my husband and the munchkin, she immediately offered to take one of all three of us, which we appreciated.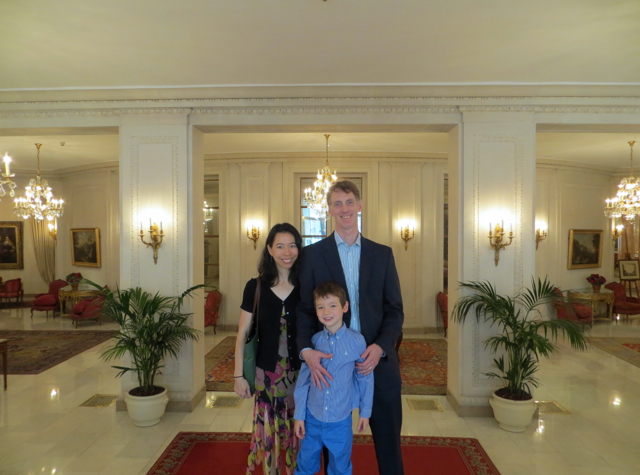 We were then escorted to Epicure, which is reached by walking to the right of Le Bristol's lobby and continuing straight towards the left side of the courtyard. We were welcomed, including the munchkin (who received his own Le Bristol themed coloring book and coloring pencils) and led to our table, a peaceful corner of the room that was perfect for us. While in general the munchkin is pretty well behaved, I'm always appreciative when we're seated not too close to other guests, and fortunately, on this Sunday afternoon, while there were a number of other tables seated, there was no one immediately next to us.
Although it had been raining a bit earlier that morning, on nice days the courtyard is available for dining.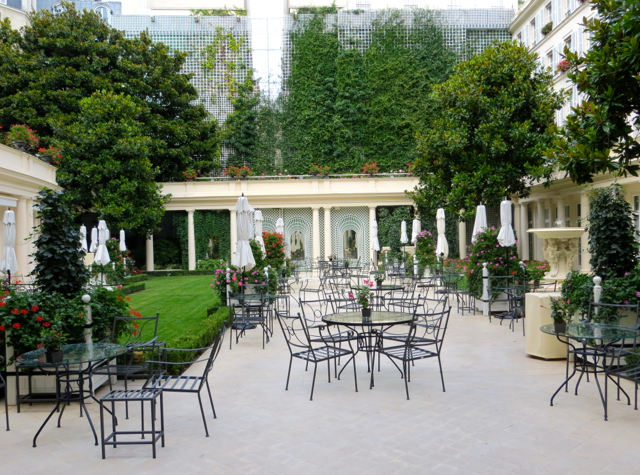 The formal dining room itself, however, was still light-filled and elegant without being stuffy. I especially loved the beautiful rose bouquet on each table (see first photo of the post).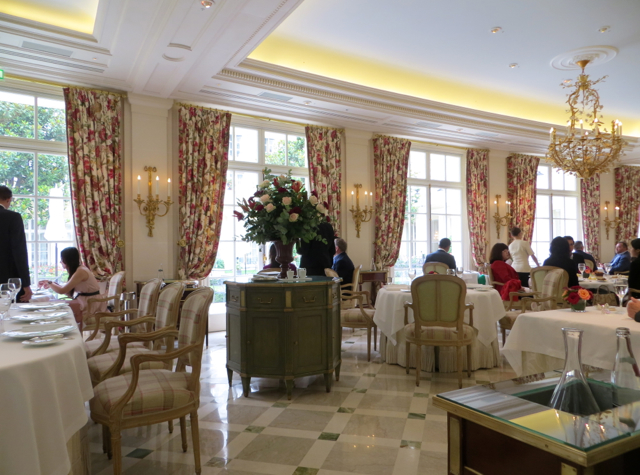 While you might think that service at a Michelin 3 star restaurant would be very stiff and not very accommodating of a family with a young child, we found the opposite to be true: while of course consummately professional, I loved that everyone from the Maitre D' to the sommelier had a ready and genuine smile, especially for the munchkin. In addition to the coloring books and pencils, and the fact that he received complimentary amuses bouches, appetizer and even a generous cheese plate, there was a special treat for him when we got to my husband's and my main course, but I'll get to that later.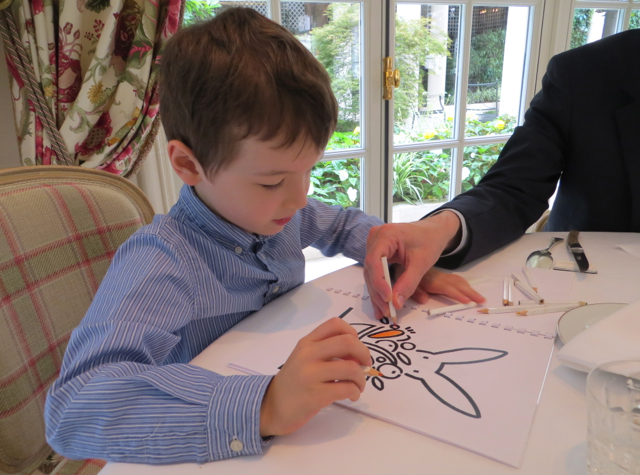 Interestingly, here, as at Le Cinq at The Four Seasons (and likely at several other Michelin Star restaurants in Paris) only the menu given to the husband has prices on it; my menu did not have prices. I'm curious what they do, however, for two women or two men dining together! Perhaps only then do both people receive menus with prices.
In any case, count on 130 Euros per person for the seasonal menu, such as the one we had, not including wine or gratuity. If you opt for a la carte, most entrees are in the 90-100 Euros range per person, with signature dishes for two such as Bresse Farm Hen for two at 260 Euros. A 7 course special tasting menu is 290 Euros per person. Frankly, though, with the lovely amuses bouches, appetizer, pre-dessert, etc. we were very satisfied with our seasonal menu.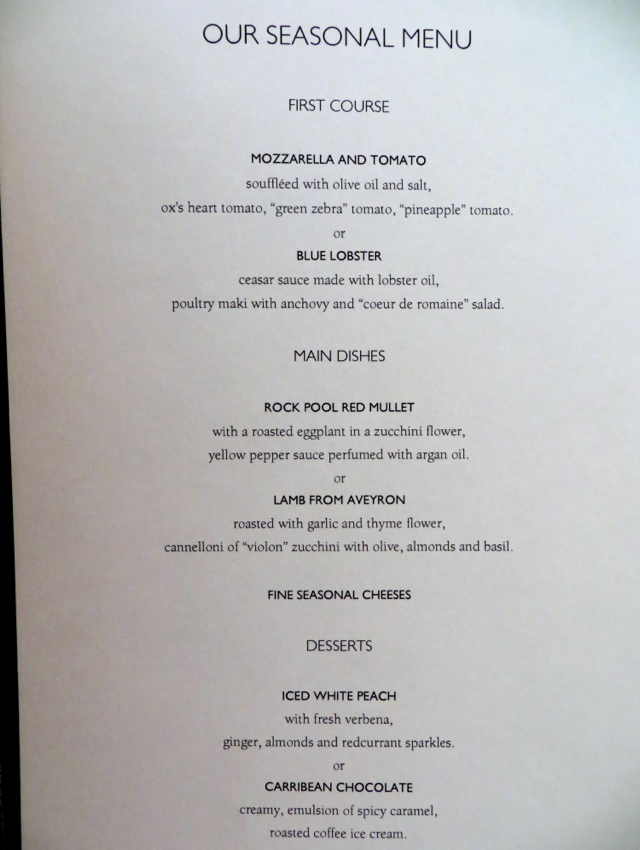 Although we were asked our preference in terms of bottled water, we were able to simply request a pitcher of water and there was no problem whatsoever. So unless you must have Evian, feel free to economize on your water choice so as to spend more on the food and wine.
Amuses bouches were beautifully presented and delicious. The tandoori frog leg was addictive, and I'm pretty sure my husband would have happily snacked on a bowl if these if he could have. The bite that you see on the skewer included foie gras and was my favorite of the three.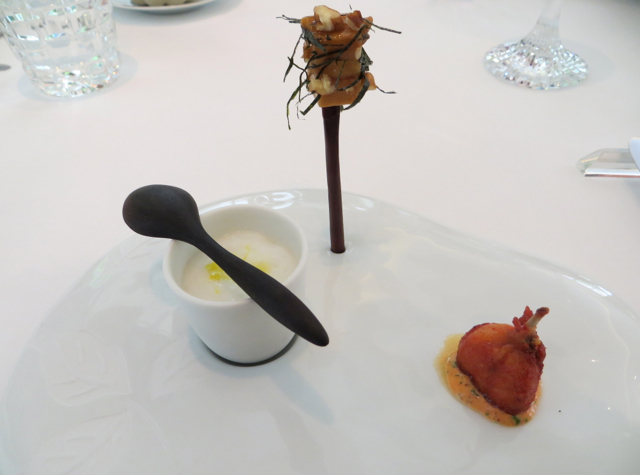 One of our favorite items of the meal was the savory kugelhopf bread, made with plenty of cheese and lardons (pork belly bacon) which was so good we ended up asking to take the last slice home, and were provided with a new whole savory kugelhopf. The Maitre D' beamed as he told us that Epicure is one of only 4 hotel restaurants in Paris to make all of its own bread and pastries, and judging by the kugelhopf, it's an ace team. I confess to not even trying the several other breads that were offered because of how good the kugelhopf was.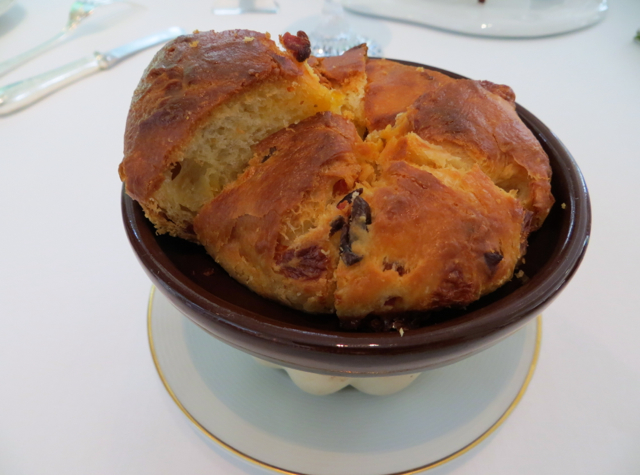 A watercress appetizer was next, and while good, it wasn't as memorable as the amuse bouche presentation.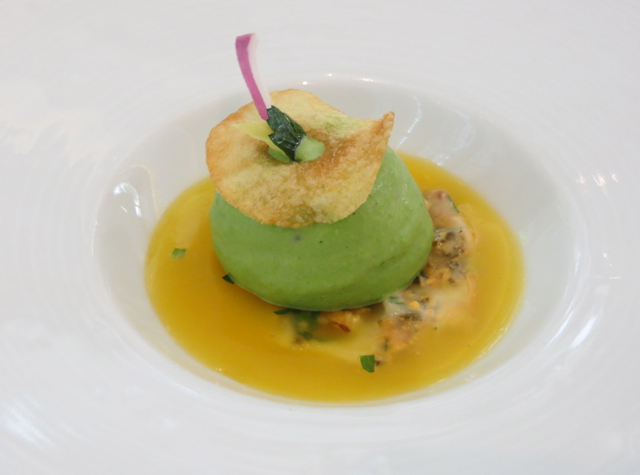 We both chose a first course of Blue Lobster, and this was my favorite of the courses we actually ordered. I've always enjoyed lobster (much to the consternation of my parents, when I tried it for the first time as a kid) and this was one of the two best preparations I've ever eaten, the other being one at Eleven Madison Park a few years ago. The creamy caesar sauce made with lobster oil complemented the sweet lobster meat well, with the hint of anchovy in the poultry "maki" adding a nice salty kick, and textural interest from the crunchy romaine salad.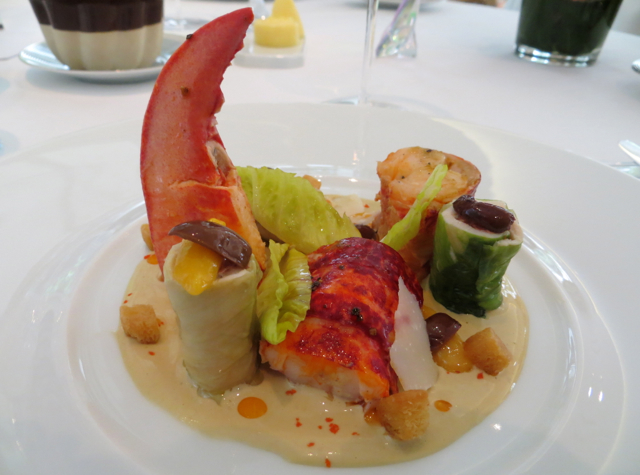 The munchkin enjoyed some of our lobster, and he also got a chance to sample from Epicure's cheese selections, which are displayed in a handsome Christofle cheese trolley: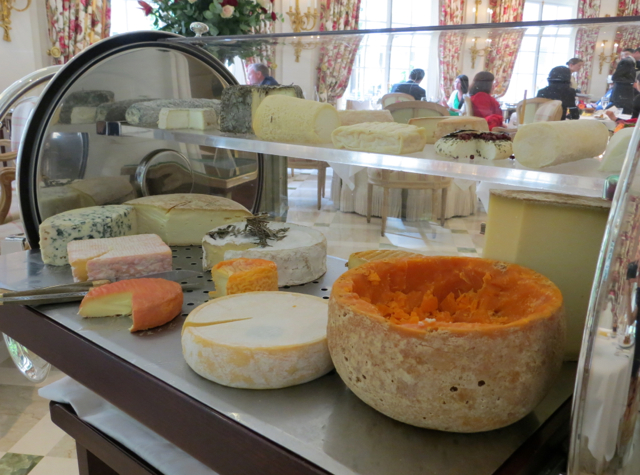 He doesn't care for goat cheese or for the strongest aged cheeses, but there were plenty of other selections placed on his plate, and with the exception of one of them he found a bit too strong (which my husband and I made short work of) he ate them all.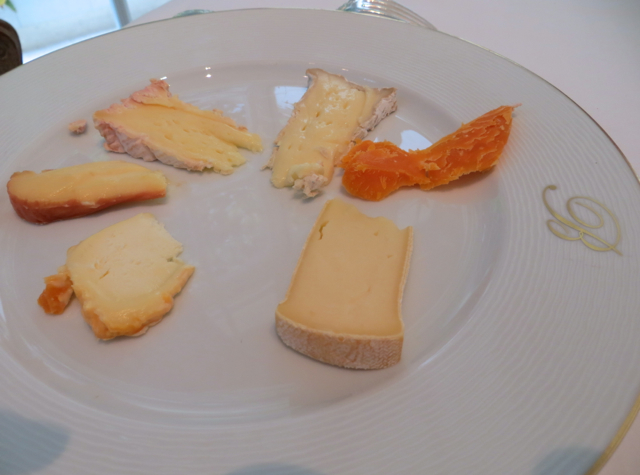 My husband and I both chose the Lamb from Aveyron with "Cannelloni" of Zucchini for our main dish, and as with everything from the Epicure kitchen, it was beautifully plated. I can't say I've ever enjoyed zucchini, but it did provide a nice foil for the richness of the lamb. Everything was cooked perfectly, but perhaps because of the traditional nature of the dish and flavors, I wasn't as wowed by this dish as the others.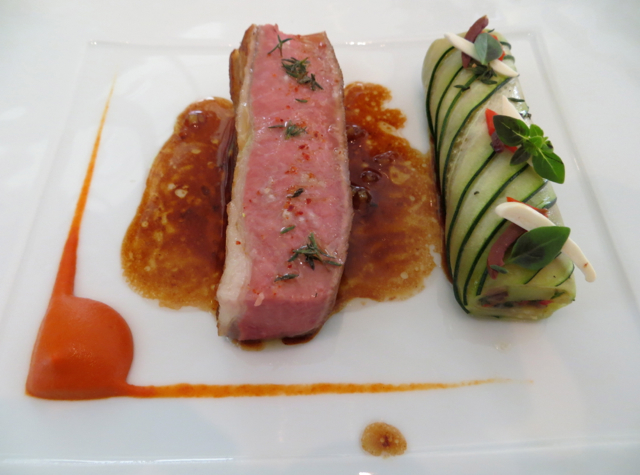 What I was wowed by, though, was that the Maitre D', intuitively sensing that the munchkin would love to get up from his seat and walk around, took him on a quick tour of the kitchen, complete with his own little chef's toque! I actually didn't think the munchkin would agree to go without us, but somehow the Maitre D' was persuasive enough and off he went, giving my husband and me several minutes to just be a romantic couple, sans enfant 🙂
After the munchkin's kitchen tour and our main course, we enjoyed a palate cleanser of mandarin orange sorbet, atop black currant compote, adorned with black currant meringue with violet. A very refreshing sorbet, although my favorite palate cleanser has to be the Brebis sorbet that we had a couple years ago at Le Cinq.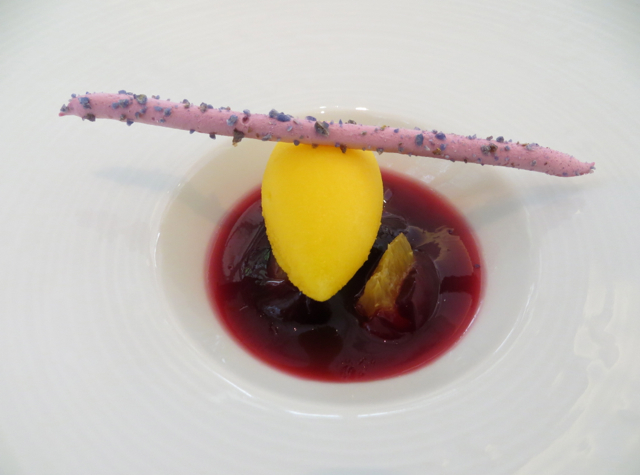 For dessert, my husband ordered Iced White Peach, with fresh verbena, ginger, almonds and red currant sparkles. It looked gorgeous on its glass platter with pressed green leaves, although unfortunately I only managed to get a photo after he and the munchkin had done some serious damage to it, so the photo doesn't reflect just how beautiful it was. I didn't even get to taste it, since apparently it was so delicious that it was practically inhaled by the munchkin, who probably devoured 70% of it.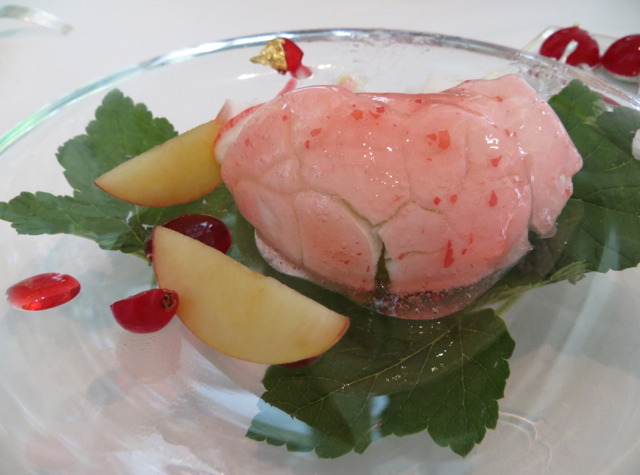 The Caribbean Chocolate dessert filled with roasted coffee ice cream was fantastic in its own right, particularly the spicy caramel that it came with (the main thing I got to eat more of, on account of its slighly spicy kick, since of course the munchkin turned to my dessert as soon as he and my husband had finished the Iced White Peach. If you're dining as a couple on the Seasonal Menu, I definitely recommend getting one of each of the desserts–they won't be the same, since the menu has already changed, but the Epicure pastry chefs are talented with both fruit and chocolate desserts so it's worth trying both types.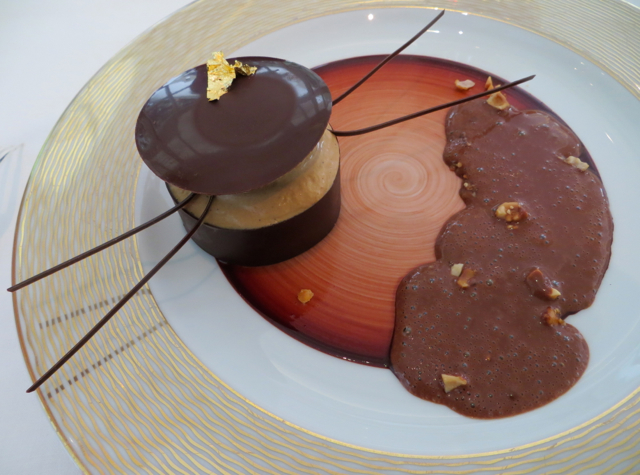 In addition to our desserts, we were also brought three silver spoons, each with a strawberry jelly bonbon, with a liquid strawberry filling. We were advised to pop the entire spoon in our mouth due to the liquid filling–yum!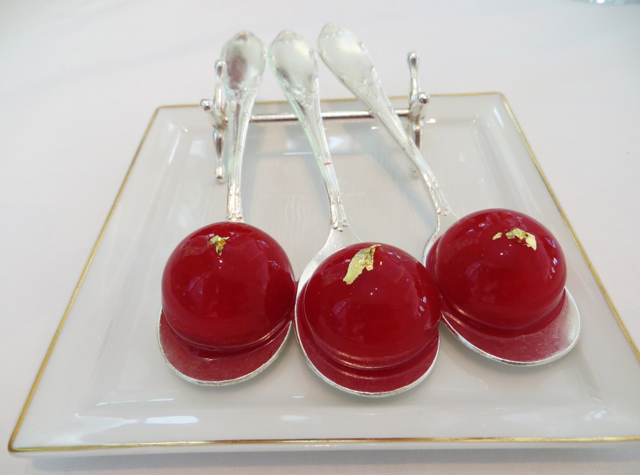 My only regret is that, due to the munchkin having finally filled up and needing to release his now-converted-food-to-energy somewhere, we didn't have a chance to sample the mignardises, including macarons, at the end of the meal…but after all, we have to save something for next time. I think in 4-5 years we should be able to get the munchkin to last for an entire gourmet lunch, mignardises included 🙂
We used the Sapphire Preferred to earn 2.14X Ultimate Rewards points per dollar spent. If Epicure was a stand alone restaurant and not part of Le Bristol, I would have considered trying to buy a gift certificate with the Sapphire Preferred on the first Friday of a month, in order to earn 3.21X points per dollar, but in this case, as part of a hotel, I don't think it would have gotten the extra bonus points even for a gift certificate purchase on a first Friday (see Sapphire Preferred: Triple Points for Dining on First Fridays).
Verdict: Epicure exceeded my expectations in terms of service through most of the meal (although it was less attentive towards the end of the meal), and met them in terms of food and value. I was more impressed by the delicious savory kugelhopf, amuses bouches and blue lobster first course than by the main course and the desserts (although the latter were still excellent), while my husband was most impressed by the breads, amuses bouches and the dessert.
I would especially recommend a visit when it's possible to dine al fresco in the lovely courtyard, but even in the elegant dining room we had a very memorable experience. Recommended, especially for a splurge lunch in Paris.
Disclosure: We paid for our own meal at Epicure.
Related Posts
Top Paris Restaurants Open During August
Paris for Foodies: Where to Eat
5 Incredibly Delicious Places You Shouldn't Miss in Paris
Don't Miss These Paris Desserts
Need Award Booking Help? Our fee is as low as $75 per ticket if you book your hotel through us.
If you enjoyed this, join 90,000+ readers: please follow TravelSort on Twitter or  like us on Facebook to be alerted to new posts. 
Become a TravelSort Client and Book 5-Star Hotels with Virtuoso or Four Seasons Preferred Partner Amenities!