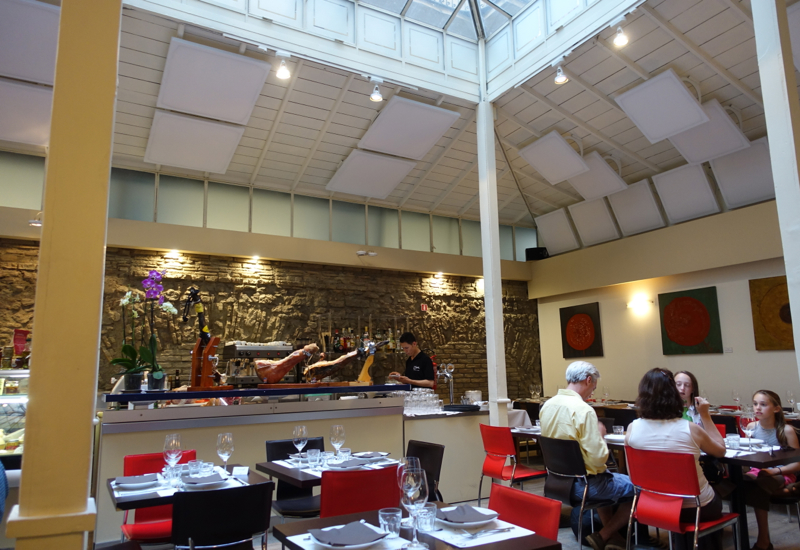 This Review of Emma Pizzeria in Rome, Italy is part of a trip report featuring Singapore Suites, Air Berlin Business Class, and luxury hotel stays, dining and activities in Berlin and Italy.
For the prior posts, please see:
Review: Air Berlin Business Class A330 JFK to Berlin
One of Europe's Best Hidden Secrets: Guess the Place
Review: Virgin Atlantic Clubhouse, New York JFK Airport
Review: Singapore Suites A380 New York JFK to Frankfurt with a Kid
Katz Orange Berlin Restaurant Review
Marzapane Rome Restaurant Review
Emma Pizzeria Rome Location, Hours and Reservations
I can't remember where I first heard about Emma Pizzeria, whether it was the New York Times article, or from our Rome guide or another source, but it was a good choice for a casual pizza dinner in Rome. Emma Pizzeria is located at Via dei Monti della Farina 28, which was an easy 20 minute walk from our hotel, the Portrait Roma.
While pizza used to mainly be a light dinner for Romans (and yes, done the Roman way, pizza is light–thin crust, with flavorful toppings but not too much cheese) Emma Pizzeria is open for both lunch and dinner: 12:30-3pm and 7-11:30pm daily. While we did have our hotel make a dinner reservation for us, it really wasn't necessary since it was for 7pm, right when the pizzeria opens, and Italians tend to dine later.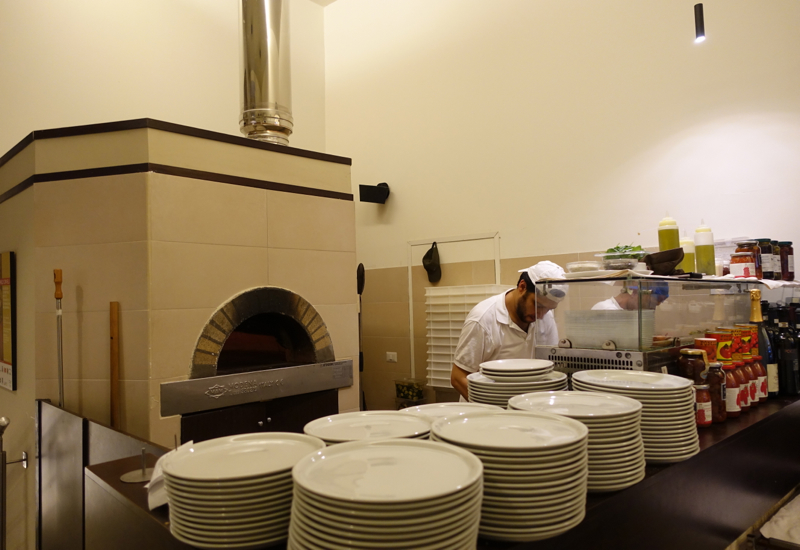 The Scene
While Emma Pizzeria is conveniently located in central Rome, just off one of the main strees, Corso Vittorio Emanuele II, it's not packed with tourists. During our visit we observed a nice mix of visitors (early diners as we were) and towards the end of our meal, Italian families and couples.
We were seated inside, in a light-filled atrium-like space with a skylight (first photo in the post) but there's also dining al fresco on the outdoor terrace that fronts the restaurant.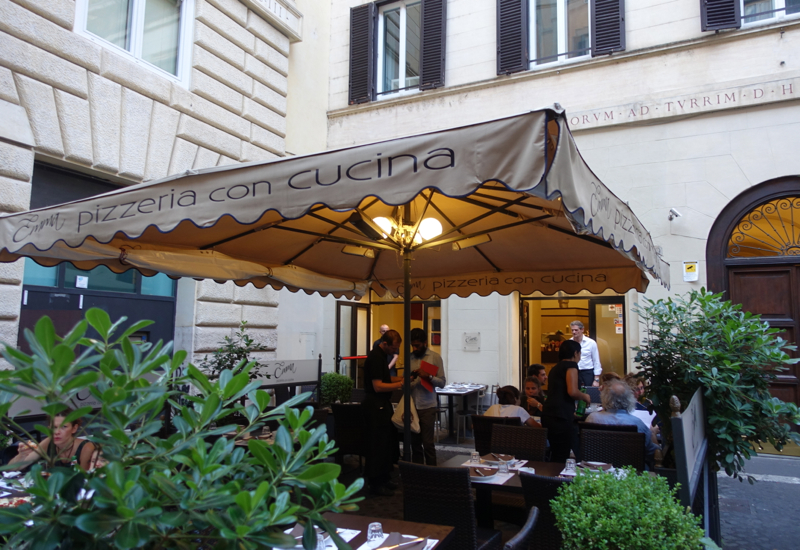 Emma Pizzeria Menu and Food
Emma's mainstay is of course pizza, and there are over 25 different kinds, from the traditional Margherita pizza, made either with locally produced mozzarella or with buffalo mozzarella from Paestum, to white pizzas without any tomatoes, to innovative varieties such as Scottish salmon, fennel and arugula or pepperoni and scallops.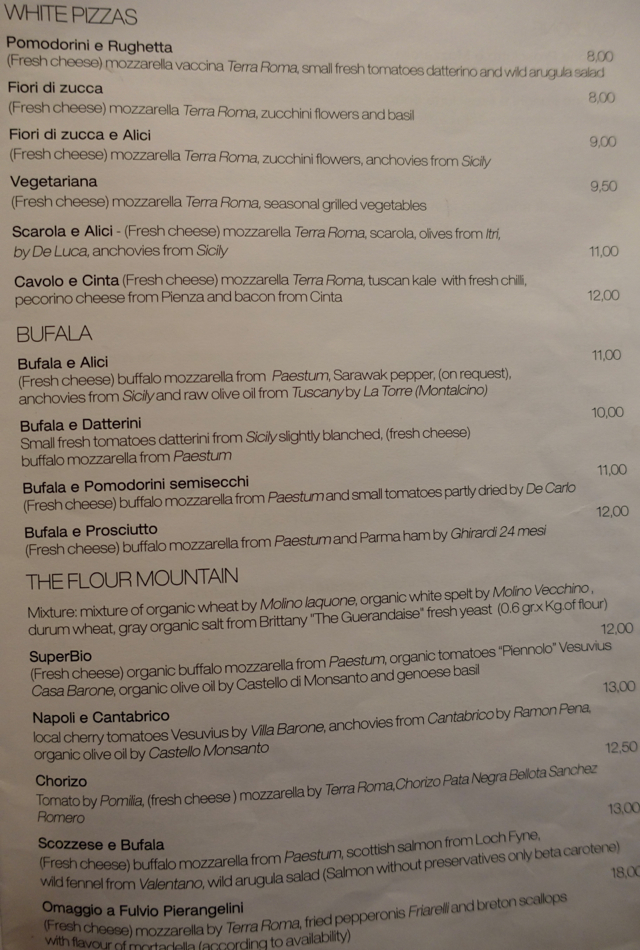 But in addition to the pizzas, Emma also offers starters such as artichoke salad, salmon and wild fennel salad, burrata cheese with tomatoes or anchovies or black truffle, bruschette, fritti (fried appetizers), etc.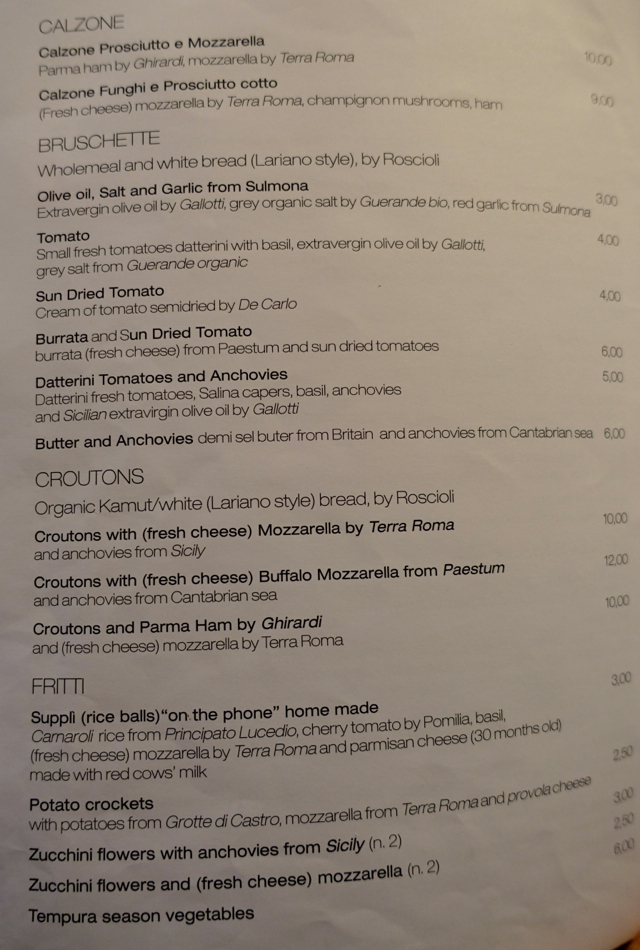 Whenever I spy zucchini flowers on a menu I have to order them, so we started with an order of fried zucchini flowers stuffed with fresh mozzarella, which was perfect: as light and crisp as tempura on the outside, and with creamy fresh mozzarella inside.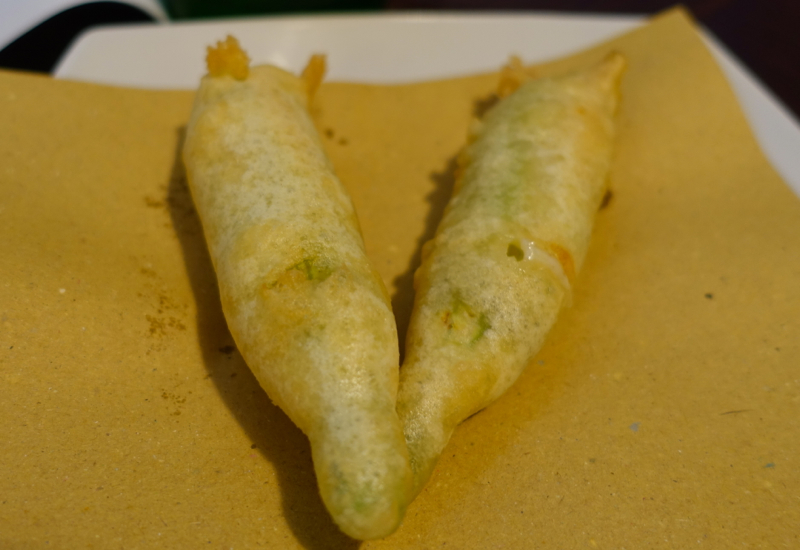 The munchkin of course wanted a traditional Margherita pizza, which we all sampled and was very good, although if I could have persuaded him to, I would have chosen one with Buffalo Mozzarella from Paestum.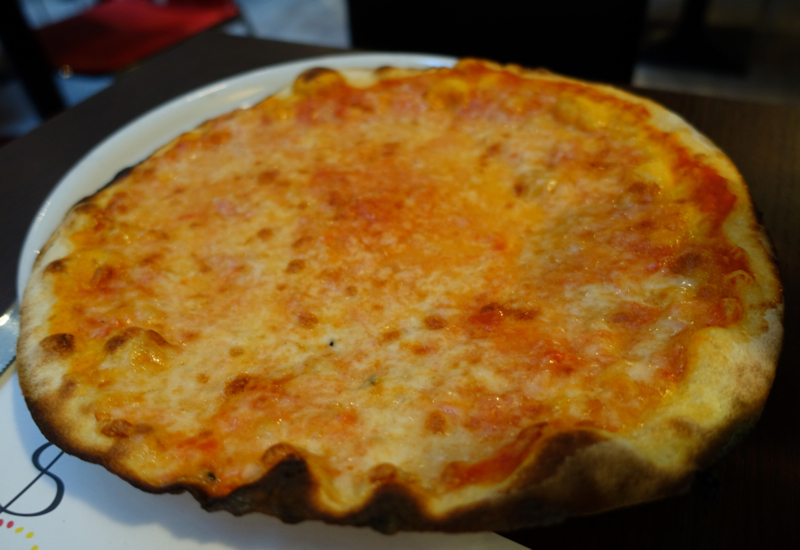 My husband had the Chorizo pizza, which was deliciously spicy: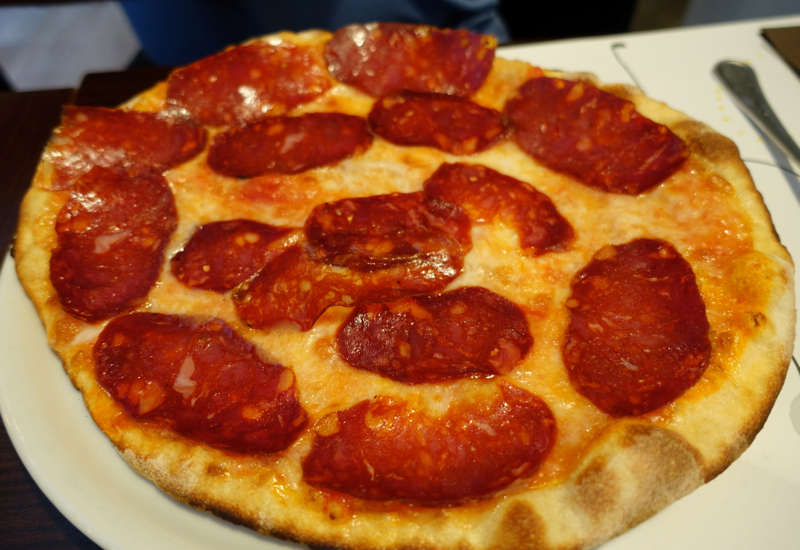 I adored the Fiori di zucca e Alici pizza, with its fresh zucchini flowers and anchovies, one of the white pizzas, and found my husband stealing bites of it. In this and all the pizzas, the outer crust was nicely blistered with a crispy exterior and tender interior, and this thin-crust pizza is one you'll want to eat quite quickly, given the perfect consistency when it comes out of the pizza oven.
The Verdict
Emma Pizzeria was exactly what we were looking for in Rome for a casual pizza dinner–delicious thin-crust pizza with high quality toppings, not overly touristy, a light-filled dining area, and pleasant service. There's plenty of seating, although if you'll be dining during a peak hour and not early, as we were, I'd recommend a reservation.
Related Posts
Marzapane Rome Restaurant Review
Rome: A Romantic Journey Through Time
Disclosure: We paid for our own dinner at Emma Pizzeria
Need Award Booking Help? Our fee is as low as $75 per ticket if you book your hotel through us.
If you enjoyed this, join 200,000+ readers: please follow TravelSort on Twitter or like us on Facebook to be alerted to new posts.
Become a TravelSort Client and Book 5-star hotels with Virtuoso Perks and Four Seasons Preferred Partner Benefits