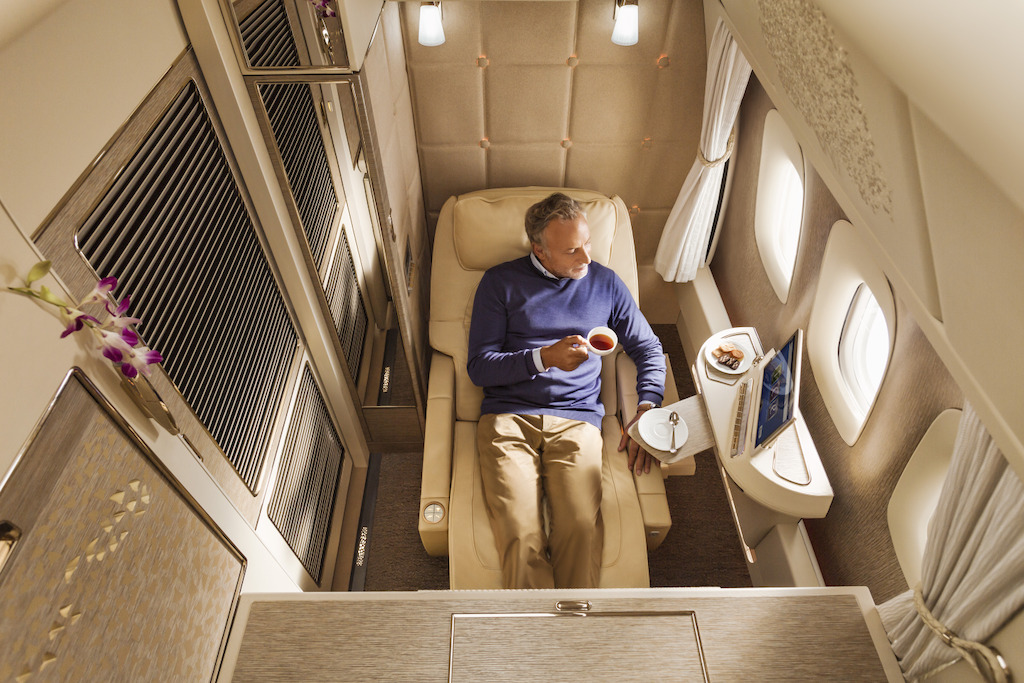 Emirates' New First Class Suite on its 777-300ER was unveiled today at the Dubai Airshow and is beautiful, with some great pros, but also some significant cons. The new design is inspired by Mercedes-Benz, which will also be providing Mercedes-Benz S-Class cars for Emirates Chauffeur service for passengers departing or arriving in the UAE (note that this service is only available when booking paid or award travel directly with Emirates; awards booked through JAL Mileage Bank, Alaska Mileage Plan and other partners do not qualify for Emirates Chauffeur).
Emirates New First Class Suite Dimensions and Features
Suite is 84 inches long
Floor to Ceiling doors are 6 feet 9 inches high
Seat is 78 inches long and 30 inches wide at its widest point
Seat reclines to a fully flat bed
Full length wardrobe, overhead stowage, extra storage below IFE screen for bags or shoes
Dining / work table measures 29 inches by 19 inches
32 inch full HD LCD screen with touchscreen and LED backlight
13 inch touch screen controls IFE and seat functions
10 mood lighting settings with 7 color schemes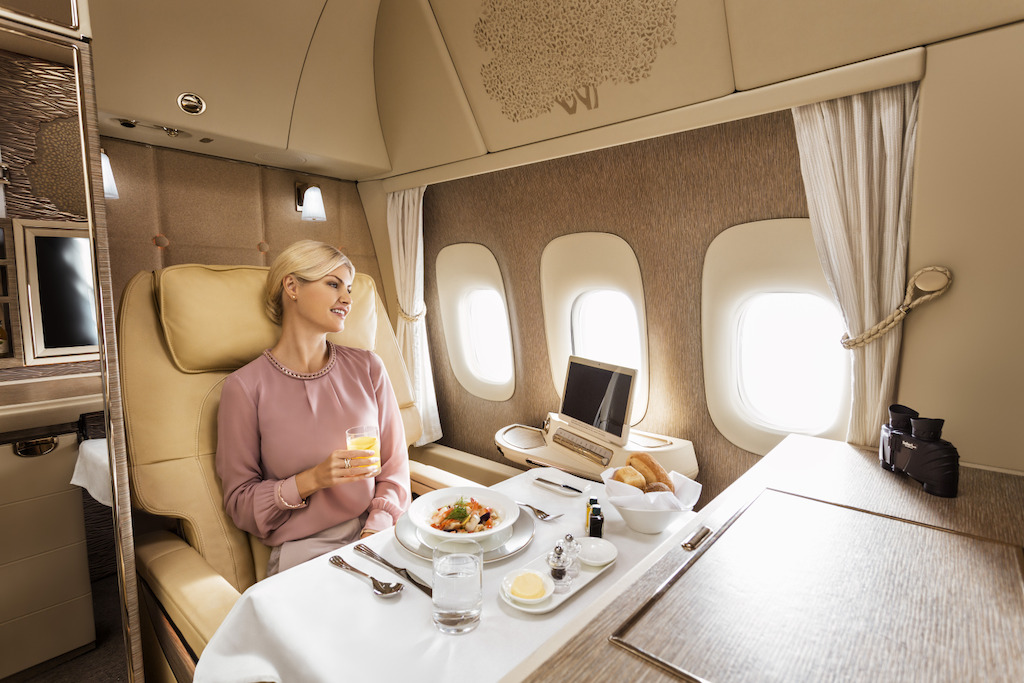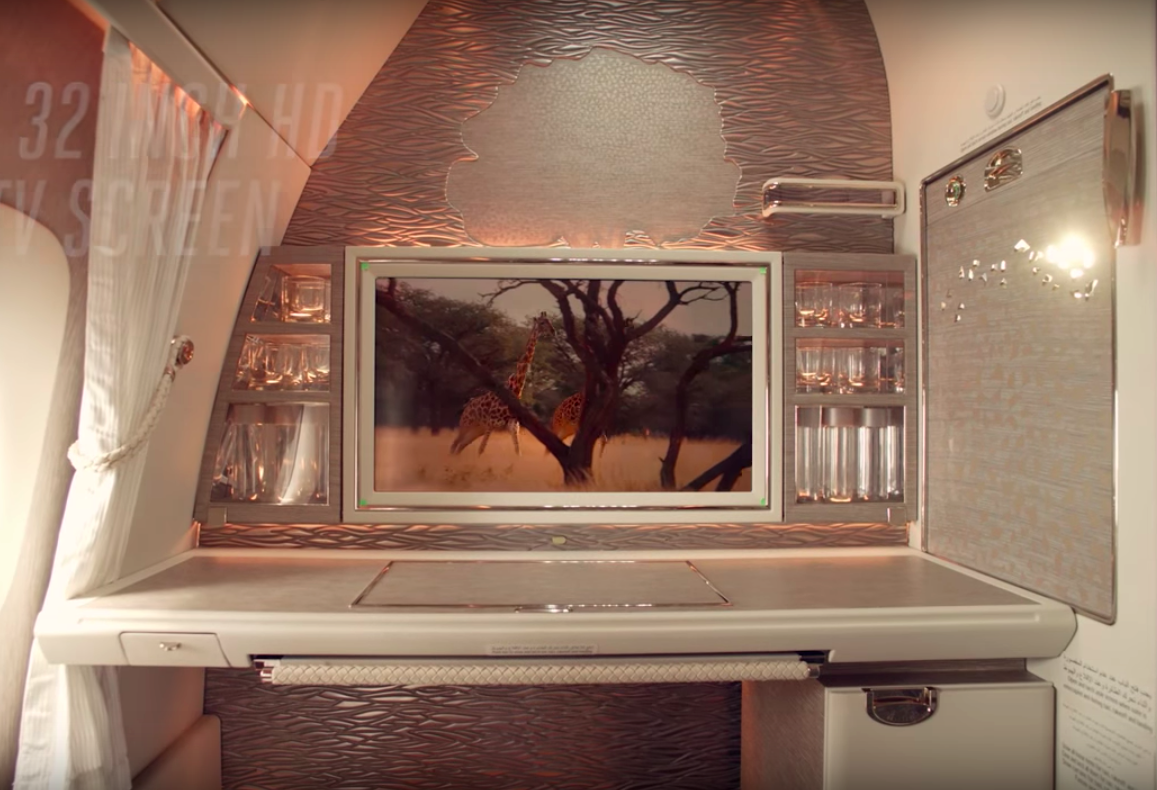 Emirates New First Class Suite Pros
1-1-1 Configuration with 40 Square Feet of Space per Suite
Emirates' new first class suite on the 777-300ER will be in a 1-1-1 configuration, for a total of 6 suites; this is similar to Cathay First Class, which also has 6 first class seats in a 1-1-1 configuration, although Cathay doesn't have enclosed suites.
Each of the new Emirates suites will have 40 square feet of personal space; this seems as though it was purposely done to slightly one up Etihad First Apartment on the A380, where each First Class Apartment has 39 square feet of space. Unlike Etihad First Apartment and the new Singapore Suites, which both have a separate chair and bed, however, Emirates will still have the chair convert into a bed.
Floor to Ceiling Sliding Doors
Until now the most private commercial flight option, apart from Etihad's The Residence, has been Singapore Suites, although even these have suite walls that can be peered over. Etihad First Apartment has laughably low suite walls, such that even shorter adults, whenever they stand up, will see neighboring passengers.
Not so with Emirates' New First Class Suite, which finally has the floor to ceiling walls that make it private enough to change clothes in.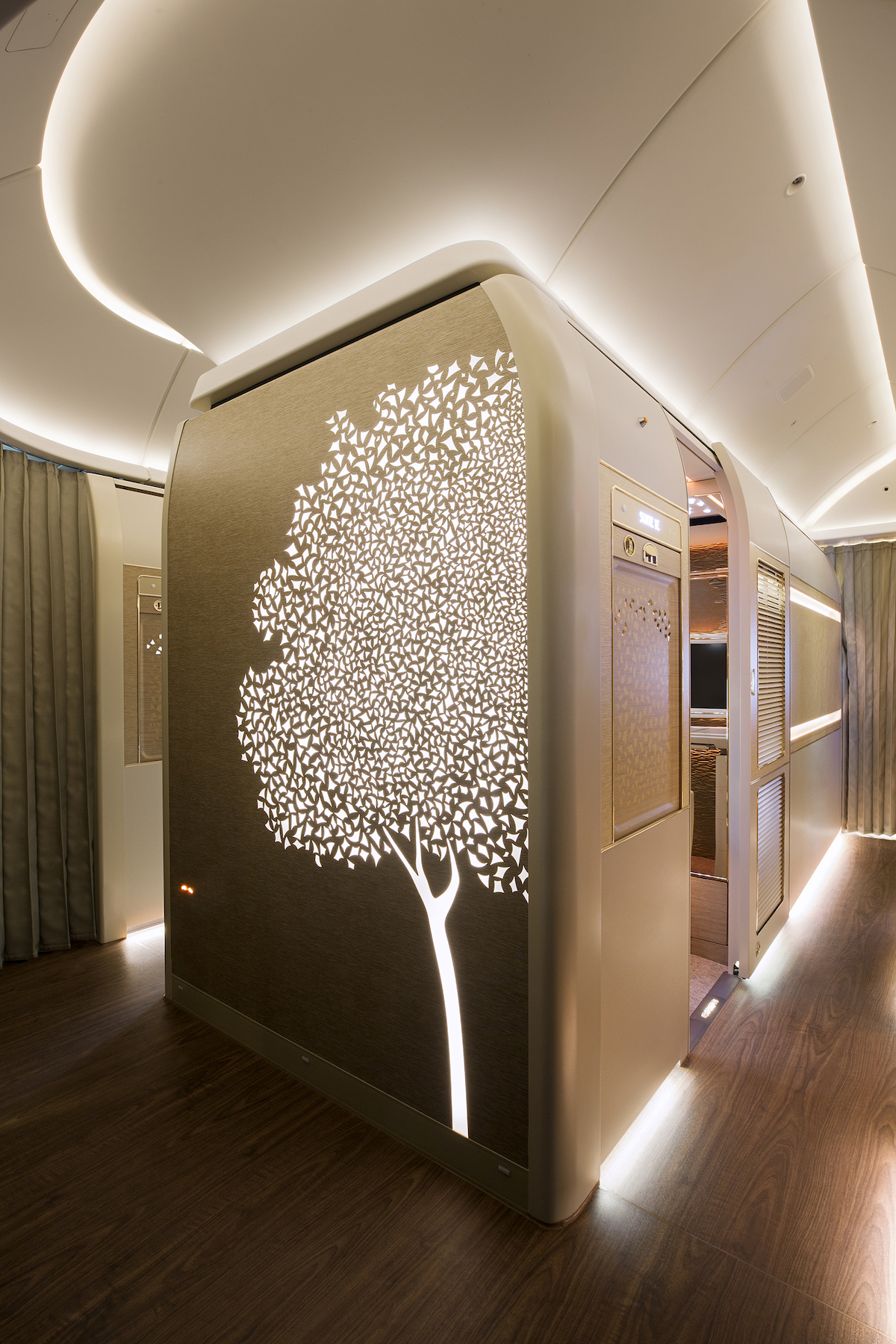 Temperature Control in Each Suite
Assuming it works well, individually controlled temperature is a fantastic addition, and one only possible for suites with floor to ceiling walls. If you've ever had trouble sleeping because the cabin is too warm, or conversely shivered through the night in a too cold cabin, this seems like a godsend.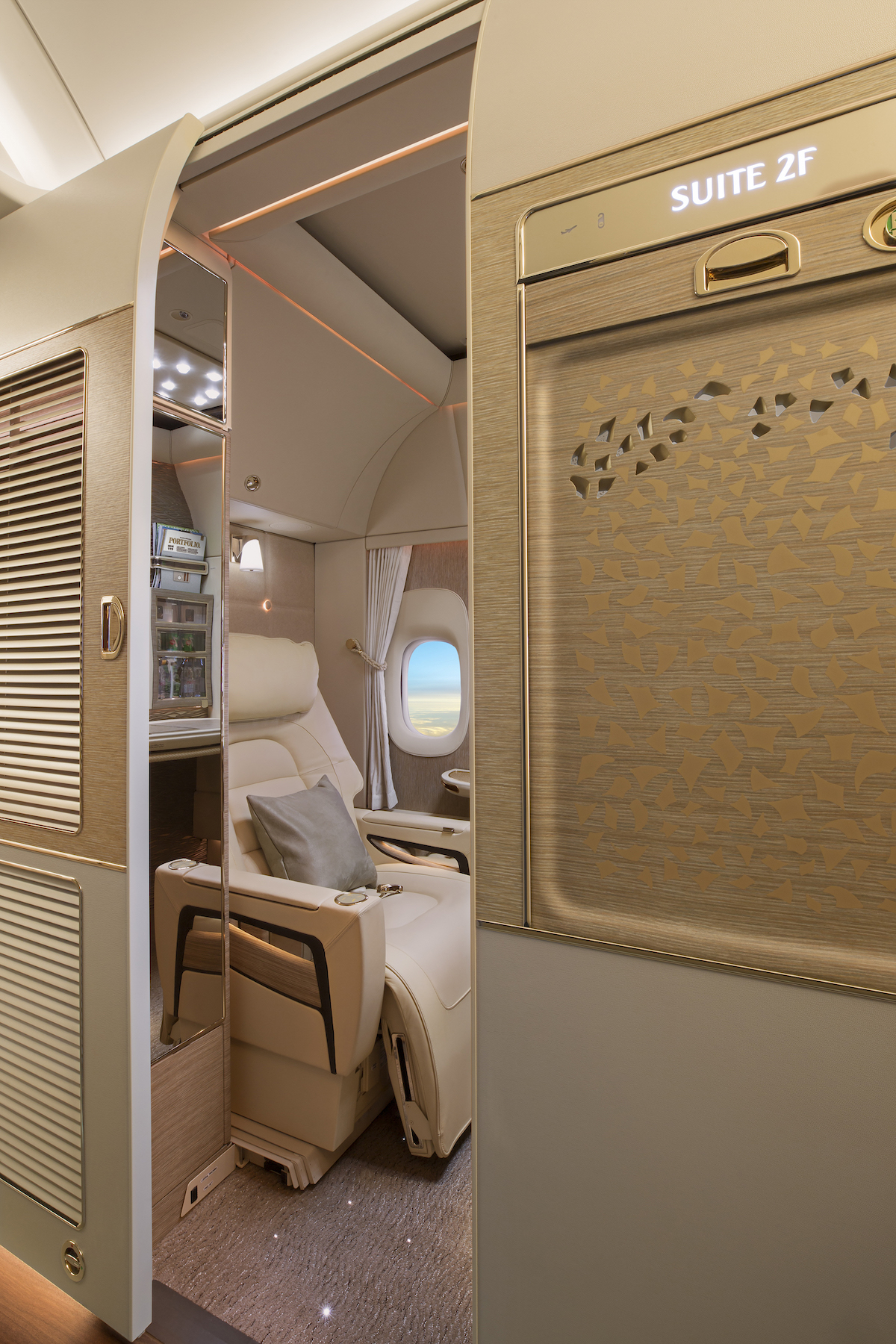 Zero Gravity Seat Position
Again, it's an open question, as with the individual suite temperature control, as to how well this will work, but I like the idea of the NASA inspired Zero Gravity seat position. Particularly if you suffer from lower back pain and find it hard to get comfortable, this seat position should be more comfortable. Notably, there is nothing like this offered with Singapore Suites or Etihad First Apartment, which if anything have left a real gap in terms of comfortable deeply reclined chair position, due to squeezing in both a separate chair and a bed into their suites. Both my husband and I found Etihad First Apartment pretty uncomfortable because the chair couldn't recline deeply enough, and the bed is hard and uncomfortable, without a good mattress pad.
Virtual Windows for Middle Aisle Suites
Leave it to Emirates to solve first world problems such as the lack of windows or a view from the middle suite. The middle suites will have virtual windows that project the view that window seat passengers see, using real time cameras.
Video Call and Service Window
Personally, I view video calls as a con (I wouldn't want to use the video function, yet would probably manage to do so inadvertently) but I'll assume that I'm the minority and that others would view it as a plus when communicating with cabin crew.
I do, however, like the addition of a Service Window, which I view as similar to the Valet Box you find at The Peninsula Tokyo and some other luxury hotels. If you don't want to constantly interact with cabin crew, you can simply have them place any drinks or small dishes on your table via the Service Window, rather than having to open your suite doors.
Here's Emirates' video of the New First Class Suite on the 777-300ER:
Emirates New First Class Suite Cons
New First Class Suite Will Be on Very Few Aircraft for the Next Few Years
Conspicuously absent from the Emirates press release is the fact that this new first class suite will only be two 777-300ER aircraft initially (see route details below) and only on nine 777-300ER even by the end of 2019. There's no announcement as of yet about retrofitting existing Boeing 777s or A380s.
Emirates currently has 126 Boeing 777-300ERs in its fleet, so the 9 new aircraft will represent less than 7% of its total 777-300ER fleet, and less than 4% of its total fleet, including the 100 or so A380 aircraft.
Current Routes Are Only one Daily Flight Dubai-Geneva and Dubai-Brussels Starting 12/1/17
The two new 777-300ER that will have the new first class suite will operate between Dubai and Geneva and Dubai and Brussels, starting December 1, 2017:
EK083 departs Dubai DXB 14:50, arrives Geneva GVA 18:55
EK084 departs Geneva GVA 20:40, arrives Dubai DXB 6:05 the next day
EK183 departs Dubai DXB 8:20, arrives Brussels BRU 12:45
EK184 departs Brussels BRU 14:35, arrives Dubai DXB 00:15 the next day
No Award Availability on Currently Announced Routes
Currently, as of time of writing, there is no award availability, even with Emirates Skywards miles, for the routes featuring the Emirates New First Class Suite. Presumably, as Emirates takes delivery of new planes with the new suite, there will eventually be some award space released, but as of now if you want to try the new suite you'll have to book a paid ticket.
No Double Beds 
Unlike A380 New Singapore Suites and New Singapore Business Class, Etihad First Apartment on the A380 (which allows select apartments to partially retract the separating wall), and Qatar New QSuite Business Class, there is no double bed possibility with Emirates New First Class Suites, since each suite is separated by an aisle from the other suites.
No Couples Dining
One of the cons of the current Emirates First Class on the A380 is that there is only side by side couple's dining, if you sit in the paired middle seats. Due to the design of the seats and IFE screens, there is no way to dine with a companion if you're in a window seat.
Unfortunately, Emirates New First Class Suite design makes it impossible to dine with a partner no matter which suite you choose, since none of them offer an ottoman or companion seat. This is disappointing for anyone traveling with a loved one, since one of the key parts of enjoying a meal is sharing it with your partner.
No Shower On Board
Only Emirates A380 First Class offers a shower on board, and that won't change with the new 777-300ER First Class, which won't have showers (or the bar either, for that matter).
No Mention of Upgraded Mattress Pad or Bedding
I don't see any mention that the new bed will be more comfortable than the current Emirates A380 first class bed, which I don't find that comfortable. While a comfortable bed is less of an issue on a 6-7 hour flight between Dubai and Europe, on longer Dubai to U.S. or Dubai to Asia flights, I'd want to see a thicker memory foam-like mattress pad similar to Singapore Suites and JAL First Class to enhance sleep.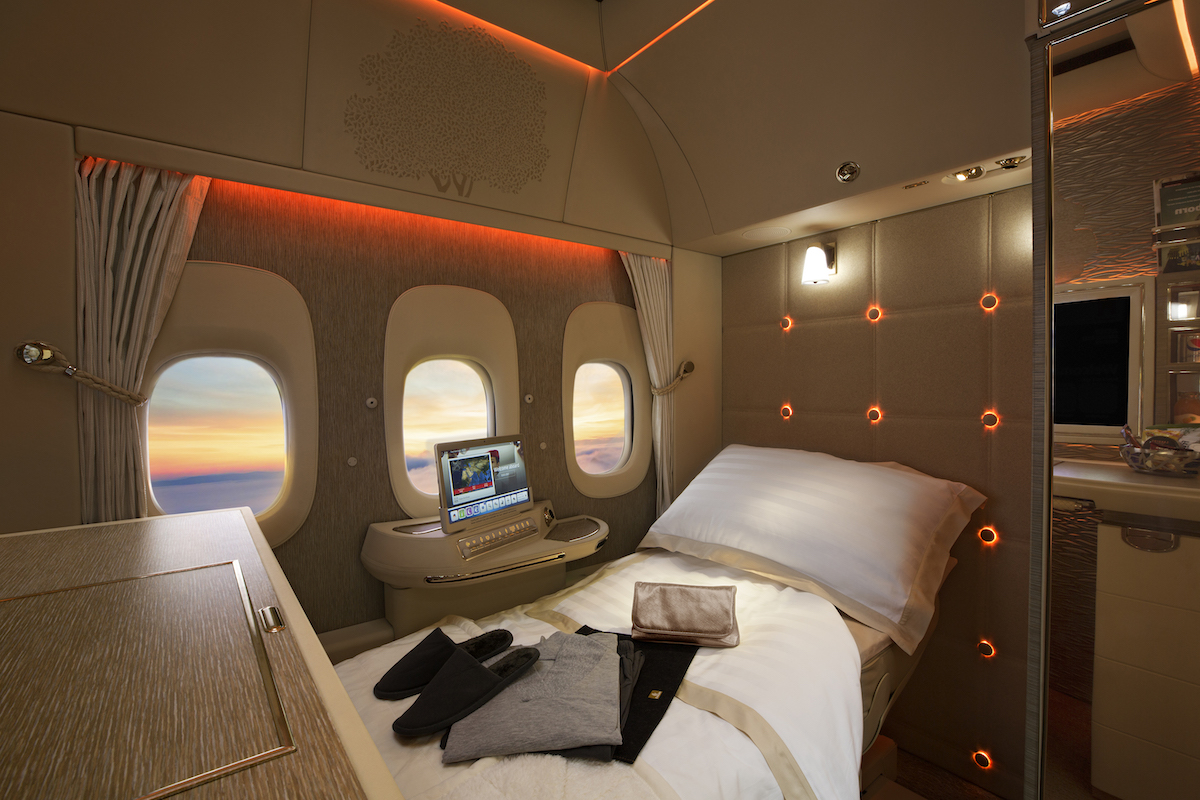 What are your thoughts on Emirates' New First Class Suite?
Recommended Posts
Review: Emirates First Class Lounge Dubai DXB
Review: Emirates First Class A380 New York to Dubai
Emirates A380 First Class: 6 Things I Love and 3 I Don't
TSA PreCheck: Emirates, Virgin Atlantic and Avianca Join
Review: Emirates Lounge, JFK Airport, NYC
Need Award Booking Help? Our fee is as low as $75 per ticket if you book your hotel or cruise with us.
If you enjoyed this, join 200,000+ readers: please follow TravelSort on Twitter or like us on Facebook to be alerted to new posts. Get travel inspiration from TravelSort on Instagram or Subscribe to TravelSort on YouTube
Become a TravelSort Client and Book 5-Star Hotels with Virtuoso or Four Seasons Preferred Partner Benefits