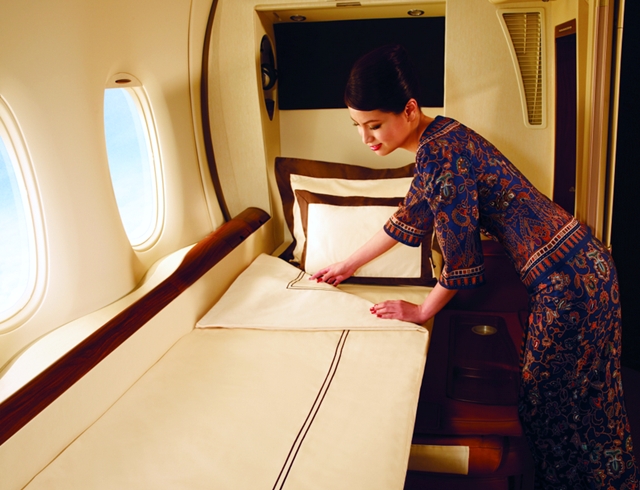 Earn Singapore KrisFlyer miles for JetBlue flights
Update: JetBlue has updated its dropdown so that it's now possible to enter your KrisFlyer number when booking: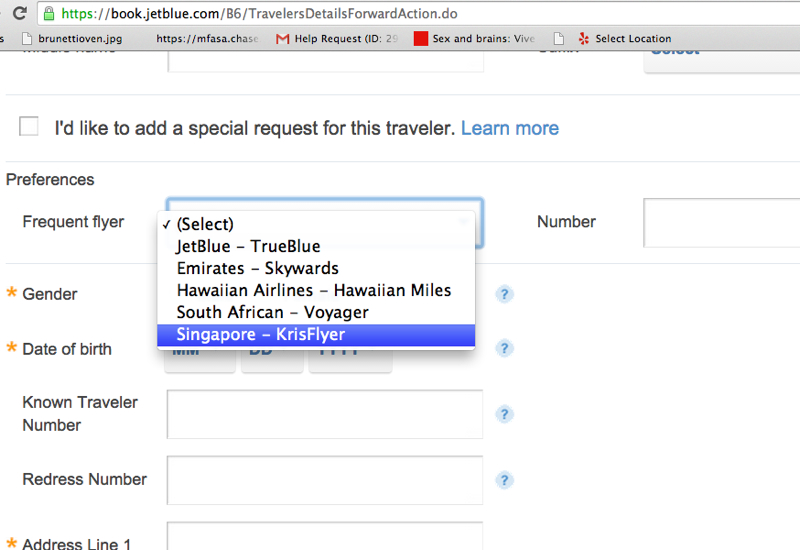 This is great news for anyone frustrated with JetBlue's True Blue program, which is revenue based, meaning that your points are never worth more than 1.3-1.4 cents. In contrast, Singapore Airlines' KrisFlyer program is one of my favorite programs for these reasons:
The only way to redeem frequent flyer miles for Singapore Suites and Singapore First Class, which are both great products
Reasonable redemption rates, especially for Saver level awards
15% off discount when redeeming online for Singapore award flights
Inexpensive change and cancellation/redeposit fees
125% of miles flown for JetBlue MINT Business Class: Fare Codes J, C, D, I
100% of miles flown for fare codes Y, E, K, H, Q, B, L, V, R, W, M
50% of miles flown for fare codes Z, O, U, S, P
In contrast, if you book your JetBlue flight directly with JetBlue and are a regular TrueBlue member you earn 6 points per dollar of base fare (does not include government fees/taxes).
KrisFlyer vs. TrueBlue Earning Example
Let's take as an example an upcoming
JetBlue Mint
business class flight from SFO to New York JFK that my husband will be taking. Since it was booked awhile ago it's currently credited to our
JetBlue Family Pooling
account.
The flight cost $598 and the distance in miles is 2586 miles so we'd earn:
JetBlue TrueBlue: ~3500 TrueBlue points
Singapore KrisFlyer: ~3200 KrisFlyer miles
At first glance you might say TrueBlue is better, given the higher number of points, but remember that it's revenue based, so your maximum redemption value is 1.3-1.4 cents per point, which would be only $45-$49.
I personally value my KrisFlyer miles at over 2 cents per mile, and even at 2 cents per mile, 3200 KrisFlyer miles would be worth $64, so we'll come out ahead by crediting to KrisFlyer.
Why I Value KrisFlyer Miles Over 2 Cents per Mile
Valuation is very subjective and is something you need to do for yourself, given what you would otherwise pay for tickets, the current miles and points you have, etc., but here's a quick illustration of why I value our KrisFlyer miles so highly.
We do a fair amount of long haul international travel, which for me is work-driven and I would otherwise pay for if it wasn't possible to redeem miles. For Singapore Suites or First Class, the nominal value of a KrisFlyer award is 10-14 cents per mile, and in most cases I would be willing to pay a third of that, so about 4 cents per mile. That's 3X the value I'd get compared to TrueBlue.
FAQ
Where Do I Find the JetBlue Fare Code?
While you're supposed to be able to see your fare code by pulling up your reservation on jetblue.com, clicking on the "Fare restrictions" link and scrolling down to the fare basis section, I haven't been able to get this to work, and just see the error message "The application has encountered an exception…" If I had been able to pull it up, it should have been the first letter of the fare basis.
If you encounter a similar message, I'd recommend calling JetBlue at 800-538-2583 for existing reservations. Or if you haven't booked the flight yet, you can look at the fare basis on ITA matrix (though you can't book flights there).
Any Downsides to Singapore KrisFlyer Miles?
KrisFlyer miles do expire 36 months after earning them, though it shouldn't be an issue to use them. Even if you're not flying to Singapore or even Asia, keep in mind Singapore's fifth freedom flights from NYC JFK to Frankfurt FRA and from Houston IAH to Moscow DME, which are great ways to get to Europe.
Plus, you can use KrisFlyer miles to redeem for United Business Class on U.S. domestic flights than using United miles: 20K KrisFlyer miles each way, vs. 25K MileagePlus miles.
Help! Where Do I Enter My Singapore KrisFlyer Number?
Update: It's now possible to enter your KrisFlyer number, see the first part of this post.
Because this partnership is so new, unfortunately JetBlue is lacking in the quality control department and hasn't actually updated their frequent flyer drop down yet as of this writing. In fact, I called TrueBlue just now and our KrisFlyer numbers weren't able to be added to our existing reservations yet–the supervisor said to "call back in about 3 days"–so expect there to be some kinks until this gets updated. Note to JetBlue: may want to update systems BEFORE announcing reciprocal mileage earning agreeements next time.
What Are the Best Ways to Earn Additional Singapore KrisFlyer Miles?
My favorite way of earning KrisFlyer miles is with Ultimate Rewards cards, especially the
Ink Plus
. That's because using gift cards bought at Staples, you can earn 5X on all Amazon spend and 5X on all Whole Foods spend, which is a great return on each dollar spent.
You can also transfer lucrative AMEX Membership Rewards signup bonuses if you were lucky enough to be targeted for the 150K AMEX Business Platinum.
Citi ThankYou points from the
Citi Prestige
, which earns 3X for air travel and hotels and
Citi ThankYou Premier
also transfer to Singapore KrisFlyer. And if you happend to have more SPG Starpoints than you know what to do with, 20K Starpoints transfer to 25K KrisFlyer miles, but personally I'd save Starpoints for other frequent flyer programs such as Lufthansa Miles & More or JAL which are harder miles for most people to earn.
Do you plan to credit future JetBlue flights to Singapore KrisFlyer instead of TrueBlue?
Related Posts