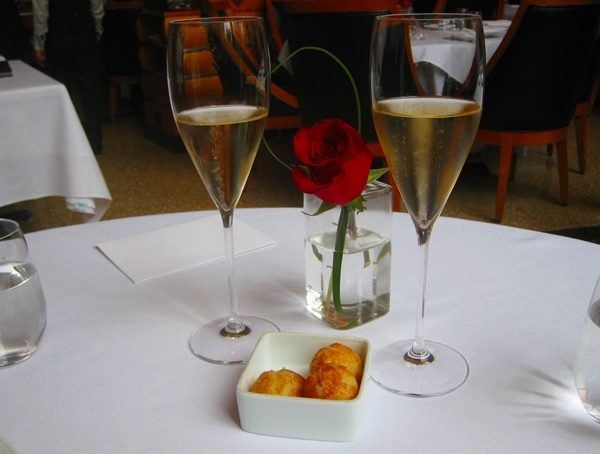 TravelSort reader Lisa asks: "What are the best ways to earn miles and points for dining? I enjoy dining out, especially when traveling, and am something of a foodie."
Getting extra miles and points for dining and restaurant spend is a great way to build up your mileage accounts, since so many of us eat out, and it really does add up. Let's say that your partner and you both work and typically spend a total of $10 each for lunch and coffee each workday, and on average a total of $100 per week on other dining spend–for example, a date night dinner one week, perhaps a take out meal and a weekend brunch the next week, etc. Even without taking into account vacation dining spend, you're at over $10,000 spend per year. If you just got 1 mile or point per dollar that would be only 10,000 miles or points, but if all that spend were at 5X, that would be 50,000 points, enough for a one-way business class award to Europe using United miles.
Many frequent flyers might immediately suggest mileage dining programs, which we covered in
Frequent Flyer Miles and Points Dining Programs
, but these wouldn't be my first suggestion for anyone that enjoys good food, much less a foodie. Now, it could be that only NYC has such abysmal restaurant choices in these dining programs, but I somehow doubt it. Think about it: if a restaurant is good enough to be full most nights or even turning people away, what's the incentive to participate in these programs? None. Conversely, what kind of restaurant needs these kind of marketing offers? Ones that aren't doing so well and need to offer additional incentives to get people in the door. With that in mind, these are my top suggestions for earning miles and points for your dining, at restaurants you actually want to eat at:
1. 5X Points per Dollar Using Chase Freedom
For Q3 2012, through September 30, the
Chase Freedom
is hands down my favorite credit card for earning points for dining, since it earns a 5X bonus (up to a total of $1500 in spend, 7500 in points for the quarter) for all dining and gas spend. Since you'd be mad to have a car in Manhattan, for us, it's all dining spend.
And while currently only I have the Freedom, my husband may sign up as well so we can load up on gift certificates to our favorite restaurants. That way, similar to getting
5X points on all Amazon spend
, we can
get 5X points on all (or most) of our dining spend
, throughout the year. For example, the tasting lunch at Bouley is on my wish list, but since I don't know when we'll get there, I'll buy a gift certificate with the Freedom before the end of September so we can get 5X points on it, no matter when we end up dining there. Plus, it's tempting to get a certificate to our perennial favorite,
Eleven Madison Park
, as well as
Riverpark
, ABC Kitchen,
Zoe
, and others.
Caveats: Must activate each quarterly bonus. Don't take the Freedom abroad, as it DOES incur foreign transaction fees
2. ~4.5X Points per Dollar Using AMEX Prepaid Refills or Gift Cards Bought with Ink Bold or Ink Plus
If you don't have the Freedom but do have an AMEX Prepaid card and an Office Depot that you can buy reloads at using your
Ink Bold
,
Ink Plus
or even Ink Classic card, this is a good way to get almost 5X points per dollar on dining. Or, if your Office Depot stocks Visa Vanilla gift cards, you could simply buy gift cards in $500 denominations. You should take into account the cost of buying the AMEX Prepaid Card refills or Visa Vanilla gift cards, so it will work out to ~4.5 points per dollar, depending on how you value your Ultimate Rewards points.
Since NYC Office Depots have stopped selling Visa Vanilla gift cards, I'll have to seek out Office Depots that do still sell them when I travel domestically, which isn't often. Hence, I'm glad for the Freedom deal above, as that gives me a straight 5X.
Caveat: Not all Office Depots stock AMEX Prepaid card refills and Visa Vanilla gift cards. Call ahead.
3. 3X AA Miles per Dollar Using Citi AAdvantage Card Registered for Targeted Promotion
If you have Citi AAdvantage cards, you may have gotten a targeted offer for one or both of them that you can register for to receive 3X AAdvantage miles on all dining (and also grocery, drugstore and gas spend) through 9/30, up to 2500 AAdvantage miles. I registered and plan to max out this promotion on dining and grocery. If you didn't get this offer but have the Citi AAdvantage Visa and/or AMEX, you might call and ask if you can register for it.
Caveat: You must be targeted for and register for the promotion
4. 2X Points per Dollar Using Sapphire Preferred
The problem with the Freedom is that it does incur foreign transaction fees, so don't try to get 5X on dining at restaurants abroad–not worth incurring the extra fees. Instead, use either your AMEX Prepaid card to get ~4.5X per dollar with no foreign transaction fees, or your
Sapphire Preferred
, to get 2X per dollar, also with no foreign transaction fees. Visa is more widely accepted than AMEX, so you'll want to have the Sapphire Preferred or other Visa card as a backup to your AMEX. And of course smaller places, crepe stands, gelaterias, farmers markets, etc. don't usually take credit cards, so you'll want a
bank checking account that refunds ATM fees worldwide
.
5. Up to 5 Miles per Dollar Using Mileage Dining Programs
Often frequent flyers and the mileage obsessed will aim to find restaurants that participate in both the mileage program and Restaurant.com, so that they can get a Restaurant.com certificate in conjunction with a dine. This is an especially good tactic for completing the first 12 or so dines that are required to become a program "VIP" in order to earn the maximum number of miles per dollar (usually 5). All I can say is–glad it works for you! If I were to draw a Venn diagram of the New York restaurants that participate in both AND that I want to eat at, it would be empty. But perhaps you'll have more luck, depending on where you live and what you like to eat.