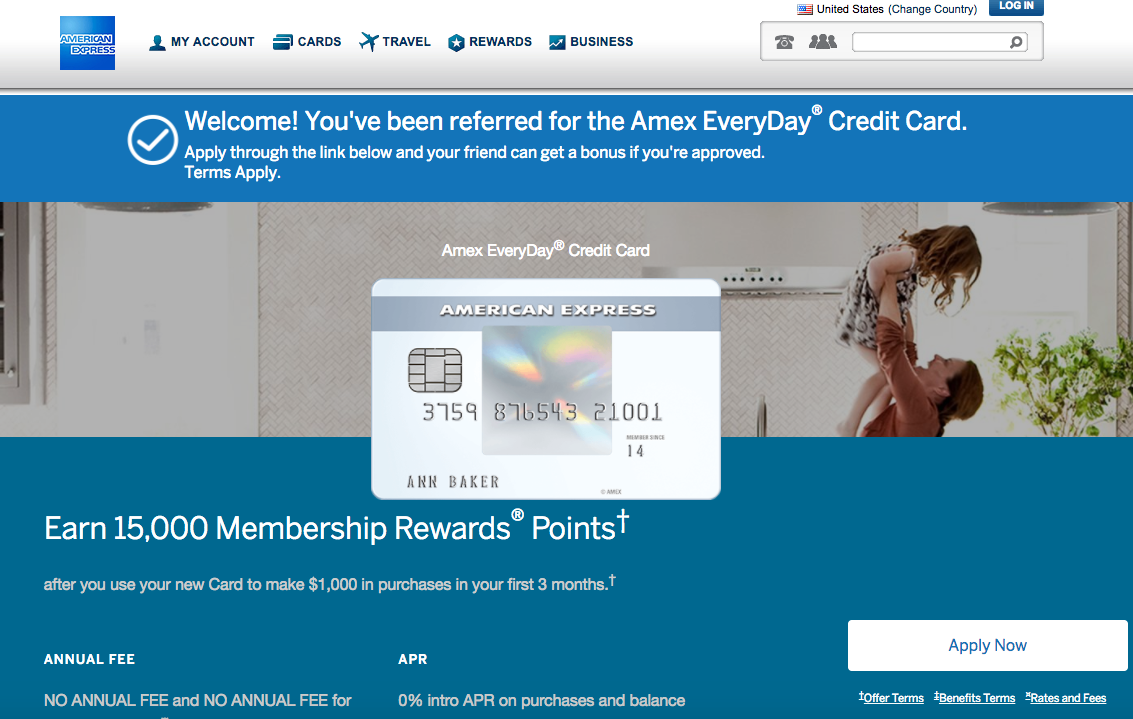 Earn 55,000 AMEX Membership Rewards Points if you refer 6 friends to the AMEX EveryDay no annual fee card. You can now earn 10,000 Membership Rewards points per successful referral for the 15K AMEX EveryDay card, up from 5000 points per referral previously. That's an excellent deal, given that the AMEX EveryDay card is a no annual fee card, and referrals to the far pricier AMEX Business Platinum are just 5000 points more, 15,000 points per successful referral.
FAQ
How Do I Refer Friends to the AMEX EveryDay and Other AMEX Cards?
Go to the AMEX Refer a Friend site. I recommend NOT logging in and instead entering your card information. Note that the CID refers to the 4 digits on the front of your AMEX card. This way, you'll be able to see the referral bonus details for each individual AMEX card. When I logged in, I was only able to see the AMEX login details for my AMEX Business Platinum.
Do I Need to Send Referral Emails via AMEX?
No; I recommend instead using the referral link provided for social media use, and using that, either via social media or your own email to your friend. Note that you'll only earn a referral bonus if your friend applies through your link and is approved for the card.
Can I Refer a Friend to the Higher 25K Incognito Offer?
Unfortunately not; 15K is still better than the prior public offer of 10K bonus points. But for friends who are maximizers, you should mention that it's possible they could get a 25K offer via Incognito browsing, even though in my case it took a few months to be able to see it.
What's the Deadline for This Offer?
You must submit referrals by 1.24.18, and the applicant must apply via your personalized link by 1.24.18.
How Soon Do Referral Bonus Points Post?
Per AMEX terms, allow 8-12 weeks for the referral bonus to point to your Membership Rewards account after a referred individual is approved for the card.
If I've Already Earned 55K Points for Referring An AMEX Biz Card, Can I Earn another 55K Points for the AMEX EveryDay?
Unfortunately, at least according to the AMEX Supervisor I spoke with, the 55,000 Membership Rewards points are per account per calendar year. Chase enables you to earn points for both business and personal referrals, up to 50K points for each (see Up to 100K Bonus Points for Chase Refer a Friend). If you've nevertheless earned over 55,000 Membership Rewards points in a calendar year for two different AMEX cards, please comment below.
HT: OMAAT
Recommended Posts
25K AMEX EveryDay Bonus Offer: How I Got It
150K AMEX Business Platinum by Calling In (Targeted)
Disappointing: No More Day Beds at AMEX Centurion Lounge SFO
AMEX Points Now Transfer 1:1 to British Airways Avios
Need Award Booking Help? Our fee is as low as $75 per ticket if you book your hotel or cruise through us.
If you enjoyed this, join 200,000+ readers: please follow TravelSort on Twitter or like us on Facebook to be alerted to new posts.
Become a TravelSort Client and Book 5-Star Hotels with Virtuoso or Four Seasons Preferred Partner Benefits!