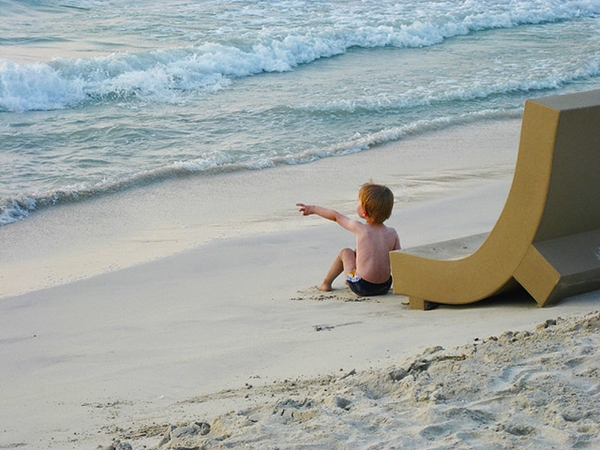 Why go to Dubai with Kids?
How would you like to experience family travel in Dubai, a place where the sun is always shining, the beaches beckon with their soft white sands, and the sky is as blue as the waters of the majestic oceans around it? It's possible that you may not think Dubai is a good place for a family-friendly vacation due to its location in the Middle East or because of the elite personality of some of the visitors–Dubai is sometimes just a stopover for those flying Emirates First Class on the A380. However, Dubai can be an exciting and fun change of pace to a domestic vacation.
Visitors to Dubai can expect amazement at what this unique and wonderful oasis tucked away in the desert will offer you and your family. From spectacular water parks and even indoor skiing to camel trekking and exploring the old town, Dubai has plenty to entertain and fascinate kids and parents alike.
When it comes to variety of food, Dubai offers local ethnic cuisine and restaurants that offer foods from Iran, Lebanon, Morocco, India and Egypt. Dubai is the second largest city in the United Arab Emirates. With the abundance of tourists, there are also places that offer choices for European and American tastes.
Dubai Insider Tips
Females can wear swimwear if you are at the beach or at the hotel pool, but if you go to a public location, you must dress conservatively. Skirts should go to the knees, don't wear tops that reveal cleavage, wear sleeves to your elbows, and wear a head scarf. You may see people that don't do this, but that is being insensitive to local customs and rules. And never kiss in public, it's not allowed.
In Dubai, the residential electricity is 220 V AC, 50 Hz, so you will have to either get a voltage converter or use appliances that are the correct voltage for the area.
When it comes to tipping, people such as bellhops in hotels expect to be tipped generously. In restaurants, a service charge is added to your bill, so you don't need to tip separately. As for taxis, you can round up to the nearest full bill.
If you plan to drive a rental car while you are on family travel in Dubai, then you must get an international driver's license. You will also need your passport and two other forms of photo ID to rent a car.
Bring appropriate clothes for the region. It's common for temperatures to reach 122 degrees F and have up to 90 percent humidity. Plus, January and February are the months it usually rains the most. You should pack lightweight and loose fitting clothes.
The weekend in Dubai is Friday and Saturday, and doesn't include Sunday. Plus, the businesses are usually only open half a day on Thursdays, but shopping malls may be open seven days a week until 11 p.m.
If you have a problem, instead of 911 as you would call in the U.S., you must dial 999.
What to See and Do in Dubai with Kids
Children's City is located at the Dubai Creek Park at Bur Dubai. It consists of over 80,000 square feet of educational area with attractions for kids, ages from 2 to 15 years old. It blends activities on nature, space, science, culture and the human body and kids will love the flight simulator and the other interactive exhibits.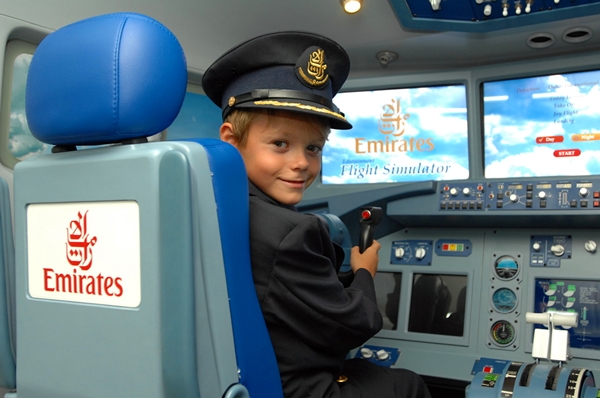 2. Ski Dubai at Mall of the Emirates
The Mall of Emirates is like most any you'll find at home, with food courts, major department stores and shops of all sorts. An especially unique feature however, is the indoor ski slope where for a reasonable fee you can so skiing and snowboarding, or just throw snowballs. You can even sign your child up for ski or snowboard lessons! Do book in advance for lessons, to be assured of a spot.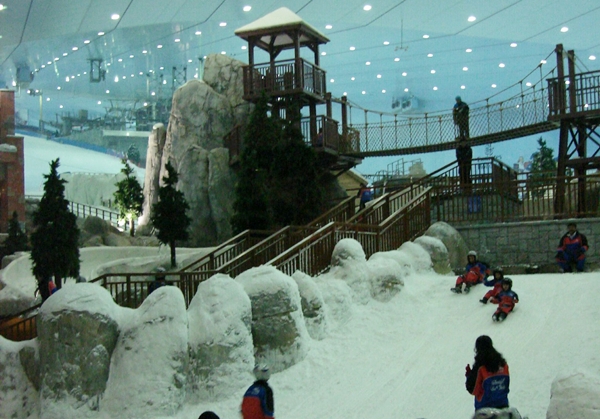 3. Wild Wadi
Wild Wadi is a large water park located at the Jumeirah Beach Hotel and features a variety of water slides, rides and surfing opportunities. Take your own swim suit as well, it's fun for the entire family!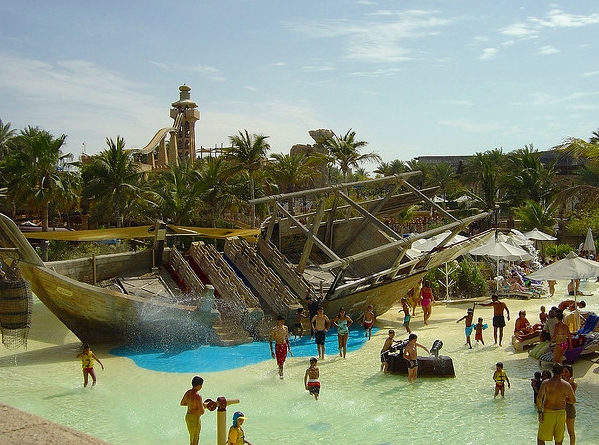 4. Wonderland and Splashland
If Wild Wadi wasn't enough to sate your kids' love of water, another theme park to take the kids is Wonderland, which can be found at the Al Gharhoud on Bur Dubai. This is a combination of an amusement park (Wonderland) with water slides and rides of all kinds (Splashland). It also has fast food restaurants where you can try many varieties of foods.
5. Dune Bashing
This is more of a local term for just going out on the dunes and having a great time. Many arrange for a "desert safari" that includes a guided ride over the dunes in an SUV. Also available is sand boarding on sand, 4×4 driving and quad bikes. Most tours include sand boarding and a visit to a camel farm. Tour operators include Sun City Dubai Tours and Desert Safari Dubai.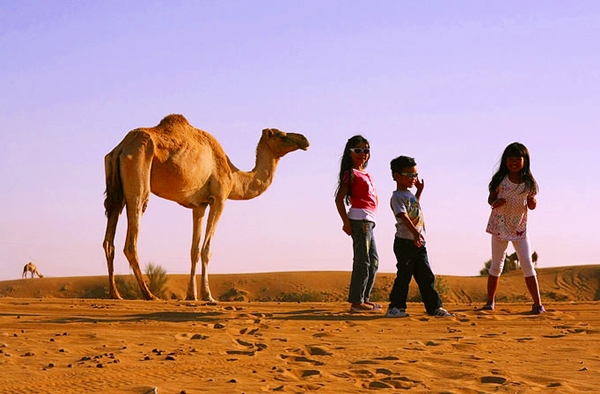 6. Hot Air Balloon Ride
Be sure to try out the balloon rides so you can see Dubai from hundreds of feet in the air. Dubai has some of the most unique architecture in the world with the Palm Islands communities built on reclaimed earth from other excavations. There are several places that offer this thrilling trip. Check out some of the providers at Amigos Balloons, Dream Days and Viator Tours. They can provide you with guidelines and requirements.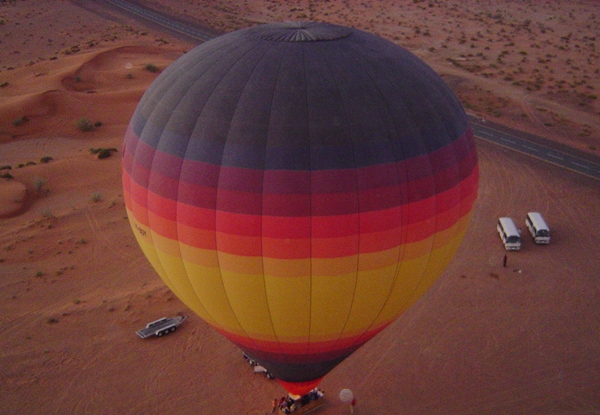 7. Visit a souk
one shopping trip not to miss is an outing to a souk. It will provide the whole family with something they've never experienced. A souk is often an open market. There are many traditional ones where you can bargain with the owners and find many exciting products. A famous one is the Gold Souk. This marketplace has gold of all types and prices. The gold is sold by weight instead of its design. It is interesting visit just to watch how this is done.
Then, there is the spice souk where you can get a variety of exotic and traditional spices, dried fruits, nuts, and other products. Strolling through this sensory delight will be a new experience for everyone. Once again, you get the fun of bargaining.
Beaches
Naturally, beaches come to mind as one of the top attractions. Even if your kid doesn't want to swim, he'll probably have fun burying himself (or a sibling or you!) in the sand, or building a sand castle.
Al Mamzar Beach
The sea here is crystal clear, and there are fish close to shore and it is great for snorkeling. There are five beaches in the park, but beach Four has changing/toilet facilities and volley ball nets. The sea here is sheltered, and fairly safe from currents.
Jumeirah Beach
Jumeirah Beach is very well known and has a very long length of beach with many hotels and private clubs along with public access areas.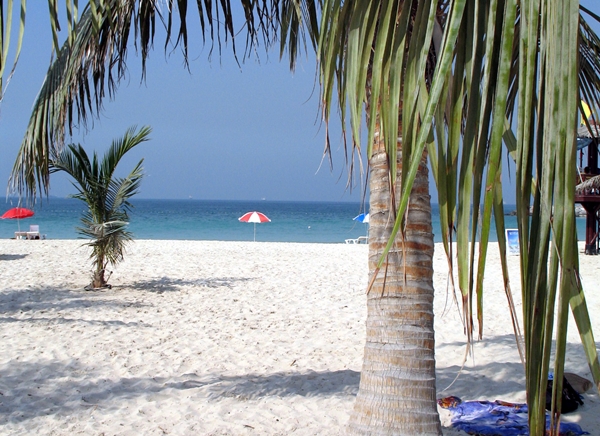 Where to Stay
The 5-Star Jumeirah Beach Hotel is a top-of-the-line luxury hotel and is one of the architectural marvels that Dubai can brag about. It has 618 rooms and rates start at a more reasonable $550 a night. The hotel rooms offer you Gulf ocean views. Additionally, the hotel package includes an unlimited access to Wild Wadi water park and Sinbad's Kids Club for kids below the age of 12 years.
The Park Hyatt Dubai is conveniently just 10 minutes from Dubai Airport, has an outdoor pool kids will enjoy, and even standard rooms are spacious, at 560 square feet.
Le Royal Meridien Beach Resort & Spa is likewise a top-rated 5-star hotel set right near a beautiful stretch of beach. There's plenty of pampering for parents in the luxurious Club Rooms and at the spa, which features five Hammam pools, saunas, Jacuzzis, and gym. For kids age 4-12, there's a complimentary Penguin Club from 9am-1pm and from 2-6pm. Kids will have fun shell painting, riding in banana boats, playing badminton and building sand castles at the beach.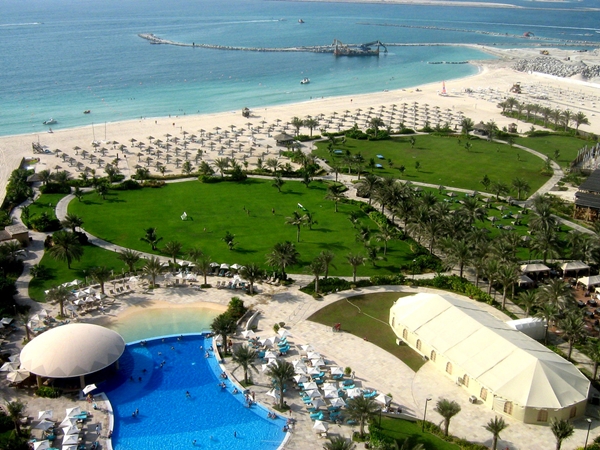 The Grand Hyatt Dubai is another good choice, whether visiting Dubai as a couple or with kids. It's about 10 minutes from the airport, near the Dubai Museum, the old Bastakiya district, a huge cineplex and several malls, and set on 37 acres of beautiful lush gardens. Parents and kids alike will enjoy the indoor and outdoor pools (including a kids pool), huge variety of dining options from local favorites to Italian, Indian, sushi and more and excellent service. For an additional splurge, stay on the Club level, which comes with complimentary airport transfers and access to the private Club lounge with complimentary Continental breakfast and evening cocktails and hors d'oeuvres. There's also a dedicated Kids Club for kids 1-12 from 9am to 10pm with supervised indoor and outdoor activities.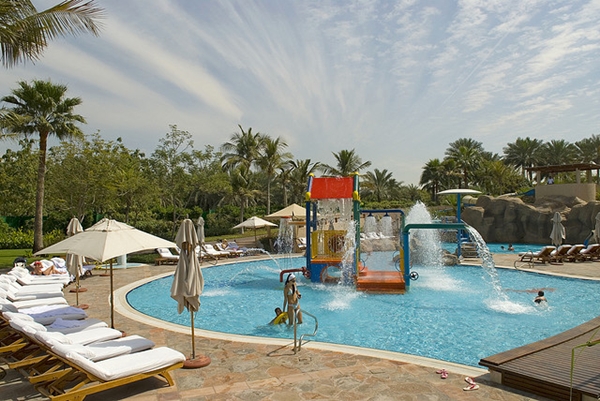 What to Eat
From the inexpensive local delicacy, Shwarma, to high-end and fine dining experiences at places like Legends Steakhouse or Khazana, you will be sure to love the great food choices and dishes to choose from. There's everything from a McDonalds for that picky teen to some fancy dining for you and your spouse.
Shwarma is something like a taco and a lot like a gyro, but also very different. It is made with thinly sliced, seasoned meat such as chicken, beef, goat or lamb which is rolled in a pita or Arabic roti. Other ingredients like hummus, pickles, tomatoes, garlic and sometimes even French fries. There is varying opinions on which restaurants have the best. Shawarma tastes different depending on the restaurant and local tastes. It's one of the most popular foods in the area. A couple places to try are the Al Mallah, located at the Al Diyafah Street, 971 4 398 4723, and Automatic Restaurant at Al Rigga Street, 971 4 359 4300. You can also find street vendors all over town.
Falafel is the Arabic equivalent of a French fry. It is a patty or ball made from ground chickpeas or fava beans plus different spices and deep-fried and served up as a side dish. Try some at a restaurant that specializes in it, the Sultan Dubai Fakafel restaurant on Murraqabat Street, phone: 04 227 5559
Arabic bread is what is called roti. It's freshly made in a clay oven and served with a variety of meals. It's very good served with Indian curries, for example. It can be found in nearly all Dubai traditional restaurants.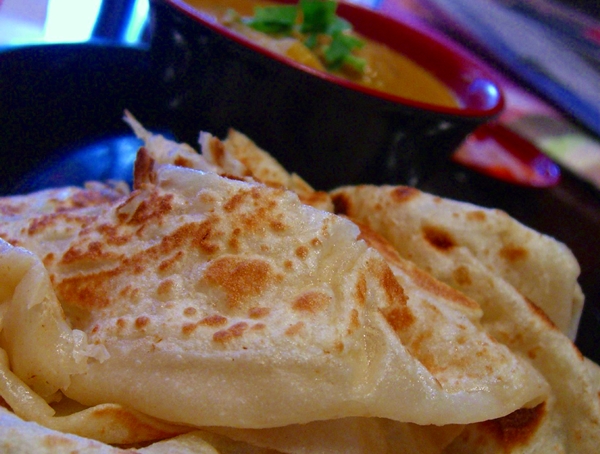 There are hundreds of great restaurant in Dubai. No matter what you have a craving for, or if you're feeling adventurous, there are plenty of places to eat. Some of the more kid friendly include:
Waves is located in Le Meridien Mina Sahahi Beach Resort and Marina on Al Sufouh Road in Jumeirah Beach, +971 4 399 3333. It sports a casual atmosphere with Continental cuisine served buffet style so everyone can see and choose what they want. They also have an outdoor barbeque where you can make a selection to have cooked while you watch. Prices are reasonable.
Located on Al Diyafah Street, at the top of Rydges Plaza, the Cactus Cantina, Dubai, offers Tex-Mex cuisine. With a relaxed atmosphere, attentive staff, generous portions and reasonable prices, your gang is bound to find something familiar that tastes like home, 04 398 2274.
For family brunch on Saturday try Mazina at the Dubai Marina, Mazina at The Address, Dubai Marina, 04 436 7777. They have kid and adult friendly food, such as hot dogs, chicken nuggets and burgers for the kids and a variety of European, Asian, and Arabic fare for the adults served buffet style. There is a designated play area for the kids with face painting and bounce castle. Each child gets a nametag upon entering the restaurant, too.
For family friendly Italian fare, go to Cucina located at the JW Marriott Dubai in Deira. They offer pizza and pasta sure to please everyone and leave you with full bellies and a good time. The restaurant offers a rustic, relaxed, homey atmosphere. They serve up a delectable assortment of traditional Italian anti-pastas and salads, homemade pastas, pizzas and risottos. Cucina, +971 4 6077977
If you have fussy eaters who prefer American style eateries, you can take them to Johnny Rockets, 00 971 4 341 2380; Johnny Rockets and Planet Hollywood, Dubai 00 971 4 324 4777, for familiar eateries. You can also find TGI Fridays and Applebees.
If you have older kids who are well behaved and are fascinated by the tallest building in the world, the Burj Khalifa, consider splurging and taking them to a fancy afternoon tea at Atmosphere Lounge in the Burj Khalifa.
One of the best ways to find gems to eat at is to ask your hotel staff. They are sure to have some favorites and you'll get some first-hand reviews.
Article By: Aunindita Bhatia
Related Posts
Emirates A380 First Class Suite Review
Best Airlines for Kids and Families
British Airways Galleries Airport Lounge, Dubai
Qantas First Class A380 Review London to Dubai
Need Award Booking Help? Our fee is as low as $75 per ticket if you book your hotel through us.
If you enjoyed this, join 200,000+ readers: please follow TravelSort on Twitter or like us on Facebook to be alerted to new posts.
Become a TravelSort Client and Book Your Hotel with Virtuoso or Four Seasons Preferred VIP Amenities!