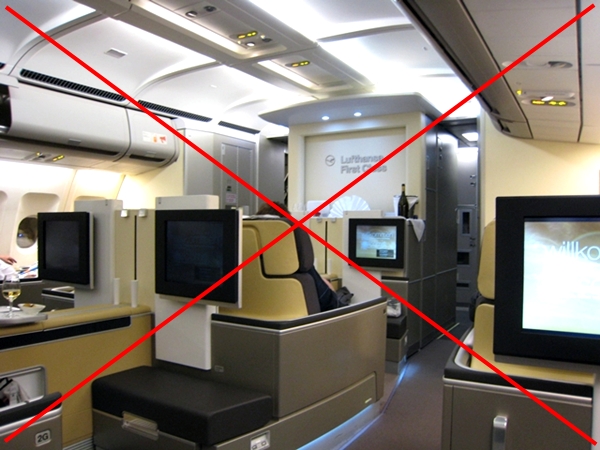 Is Compensation Due You for a Downgraded Flight Due to an Aircraft Change? For example, if you were booked on Singapore Suites on the A380 and there's an aircraft swap to a 777 with only Business Class seats, what are your options? Or what about in the recent scenario of Singapore changing its Los Angeles to Tokyo to Singapore flights from an A380 to 777-300ER, effective October 23,2016–is there any compensation for passengers booked in Singapore Suites, who will now be in Singapore First Class on the 777-300ER?
Here are a few things to keep in mind with downgraded cabins and seats, followed by some examples for different airlines.
Is the Downgrade an Actual Class of Service Downgrade or the Same Class of Service But Different Plane?
These are two different things, so it's important to be clear about what type of downgrade you're experiencing. If you are involuntarily downgraded from first class to business class or from business class to economy class on a given airline, that will often get you compensation of some kind. On the other hand, if you hold a Business Class ticket but experience an equipment swap that means you're still in Business Class, but now have an angled flat seat instead of a flat bed seat due a different aircraft operating the flight, most airlines will either give you nothing or provide a token gesture of goodwill. No airline that I'm aware of has a contract of carriage that assumes any liability or offers any refund in the event of an equipment change, so a goodwill gesture is at the sole discretion of the airline.
Does Your Flight Qualify for EU Compensation?
If you're on an EU airline on a flight to or from an EU member state, or on any airline on a departure from an EU member state, your flight is covered by EC 261/2004. This is important, because it supersedes your airline's contract of carriage (although getting your airline to pay up can be another matter entirely). Specifically, the law provides in Article 10, Upgrading and Downgrading:
"If an operating air carrier places a passenger in a class lower than that for which the ticket was purchased, it shall within seven days, by the means provided for in Article 7(3), reimburse
(a) 30% of the price of the ticket for all flights of 1500 km or less
(b) 50% of the price of the ticket for all intra-Community flights of more than 1500 km, except flights between the European territory of the Member States and the French overseas departments, and for all other flights between 1500 and 3500 km, or
(c) 75% of the price of the ticket for all flights not falling under (a) or (b), including flights between the European territory of the Member States and the French overseas departments."
So for, example, if you paid for a Frankfurt to Singapore flight in Singapore Suites, or a Frankfurt to New York JFK in Singapore Suites and were involuntarily downgraded to Business Class, you'd be entitled to 75% of the price of the ticket as a refund.
On award tickets, unfortunately, 75% of the segment for which you were downgraded may not amount to much in terms of miles and taxes, and you may want to press for the airline to reaccommodate you on a flight the next day, if they are still selling space in your original cabin of service.
Because of this and because of the enormous difficulties getting most airlines to pay EC 261/2004 compensation, no matter how clear cut the case, I recommend trying to get on a different flight in your original class of service, rather than pressing for compensation.
Want to Fly in the Same Class of Service? Be Flexible with Dates
If the reason you were downgraded was a temporary equipment swap, for example due to a mechanical problem, and not a permanent change in the aircraft that will be deployed on the route going forward, then you may be able to switch to a flight the next day or the day after in order to keep your same class of service. Obviously this will be subject to availability and may not work in peak seasons, when the first class and/or business class cabin may be sold out for a week or more. And if you opt for this, you will also generally need to cover your own lodging costs for the extra nights.
Examples of Downgrade Situations and Compensation or Resolution, If Any
American Airlines AAdvantage
AAdvantage can be quite frustrating to deal with in the context of partner award tickets, when there's been a downgrade and you're trying to get the operating carrier to open up award space. Flyertalker blitzen booked a British Airways First Class ticket with AAdvantage miles, but later was downgraded to British Airways Club World Business Class due to an aircraft change on his flight. Meanwhile, the earlier flight that day did have British Airways First Class but had no award space.
Unsurprisingly, AAdvantage front line agents were of no use, but once blitzen played HUCA a few times, got through to a more helpful supervisor, and firmly pressed to ask the British Airways liaison to open up first class award space on the earlier flight, due to the involuntary downgrade, blitzen was able to get reticketed in British Airways First Class on the earlier flight.
Another Flyertalker, Exec_Plat, reinforces the need to insist that AAdvantage ask the operating carrier's liaison to open up space: "I had to tell them "I want you to formally ask Qantas to open an award seat to accommodate me due to their schedule change"…the agent typed out my request; expressed skepticism….but 24hrs later it was granted and ticketed."
I rarely book clients on American Airlines since most prefer to fly Cathay Pacific First Class, JAL First Class, JAL Business Class, Etihad First Apartment or Etihad Business Studio, Qantas First Class and the like, but if you are booked on American Airlines metal fortunately you can get a free cancellation (or reroute, subject to any fare difference) in the event there's a change of aircraft and you don't wish to fly it. American Airline's Contract of Carriage (again, this only provides to AA's own flights) provides that changes to aircraft are treated similarly to changes in schedule that affect a passenger's departure or arrival by 2 or more hours:
"Schedule change in the event, after ticket issuance, schedule changes are made by AA that…(iii) result in a substitution of equipment not acceptable to the passenger…the passenger will have the option of cancelling without penalty, or rerouting on different flights to/from the same or different destination. However, the passenger must pay any additional amounts resulting from the rerouting."
Lufthansa Airlines
Lufthansa is subject to EC 261/2004 for downgrade compensation on flights to and from the EU, but passengers originally booked in Lufthansa First Class may prefer to rework flights to be able to still fly First Class, especially if they're routing via Frankfurt to enjoy the Lufthansa First Class Terminal.
Flyertalker CoolTourist bought a paid Lufthansa First Class ticket from PHL via FRA to MAD, only to later find that Lufthansa had changed the aircraft on this route from an A346 to an A343. After some back and forth with Lufthansa's German Call Center (in these situations, don't bother with the U.S. Call Center) the final resolution was a reroute from IAD in first class, with an offer to pay for PHL-IAD.
Emirates Airlines
For Emirates, experiences with getting downgrade compensation are mixed. Flyertalker whimlike reports "I was downgraded from Emirates First Class to Emirates Business Class because they swapped out a 2-class plane from the 3-class plane I was booked on. When I contacted them about compensation for this they told me I was entitled to exactly $0."
On the other hand, flyertalker Trotski reports twice going through Emirates' online refund form to claim compensation for a segment that was downgraded from Emirates First Class to Emirates Business Class: "[I] have got refunded the difference between First Class and Business Class for the downgraded leg. I did it online via the flight cancellation/refund option and requested refund due to downgrade and got compensation both times this happened."
Singapore Airlines
Singapore Airlines tends to provide 5000-10,000 KrisFlyer miles as a goodwill gesture if you have a significant service issue, including an equipment swap, and write a complaint (or "concern" as Singapore Airlines terms it). Here is Singapore Airlines' Feedback Form.
In the case of Singapore Airlines' delayed Premium Economy roll-out, passengers who had confirmd Premium Economy seats but were involuntarily downgraded to Economy due to the delay rolling out Premium Economy were offered in-flight vouchers of SGD 150-250 plus an upgrade voucher to Premium Economy for a future flight. Alternatively, customers could cancel their flight without penalty for a full refund and also receive the Premium Economy upgrade voucher. Flyertalker tolanij said an additional offer was a discounted upgrade to Business Class on the booked flights, $300 per segment.
In the case of those who held Singapore Suites award bookings on the LAX to Tokyo NRT to Singapore or reverse and have been reseated in Singapore First Class on the 777-300ER, there is no refund in KrisFlyer miles since Singapore Suites and Singapore First Class saver awards cost the same number of miles anyway. But what I do recommend is asking Singapore KrisFlyer to place you on the wait list for JFK to Frankfurt to Singapore or the reverse, for your dates. While in my view the wait list it's unlikely to clear, especially for two passengers traveling together if neither is a Singapore KrisFlyer elite, never say never–you at least have some small chance of getting lucky.
If you've been involuntarily downgraded on a flight, what was your experience either getting to fly in your original class of service or receiving compensation or a goodwill gesture?
Related Posts
Is EU Compensation Owed When the US Connecting Flight is Delayed?
Airline Passenger Bill of Rights – What Are Flyers' Rights for Delays, Cancellations and Reroutings?
How to Complain to Airlines and Get Compensated
Top 10 Hotel Downgrade Compensation Tips
Need Award Booking Help? Our fee is as low as $75 per ticket if you book your hotel through us.
If you enjoyed this, join 200,000+ readers: please follow TravelSort on Twitter or like us on Facebook to be alerted to new posts.
Become a TravelSort Client and Book 5-Star Hotels with Virtuoso or Four Seasons Preferred Partner Amenities!