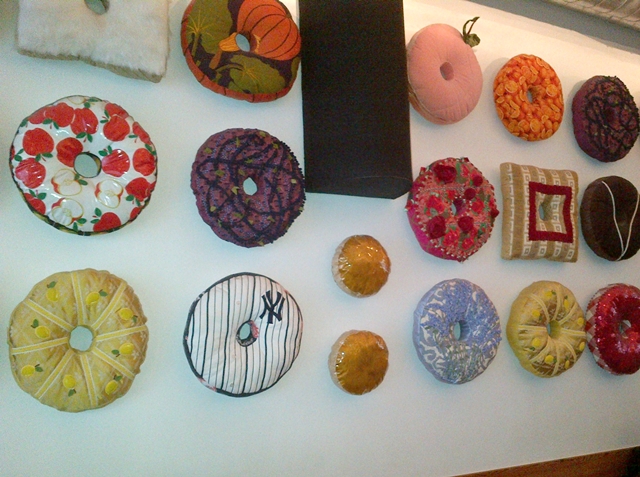 The Doughnut Plant is our go-to place in Manhattan for doughnuts, though we don't get to their original Lower East Side location often. Fortunately, there's a branch in Chelsea, at the old Chelsea Hotel, which is more convenient. It's on 23rd Street between 7th and 8th, so just a 10-15 minute walk if you're in the Union Square area. It's small, as with the LES location, but has some colorful doughnut pillows on the wall that brighten up the place, which is a bit dimly lit.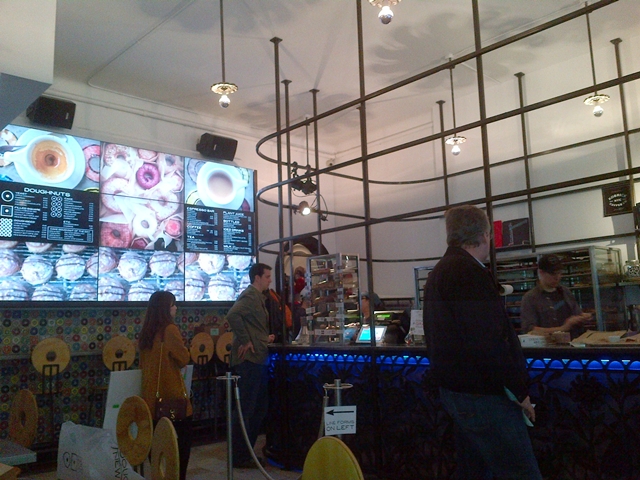 We went around 12:30 pm on a Sunday, and fortunately there was no wait at all. There were also plenty of choices, and it was tough deciding what to get. We prefer cake doughnuts over yeast doughnuts (unless they're freshly made Hawaiian malasadas) and only got cake doughnut varieties with one exception, but if you're a yeast doughnut fan, the full sized doughnuts that that get the best reviews are the Coconut Cream, Vanilla Bean and Blackberry Jam. On the menu there's also coffee, espresso drinks, Mighty Leaf Tea, pressed juices such as orange and carrot, and bottled drinks and water as well. We didn't try any of these, but after we brought the doughnuts home we paired them with coffee (my husband and me) and milk for the munchhkin.
Based on the ones we got today, here's our ranking:
1. Pistachio Cake Doughnut
Pistachio is one of my favorite flavors, when real pistachio is involved (artificial pistachio is awful, on the other hand). I loved the generous use of pistachios inside the doughnut and in the icing, and the fact that it wasn't too sweet. Great on its own, or paired with some European style dark and thick hot chocolate.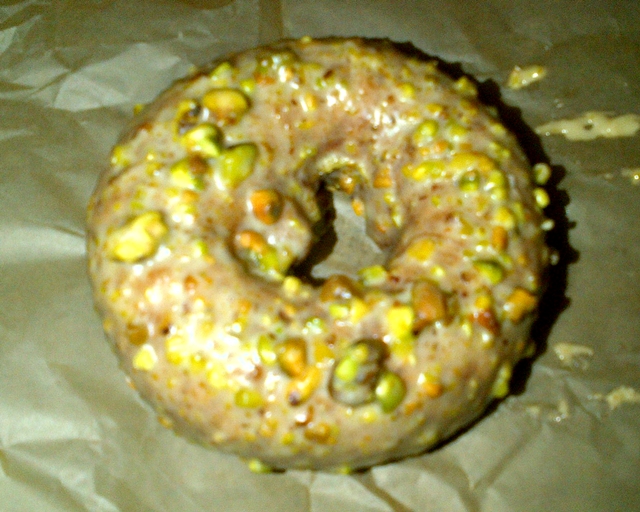 2. Carrot Cake Doughnut
You could legitimately say–why not just eat regular carrot cake? But this carrot cake doughnut with cream cheese filling and icing flecked with walnuts is great if you want to eat your carrot cake on the run. Moist and so delicious.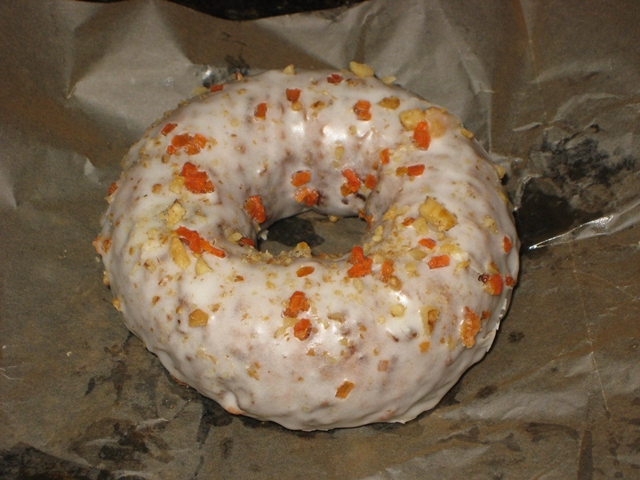 3. Wild Blueberry Cake Doughnut
I know some people aren't fond of fruit flavored doughnuts, but I personally really enjoy the Doughnut Plant's wild blueberry version. The fruit lightens what is a very rich dessert, and is definitely more justifiable for breakfast, than, say, blackout or chocolate doughnuts.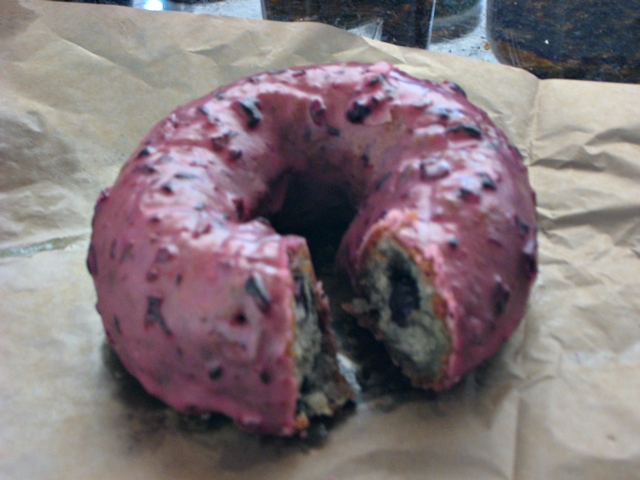 4. Blackout Cake Doughnut
That I put the blackout cake doughnut 4th is not a knock against it per se, but rather reflects how much I like the three doughnuts I put above it. If you're a true chocoholic or need a chocolate fix, the blackout cake doughnut is a much better better choice than the Valrhona chocolate yeast doughnut, which is simply a chocolate glaze over a yeast doughnut. The blackout cake doughnut, on the other hand, is rich chocolate cake with chocolate pudding inside, chocolate glaze, and chocolate cake crumbs sprinkled on top.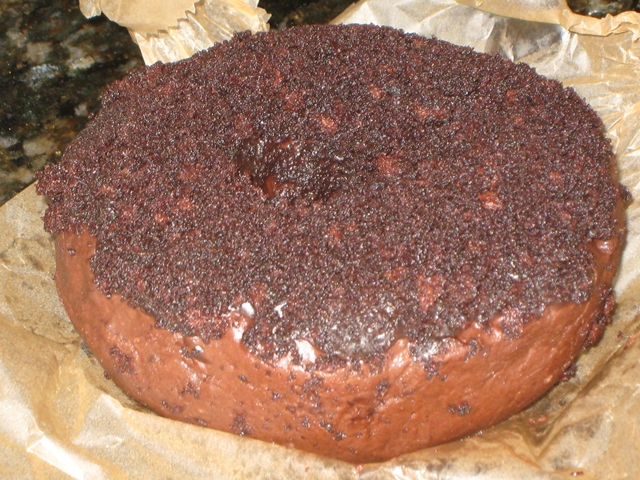 5. Creme Brulee Doughseed
I know many folks swear by the creme brulee doughnut, but my quibble with it is that it's so small, yet still is $3. The yeast part is fine but nothing to write home about, so you're really paying more for the novelty of a creamy filling in a doughnut with a creme brulee style crackly top.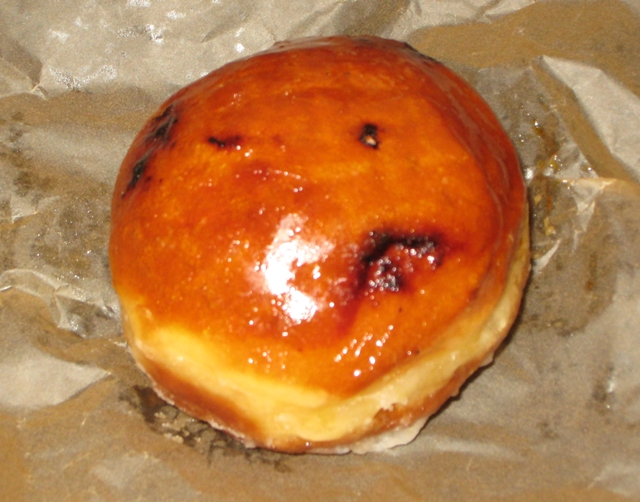 6. Pumpkin Cake Doughnut
I wanted to like this more, given how much I enjoy pumpkin desserts, but the pumpkin flavor wasn't pronounced enough for me. Perhaps more pumpkin would ruin the cakey consistency. I'd also have liked even more of the spiced pumpkin seeds on top, for added contrast.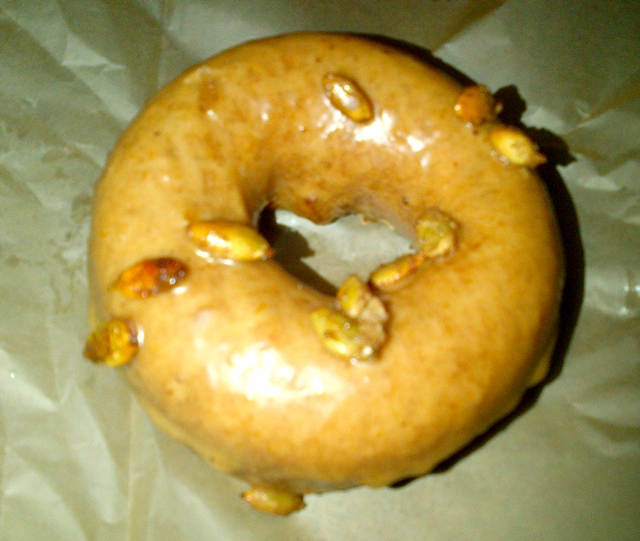 The Verdict: 4/5. These are very high quality doughnuts with fresh, natural and often organic ingredients, so you do pay for that. At just 75 cents to $1 more than many of the pastries at Starbucks, it's worth it for the higher quality if you're in the area. My all-time favorite doughnuts are still probably the freshly made malasadas you get at the Iolani and Punahou carnivals in Hawaii, followed by Champions, the merveilles at Prune, and churros and hot chocolate at Five Points, but if we're talking doughnuts that aren't hot or that are filled, then Doughnut Plant is my favorite in Manhattan so far.
The other nice thing about the Chelsea location is that it takes credit cards, unlike the original LES store which is cash only. So you can use an AMEX Bluebird or AMEX Prepaid card loaded using the Ink Plus or Ink Bold to get 5X points, your Sapphire Preferred to get 2.14X, or Freedom with Chase Exclusives to get an additional 10% + 10 points for the transaction. If you're only getting 1 doughnut, Freedom + Exclusives is your best bet.
Related posts
Where to Go for the Best Brunches in New York
20 Best Cities in the World for Foodies
Check out and apply for the Best Travel Credit Cards.
If you enjoyed this, please follow TravelSort on Twitter or like us on Facebook to be alerted to new posts.
Become a Member to find your perfect luxury or boutique hotel at up to 50% off: TravelSort Hotels