Just back from Paris, and already missing the incredible pastries and desserts. Perhaps it's a good thing I don't live there, as I'd be tempted to indulge in one of these every day. Don't forget that at all of these places except Berthillon, you can use your
Sapphire Preferred
card to pay and get 2X points, with no foreign transaction fees. After all, you can use those points for your next free award ticket to Paris with our 
Tips for Booking Award Flights to Paris
!
Here were my favorites Paris desserts:
1. 2000 Feuille, Pierre Herme
If you've only tried conventional mille feuilles from regular pastry shops, Pierre Herme's version may as well be a completely different dessert. His crisp caramelized pastry layers contrast with rich praline pastry cream, and a chocolate layer. Simply ethereal–and a pity it doesn't travel well at all (from bitter experience).
2. Cassis and Peche de Vigne Sorbets, Berthillon
Unfortunately, Berthillon itself was closed during my visit, but on the same street (St. Louis en L'Ile) there were a few places serving authentic Berthillon ice creams and sorbets. Not cheap at 5 Euros for 3 small scoops, but the cassis and peche de vigne in particular were so worth it, capturing the vibrancy of the fresh fruit. You really can't go wrong with any of the flavors though–the rich dark chocolate and salted caramel were hits too.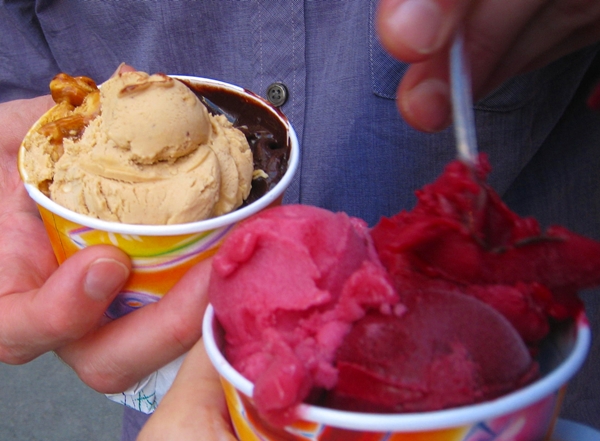 3. Fraise Creme Brulee, L'Ardoise
This was truly a surprise–we had our last lunch in Paris at L'Ardoise, which we knew offered great, hearty French classics. We'd planned to finish simply, with the cheese plate, but the special dessert of the day sounded so good that my husband ordered one of it, and I ordered the cheese plate. We're not usually big creme brulee fans, but this was easily the best version I'd ever tasted–silky, creamy custard with vanilla bean specks atop perfectly ripe strawberries, and a scoop of sublime strawberry sorbet (Berthillon?) gilding the caramelized top.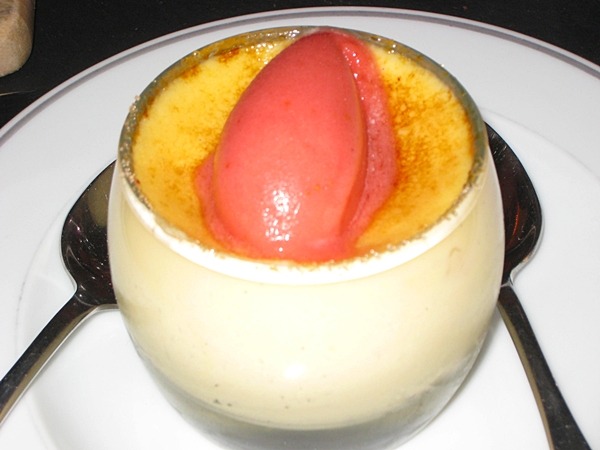 4. Chocolate Souffle, Le Cinq, Four Seasons
You would expect chocolate souffle at Le Cinq to be fantastic, and you'd be right. The top quality rich chocolate souffle scarcely needed the chocolate sauce that came alongside, but that didn't stop us from indulging anyway. And the cassis sorbet served on the side was a uniquely French and refreshing foil to the richness of the chocolate. Check out our
full review of lunch at Le Cinq at the Four Seasons Paris
.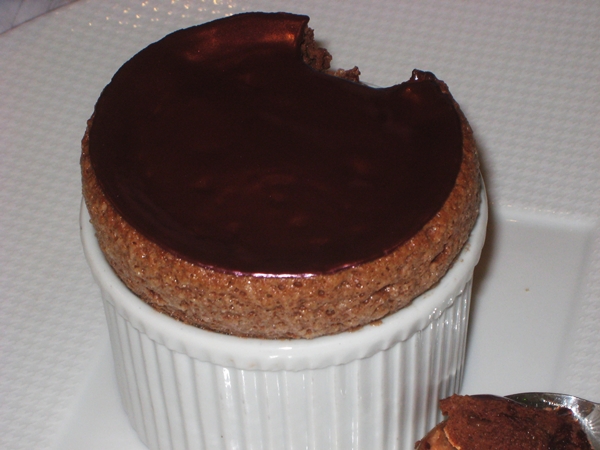 5. Macarons, Pierre Herme
We've highlighted these before, along with Berthillon, in our post 5 Incredibly Delicious Things You Shouldn't Miss in Paris, but we'll mention them again, since of all the things mentioned, they're the only one you can easily transport back (which we did–just savored a pistachio macaron while writing this post!) Did we mention they make great gifts (and bribes)?