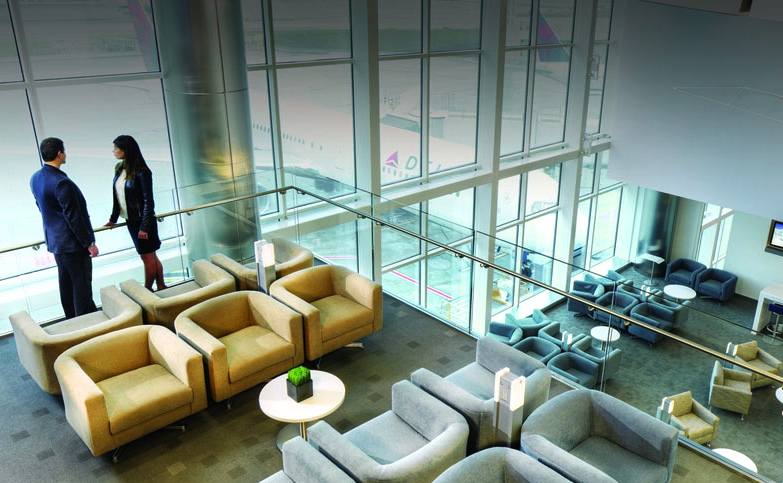 What is Delta's Lounge Access Policy for Guests and Kids? And when using an AMEX Platinum, what's the best strategy for gaining access for a spouse and kids?
TravelSort reader Diana writes "Do you have a suggestion for getting free entry for kids into Delta Lounges using the Amex Platinum? I an add 3 additional cardholders for a $175 fee and get expanded lounge benefits, but only my spouse qualifies as a cardholder because kids have to be 15 or older (ours are 3 and 7). Same applies for the AMEX Global Entry credit–spouse and I can apply and get the credit but then I have to pay for kids…. I'm sure other families must be grappling with the same issues applying guest benefits to little ones."
Delta Sky Club Lounge Access Policy for Guests
Delta Sky Club lounges only admit guests and kids free of charge when you hold a Delta Sky Club Executive Membership, or one free guest if you happen to be a Delta SkyMiles elite frequent flyer (Diamond, Platinum, or Gold Medallion). Here are Delta's lounge access policies: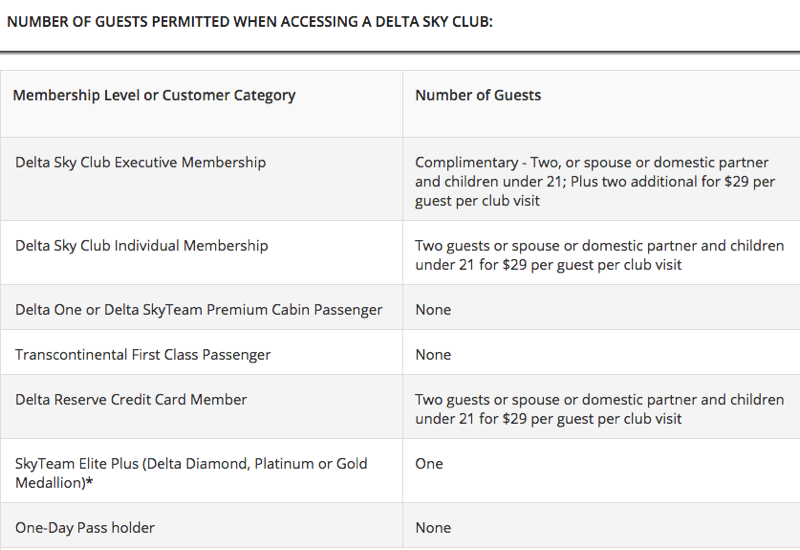 AMEX Platinum Now Only Gives Delta Lounge Access to the Cardholder
As Diana alludes to, having the AMEX Platinum only permits the cardholder free access to the Delta Sky Club Lounge. As of May 1, 2014, those who have Delta Sky Lounge access through their credit card, i.e. the AMEX Platinum or Delta Reserve AMEX are charged $29 per guest for up to two guests or per immediate family member (spouse or domestic partner and children under 21).
Fly Delta with Family? Consider Buying the Delta Sky Club Executive Membership
If you fly Delta with your family and often need Delta Sky Club lounge access, you may just want to bite the bullet and buy Delta Sky Club Executive Membership, despite its hefty annual price tag of $695 (or 110,000 Delta SkyMiles–note that Delta itself is valuing its SkyMiles at less than a penny each, at 0.6 cents per mile!). Note that if you're comparing this to using your AMEX Platinum $200 per calendar year airline credit towards guest lounge access, you'd be looking at about 18 guest visits per year to break even with the Delta Sky Club Executive Membership, which is quite a few. So for most families, this likely isn't a worthwhile option, unless you'd be using the lounge access quite a lot for work for business guests anyway and can get the fee wholly or partially reimbursed by your company.
Only Need Occasional Guest Passes? Buy Them Using the AMEX Platinum or Citi Prestige Card
If you only need the occasional Delta Sky Club Lounge guest pass for a guest or kids, just buy them outright for $29 each (for AMEX Platinum or Delta Reserve cardholders; without cardholder lounge access, the regular fee is $50), using a card such as the AMEX Platinum ($200 airline incidental purchase per calendar year) or the Citi Prestige, which provides a $250 airline credit per calendar year. The Citi Prestige card terms state "Airline fees are defined as purchases made with airlines, including air fares, baggage fees, lounge access, and some in-flight purchases." Typically, as long as the charge is processed directly by the airline (not a 3rd party) you'll get a statement credit.
Plus, if Diana and her husband each get the Citi Prestige, they'll each get a Global Entry fee waiver that can be used for a child, so they'd be able to get Global Entry cards for their kids. That's what we did to get all three of us Global Entry; in fact, given the succession of Citi Executive AAdvantage, AMEX Business Platinum and Citi Prestige cards, we've had a number of Global Entry fee credits that we've never used.
Getting back to the issue at hand, the AMEX Platinum $200 airline incidental credit would cover 6 Delta Sky Club Lounge guest passes per year, while the Citi Prestige $250 per calendar year airline credit will cover 8 Delta Sky Club Lounge guest passes per year.
If You're at an Airport with an AMEX Centurion Lounge, Spouse and Kids Have Free Access
If you're an AMEX Platinum cardholder and are with your family at an airport with a Centurion Lounge (Dallas, Las Vegas, Miami, New York La Guardia and San Francisco), your spouse and kids under 18 also have free access with you. See my reviews of The Centurion Lounge in Las Vegas and The Centurion Lounge in New York La Guardia.
Related Posts
Maximizing the AMEX Platinum Airline Fee Credit
6 Reasons Delta SkyMiles AMEX Cards Aren't Worth It
Delta's Missing Award Charts and 5 Other Reasons Delta SkyMiles Aren't Worth It
Delta BusinessElite Fleet: Full Flat Bed on All Widebody International Routes
Delta: No More Medallion Upgrades to Westin Heavenly Bed on Transcons
Need Award Booking Help? Our fee is as low as $75 per ticket if you book your hotel through us.
If you enjoyed this, join 200,000+ readers: please follow TravelSort on Twitter or like us on Facebook to be alerted to new posts.
Become a TravelSort Client and Book 5-Star Hotels with Virtuoso or Four Seasons Preferred Partner Amenities!