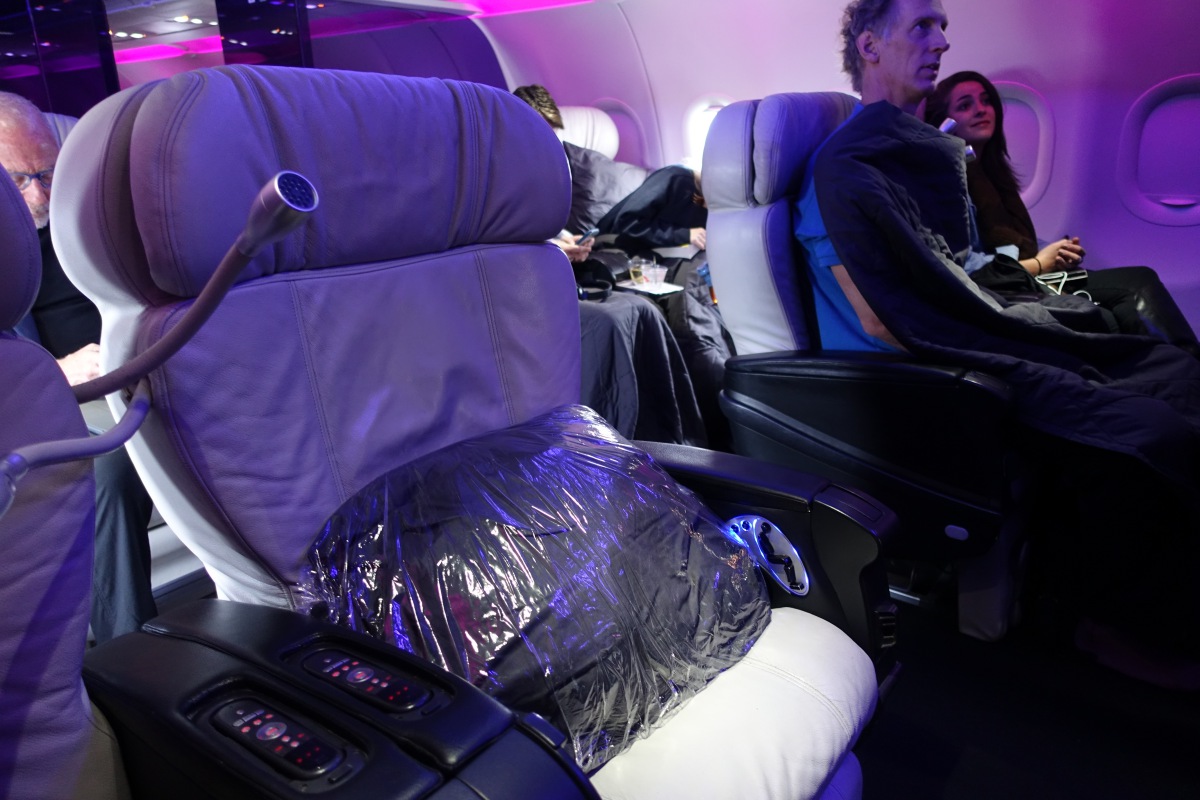 Virgin America Has Some Catching Up To Do with its First Class. Not only are their recliner seats dated, given that Delta, United, American Airlines A321 Business Class and JetBlue Mint all offer flat bed seats in Business Class on transcontinental flights; Virgin America's catering leaves a lot to be desired.
Yes, this is a first world problem, but whether you've paid in cash or miles for a Virgin America First Class seat, you expect an experience competitive with other airlines.
On our flight from JFK to the West Coast, we weren't given a menu before take-off or even right after take-off. Instead, the three of us were only given a menu after half the cabin had already ordered, and were told that the Grass Fed Burger wasn't available, which was the only hot protein option on our flight. Here are the descriptions for the lunch main course:
Grass Fed Beef Burger
Grass fed beef patty, brioche bun, gruyere cheese, sliced tomatoes, and arugula. Served with homemade umami ketchup, pickled fennel, onions and beets.
Slow Cooked Fall Veggies & Split Peas
Braised yellow split peas, roasted marinated golden and chiogga beets, grilled portobello mushrooms, sauteed Swiss chard with scallions, goat cheese, roasted sunflower seeds, and a lemon-tumeric vinaigrette.
Beef and Spinach Salad
Herb roasted sliced beef, baby spinach, red onion, marinated gigante beans, haricots verts, sliced radishes, roasted tomatoes, cagefree hardboiled egg, and Dijon cider vinaigrette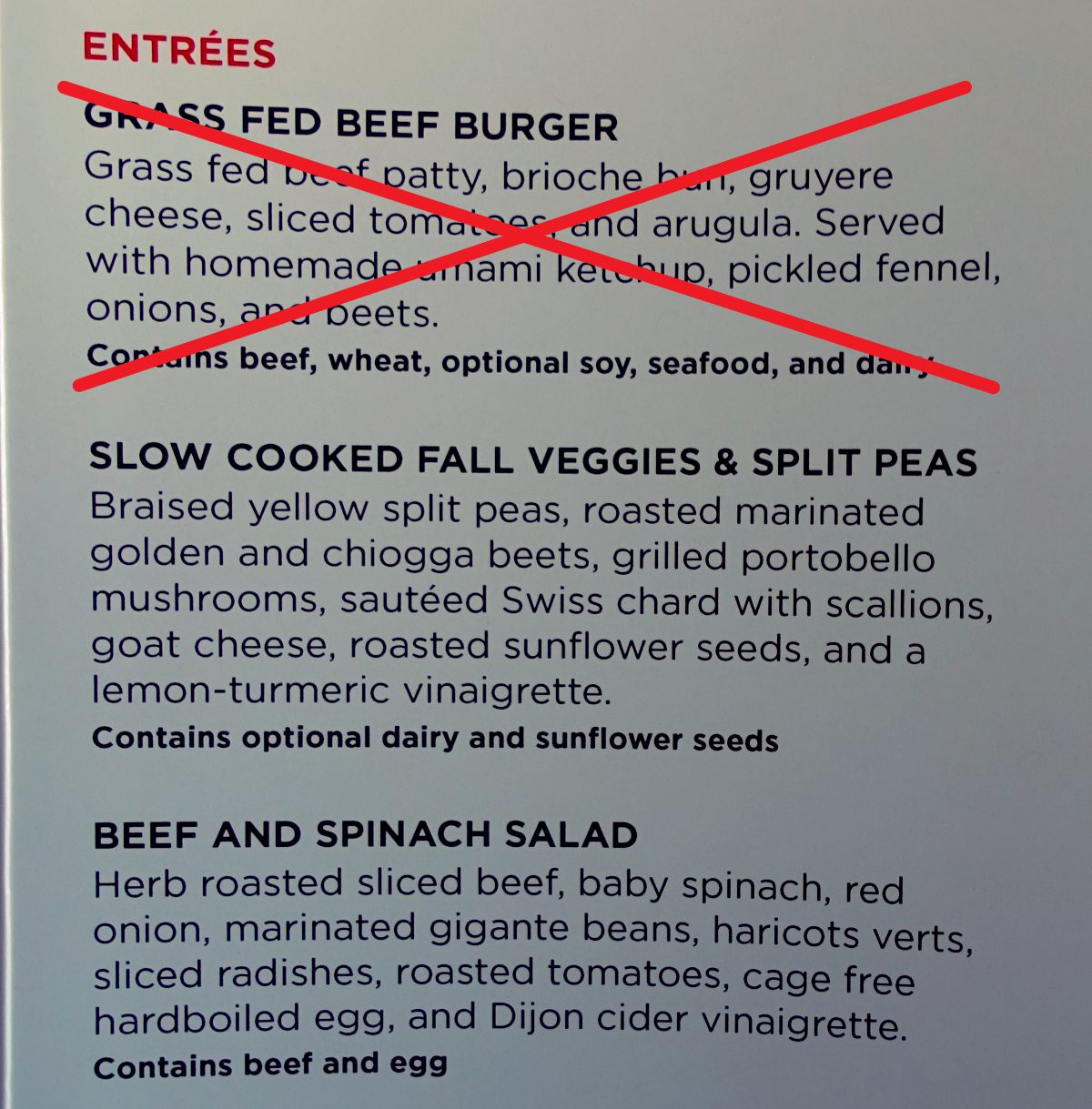 So, for all readers who are omnivores, which would you choose? It's not rocket science to assume that the burger will be much more popular as the only hot option, which is why all 4 passengers who were asked before us for their meal choice chose it. The three of us would have all chosen it as well, which means that the Virgin America really should have loaded at least 7 burgers (the 8th passenger didn't eat at all, since she chose to sleep).
I tweeted Virgin America, and got back the bland response:
"We try and keep food stocked in relation to how many guests we have as to not be wasteful…I can document your feedback here for you if you would like…"
Well, Virgin America–it would be easy to A) Satisfy all your guests and B) Be even less wasteful than you currently are, if you simply caught up with competitors such as American Airlines (which has offered meal pre-order for several years) and enabled guests to pre-order their meal selection from a month to 24 hours in advance.
That would have resulted in the correct number of 7 burgers loaded for our flight, and none of the other two options. As it was, I decided to just have one of the Main Cabin Select meals for purchase, an utterly unmemorable quinoa chicken salad.
Sure, it's just an airplane meal. But the fact that we were nearly half the cabin and none of us got the meal we wanted rankles and will be what I remember most about this flight. Perhaps I've been lucky, but out of the last 50 or so flights I've taken on different carriers, none of them ran out of my preferred meal.
Do you wish Virgin America and other airlines would enable meal pre-order, similar to American Airlines, Singapore Book the Cook, British Airways, Asiana, Thai Airways and others?
Recommended Posts
Review: American Airlines A321 First Class San Francisco to New York JFK
JetBlue Mint or American A321 Business Class: Which Is Better?
Best Airlines to Pre-Order Meals
Singapore Airlines Book the Cook Review
Need Award Booking Help? Our fee is as low as $75 per ticket if you book your hotel through us.
If you enjoyed this, join 200,000+ readers: please follow TravelSort on Twitter or like us on Facebook to be alerted to new posts.
Become a TravelSort Client and Book 5-Star Hotels with Virtuoso or Four Seasons Preferred Partner Amenities!