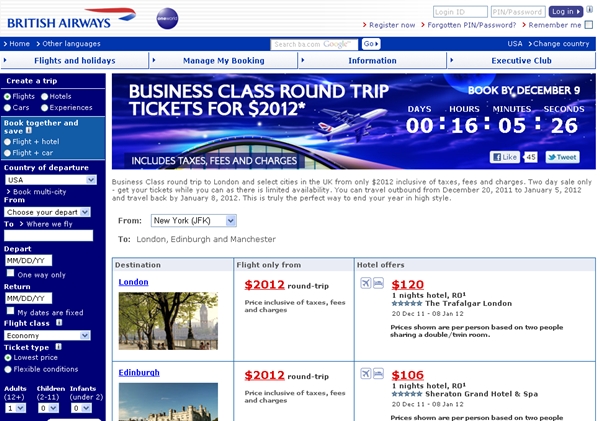 12/10/11 Update: Even if you missed British Airways $2012 Business Class Fare Sale, you can still get rather low business class fares on American, Lufthansa, Delta and Virgin for some of the same dates–$2115 when I priced departing on 12/25/11 and returning on 1/1/12, and the same fare on all those airlines except Virgin Atlantic but plus United/Continental for departing 12/26/11 and returning 1/2/11.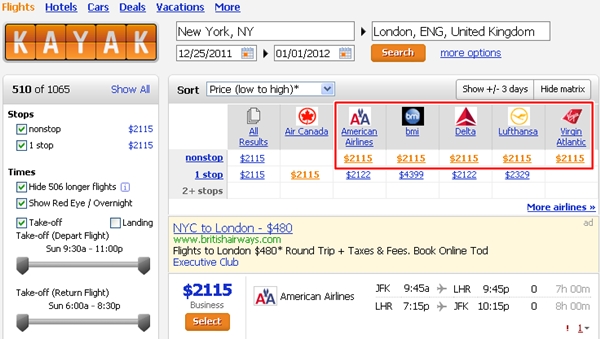 British Airways is running a 2-day Business Class fare sale
that ends tonight at midnight PST, offering roundtrip Business Class flights from U.S. cities to the UK (London, Edinburgh and Manchester) for $2012 including taxes and fees. You must depart the U.S. from December 20, 2011 to January 5, 2012, and return by January 8, 2012.
Even better, other airlines, such as United/Continental, American, Delta, KLM, Virgin and Iberia are matching it, so if the date/time you want on British Airways isn't available, try one of the other airlines. So far though, there's really good availability (maybe something to do with most people have already made Christmas and New Year's plans, plus the UK isn't exactly known for its great winter weather?)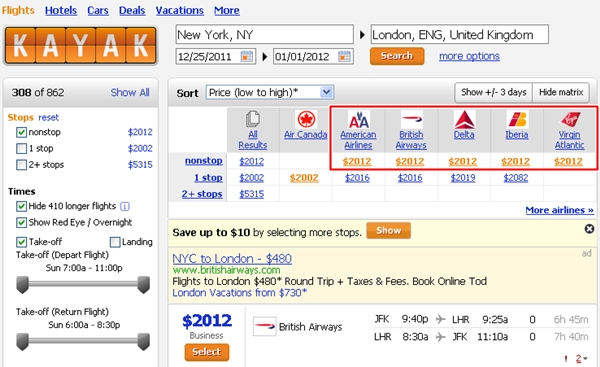 Another strategy, as
Ben
pointed out, for those with top tier elite status on American, is to book American's matched business class fare and use one of your complimentary systemwide upgrades to upgrade to American First Class. Granted, not nearly as good as British Airways First Class, but a good use for that systemwide upgrade.
So is this a great deal? Depends on your perspective. If you never pay for Business Class and only use points, it's not so interesting. Ditto if you have zero interest in going to London, at least in winter. But if you can't abide coach and wanted to go to London anyway for New Year's or to visit friends, it's a good deal. If you were to book for, say, January 10, returning on January 17, you'd be paying almost double the price: $3702-3802 for most airlines. Although you could, apparently, fly Kuwait Airways for $2266–who knew? Not quite the same as British Airways though…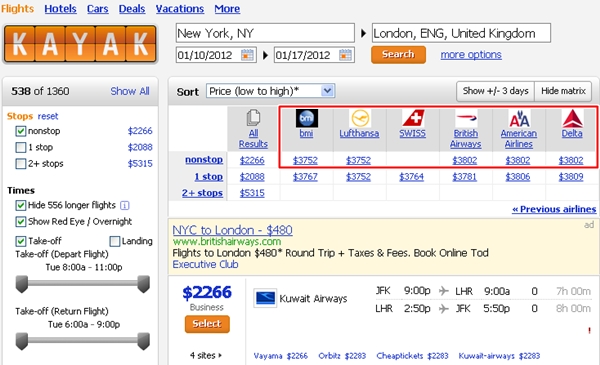 And if you want to continue your upgraded experience after you get to London, check out our post
Where to Stay in London, The Best Luxury Hotels
You can also contact us at concierge [at] travelsort.com for additional luxury and boutique hotel booking options, in addition to those on our site. Christmas and New Year's in London isn't as bad as figuring out
Where to Stay in London for the Olympics
but it's not exactly cheap either. No worries, we have suggestions.
And, contrary to popular belief, London does have great food. Check out
London for Foodies
and great recommendations from our experts and community in our
London Q&A
.