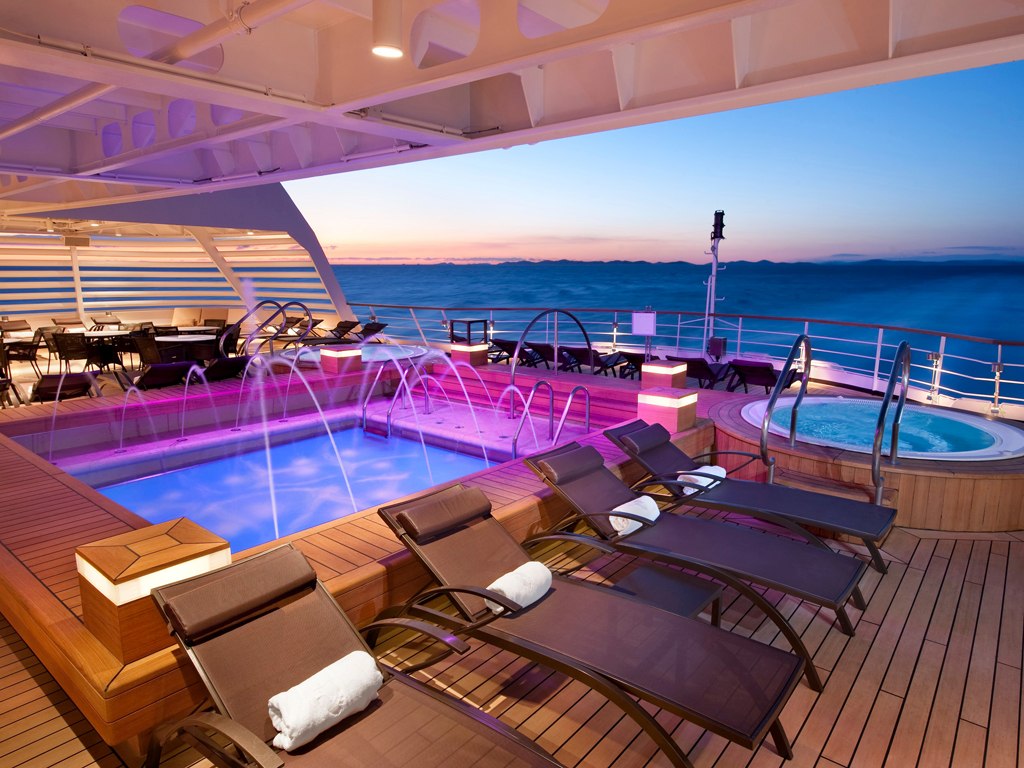 Cruise flight award bookings are included with all Virtuoso cruise bookings and AMEX Platinum cruises booked with TravelSort of at least $12,000. While my existing
TravelSort clients
who cruise already are familiar with this benefit, here's how it works for TravelSort readers who cruise (or have family or friends who cruise):
1. Book a Cruise with TravelSort of at Least $12,000 in Value
By booking your cruise with TravelSort, you'll be able to receive complimentary award bookings for your pre-cruise flight to the cruise's departure city, and post-cruise flights home. Minimum cruise booking is $12,000, to receive 2 complimentary award flight bookings. For cruise bookings of at least $24,000, we are pleased to provide 4 complimentary award flight bookings.
2. Enjoy Virtuoso Voyager Club Benefits or AMEX Platinum Cruise Benefits by Booking with TravelSort
If you wish to book with AMEX Platinum cruise benefits, TravelSort can book your cruise for you so that you can also have your cruise flights included, in the form of complimentary award bookings using your frequent flyer miles and points.
Did you know that you can enjoy Virtuoso Voyager Club Benefits by booking luxury cruises with TravelSort? While TravelSort can book virtually any cruise line for you, here are the cruise lines that offer exclusive Virtuoso Voyager Club Benefits:
Azmara Club Cruises
Compagnie du Ponant USA
Crystal Cruises
Cunard Line
Paul Gauguin Cruises
Regent Seven Seas Cruises
Seabourn Cruise Line
Silversea Cruises
Virtuoso Voyager Club Benefits include:
Dedicated Onboard Host
Private Voyager Club Welcome-Aboard Cocktail Reception
Camraderie of Fellow Voyager Club Cruisers
Exclusive Shore Excursion (or Shipboard Credit for Select Dates)
Access to Car and Driver Program (Select Voyager Club Sailings)
Here's an example of a shipboard excursion, taken from the Seabourn World Voyage Iv from Los Angeles to Sydney with calls in Hawaii (Hilo, Lahaina, Honolulu, Nawiliwili), Tahiti and French Polynesia (Papeete, Moorea, Bora Bora), the Cook Islands (Rarotonga), and New Zealand (Auckland, Tauranga, Wellington, Nelson) before arriving in Sydney:
Cultural Discoveries of Moorea with Festive Lunch – 2014 Length: 5 hours 30 minutes
French Polynesia's Society Islands are legendary: Bora Bora, Moorea, Tahiti. Each is paradise in its own right, but only one is also steeped in myth – Moorea. The island's crystalline lagoon is protected from the sea by a gorgeous coral reef, so conditions for swimming and snorkeling are simply ideal. The fronds of swaying coconut palms rustle at the water's edge. And away from the shore, coffee and pineapple plantations roll over the fertile hillsides. The island beckoned Captain Bligh's crew to mutiny. What of the myth, you ask? Mt. Rotui starred in the movie musical South Pacific as the magical Bali Ha'i.
Today we will discover the treasures of the island: special places, first hand cultural experiences, unique flavors, and traditional dishes. We begin with a visit to the two bays of Moorea, Cook and Opunohu, for a geographic presentation of the mountains and Polynesian legends as well as a little history on the arrival of the first navigators in Polynesia. We will make our way up to the Belvedere lookout for a panoramic view of the lagoon and the bays. On the way down, we will make a stop to view the Ancient Temples called "Marae".
We will then be taken to the Tahitian Cultural House for cultural presentations and lunch, and welcomed with a fresh cocktail punch, before being introduced to the different aspects of the Polynesian lifestyle. Demonstrations will include learning how to weave, the making of beautiful flower headbands, a coconut show to share all the uses we have of a coconut and the coconut tree, including the making of the Tahitian Oil called monoi and a cooking demonstration of our Tahitian pareu before the opening of the "Ahima'a", the traditional underground oven.
A wonderful luncheon of local specialties will then be served. After lunch, a short demonstration on how we tie our pareu will be given and hear about the art of Tapa making and the Tifaifai (Tahitian Patchwork) before we return to the ship.
3. Book Your Award Flights with TravelSort
Booking your pre-cruise and post-cruise flights or air transfers can be expensive if booking paid flights, but could be nearly free if you've earned frequent flyer miles and points (see my
New to Miles and Points
and
Best Travel Rewards Credit Cards
pages if you're just starting out).
My
Award Booking Service
is $150 per award ticket, with the deposit charged upfront given the time involved in researching and booking your award ticket. Please see the
award booking details
we need from you and award booking
terms
. But by booking your cruise with me the deposit will be returned after your trip, so you'll enjoy complimentary flight award bookings to get you to and from your cruise!
4. TravelSort Can Also Book Your Pre-Cruise and Post-Cruise Hotels with Virtuoso or Preferred Partner Benefits
5. After the Cruise, Receive Your Award Flight Deposit Back
We return your entire award booking deposit ($150 per award ticket) to you after the cruise (actually, as soon as you've departed on the cruise). And you save the money, time and headache of having to organize pre-cruise and post-cruise flights.
FAQ
Can AMEX Platinum Cruise Benefits and Virtuoso Voyager Club Benefits Be Combined?
No–these cruise benefits are not combinable, so you must choose the ones that best fit your needs for that cruise. TravelSort can advise on what the AMEX Platinum and Virtuoso Voyager Club benefits are for the cruise you're interested in.
Does It Cost Any More to Book a Cruise with Virtuoso Cruise Benefits or AMEX Platinum Cruise Benefits with TravelSort?
No–the price is exactly the same as booking directly with the cruise line, and by booking with TravelSort you can receive the Virtuoso benefits and also get your cruise flights included (as award bookings, using your frequent flyer miles and points) for two passengers if booking at a cruise of at least $12,000. If booking a cruise less than $12,000 but greater than $3500, it's just $75 per award ticket. Note that any taxes/fees associated with the award tickets are your responsibility.
What if the Cruise Line Later Reduces Prices or Provides Better Offers?
If the cruise line later reduces its price or provides a better offer, it's almost always possible to get this better offer for you, even if you have already made your final payment for the cruise.
What About Additional Discounts?
If an agent is offering a discounted price below that advertised by the cruise line, this is against the policy of the majority of cruise lines, which have strict policies against rebating. In essence, the agent is undercutting the cruise line's prices by rebating part of his or her commission to the consumer. If a cruise line finds that a travel agency is violating the cruise line's anti-rebating policy,
the cruise line has the right to reduce or not pay travel agent commissions and/or marketing funds, cancel or deny group contracts. And it goes without saying that your discount could be in jeopardy if the travel agent isn't paid commission due to violating cruise line policy.
Also note that in addition to violating cruise line policies, travel agents that are rebating commissions can't be counted on to provide excellent service, as they have to take on many more clients to earn a decent salary.
Would you like your cruise flight award booking to be included with your next cruise?
Related Posts