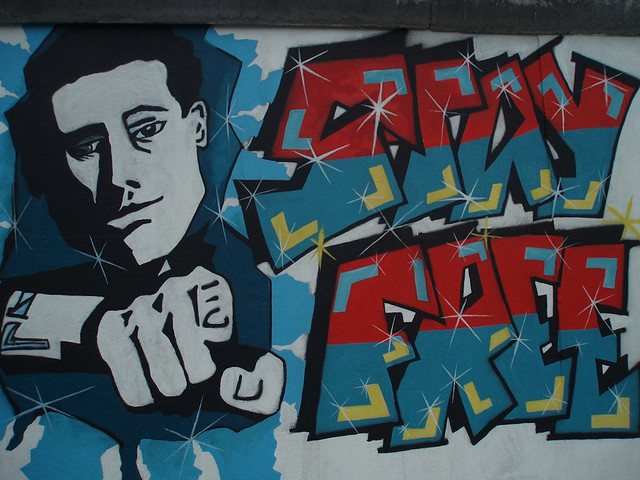 Why go

Berlin is alive. To me, Berlin is the ultimate symbolic dichotomy: east/west; order/change; peace/unrest; structure/movement; past/future. And it is the melding of all of these opposites that makes it such a unique city. The graffiti of Berlin is an excellent example of the way the city makes peace out of all these restless, opposing forces. Graffiti is the art that refuses to adhere to structure, border, or class. It is a form of free expression that cannot be contained. Even on a wall that spent almost 30 years dividing the city, art could not be repressed, and graffiti flourished. And, as graffiti does, it seems Berlin is constantly changing, being erased, re-painted, covered up, and re-invented again and again, making it a haven for artists, philosophers, bohemians, and thinkers, whether striving for high art or street art.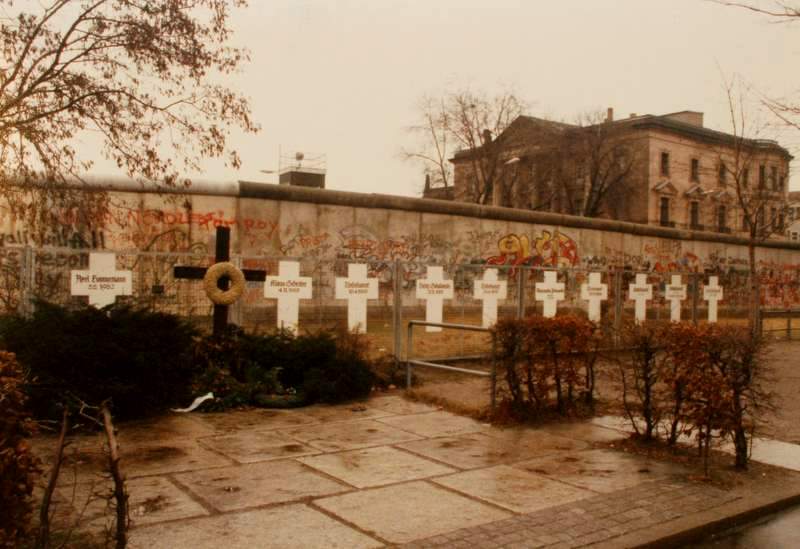 Insider Tips
Know your east and west. Although the marks of divided Berlin are not nearly as evident, and the reunification of the city has caused major changes to close the gap between the two, it's still culturally interesting and informative to know where you are. It also helps predict the shops and art you are most likely to run into. A sure-fire way to tell where you are is by observing the pedestrian "walk" and "stop" lights at intersections. In the East, the crossing-guard character, known as the Ampelmann, is a cute, boxy character, distinct from the familiar-shaped walk-and-stop man in the West.
Know your bahns! S-bahns are above ground; u-bahns are below. In addition, trams and buses on the city streets help you see and find your way all day and night. But there's an intricate set of rules governing fares, passage, and validation of tickets. Ask any Berlinner for the details. They're meticulous, those Germans!
DO NOT forget about Sunday brunch. It's available at many cafes and restaurants around Berlin – sometimes all day – and it is fantastic-just see our Best Brunch Places in Berlin. You wouldn't want to get a kabob on the street when all this deliciousness awaits you at very reasonable prices!
Museuminsel has the heavy-hitters, as far as museums are concerned, but the one I prefer is the smallest and least-visited Alte Nationalgalerie, which sits behind the major players like the Pergamon. It's also free on Thursdays, as is the Altes Museum.
There are some exceptional fleamarket and second-hand finds in Berlin, which is my preferred way of shopping. Check out the Sunday Flohmarkt at Boxhagener Platz in Friedrichshain to find vintange and retro kitsch, or the massive Humana thrift/charity store near Frankfurter Tor. You'll find that the streets of East Kreuzberg reveal similar gems, but while some streets are full of these sorts of shops, just waiting for the tourists to descend, you are well off to venture down the less commercial strasses as well.
Always look at the fliers for cool nightlife events that you'll find at the coffee houses. There are amazing and cool things happening all the time!
Where to stay
The Steigenberger Hotel Berlin (part of the Steigenberger luxury hotel chain in Germany) offers comfort, quality and class, with modern and minimalist art and design. Where the "five star" rating really shines is in service and amenities, including comfy terrycloth bathrobes, dual-pressure shower heads (complete with a notice of your eco-option to only use one of them), and a fresh continental breakfast.
The beds are luxurious, large, and soft, and the rooms are fairly quiet, including the gallery-esque hallways lined with framed and lit pieces of art. Depending on the level of room you reserve, amenities seem endless, from internet to telephone to mini-bar to specialty work desks. Although I didn't reserve the highest "Executive" level, I was more than satisfied with the ample, comfortable, and hospitable space.
Especially impressive was the value as compared with other "five-star" European hotels, which usually concentrate on location rather than comfort, and skimp on an asset so valuable to me: size! Not so at the Steigenberger Berlin, where the rooms seem comparably sprawling. The Steigenberger is located in the upscale district of Charlottenburg in West Berlin (which, I have to say, wasn't a location of much interest for me, in spite of the "world-class shopping"), but absolutely walkable and accessible by u-bahn to the more artsy areas of the city.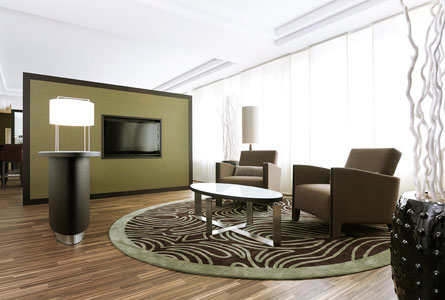 What to eat
Tucked away on an upper floor of a Georgian building that looks quite governmental, Tadschikische Teestube (Tajikistan Tearoom, Am Festungsgraben 1) is a little gem that serves Tajik and Russian-inspired dishes and a variety of unique and flavorful teas. You can order from an inclusive or à la carte menu, for one or for many, but always for a romantic, enchanted evening. Upon arrival, you are requested to leave your shoes on a rug near the door, and take your seat on the pillows and cushions beside low tables. Although the portion sizes are small, the flavors are unique and memorable. But even so, the award-winning trait here is the one-of-a-kind atmosphere: lush, cosy, and Eastern. It's like stepping back in time to a land of czars and princesses. I also recommend not leaving this place without dessert, because the pastries and treats they serve – which vary on a regular basis – are incredibly delicious.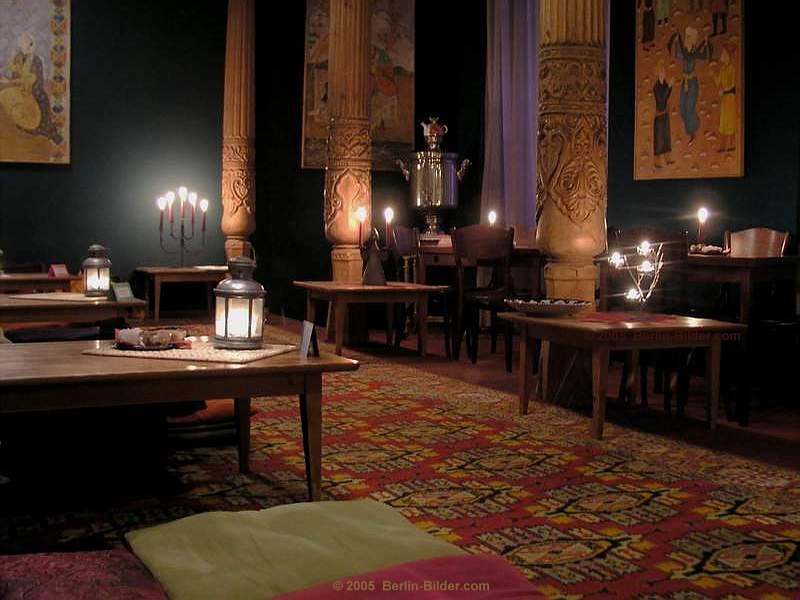 Although there are many Sunday brunch outlets on Simon-Dach-Strasse in Friedrichshain, the stand-out gem, is Café 100 Wasser. For only 10 euros you can enjoy unlimited dense German breads, breakfast eggs, cold cuts, pastries, casseroles, soups, cheeses, yogurts, cereals, and the included cup of coffee, tea, or milk. And not just any coffee, but the thick, dark, rich, aromatic black coffee of a quasi-espresso variety enjoyed by both the Germans and French. Seating is inside and out, but even so it was a challenge to find a table, as this place seems to enjoy a great deal of popularity on the Strasse. And don't worry if you spent your Saturday night out until the wee hours – the brunch buffet here lasts until at least three in the afternoon.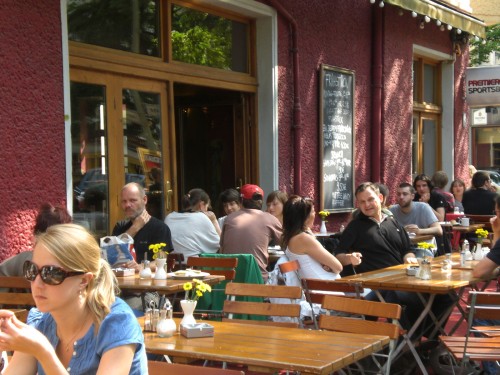 What to see and do
If there is one museum you hit in Berlin, let the DDR Museum be the one. Even if you're not into art or history, this museum entertains and educates. At first glance just a pop culture time capsule from a bygone country in a bygone era, this museum contains artifacts from the life of the German Democratic Republic, or communist East Germany, including clothes, magazines, propaganda and even the East German vehicle of choice, the Trabi. But there is so much more than the kitsch. The museum also aims to explore the ideological framework that made the DDR what it was, and why it just plain didn't work. If you ever wanted to learn about communism – both pros and cons, including group toilet training and nudist beach vacations – then this is a fun and lively way to start.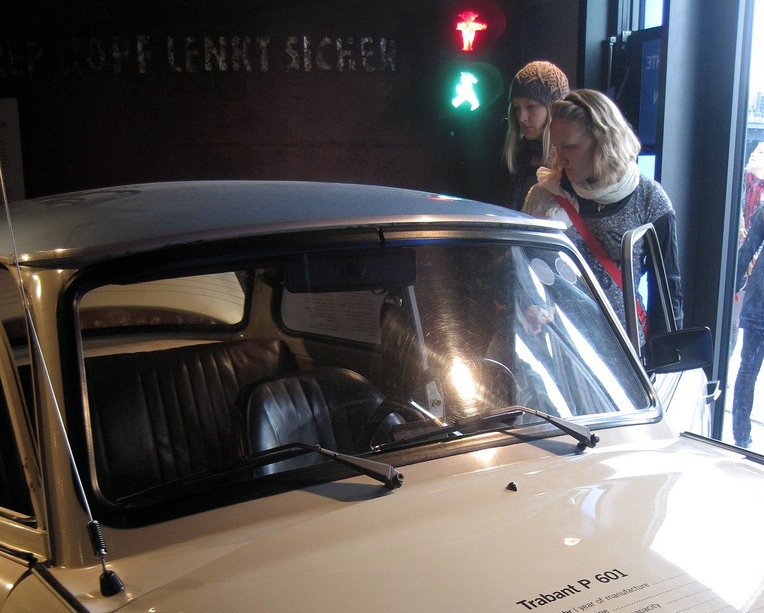 The longest remaining stretch of the Berlin Wall at the East Side Gallery, located at the Spree River along Mühlenstrasse, is a reminder of a painful period of separation, as well as an inspiring and eclectic mingling of art and graffiti expressing all sorts of fascinating sentiments and iconic statements. And, because it's all painted on slabs of concrete, open to the outside world, it is much more accessible than going to a proper art gallery and seeing paintings and pictures in manicured frames – it is raw inspiration, hope, and power.
Of course, these days people can't help but leave their own mark on the notorious wall, which is a bit of a bummer when it comes to a few of the pieces I was really hoping to see, but for the most part, the emblematic art from 20 or 30 years ago still exists, including my favorite, a cartoon drawing of a man climbing over the wall to see the capitalistic pleasures of the West. An incredible expression of creativity and independent thought in a system of suppression and conformity, the Eastside Gallery is, for me, "ground zero" for historical places in Berlin – more than Checkpoint Charlie or the Brandenburg Gate.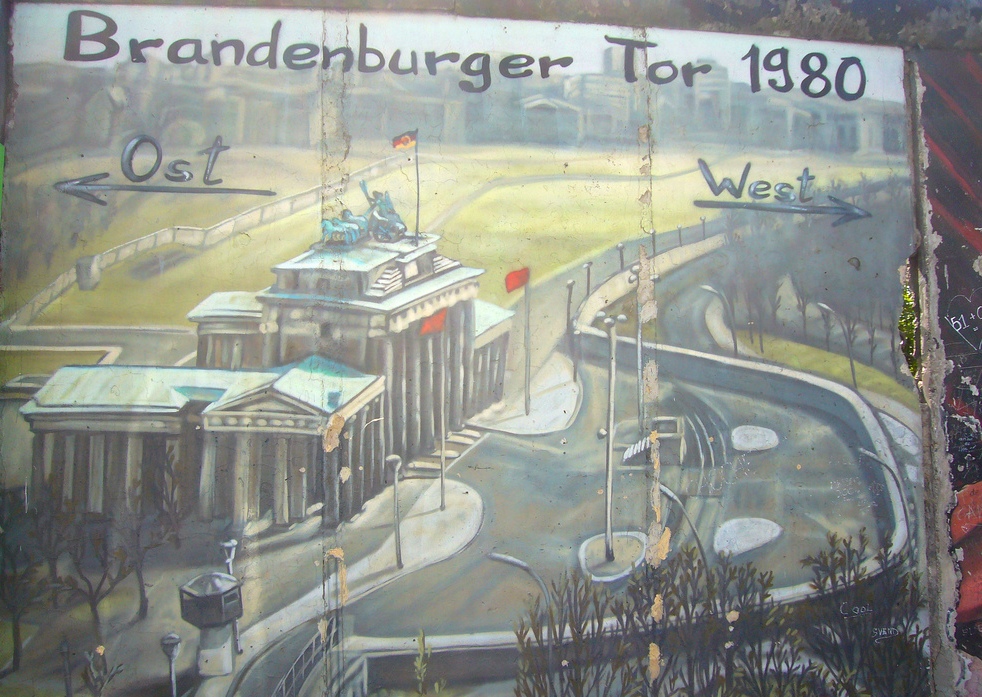 You may wonder why I'd recommend visiting Staatsbibliothek zu Berlin (Berlin's public library) – especially if you don't read German. But as the hallmark location of the Wim Wenders' film Wings of Desire (one my my favorites, not to mention a probing look at Berlin before the fall of the wall) and an interior architectural gem, the lobby is a calming and quiet place to take in the people, and watch the world go by. Of course, such an idle pursuit on your vacation is something that's not for everybody.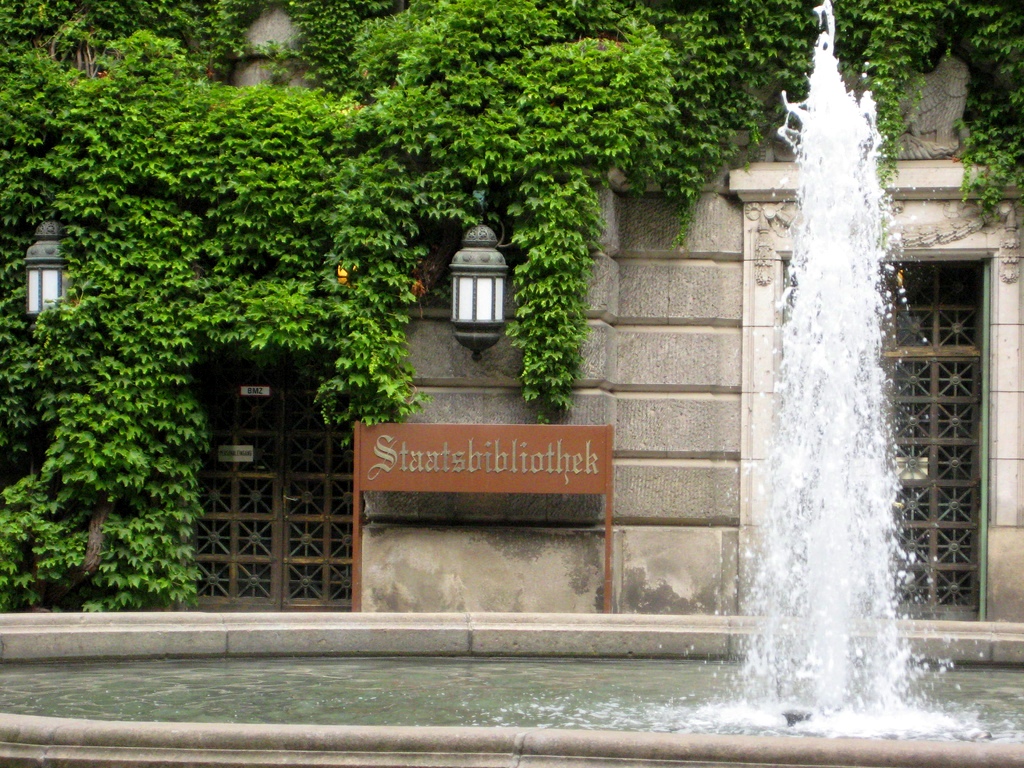 Formerly a train station, which through World War Two and the latter half of the 20th century was successively destroyed, bit-by-bit, expansive Görlitzer Park in Kreuzburg is somehow fascinating, in spite of not being maintained particularly well (probably not the best place to bring kids). In the summertime, it is used by many in the Kreuzburg neighborhood as a hang-out and barbeque spot, but what I think makes it so unique and special are the remains of the station: graffiti-ed rubble walls, which still survive in a concrete half-pipe of sorts, amidst grassy knolls and patches of emptiness. Having been there on desolate, grey, abandoned days as well as in bright, busy Berlin sunshine, I can appreciate its two faces. It betrays some of the rough, eastern grit, while still managing to promote a social, friendly atmosphere.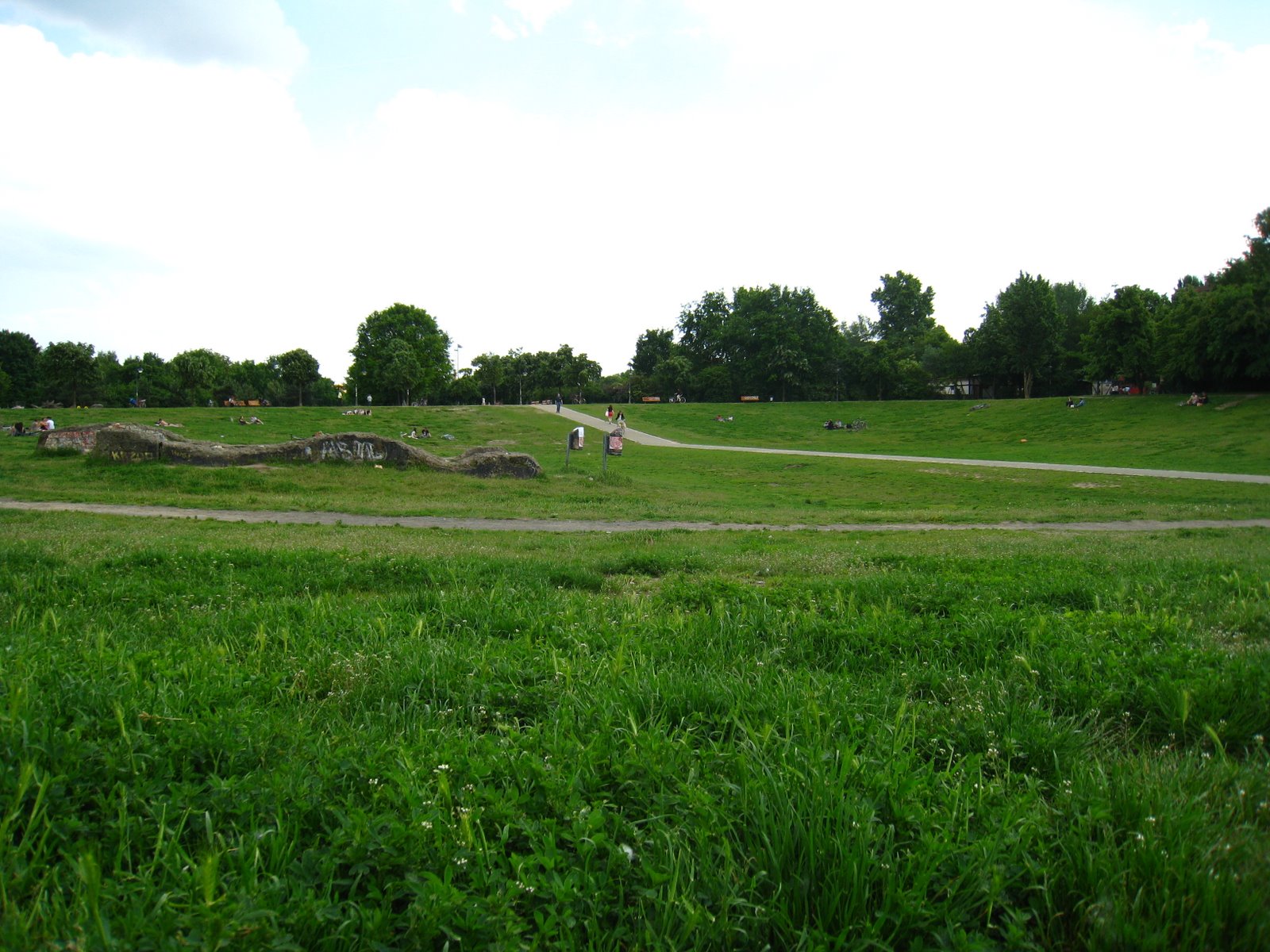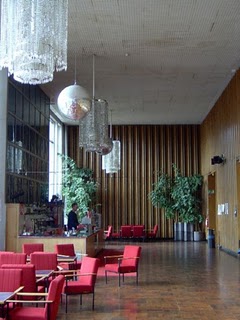 Even if you can't see yourself enjoying a good night at the Kino International cinema, or German art house films with no subtitles, or beer and wine sold in the lobby that you can take into the theatre, I think I would be hard-pressed to find someone who didn't appreciate the gorgeous and fully functional art deco interior, complete with stunning chandeliers and an expansive lobby. As a bit of an architecture dilettante, I can't tell you all about its history, but what I can tell you is that it is one of those overlooked-but-magnificent buildings that make it seem as if commonplace buildings of bygone eras were always spectacular, and the masses just didn't even know it. Although the building looks bland and Soviet-like from the outside, that almost makes the interior gem that awaits you an even better surprise!
The monthly Bohème Sauvage party of cads and gangsters paying tribute to the fin de siècle bohèmian Paris and the Roaring 20s and prohibition era in the US is stylish, fun, and a steal of a deal for the 15 euro entry fee. You are required to dress in period costume, described as "bohemian, burlesque, cabaret, cancan, dandy, diva, gigolo, glamour, mafia, moulin rouge, rascal, roaring twenties, vaudeville, villain…" the list goes on, but you get the idea. The dress code is not strictly enforced, but the guests at the party really get into it, which means everyone looks AMAZING – and you will feel out of place if you don't! The atmosphere is very authentic, from the DJs who play strictly jazz, cancan, swing, and big band of the era, to the stage show, which features burlesque, cabaret, and variety shows. A side room features poker and black jack tables, with the appropriate faux-Deutschmarks for betting, As the venue changes monthly, it's best to check the Web site for current schedules.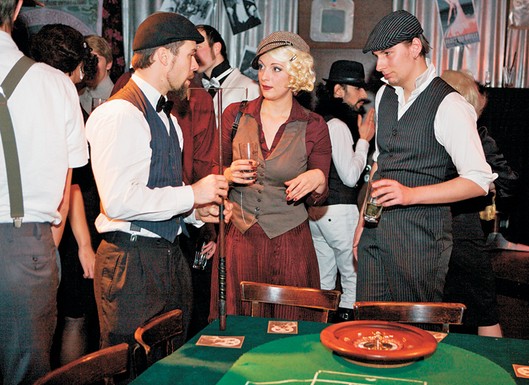 Have any Berlin travel tips of your own to share?
Related Posts
How to Select Air Berlin Business Class Seats Online
What Are the Best Berlin Cafes for Coffee and Cake (Kaffee und Kuchen)?
What Are the Best Gay Clubs in Berlin?
Top 5 Ways to Get First Class Award Tickets to Europe
Need Award Booking Help? Our fee is as low as $75 per ticket if you book your hotel through us.
If you enjoyed this, join 200,000+ readers: please follow TravelSort on Twitter or like us on Facebook to be alerted to new posts.
Become a TravelSort Client and Book 5-star hotels with Virtuoso Perks and Preferred Partner Benefits!