This Couples Sans Souci Hotel Review is part of a Jamaica trip report including reviews of Jamaican all inclusive resorts, restaurant reviews, and things to do in Ocho Rios, Jamaica.
Strangely, for someone living in NYC, I'd never been to Jamaica before this trip. But then again, I'm from Hawaii, so I didn't grow up with family vacations to the Caribbean to escape Northeast winters. My experiences with all inclusives have also been decidedly mediocre–some company trips to all inclusive Club Med resorts in Greece and Turkey, while working in Moscow. This puts in context my modest expectations when it came to a Jamaica all inclusive resort, as popular as the four Couples Resorts in Jamaica are. In fact, during my recent visit, Couples Sans Souci and Couples Tower Isle were completely sold out.
Couples Sans Souci has had several incarnations over the years, and was predated by apartments in that spot, set dramatically in the cliffs with sweeping ocean views. It became a Couples property 7 years ago–in fact, during my visit, I was fortunate enough to attend an amazing Couples Sans Souci Anniversary Masquerade Party. You enter a an intimate open air lobby and are immediately drawn to the outdoor terrace, with its view of the pool and ocean beyond: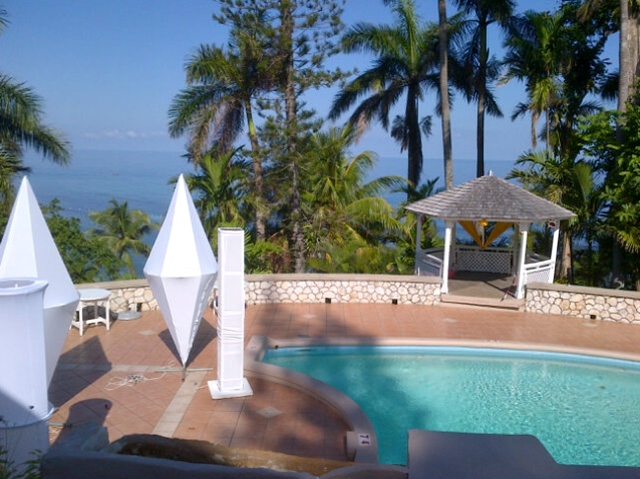 Stone stairs and paths meander down the cliff amidst lush vegetation, especially on the right side, leading to private spa cabanas where you hear birdsong and the crash of waves while enjoying a relaxing massage.
A small clearing offers an open air gazebo and outdoor chessboard, perfect for enjoying a quiet conversation or a good book: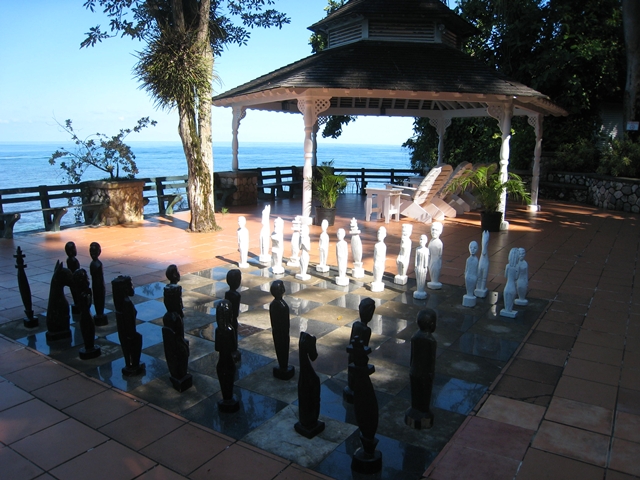 From the spa, a path leads toward the main mineral pool, with water from one of the resort's several natural mineral springs: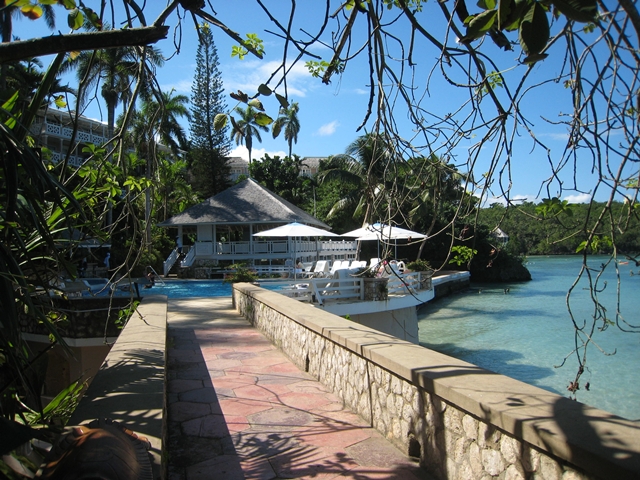 On the left is a waterfall falling towards the mineral pool where one of Couples Sans Souci's most famous "guests," a turtle nicknamed Charlie for the hurricane that landed her there, recovered and spent nearly 60 years. There's a moving plaque to her, and her shell has been preserved: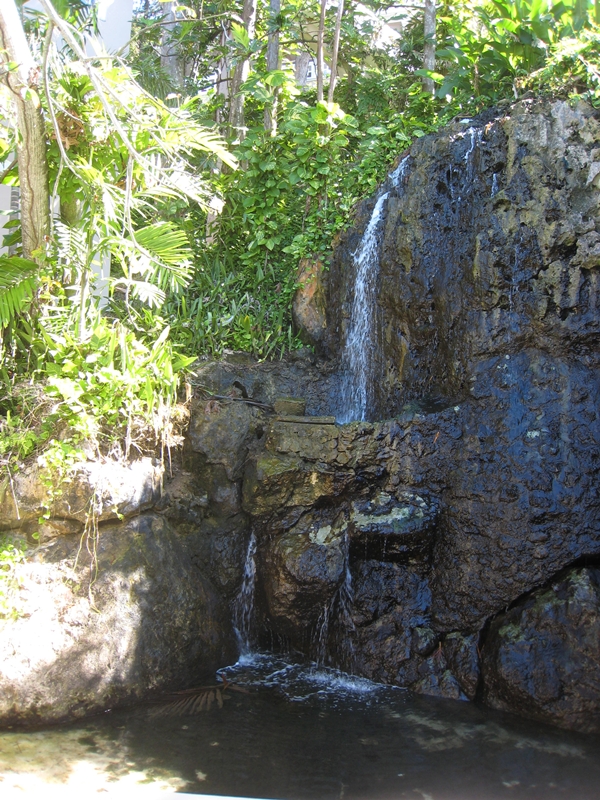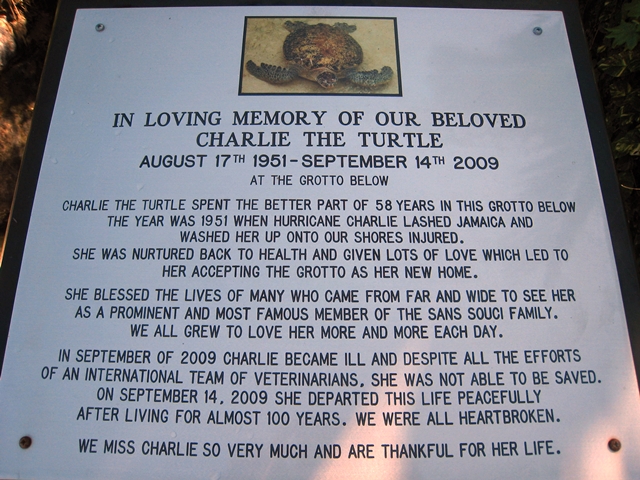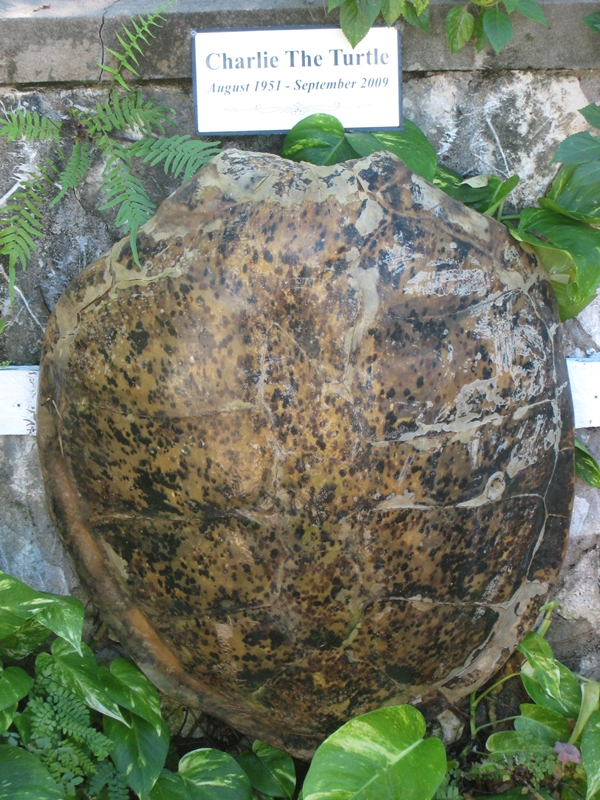 The main mineral pool, while not large, is wonderfully scenic, with the ocean beyond. Aqua fitness classes are sometimes held, but otherwise it's asecluded, peaceful place to relax.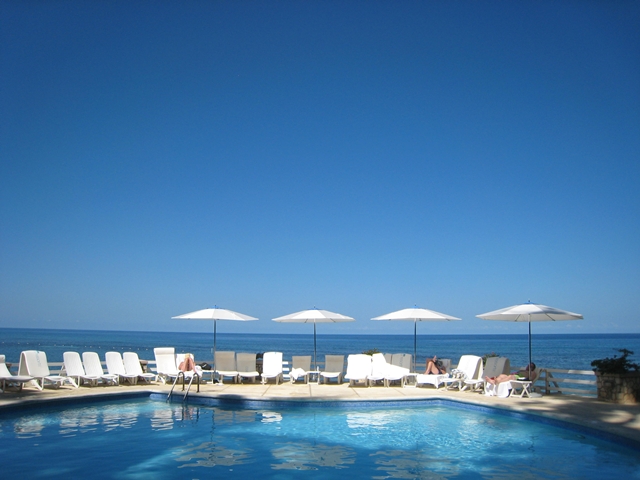 A juice bar by the mineral pool offers freshly squeezed juices and smoothies, such as this papaya pineapple smoothie: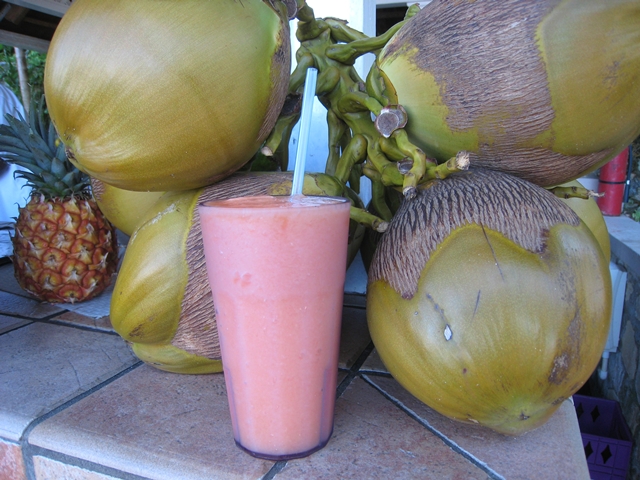 Adjacent to the mineral pool is the fitness center, also with a stunning ocean view: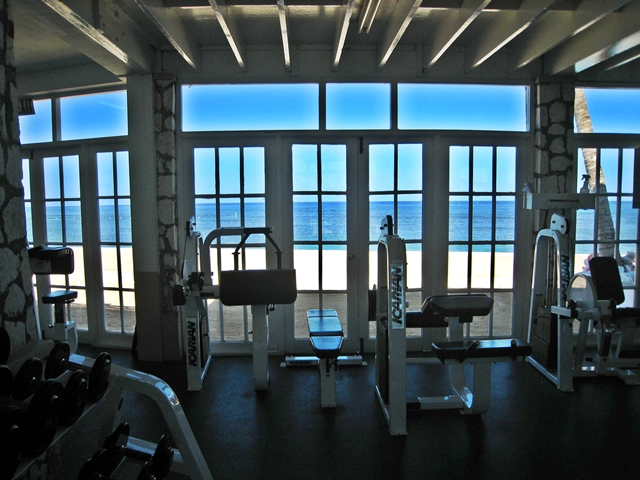 A bit beyond are some stairs leading up to a wedding gazebo for small private weddings. There was a wedding just before I visited, so flowers still adorned it: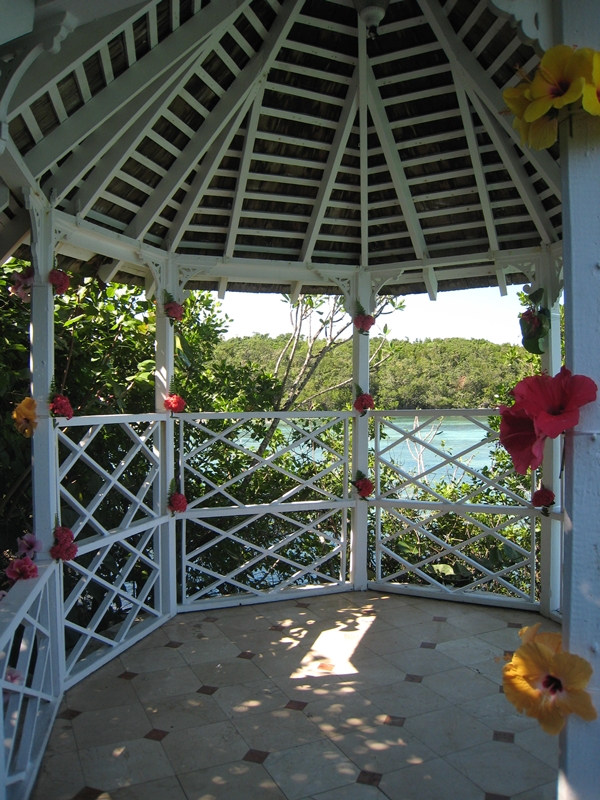 Up some stairs was the Dahlia block of suites, where two hammocks tempt you to snooze or read in the breeze.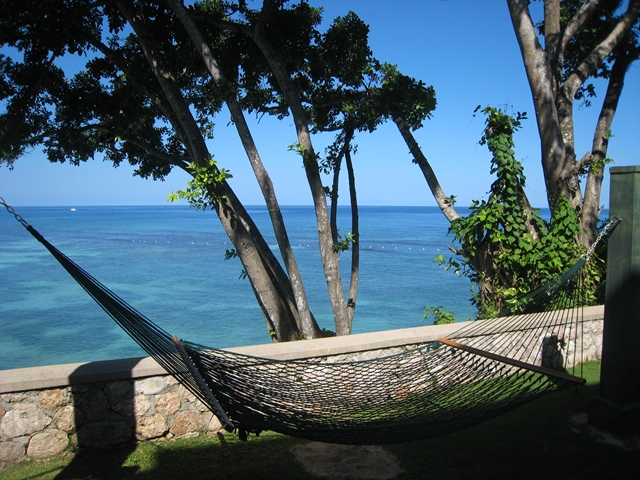 Then down the stairs and you see the main beach below. While Couples Swept Away has a longer beach, the Couples Sans Souci beach offered fine, soft white sand and didn't seem overly crowded to me–certainly not compared to, say, Waikiki Beach (which, for the record, as a Hawaii native, I never go to).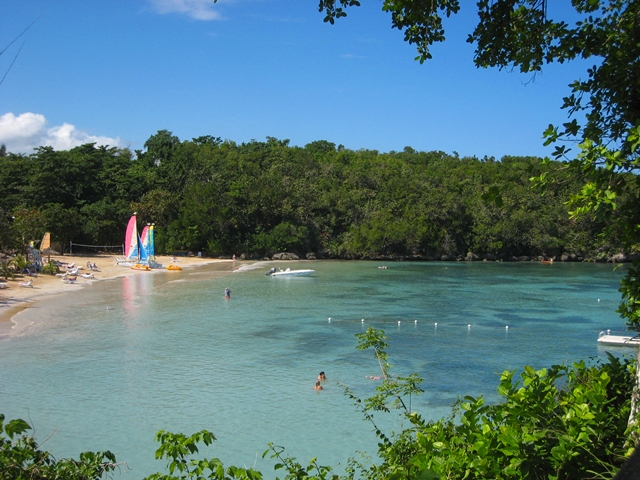 The water sports section was at the far end, and as at other Couples resorts, in addition to wind surfing, glass bottom boat rides and snorkeling, scuba diving is included within the all-inclusive fee (class + 1 dive for non-certified, daily dive for certified divers).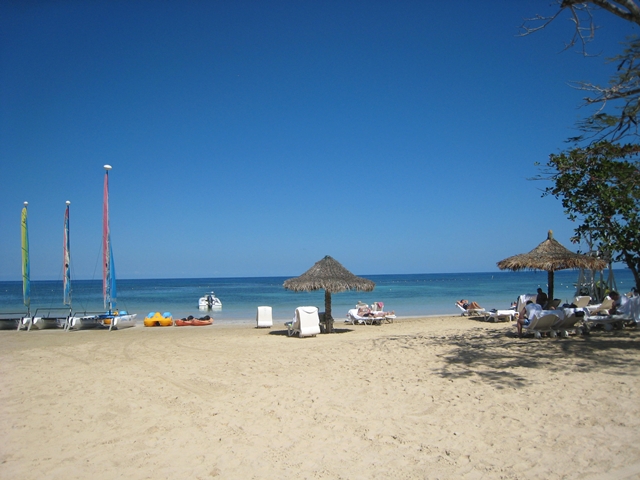 The Beach Grill serves Jamaican fare, such as jerk chicken, and the adjoining bar ensures your thirst never goes unquenched: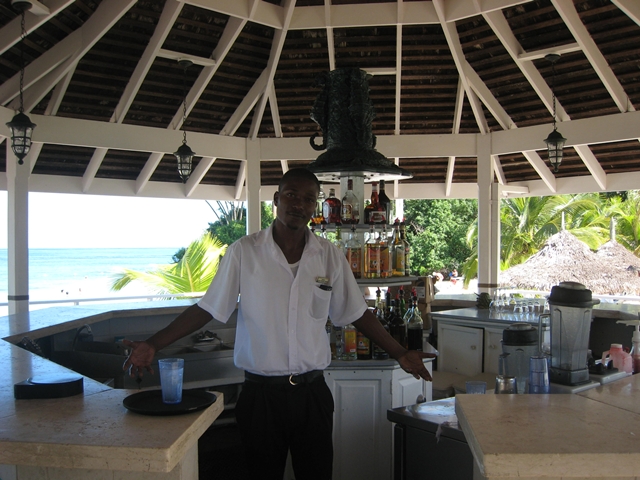 Just inland was the main pool, where a group was enjoying a game of pool volleyball, and a swimup bar.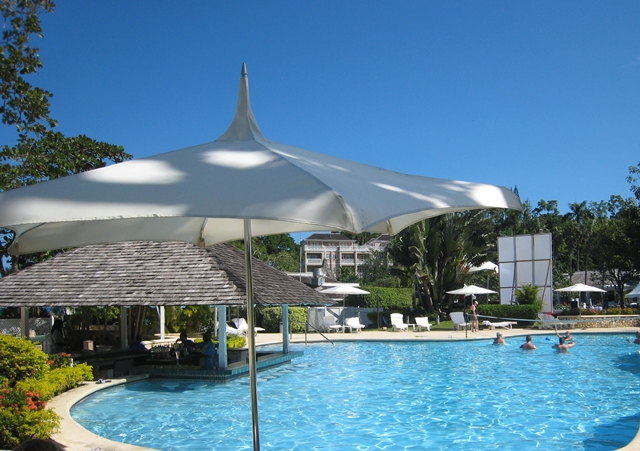 The outdoor jacuzzi looked very inviting: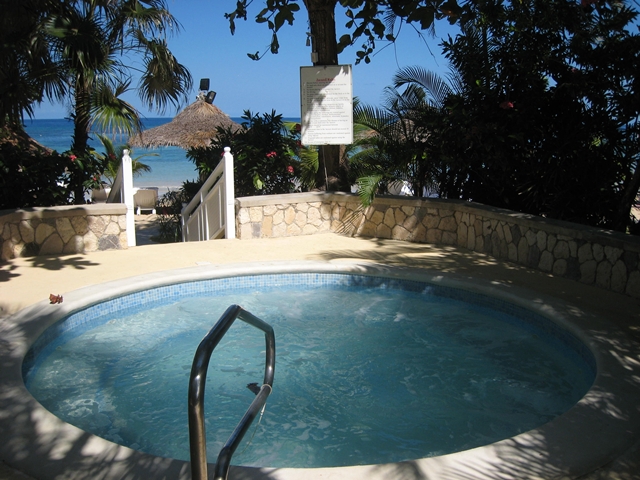 There's also an au naturel private beach for those so inclined, with its own bar, and near it, a lake where birdwatchers will often spot egrets, pelicans, and other birds.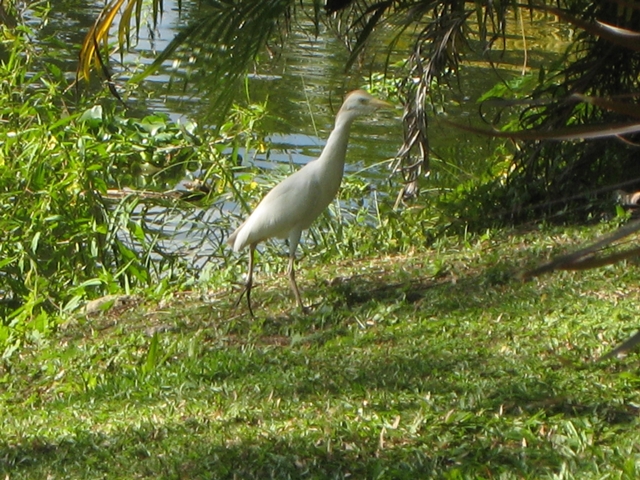 Don't miss saying hello to Crackers, one of Couples Sans Souci's talking parrots–he said "hi" and "bye" to me, but he apparently says much more–including some rather choice expressions in patois 🙂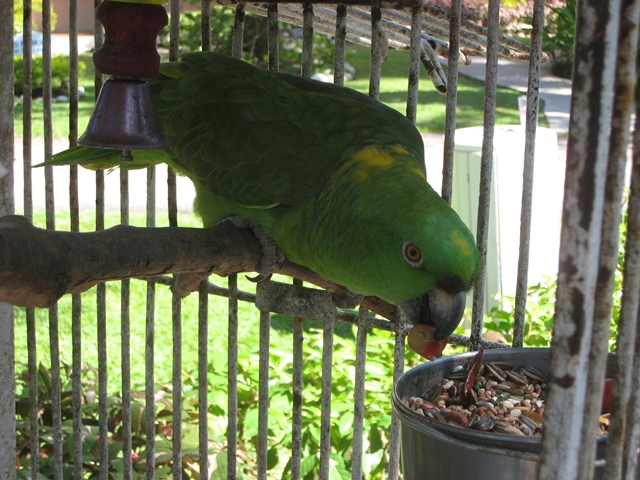 Verdict: Couples Sans Souci is in a wonderfully romantic, lush setting, with a beautiful beach and several lovely, intimate pools. It's probably not the right choice for couples who are seeking a very active party scene, and is much better suited to getting away from it all and relaxing. I'll cover dining in a separate post, but I was very satisfied with it, especially for an all-inclusive. Service was attentive and friendly. Is it for everyone? No–as you probably guessed from the name, these are adults-only resorts, so children aren't allowed. These are casual 4-star resorts, so don't expect the Four Seasons or Ritz-Carlton–rooms are clean but quite plain, although chances are you won't be spending much time there anyway. In addition to the idyllic setting and friendly service, you're able to visit and enjoy the amenities of both Sans Souci and nearby Couples Tower Isle, with all water sports, golf, tennis and various excursions included.
Disclosure: I was a guest of Couples Resorts, however the views expressed in this post are my own.
Related Posts
Couples Tower Isle Review, Ocho Rios, Jamaica
Eight Rivers Restaurant Review, Couples Tower Isle in Jamaica
Best Luxury Hotels in St. Lucia
Beaches, Haute Cuisine and Creole Delights in Sunny St. Martin
Breezy Beaches and Delightful Nights: A Romantic Guide to Key West
Need Award Booking Help? Our fee is as low as $75 per ticket if you book your hotel through us.
If you enjoyed this, join 100,000+ readers: please follow TravelSort on Twitter or like us on Facebook to be alerted to new posts.
Become a TravelSort Client and Book Your Hotel with Virtuoso or Four Seasons Preferred VIP Amenities!