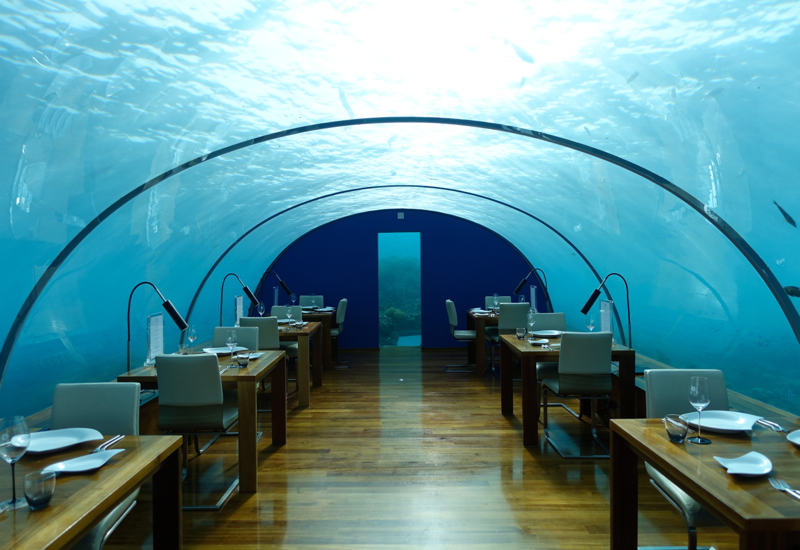 This Conrad Maldives Restaurant Menus and Review post is part of a trip report including luxury resorts in the Maldives, such as Four Seasons Landaa Giraavaru and Soneva Fushi, as well as Etihad First Class and Business Class.
For the prior posts, please see:
Review of Etihad's Lounge at Washington Dulles Airport (IAD)
Etihad First Class 787-9 Dreamliner Review
Review: Wingtips Lounge JFK for Etihad First Class Passengers
Review: Etihad First Class 777-300ER NYC to Abu Dhabi
Review: Etihad Business Class Lounge Abu Dhabi AUH Terminal 1
Four Seasons Maldives at Landaa Giraavaru Review
Four Seasons Maldives at Landaa Giraavaru Restaurant Reviews and Menus
Four Seasons Maldives at Landaa Giraavaru Activities: Top 10 Things to Do
Interview with Armando Kraenzlin, General Manager of Four Seasons Maldives at Landaa Giraavaru
Review: Four Seasons Maldives at Kuda Huraa
Surfing in the Maldives at Four Seasons Kuda Huraa
Review: Four Seasons Maldives at Kuda Huraa Sunset Water Bungalow
Four Seasons Maldives at Kuda Huraa Restaurant Reviews and Menus
Four Seasons Maldives at Kuda Huraa Activities and Top Things to Do
Soneva Fushi Maldives Activities and Things to Do
Soneva Fushi Breakfast, Ice Cream Room, Chocolate Room and Cheese Room
Fresh in the Garden, Soneva Fushi Restaurant Review
Trans Maldivian Airways Seaplane Review
Conrad Maldives Rangali Review: Beach Villa
Conrad Maldives Restaurants
The resort has 8 restaurants, in addition to bars such as Rangali Bar and Vilu Bar and dining experiences:
Atoll Market, open daily for its breakfast buffet from 7am-11am and for a dinner buffet from 7pm-10:30pm, with kitchens offering Asian, Italian, Japanese, and Indian cuisines.
Ithaa Undersea Restaurant, open daily for lunch and dinner; children are welcome at lunch but not allowed at dinner.
Mandhoo Restaurant, open daily (except Mondays) for lunch from 12 noon-3pm and for dinner 7-10:30pm, serving organic gourmet cuisine
The Quiet Zone, an open air tented lounge for adults only open daily and featuring light fare such as salads, pizzas, sandwiches and grilled items
Sunset Bar and Grill, on the way to Ithaa and open daily 7-11pm, featuring grilled seafood and meats
Ufaa by Jereme Leung is the resort's Chinese restaurant, in a nod to the many Chinese visitors. It offers dim sum and noodles during the day, and hot pot and tasting menus in the evening.
Vilu Restaurant serves breakfast daily from 7-11am, and Italian and Mediterranean cuisine nightly 7-10:30pm, except for Wednesday and Saturday, when the restaurant is closed.
The Wine Cellar serves a 5 course tasting dinner with wine pairings for 12 guests (18 and over) only on Tuesdays and Friday evenings.
Vilu Restaurant
Vilu Restaurant is on Rangali Island, where the water villas are, and where you should stay if you go to the Conrad Maldives. The location is lovely, right by the water, and if anything breakfast is a better time to enjoy the view: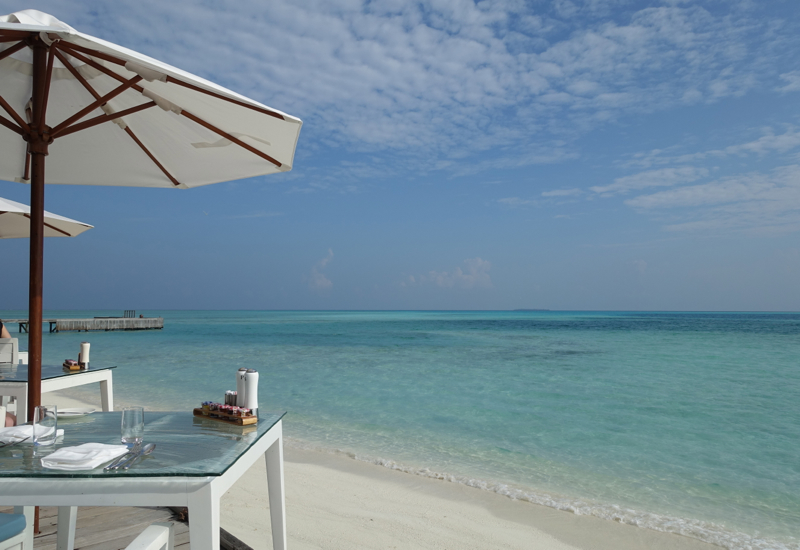 Breakfast at Vilu Restaurant
After hearing from my husband and son, who had an early breakfast, how disappointing Atoll Market was, I decided to have breakfast at Vilu. The buffet part of it is mostly a smaller version of what's on offer at Atoll Market, although I didn't remember seeing smoked salmon at the Atoll Market when I looked at the fish section, and there was some at Vilu.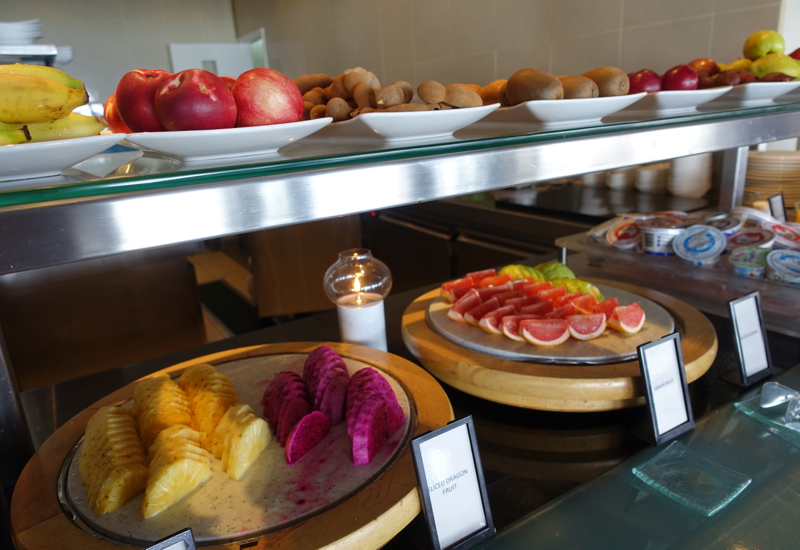 I was glad to see mashuni roshi on the buffet, and this along with the smoked salmon were the two best parts of the buffet. There was no sign of some of the fruits I'd enjoyed at Soneva Fushi, such as fresh pomelo, fresh mango, pomegranate seeds, or even fresh passionfruit. The pastries weren't good either–the ones at the Four Seasons were far better.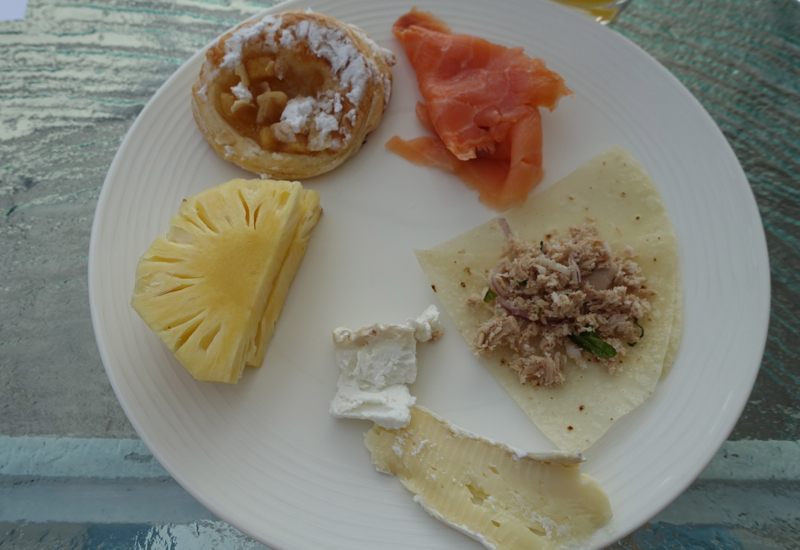 I ordered a fresh squeezed juice, and this was pretty disappointing–I don't think I've ever had such watery and tasteless fresh squeezed juice. At least the views helped somewhat make up for the lack of taste.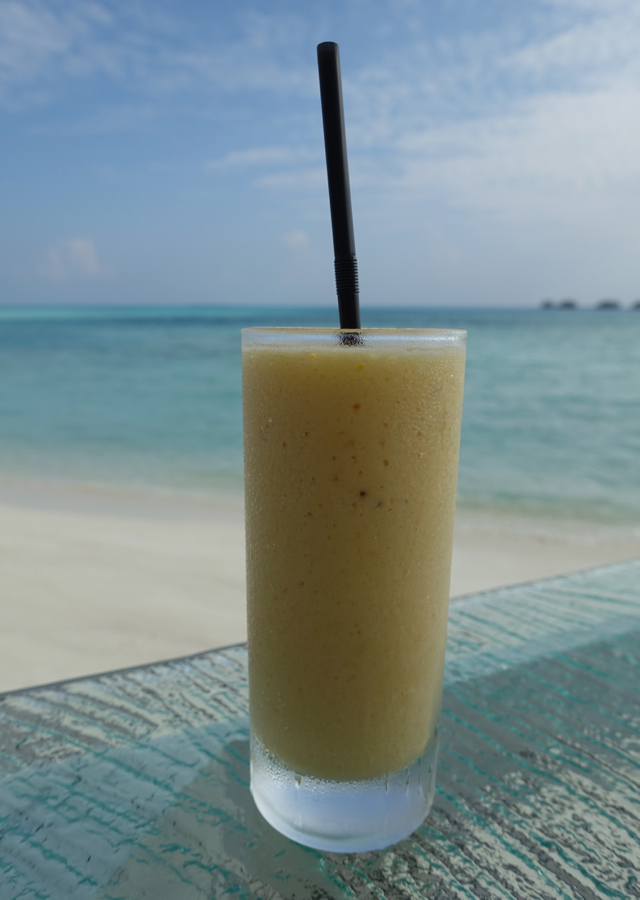 There's an a la carte menu on an ipad, and the option that immediately caught my eye was the Japanese bento. Normally I don't go out of my way to order the Japanese option, since I can get excellent Japanese food in NYC, but I was getting a bit desperate based on the lack of quality breakfast options. And sure enough, this proved to be a good bet. Sure, the sushi was mediocre, but the sashimi part was decent, there was a nice selection of Japanese pickles, and the cooked fish was quite good with the dipping sauce.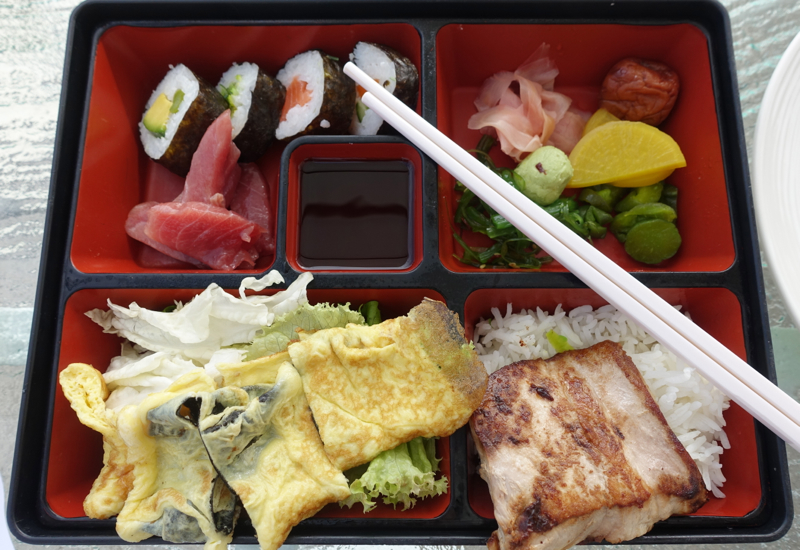 The cappuccino was machine made and poorer quality than at Soneva Fushi and the Four Seasons, but that was to be expected given the low quality of the juices.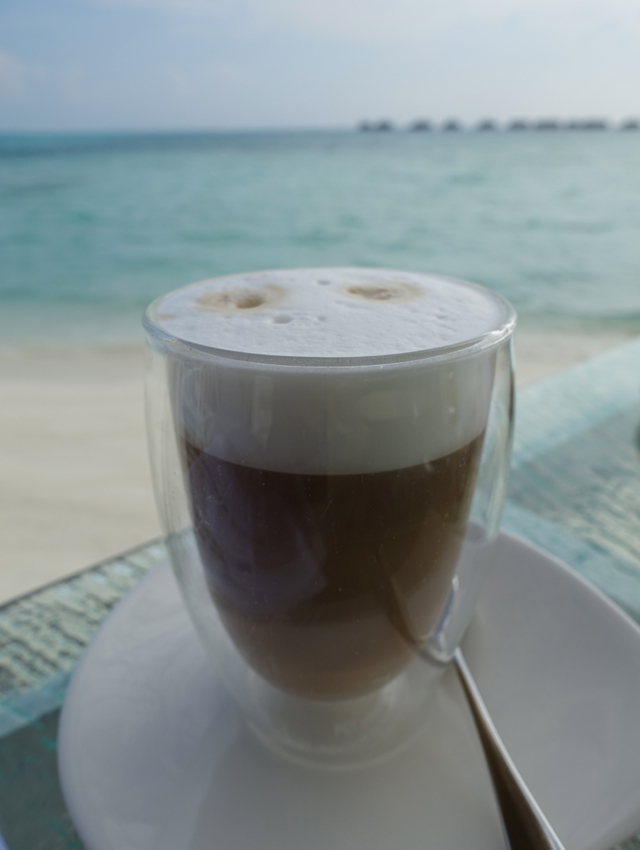 Dinner at Vilu Restaurant
Our first night we went to Vilu for dinner, getting there soon after sunset. Our son quickly settled on spaghetti from the kids' menu, while we took a bit more time deciding from the regular dinner menu: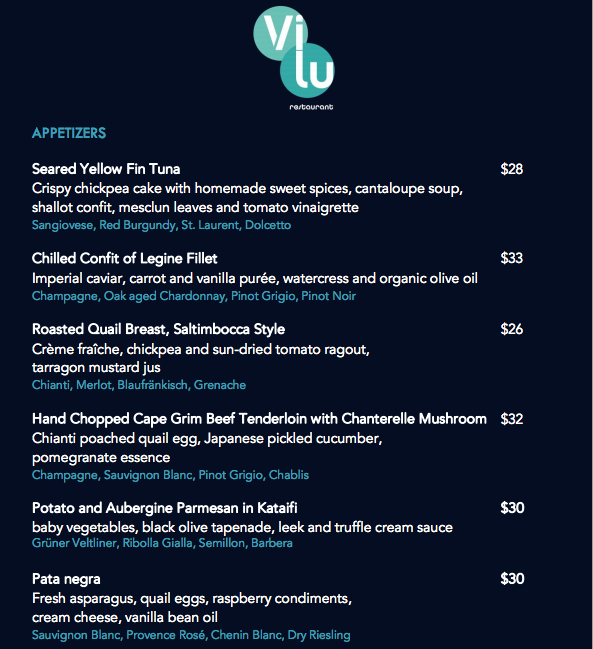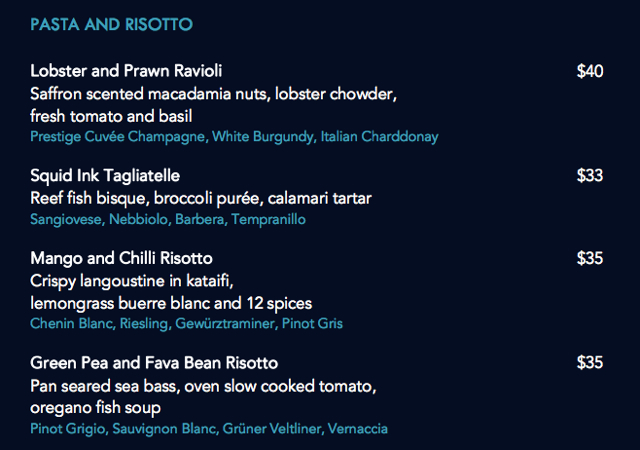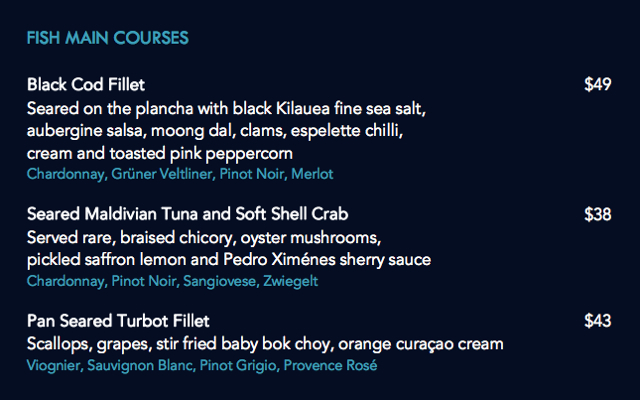 After we placed our order, our server, Shark, brought us some delicious housemade bread, roasted garlic and cherry tomatoes, and explained the various olive oils on our table. I'm not sure the two heads of roasted garlic would be a great idea for new couples and honeymooners, or where one spouse likes garlic and the other one doesn't, but fortunately both my husband and I like garlic and have been married awhile 🙂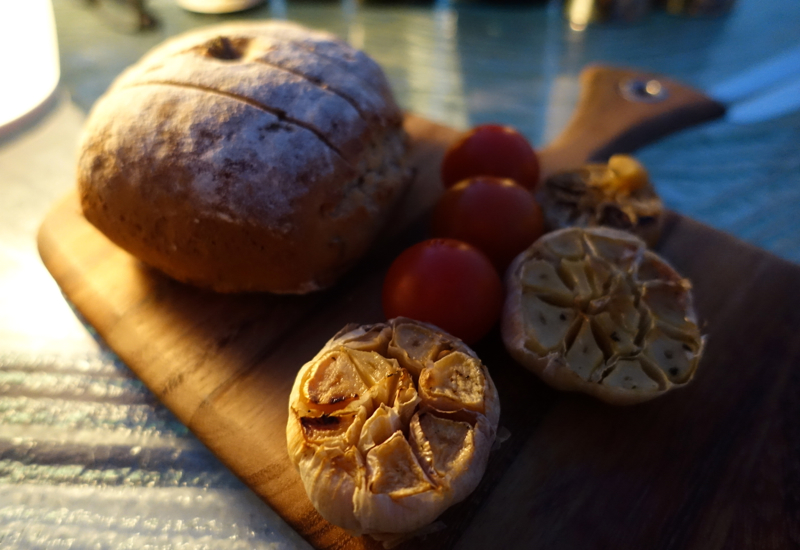 The amuse bouche was frankly forgettable–some kind of roll with a mayo like sauce on it: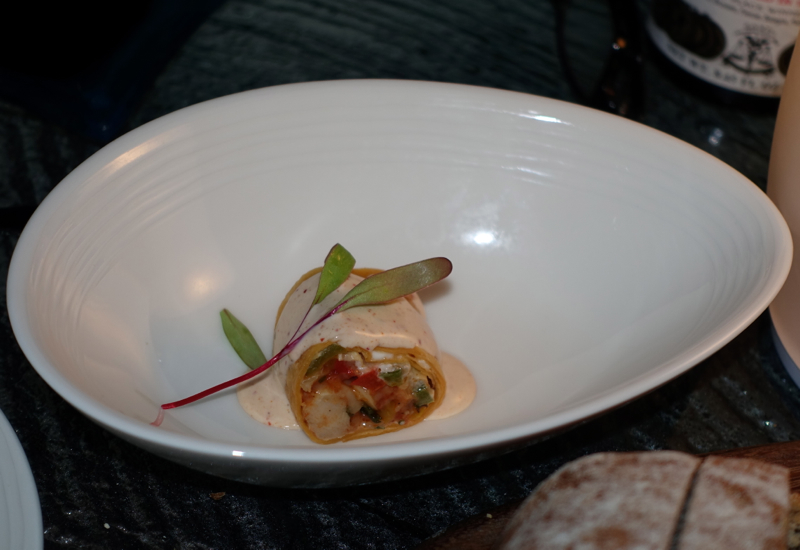 I was grateful that the munchkin's spaghetti came out relatively quickly; in any case, the bread and olive oil kept him busy until it arrived.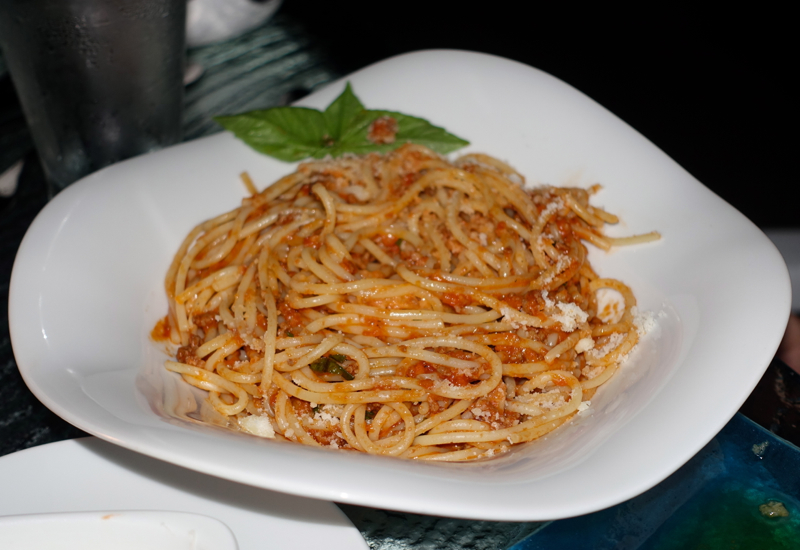 My favorite part of the dinner was the quail Saltimbocca style appetizer that my husband and I shared. I wouldn't have expected to see quail on the menu in the Maldives, and it was perfectly roasted and delcious.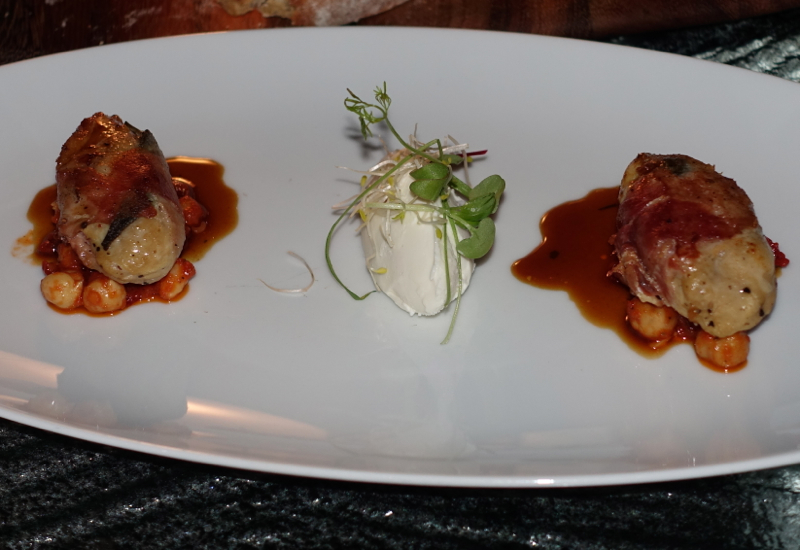 My husband's Green Pea and Fava Bean Risotto, once you got used to the green color (not sure I've ever had green risotto before) was also well prepared and tasty, even if the pan seared sea bass was slightly overdone.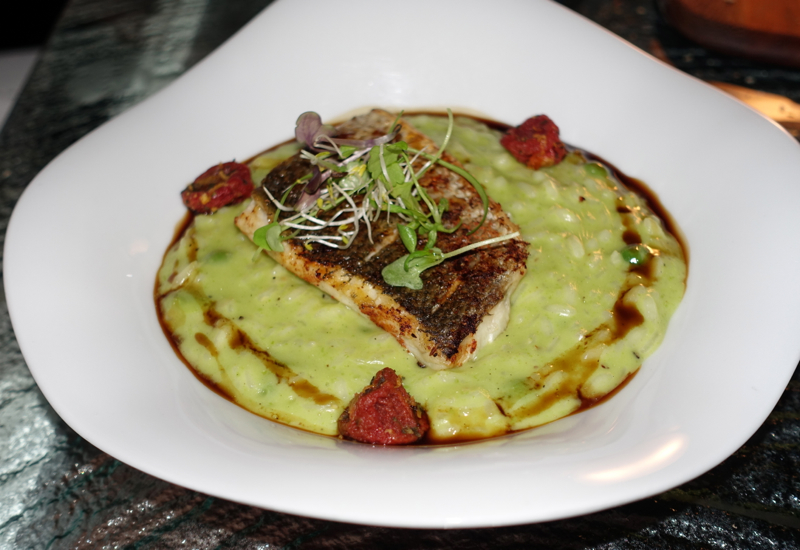 I'd ordered the Seared Maldivian Tuna and Soft Shell Crab with braised chicory and oyster mushrooms, and this dish was frankly disappointing. I specifically asked for the tuna to be rare, just seared on the outside, and the dish was even described as being served rare. The tuna however was cooked all the way through and just wasn't that good. Perhaps the poor quality was why the chef insisted on thoroughly cooking it. The soft shell crab was really just half a soft shell crab, so while it was good, there was very little of it. I expressed my disappointment, but nothing was offered by way of making amends.
Light Lunch at Rangali Bar
While my husband and I would have been fine having a late breakfast and dinner, since it's a hot climate in the Maldives and we didn't feel like eating much in the middle of the day, that would have been out of the question for our son, who seems to eat an adult sized meal 3-4 times a day. So during the lunch break that the kids' club takes, we took him to the Rangali Bar for pizza and a smoothie.
The pizza was fine, nothing special but perfectly edible: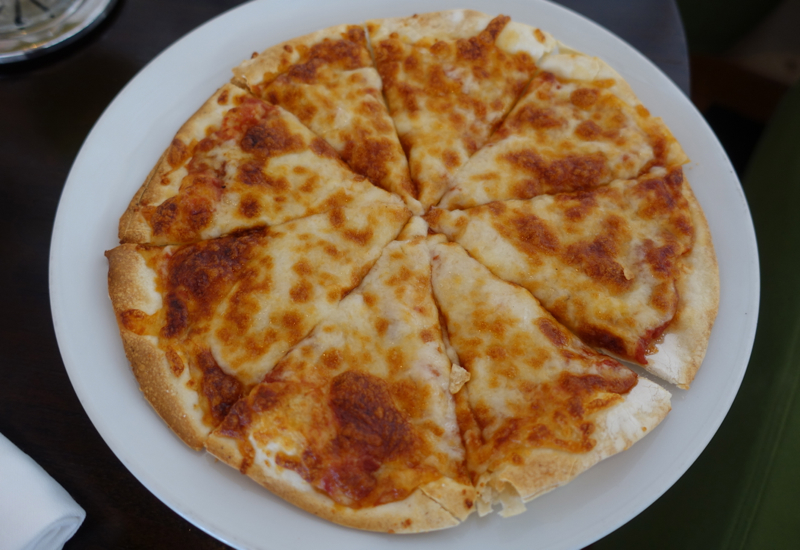 But the real stars were the smoothies, which really hit the spot in the tropical heat. Now if only it was possible to get these in the included breakfast, rather than the terrible quality juices and smoothies that are served. Perhaps there are just so many guests that are there on award stays with breakfast included, and this explains the abysmal quality of the breakfasts, at least at Atoll Market.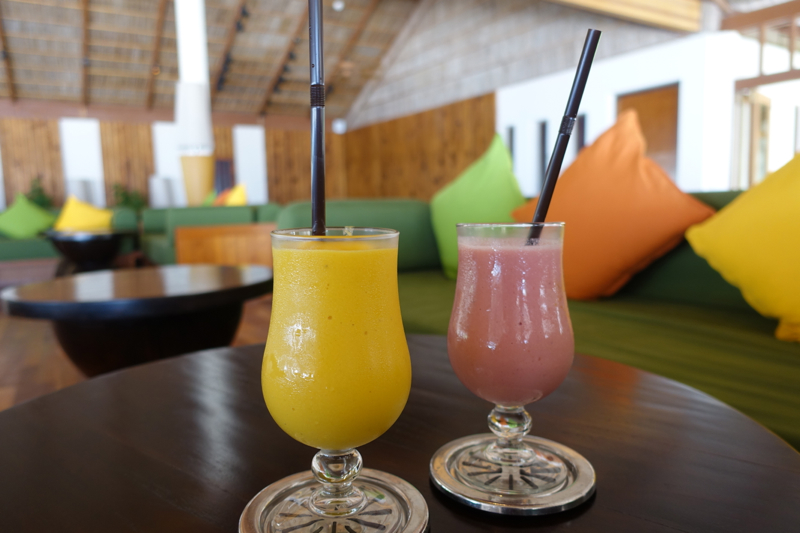 Dinner at Mandhoo Restaurant
Our favorite meal while at the Conrad Maldives was at Mandhoo Restaurant, which is on stilts off of on the main island, but some distance away from the lobby, Rangali Bar, etc., so you may want to get a buggy there, depending on where you're staying. It's small, so I highly recommend reserving it in advance, especially as sometimes there may be a large family group that takes over part of the space. Here's the table set for one such group: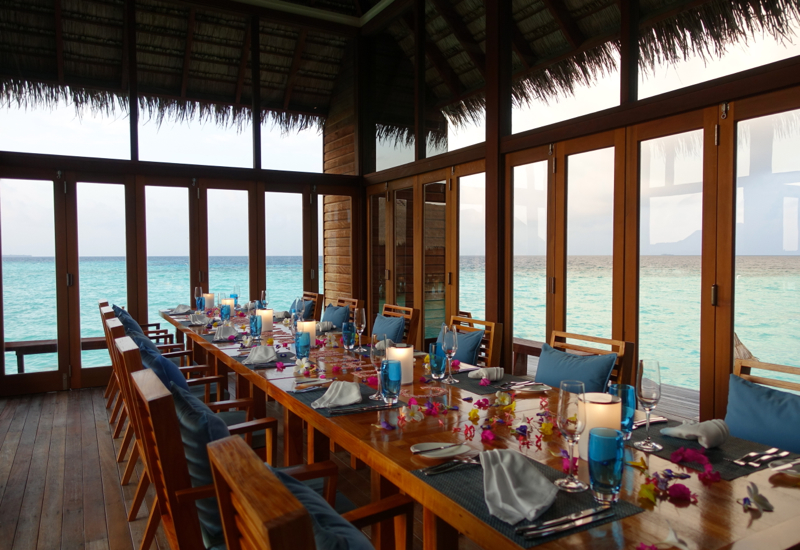 The menu is spa-inspired, so it's divided into the 5 elements and there are calorie counts for everything (which of course we ignored). Here are a few of the menu pages, with the items that we ultimately chose: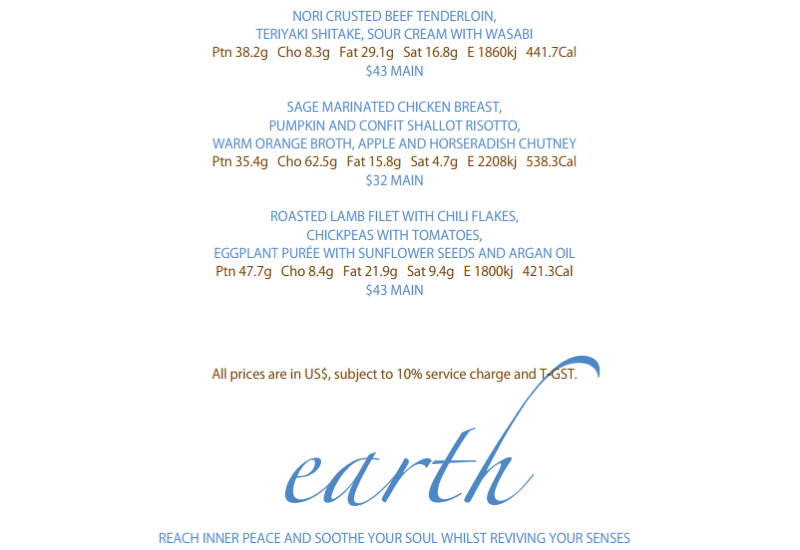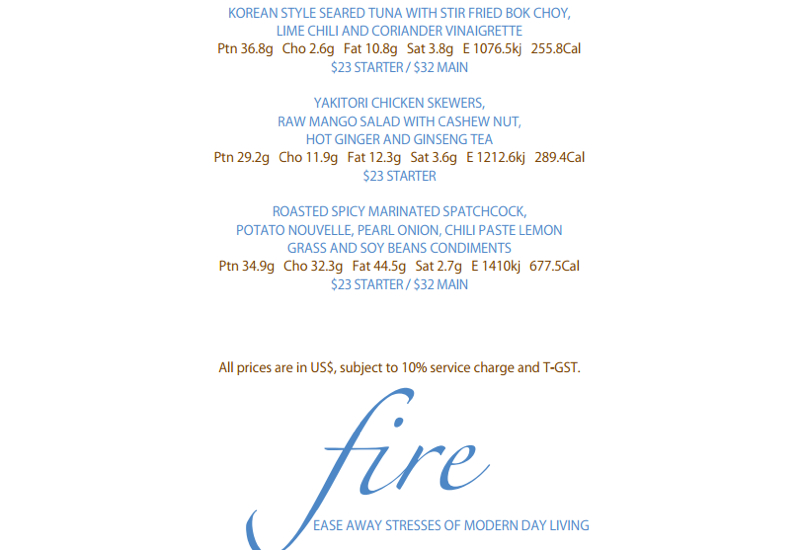 One thing we didn't like here and at Vilu was that you can't just ask for the Conrad's own desalinated water, which is of course in every villa; if you want water you have to pay for pricey Evian or Voss water. This is just so wrong–I don't mind paying a few dollars for the resort's water when served in the restaurant, but come on, be forced to pay for imported water when the resort's water is perfectly good and more ecologically friendly? Our servers were at least sympathetic, but obviously the resort is just trying to increase dining receipts. At least the bread and dips were good.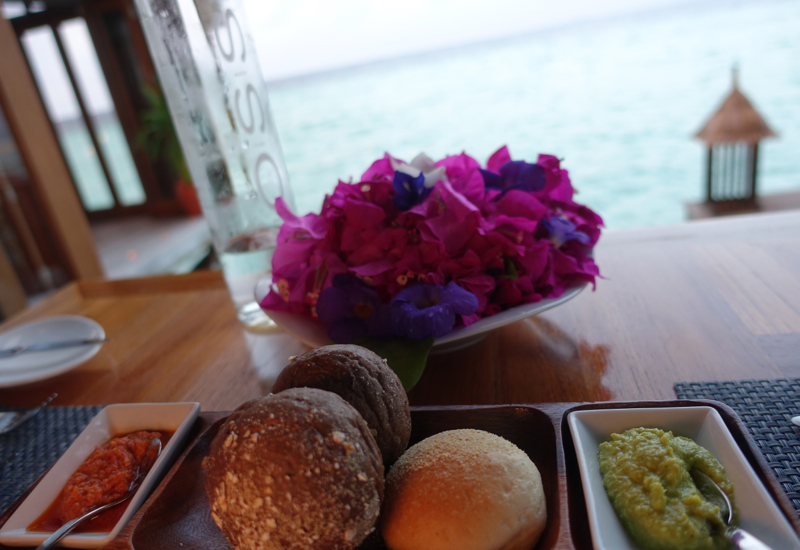 I liked the amuse bouche at Mandhoo more than the one at Vilu; it was smoked duck with green mango salad: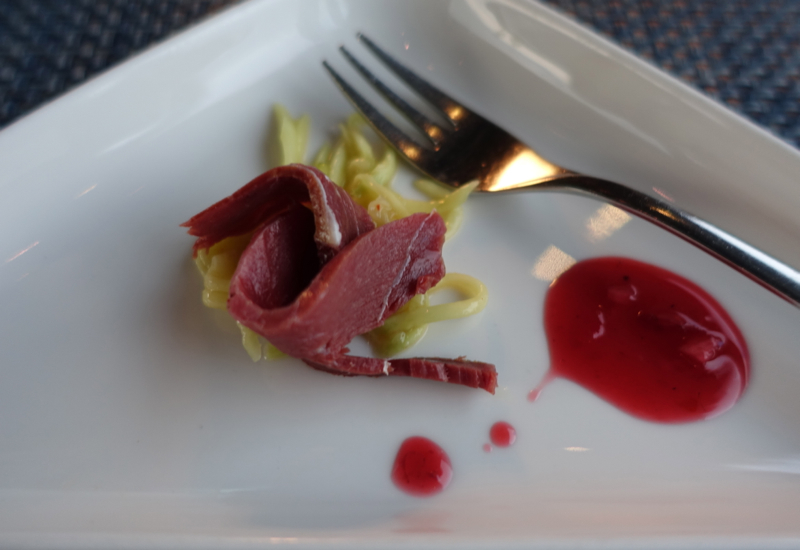 Our son decided on the Nori Crusted Beef Tenderloin with mashed potatoes, and this was delicious. The beef was tender and juicy, and the mashed potatoes were enriched with sour cream and just a hint of wasabi. He claimed he didn't like the potatoes, without having tried them, but once we did persuade him to take a bite, he loved them. I liked the restraint in this dish–if you didn't know there was wasabi in it, you wouldn't have guessed, but it elevated it above typical mashed potatoes.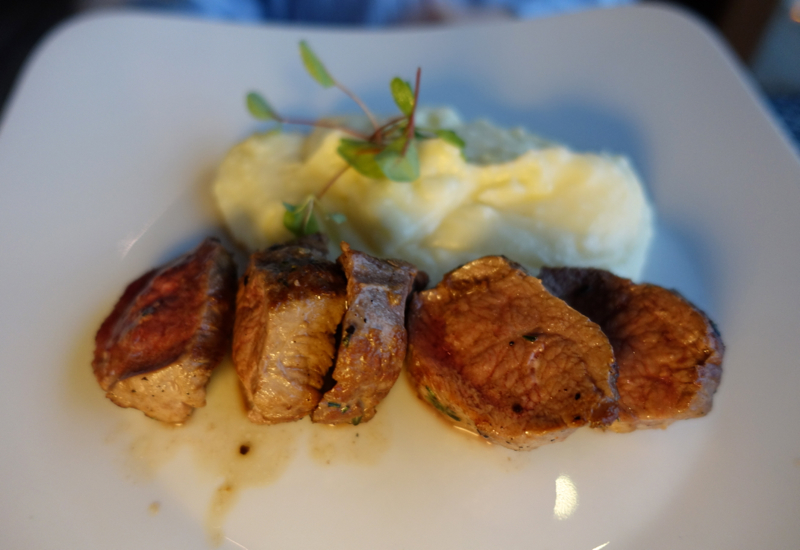 My husband enjoyed his Korean Style Seared Tuna with Stir Fried Bok Choy, and this time, the tuna both seemed fresher and was also rare inside–a much more successful dish than the one I'd had at Vilu.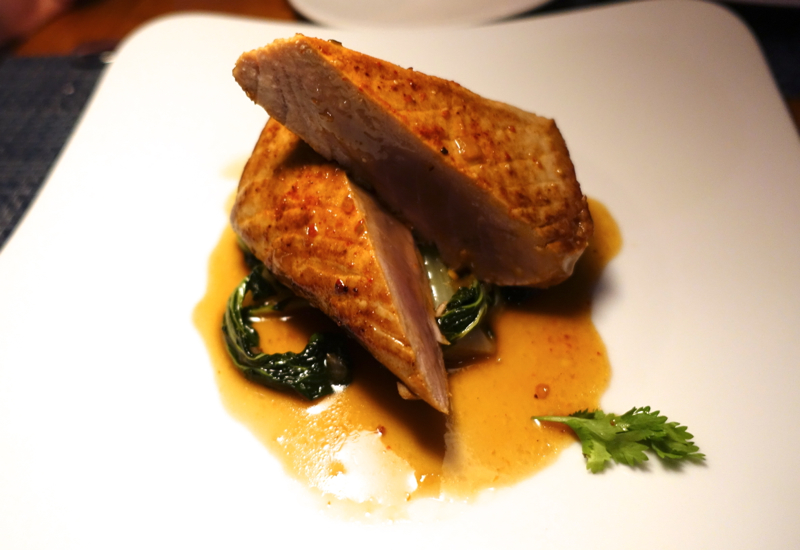 I normally don't order chicken at restaurants, my rationale being that most chicken dishes I could make myself, but our server recommended the Sage Marinated Chicken Breast with Pumpkin and Confit Shallot Risotto. I'm a pumpkin fan, so I ordered it more for the risotto than for the chicken, but both components were excellent, so this too is recommended.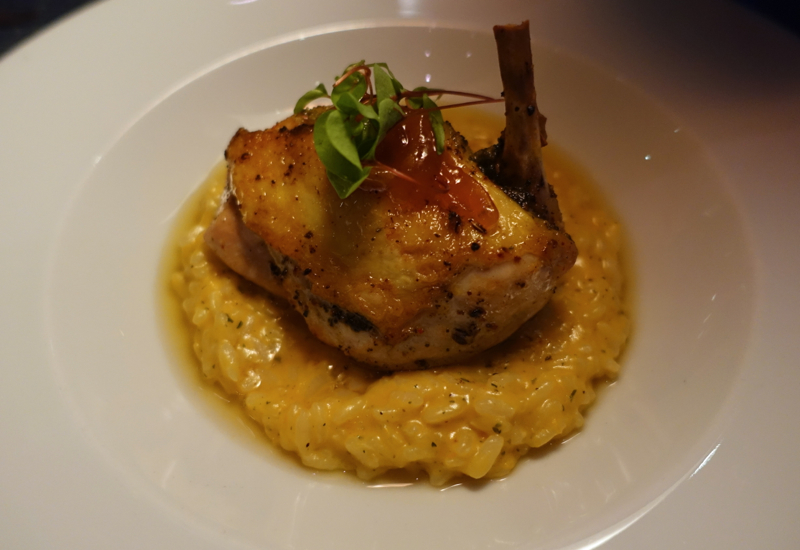 Our son ordered vanilla ice cream and mango sorbet for dessert, and we should have gone that route too. While not as good as Soneva Fushi's amazing ice creams and sorbets, it was passable.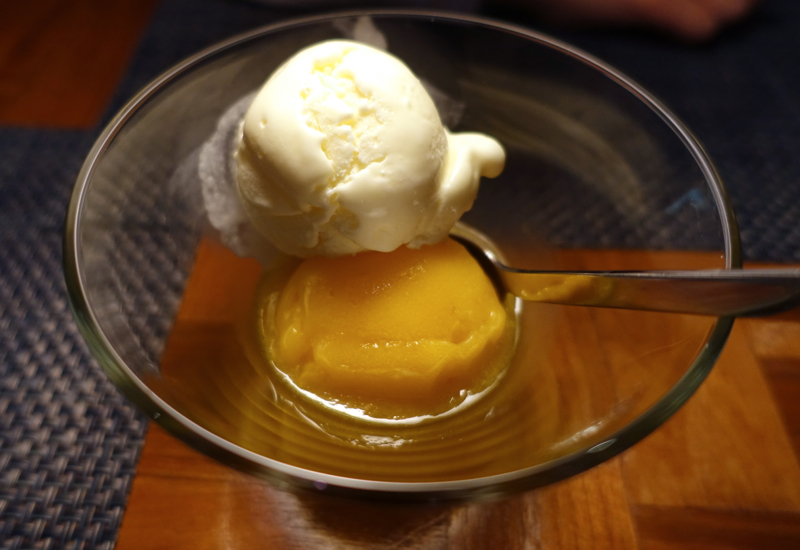 We ordered the organic cheese cake, panna cotta and fruit soup with tapioca pearls, and this was disappointing. I make much better cheesecake at home, and the panna cotta and fruit soup weren't great either. So this was the most disappointing part of the meal, although that's easily remedied by simply not ordering dessert.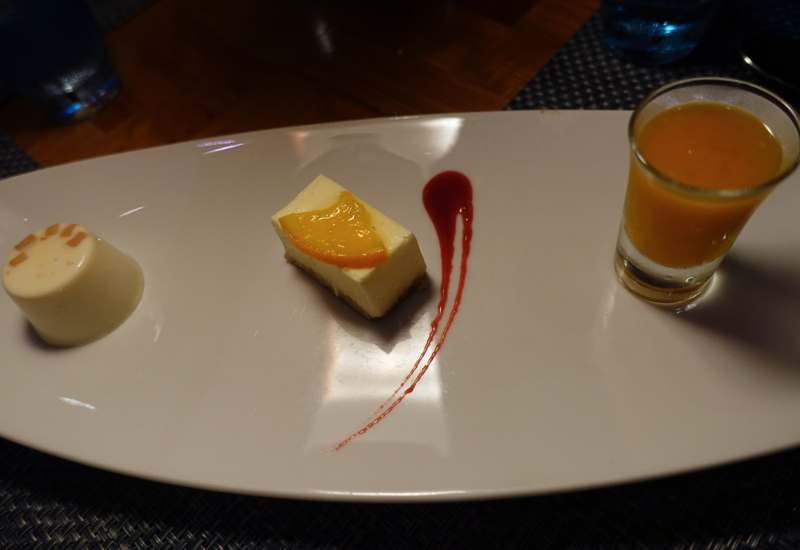 The Verdict
While my overall recommendation is to avoid the Conrad Maldives in a Beach Bungalow, and only go if you'll be staying in at least a Superior Water Villa, it is a good resort to go to if you need a lot of dining options, since as a large resort it's able to offer many restaurants. Far and away our favorite of the ones we tried was Mandhoo Restaurant, where we enjoyed everything except the dessert. Service at Mandhoo was very good and better than that provided by our personal assistant. Vilu service was decent, although marred somewhat by no effort to make amends for a poor dish cooked contrary to my wishes. Atoll Market breakfast was very disappointing, according to both my husband and son, so I recommend sticking to breakfast at Vilu, and ordering the Japanese bento. Breakfast quality overall was very poor compared to our experiences at Soneva Fushi, the Four Seasons Landaa Giraavaru, Four Seasons Kuda Huraa, and the Park Hyatt.
What were your favorite restaurants if you've been to the Conrad Maldives Rangali Island?
Related Posts
Conrad Maldives Rangali Review: Beach Villa
8 Signs Hotel Design is Form Over Function
Four Seasons Maldives at Landaa Giraavaru Restaurant Reviews and Menus
Four Seasons Maldives at Kuda Huraa Restaurant Reviews and Menus
Disclosure: Breakfast and the Happy Hour at Vilu was included for us, due to my husband's Hilton HHonors Gold status via the Hilton HHonors Reserve Card. We paid for all other meals. The views expressed in this post are my own.
Need Award Booking Help? Our fee is as low as $75 per ticket if you book your hotel through us.
If you enjoyed this, join 200,000+ readers: please follow TravelSort on Twitter or like us on Facebook to be alerted to new posts.
Become a TravelSort Client and Reserve the Best Luxury Resorts in the Maldives with Virtuoso Benefits!